KITH x Versace, photography Hagop Kalaidjian/BFA.com
kith updates iconic 90s versace for the streetwear generation
Ronnie Fieg's monster KITH x Versace collab referenced Donatella, Biggie, and his mom.
|
07 September 2018, 5:29pm
KITH x Versace, photography Hagop Kalaidjian/BFA.com
Not every designer can get editors amped for a trek (or an Uber) to the Brooklyn Navy Yard during a sticky thunderstorm. But Ronnie Fieg, the man behind sneaker store-turned-streetwear powerhouse KITH, isn't most designers. Fieg has a rabid following to rival most of New York Fashion Week's main players — and an equally loyal hype woman to boot. Before the show last night, Fieg's mom was milling around the venue (dubbed "Kith Park") doing some last-minute model scouting. "Are you in the show?" she asked two surprised, champagne-sipping strangers in rhinestone chaps. You should be in the show!" As it stood, the model cast included KITH-loving power couple Justin Bieber and Hailey Baldwin, who have been clients of Fieg's since he opened his first KITH store in Brooklyn in 2011.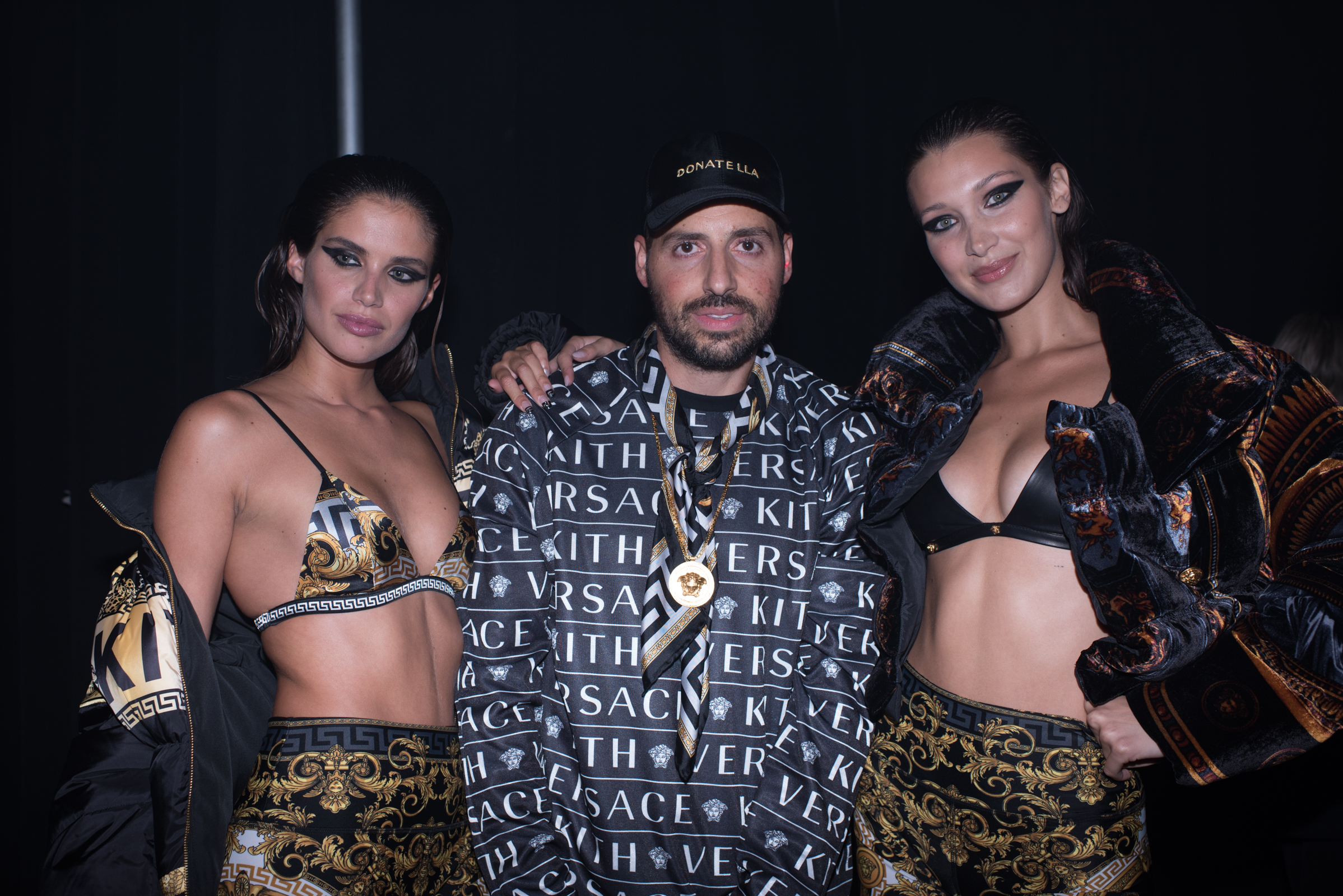 A lot has happened in the ensuing years. As testament to KITH's (and streetwear's) massive influence in the industry, last night's show featured three collaborations with some of the world's best-known luxury designers: Versace, Tommy Hilfiger, and Greg Lauren. Fieg came at the respective projects as a fan. Like most sneaker fanatics, Fieg frequently finds creative stimulus in nostalgia for the 90s hip-hop golden age, when he worked as a retail assistant at NYC institution David Z. "My whole thesis… is to give people the feeling I had when I fell in love with the products from the brands that I love," Fieg said earlier this week when teasing the collaborations, adding that his mom loved Versace but couldn't afford to buy it. The Versace pieces included a rich burgundy bombers, plush velvet tracksuits, camel-colored faux fur featuring a KITH/Versace monogram mashup. Bella Hadid wore a splendidly proportioned cycle shorts/puffer ensemble. And accessories — apparently Biggie Smalls and Fieg's mom used to rock the same pair of outsized shades. Everything was produced in Versace's factories in Italy, using iconic 90s prints from the brand's archive. The collab was not just proof of KITH's place in the 2018 zeitgeist but of Versace's. The brand's logocentric maximalism is finding a new generation of fans in kids who came of age in the streetwear era. Donatella herself, fiercely original and delightfully unfiltered, is our perennial queen of cool.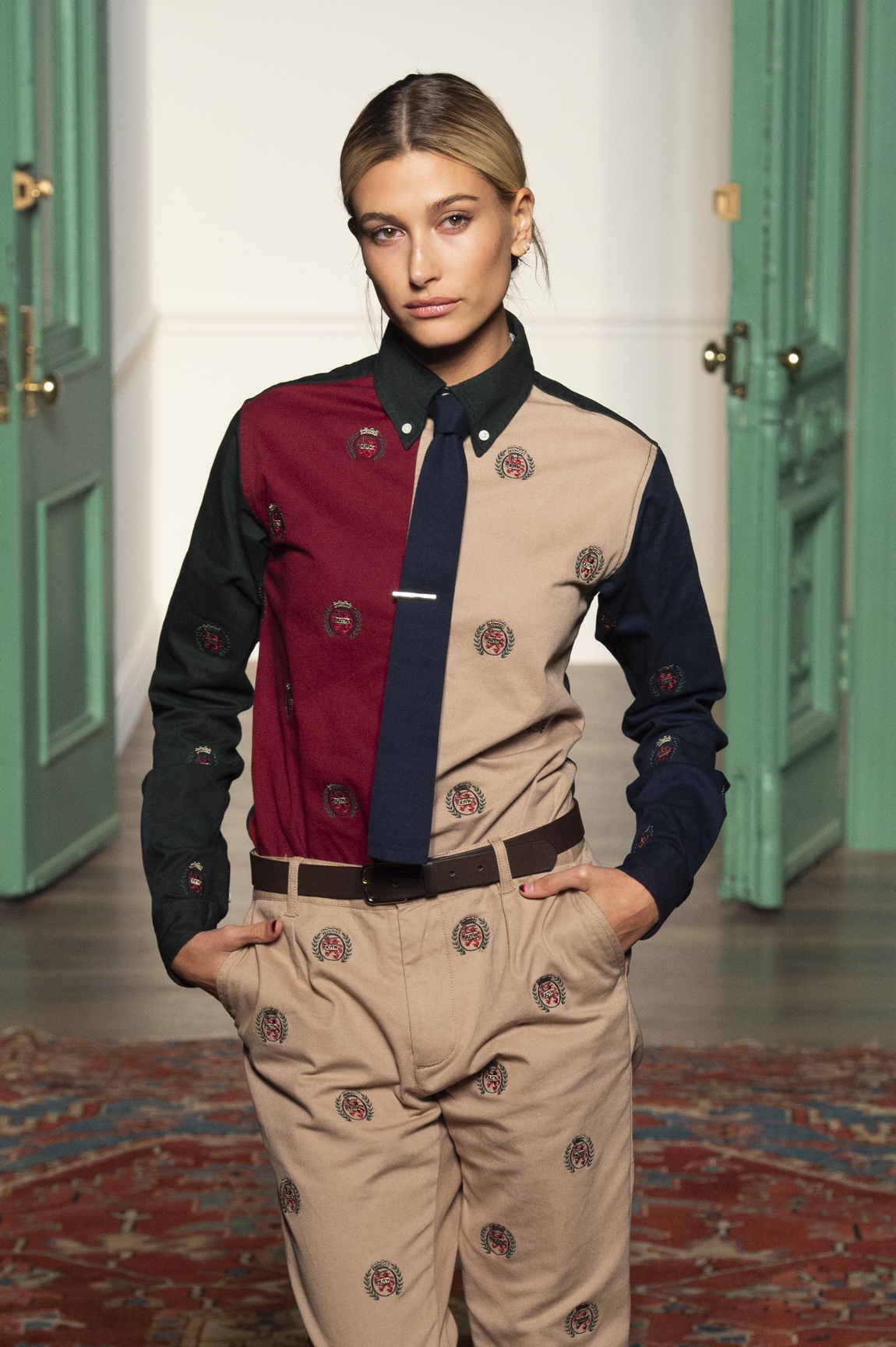 The Tommy Hilfiger collaboration was presented in a school classroom setup. Hailey Baldwin opened this act in silky monogrammed trousers and a matching colorblocked shirt, before sitting at a wooden desk while the other models filed in. Fieg blended prep with 90s urban staples — boxy cropped sweats, collegiate polos, more puffers, and a faded blue canadian tuxedo, all paired with sneakers or Timbs. More logo mashups — including TOMMY KITH on visible underwear elastic — were on show.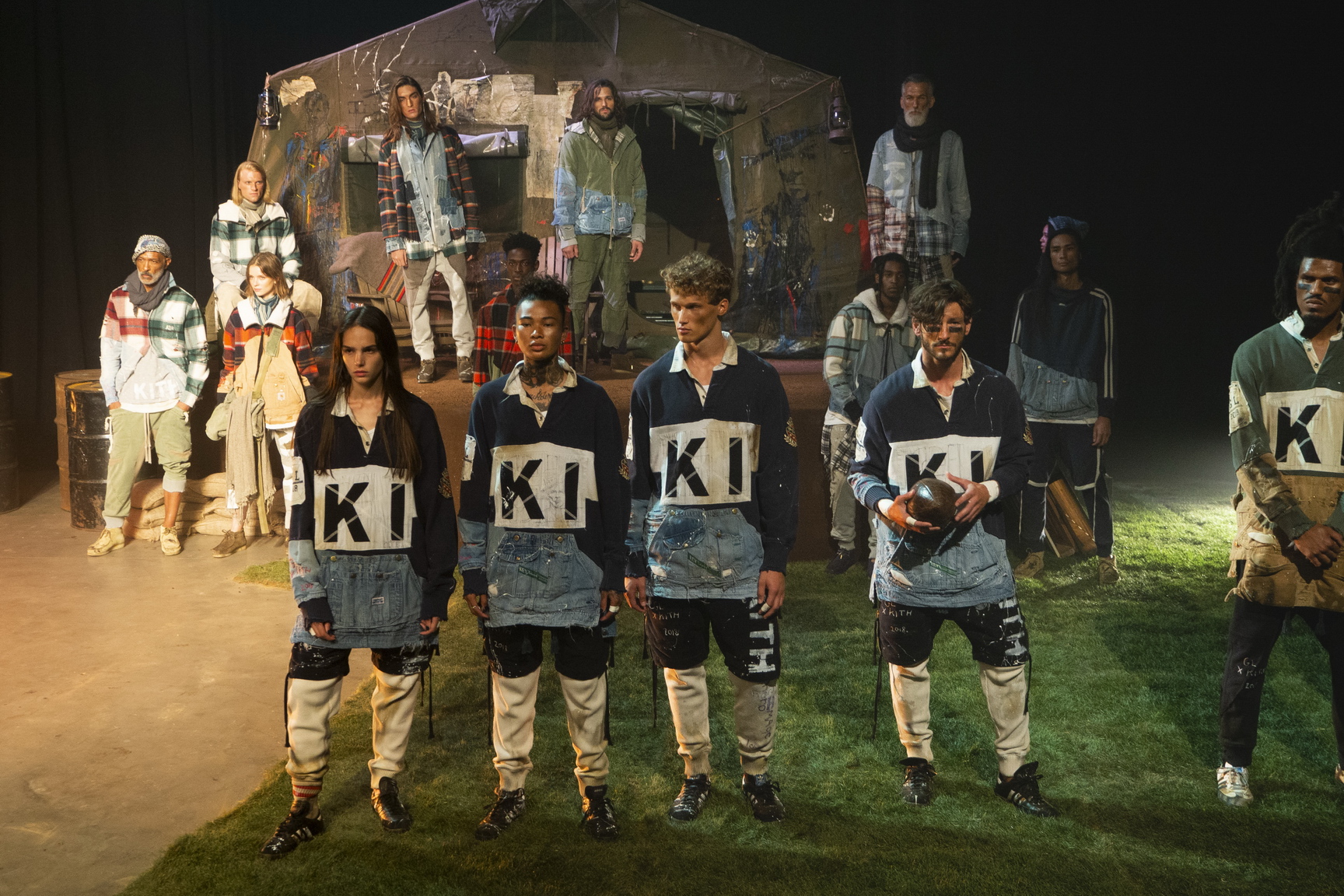 For the Greg Lauren, component, we were transported — literally, guests were seated on moving wooden benches that slid sideways from one presentation room to the next — to a military base complete with a giant tent. KITH pieces were deconstructed, dirtied, and fused together by Lauren, resulting in polos anchored with Carhartt aprons and splattered with paint. "This [show] will change the way people view product," Fieg had written on Instagram in the lead-up to the event. And also the way product speaks to people.