jaden smith brought his dreadlocks to another public appearance
"The Late Late Show with James Corden" just got a bit more avant-garde.
|
14 November 2017, 5:42pm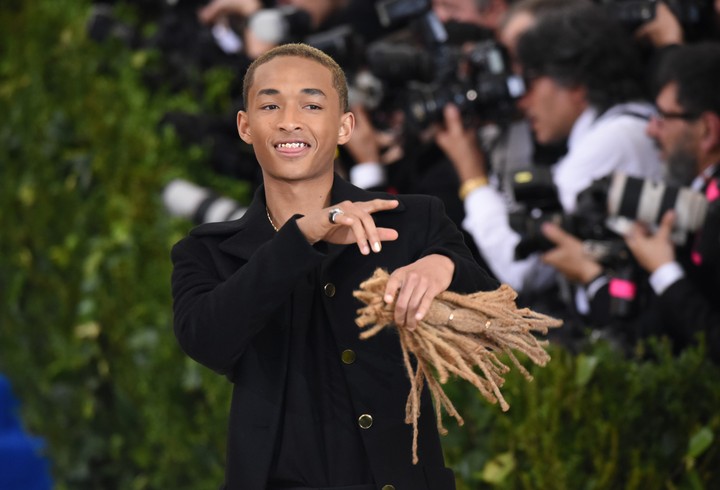 Noam Galai via Getty Images
Jaden Smith is not afraid to repeat a solid look. Last year, he rocked the same brand of eco-friendly boxed water with almost every outfit. Jaden has seized not one, not two, but three opportunities — including Kimye's wedding and his own prom — to wear a full-on Batman costume. Now he has found occasion to recycle his most avant-garde accessory yet: his own dreadlocks. The bleached wad of hair made its first post-amputation appearance at the 2017 Met Gala. Last night, Jaden brought it along to The Late Late Show with James Corden.
"Whenever I have a really big, special moment in my life," Jaden explained, "I like to show people how special it is by bringing something that really means a lot to me." With Jaden's permission, James Corden bravely proceeded to extract a solo loc before presenting one each to Seth Rogen — who also rocked dreads during his teen years — and Jason Segal. How bromantic.
Jaden's dreads have quite a personal story. They were originally shorn off by dad Will in preparation for the movie Life in a Year, in which Jaden plays the boyfriend of a teenage girl (Cara Delevingne) with terminal cancer. Soon afterward, since Jaden couldn't take his sister Willow as his date to the Met Gala, he decided to take the severed locks instead. As for Seth Rogen, he was apparently just really into Korn.