selena gomez turned a facetime call into her video for "wolves"
"So we should probably make a video for this track..."
|
02 November 2017, 7:33pm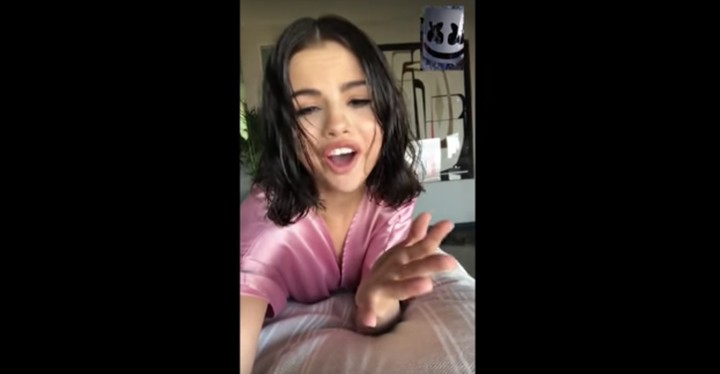 Still via YouTube
Selena Gomez might be the most authentic top-40 pop star on the planet right now. She filmed her "Bad Liar" video without removing the bracelet from a lupus-related hospital stay, and gives fans Instagram updates about everything from fried snacks to her recent kidney transplant. The former Disney star's music videos are mostly about intimacy and vulnerability, usually shot in suburban houses or empty apartments. Selena's latest video — for her club-ready Marshmello collaboration "Wolves" — is literally just a FaceTime call recorded at home.
The video starts with Marshmello texting Selena, "So we should probably make a video for this track," at which point they do exactly that, simultaneously conducting a tour of your dream Hollywood Hills mansion. While Selena appears candid as ever — wet-haired, barefoot, and clad in a pink satin bathrobe — Marshmello is considerably more mysterious. The perennially masked producer stays on the other end of the FaceTime convo for the duration, bobbing his famous helmet and enjoying the view. Seriously, that panorama is insane.
Of course the spontaneity is somewhat calculated. The video is directed by Harry McNally, a New York-based photographer who Instagram-announced the project along with an endorsement of Selena's phone-filming skills. But some of Selena's fans are convinced that "Wolves" has a deeper meaning. Lupus is both an autoimmune disease and the Latin word for wolf. Selena has been extremely honest about her lupus battle, just yesterday opening up about her life-saving operation on the Today Show. Coincidence? Maybe, but a banger either way.