thoughts on lindsay lohan's music comeback
With the gloom-bop "Xanax", 00s pop's most underrated star is back.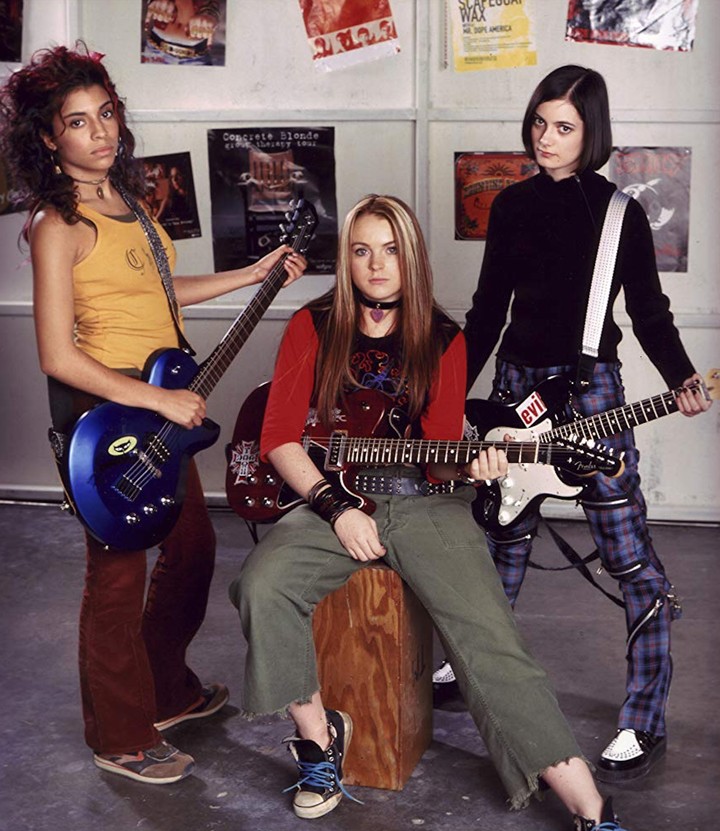 Lindsay Lohan in Freaky Friday
Lindsay Lohan's music career has weathered nearly as many setbacks as the actress, Beach Club entrepreneur, and occasionally Arabic-accented tabloid fixture herself. But I am here to declare, with the same purposeful energy of Lindsay as Elizabeth Taylor downing a martini in Lifetime's deranged TV biopic Liz & Dick: Give. Lindsay. The. Respect. She. Deserves.
No, the respect she has always deserved! Take a trip back through her discography. Her 2004 track "Rumours" was a knowing comment on parasitic media set to a melodramatic guitar-pop stomp. A platinum-selling debut album, Speak, was a tauter collection of pop-rock than the albums that her teen dream peers like Hilary Duff and Fefe Dobson could even dream of producing, and the album had a stronger sense of her own authorship, too. On the underrated "Anything But Me" -- imagine the Britney of "Lucky" ditching her sparkly sandals for checkered Vans -- Lindsay sincerely sung about feeling confirmed by her public image. "It's so hard to live a dream / When everything they want you to be / Is anything but me."
Early on in her career Lindsay worked with songwriter Kara DioGuardi, a collaborator of Kelly Clarkson, Ashlee Simpson and Hilary Duff, with a track record of helping of teen queens hunker down and re-emerge with riffs and smeared kohl and musical credibility. Lindsay Lohan, however, dug deeper than most. A lead single from her second album, "Confessions of a Broken Heart," was aimed her father, an alcoholic and alleged abuser. Though touched with shades of schmaltz, it's one of the great power ballads of the 00s.
But her new song "Xanax" seems closer indebted to Lindsay's sorely overlooked proto-Gaga electro-stomper "Bossy" from 2008 (which itself comes close to the majesty of Kelis' identically titled anthem). Premiered by Virgin Radio Dubai (sure!), "Xanax" sounds like a Gen Z reimagining of noughties club banger "Better Off Alone", grounded with the kind of swampy bass that snaked through Ariana Grande's thank u, next album.
"You're like Xanax to me / When you kiss me, I can't breathe / I try to stay away from you / But you get me high," Lindsay sings with zoned-out nonchalance.
As well as sounding like right-now-this-very-minute, it feels like a more accurate temperature-taking of pop culture than we've heard from Lindsay in years. Downers are a huge issue in the music industry today. Lil Pump celebrated hitting a million Instagram followers with a Xanax-shaped cake; there's literally a rapper called Lil Xan. And then there's the flip side: Billie Eilish's "Xanny," a low-end track from her recent debut album, cautions against using benzos. Lil Peep passed away in 2017 after a Fentanyl and Xanax overdose.
I can't imagine that, with her new single, Lindsay wants to wade into debates around the drug. (She may have learned from the outcry after she accused CNN of "bullying" Trump). From the short musical snippet we've been teased with, it sounds, instead, like Lindsay Lohan is ready to have fun again. Here's hoping that "Xanax" is a song worthy of a party in Mykonos, bitch.
Tagged: