djs sherelle and fauzia are proudly smashing down the musical establishment
"It's great to be part of a scene at a time where all the best DJs are female."
|
12 November 2019, 3:00pm
This story originally appeared in i-D's The Post Truth Truth Issue, no. 357, Autumn 2019. Order your copy here.
You know the most beautiful thing about London?" asks DJ and radio presenter Sherelle. "We're surrounded by our friends that've all been grafting for so long. And through our Boiler Room sets, people around the world get to see how these young girls, these people of colour, are smashing down the musical establishment. It shows people that this is what London's like; that the scene is thriving." Their sets do indeed go off, hitting that sweet 160bpm, jungle and footwork spot. "Yeah," confirms producer, DJ and radio presenter Fauzia, "people in London are very rowdy."
The duo have been best friends since Fauzia got her first NTS show and asked Sherelle to join her as a guest. They went b2b and right as the 22-year-old was loading up Slick Shoota's Hardcore Junglist, Sherelle, who is 25, dropped the exact same track. "That's when I knew I had met my musical match," Fauzia says with a smile. Playing 160bpm when nobody else was feeling it, the two Londoners have since teamed up on a new NTS show called XTC.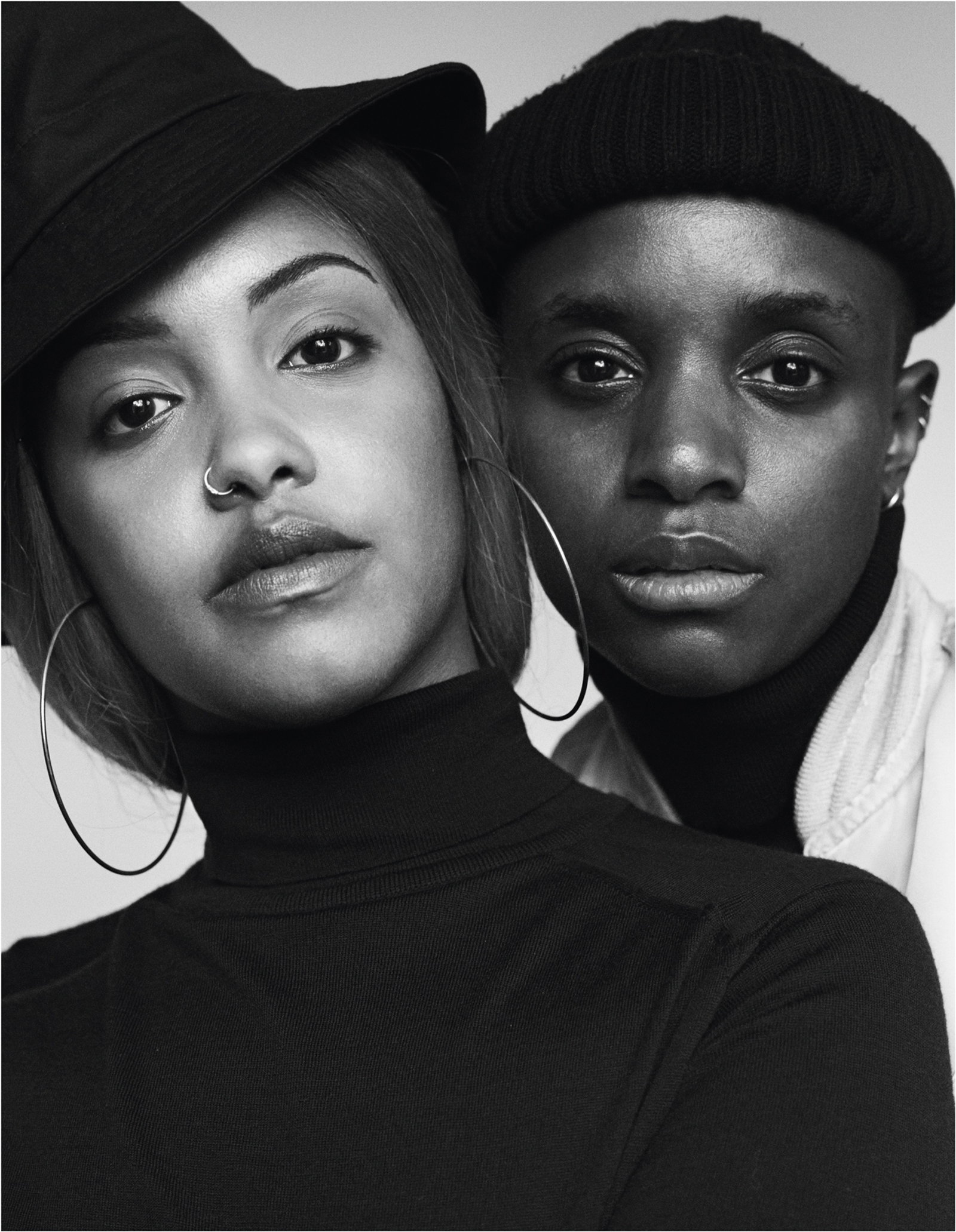 Then there's 6 Figure Gang – the collective they're in with four of their friends. "We came together because we like the same music, and honestly just because we're drunkards," says Sherelle of their insanely fun b2b2b2b2b2bs. "It's great to be part of a scene at a time where all the best DJs are female," Fauzia points out. "And I think that's because we've had to prove ourselves, so we work so much harder." But the shit that they'd like to really be remembered for is pushing their scene forward. "It's not for us to be fucking famous," Sherelle says. "We want to push a sound that's not being represented at the minute. A lot of people told me that playing footwork wouldn't take off, but I just got sent a package from Virgil Abloh with a note saying 160bpm for life.."
---
Credits
Photography Josh Olins Styling Max Clark
Hair Cim Mahony at LGA Management.
Make-up Ciara O'Shea at LGA Management using Fenty Beauty.
Nail technician Trish Lomax at JAQ Management using Cnd.
Set design Max Bellhouse at The Magnet Agency.
Photography assistance Jeremy Young.
Digital technician Brian Cleaver.
Styling assistance Giovanni Beda, Joe Palmer, Monica Armario and Gal Klein.
Hair assistance Tarik Bennafla and Rohmarra Kerr.
Make-up assistance Jade Smith.
Set design assistance Miranda Latimer.
Production Etty Bellhouse.
Production assistance Molly Senior.