see nostalgic images of fashion week in the 70s aboard mary quant's double decker bus
For their new collection Rixo resurrected the Mary Quant bus for a celebration of a bygone era of peace and love.
|
16 September 2019, 2:06pm
Imagery via Quincy Connell.
Celebrating 50 years since the most iconic festival of all time (no, not Charli XCX playing I Love It to unmoved crowds in Germany, Woodstock!), the latest release from London fashion brand Rixo celebrates a bygone era of counter-culture, flower power and free love.
With their 'Back to the Garden' limited collection, co-founders Henrietta Rix and Orlagh McCloskey have drawn inspiration from Woodstock's free spirited fashion. Expect oversized sleeves, scallop edging, structured minis, sharp labels, floaty skirts and Joni Mitchell references (the collection's title is also borrowed from Mitchell's bohemian ballad about the iconic 60s festival).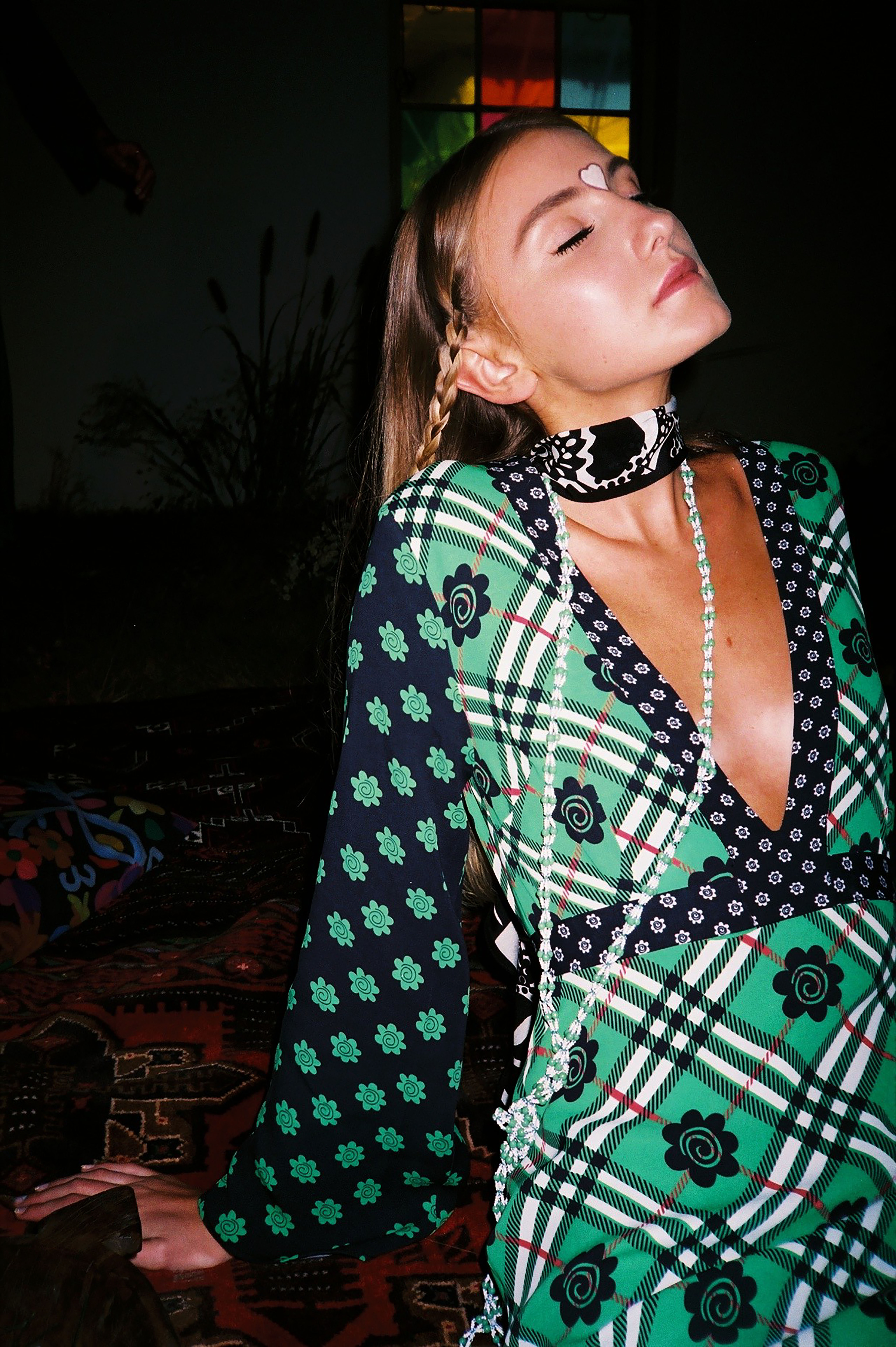 This weekend, Rixo unveiled the collection with an immersive experience culminating around a relic from the 60s and 70s -- a bus inspired by Mary Quant's iconic double decker. The Mary Quant beauty bus was an innovation, both then and now. A bright red routemaster, it was acquired by the designer as an ingenious way of pushing sales for her -- at the time -- fledgling beauty brand. The bus was stripped internally and custom fitted with make-up tables, mirrors and swivel tools, whereupon it swiftly hit the road. Between 1970 and 1975 the bus toured across Europe, Canada, America and Venezuela. The iconic psychedelic yellow bus, emblazoned with Quant's trademark black daisies, was the model Quincy drove across the Americas from 1972 onwards.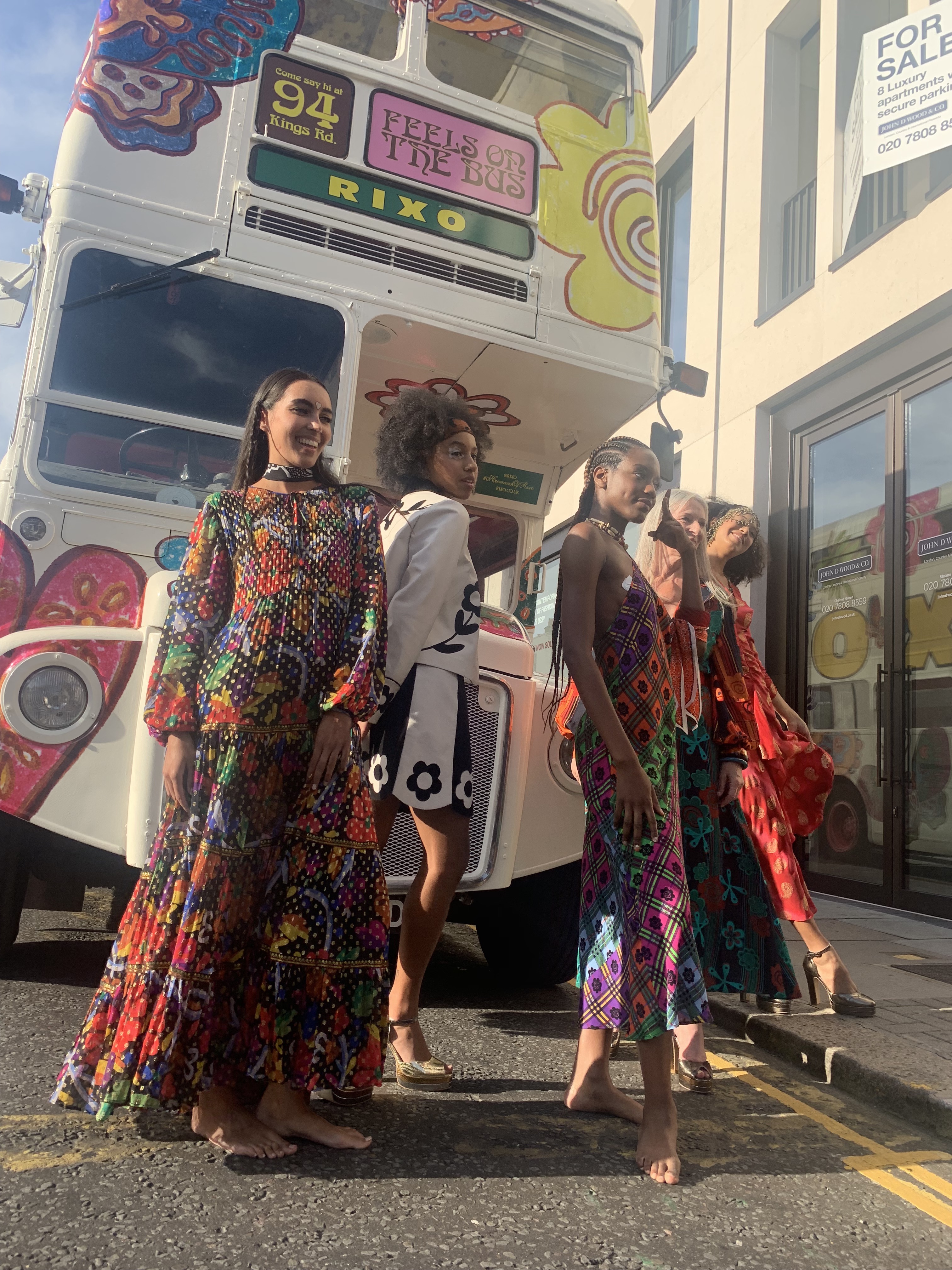 After connecting with Quant's bus driver, the Rixo designers were inspired by his stories of travelling the world on the famous bus, which shared Mary's designs with the world. Rixo's own incarnation of the bus, named "Joni", will hit the road later this year, functioning as a travelling pop-up store at different British cities and festivals.
Alongside the clothes was a selection of imagery from that bygone era of fashion and presentation, provided by Quincy Connell, Mary's bus driver. "I have been lucky to have led an eclectic lifestyle, which continues to today, even though I have officially retired,"Quincy tells i-D. "Following a move out of London some years ago, as I was sorting out things in my new house and was amazed that I still had so much memorabilia from that period [including] my diaries." He says he hopes to publish them soon.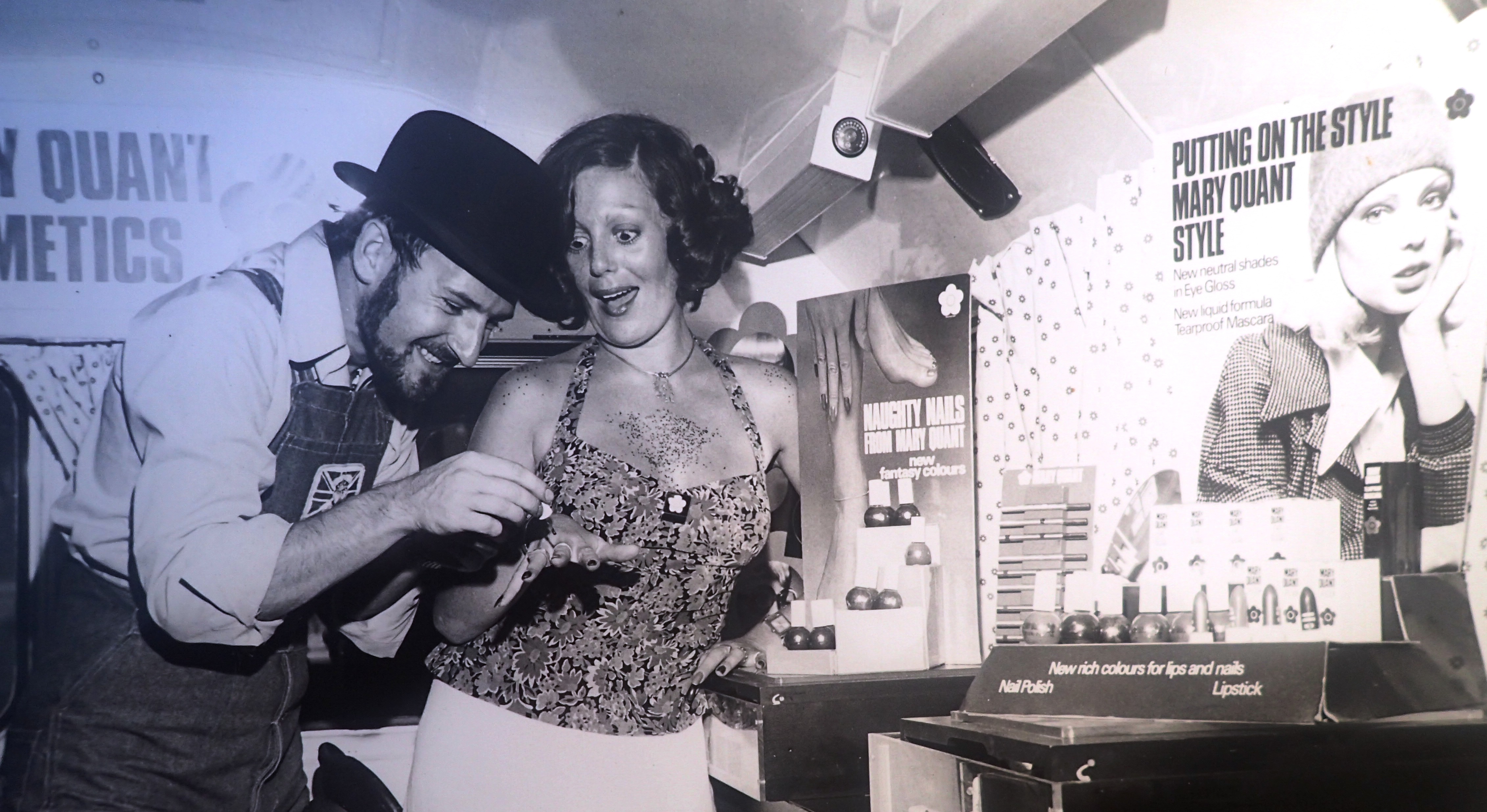 Along with sharing his memorabilia and diaries with Rixo, Quincy has also collaborated with the V&A on their Mary Quant retrospective exhibition. His Quant designed tie -- the only one in the entire world -- is currently on display there. "It was the most amazing three years of my life," Quincy says of his time as the fashion world's bus conductor. "The whole period was life changing. Recently though, I was asked a question I had never given any thought to. I was asked whether we were aware of our immense influence during the tour." Was he? "Hell no!" he responds. "We had our noses to the grindstone. Only now, when I look back can I appreciate what we did." His favourite image of the collection is one taken of himself, Mary and Stanley Picker setting out across the French Riviera. But the bus also crossed the Andes, stopped in Montreal and brought the swinging energy of London to corners of the world previously thought impossible.
Over the years long journey, Mary and her crew travelled the world not just selling, but teaching women to apply beauty looks, in an era that was still motivated by pre-war applications and colours. Aiming to inspire and empower, Quincy estimates that the brand taught some 25,000 women while the bus was on the road.
"She was in the right place at the right time," he says of Mary's enduring appeal. "Life is like that. It is always possible that another may have taken her place, but her designs have stood the test of time. Looking around, the way we showed women how to do their make-up is still commonplace. Of that, the bus crew and I can be very proud!"