2019 was the year of the protest, thanks to a new generation of activists
We are living in revolutionary times and young people are leading the charge. Yolian Ogbu, a student organiser and Zero Hour activist, reports from the frontlines.
|
17 December 2019, 10:00am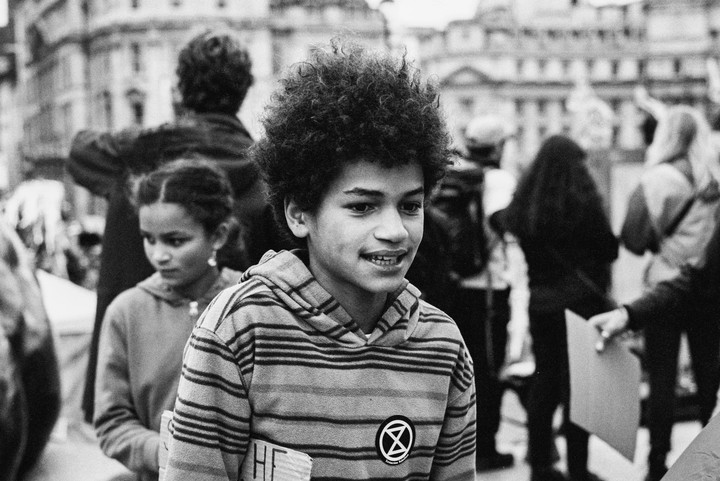 Growing up, politics was seen as a tricky business. It was an abstract concept, a system that could be gamed. But in the past few years, things have changed. As politics has become more polarised, a new class of activists have emerged, a class which is inexhaustible when it comes to championing the cause of social transformation. These grassroots organisations are more and more often led by the young. Youth are not on the sidelines but actually on the headlines. We are protagonists in the fight for our rights and our wellbeing.

Social change is seldom either as incremental or predictable as many think. Every once in a while, an outburst of resistance seems to create a ripple effect and open a world of possibility. We've seen clearly over the past few years that we can no longer rely on -- the majority of -- our elected officials to orchestrate positive change, but that's where the power of the protest, and the power of young social movements, has come to the forefront.
Unlike elected officials, social movements change the political weather. They tend to turn issues and demands considered both unrealistic and politically "inconvenient" into matters that can no longer be ignored; these movements succeed by championing the impractical.
Nowhere has this been clearer than in the climate crisis protests of 2019. We've seen millions of school-children walk out of their classrooms, demanding a better future for ourselves, and a future for the planet itself. Just a few months ago, the Global Climate Strike made history as nearly 4 million people around the world protested, making it the largest climate strike ever.
But the climate strike is not an anomaly. It has been a year of mass activism, a reaction to a ruling class that refuses to make space for anyone except for the old and wealthy. Months before the climate protests dominated our newsfeeds, the Sudan revolts had begun to spark international news as thousands of people protested against the government, with young women often leading the charge. And even today, millions continue to shut down the city of Santiago, Chile in protest against institutional classism.
The easiest way to take away someone's power is to convince them they don't have any. But in 2019, it seems that people are waking up to the fact that they can harness their own power through organisation, protest, and youth activism. Every day it seems that yet another country's population is taking matters into their own hands and challenging their government. Millions of people in Sudan, Chile, Lebanon and so many other nations are taking to the streets to demand their voices be heard and to re-establish our collective people power. Today's generation is living in revolutionary times, because we're creating our own revolution.
Many people have linked this year's spirit of protest to the student and youth led activism of the 1960s. We're now 51 years on from 1968, the so-called "Year of the Student". But while 1968 may have been the year radicalism exploded, it was also the year that student movements began to unravel. The assassinations of Martin Luther King Jr. and Robert Kennedy set back the civil rights and anti-war movements tinging activist circles with structurelessness and chaos. This time around though, we have social media to broadcast our coordinated efforts around the world. Which is why movements like #BlackLivesMatter, #MeToo, and #NeverAgain will live on past the lives of their founding leaders and will remain living movements.
These movements are happening because of young people. Because of young women. Because of young black and brown people. Because we are living in a time where we are all demanding our voices to be heard on an international scale, because we are tired of our very existence not being valued. Generation Z is routinely associated with the trait of "stubbornness" and I believe it is for a good reason. MLK's words -- that "Our lives begin to end the day we become silent about the things that matter" -- still hold true for our generation: we simply cannot afford to stay silent anymore.
I joined the Zero Hour movement this year because 2019 was the year where youth organisers showed up in the streets and demanded climate action. From my homeland in East Africa to my residence in Texas, millions of young people were uniting, lifting up their voices in unison to demand better.
The world is not perfect. Our politics can be depressing. But for the first time in this generation's lifetime, it feels like the world is finally starting to listen to us, the kids whose lives are forever altered by the climate crisis, the kids whose lives are at stake. History was not and will not be made by those who bite their tongues. Young people across the world are coming together to recreate and redefine people power and governance. And we're just getting started.