coach brought 'the blair witch project' to nyfw
Stuart Vevers had a gothic American West romance in a forest littered with flickering TV sets.
|
14 February 2018, 5:43pm
I almost bowled over Sasha Lane when walking into Coach's Basketball City show on Tuesday. The cavernous Lower East Side venue was almost pitch-black, and as guests' eyes began to adjust from the glare outside, a faux forest emerged, one where old school television sets were strewn amongst mist-shrouded trees. "Exploring the tension between New York City and the American Southwest," Coach's show notes explained once we'd finally felt our way to our seats. Stuart Vevers took his singular vision for Coach — core elements of luxury leather and plush shearling served with American small town chic — and cloaked it in a heavy layer of darkness. Tooled Western leather came with whips and gothic charm necklaces, while prairie dresses moved with a ghostly quality. Spectral, but tough: Natalie Westling and Adwoa Aboah stomped down the runway to rap tracks including a sped-up remix of Princess Nokia's Mortal Kombat-referencing "Kitana."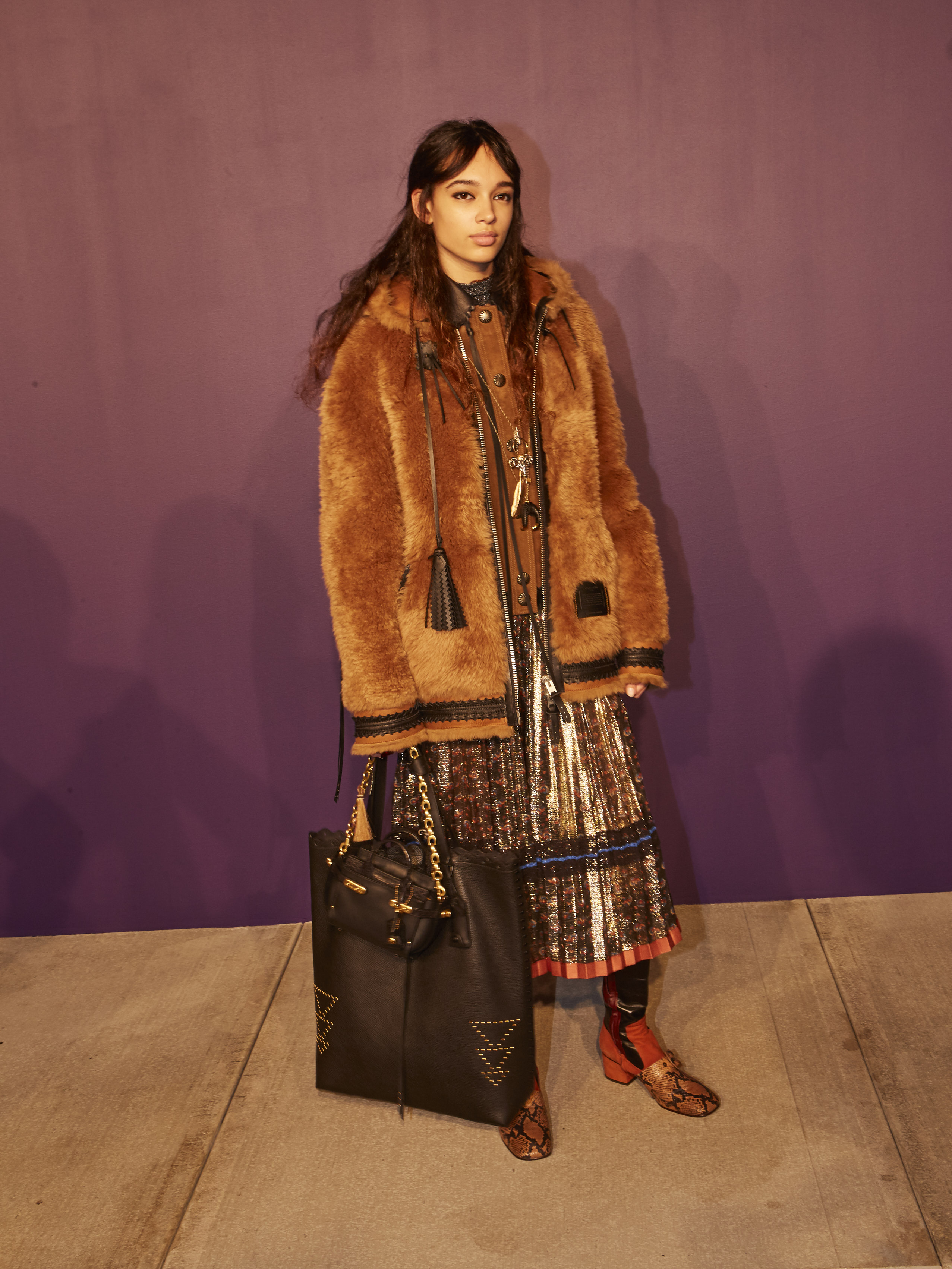 It's not surprising that New York's best designers are looking at the nation though a darker lens. At Calvin Klein, Raf Simons's American Dream now borders on apocalyptic. But however goth Vevers got yesterday, he's still clearly in love with the American West. Floral devoré gowns and beautifully embellished pleated pieces felt charming and romantic, albeit in a disaffected 90s Courtney Love way. In ways, Vevers seemed more inspired by pop culture than by current events — The Blair Witch Project vibes were palpable when the television screens lit up with glitchy woodland footage, and Stranger Things could have been a reference for the 80s sportswear. It would hardly be the first time the hit Netflix series has showed up on a runway.