Photography Mitchell Sams
rick owens explored the art of seduction and rules of attraction in 2018
The who, what and wow of Rick Owens autumn/winter 18.
Photography Mitchell Sams
Who?
Rick Owens is more than a fashion house, it's a tribe, a family, a world. It's inhabitants are a shape-shifting, otherworldly daydream that lurk in the darkest corners of our imaginations.
Like the autumn/winter 18 men's collection, the autumn/winter 18 women's collection was titled Sisyphus -- after the arrogant king in Greek mythology punished by Zeus to eternally roll a boulder up a hill only to have it roll back down. Owens was questioning the feeling of being trapped by modern life and whether the moments of frustration that result serve some form of purpose; the clothes delved into the duality of restraint and release. The women's collection was about seduction and transformation.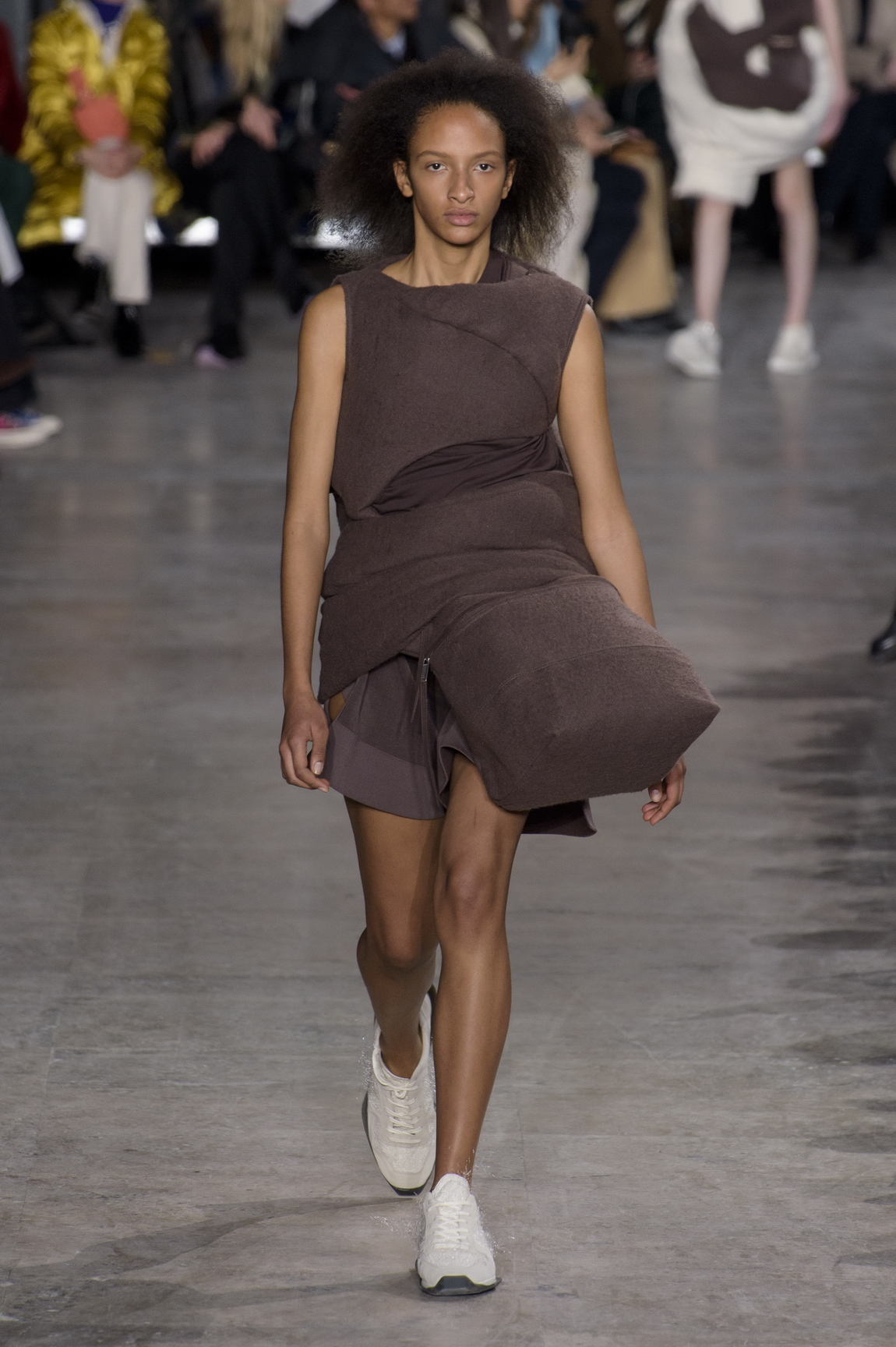 What?
"Clothes are communication and that communication very often is about seduction," Owens explained post-show. "What does that mean now and what are the results that people are looking for?" As the Palais de Tokyo bounced to various versions of Baubles, Bangles & Beads -- from the 1953 musical Kismet -- Owens was playfully probing seduction and the rules of attraction in this post-Time's Up and #MeToo world. "I could never presume to know how women feel, but I ask myself, what is appropriate for me to propose to people?" The answer saw Owens bulk-up tunis and wrap, twist and distort pilled blankets stuffed with goose down to form lumpy and bumpy dresses, all in the name of seduction.
Owens took influence from arte poverta; reimagining commonplace materials into extravagant shapes and distorted memories of bustles and panniers which deliberately exaggerated the female form. "They're sophisticated gestures because they border on the ridiculous," Owens explained. "I appreciate that kind of wit, and I think fashion has missed it." The unique bulbous silhouettes that have quietly evolved over the last few seasons were present once more but their function had shifted away from protection and more to form. The show notes discussed the "grotesque physical distortion in the name of seduction". Throughout the padded lumps and bumps of this collection were reminiscent of the iconic Comme des Garçons spring/summer 97 collection, Body Meets Dress, Dress Meets Body. Just as Kawakubo tackled the cultural tropes of female body image back in the mid-90s, Owens was doing the same for today.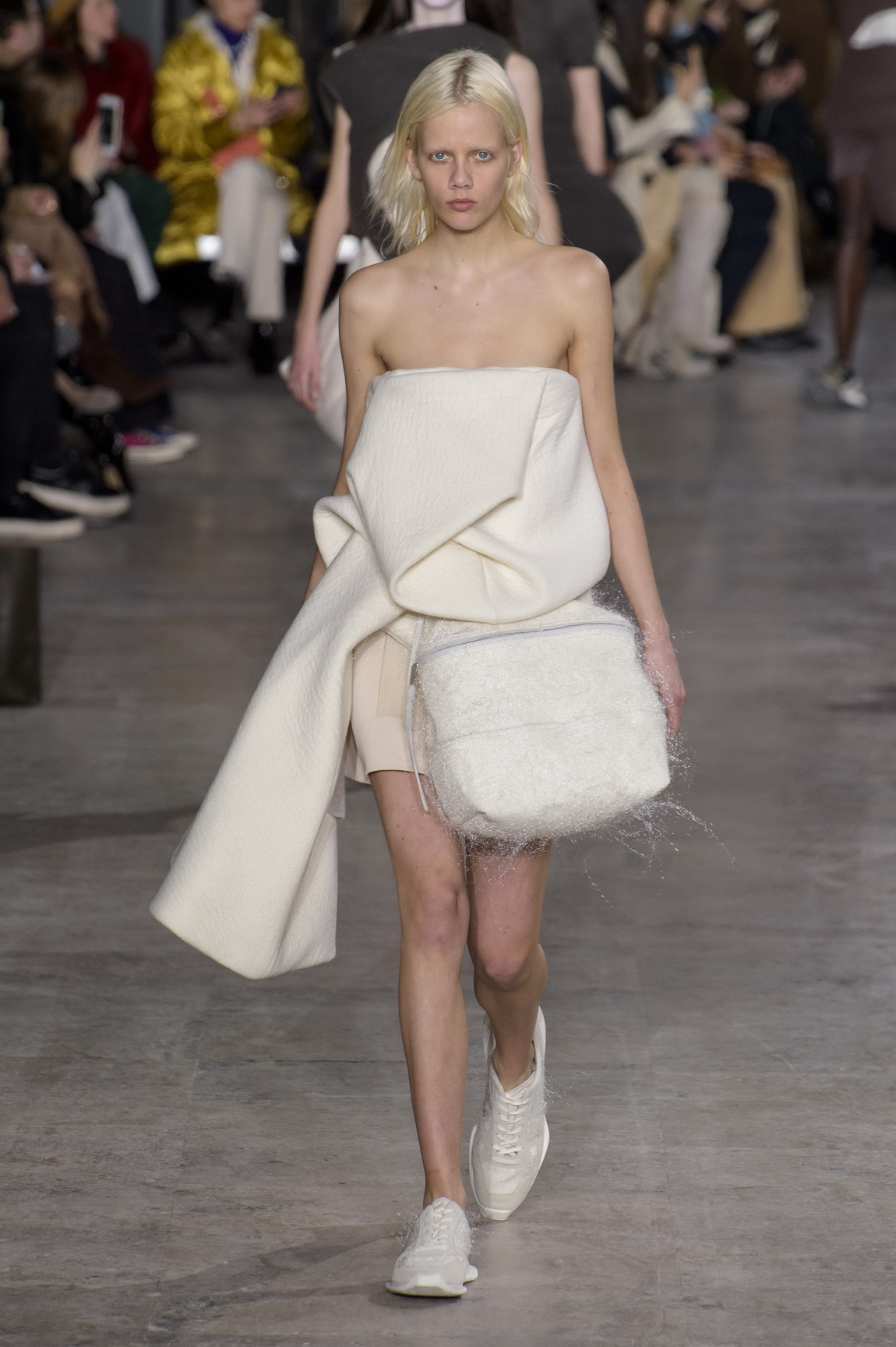 Wow!
Evelyn Nagy, wearing a padded tunic, swaddled in a pilled blanket, blue-hued and horned, was the most powerful look, but in amongst the avant-garde exaggerations, the volume of wearable garments might be even more shocking. Equally shocking was the presence of colour -- buffalo-check coats and dresses in hues of yellow and brown.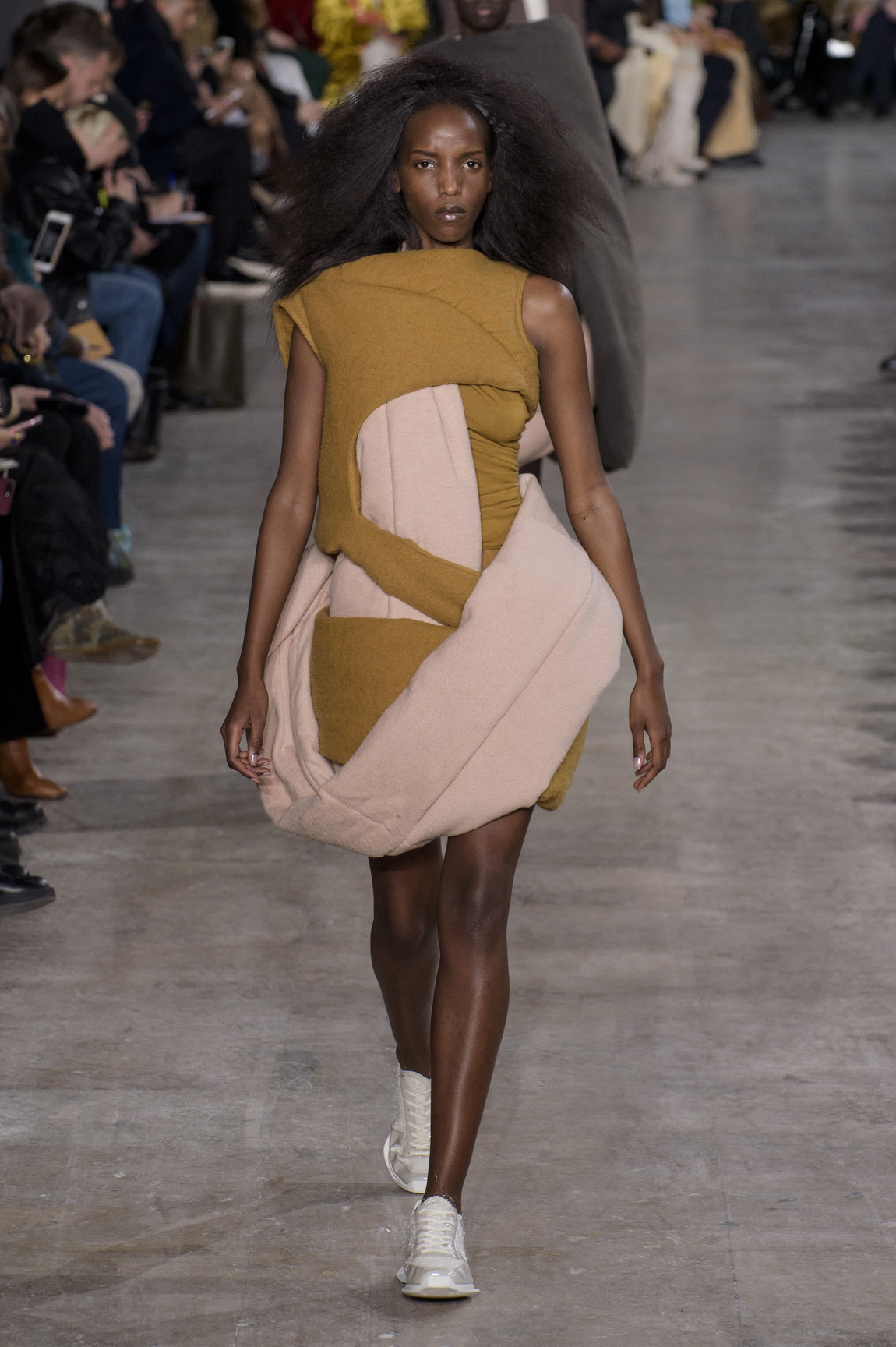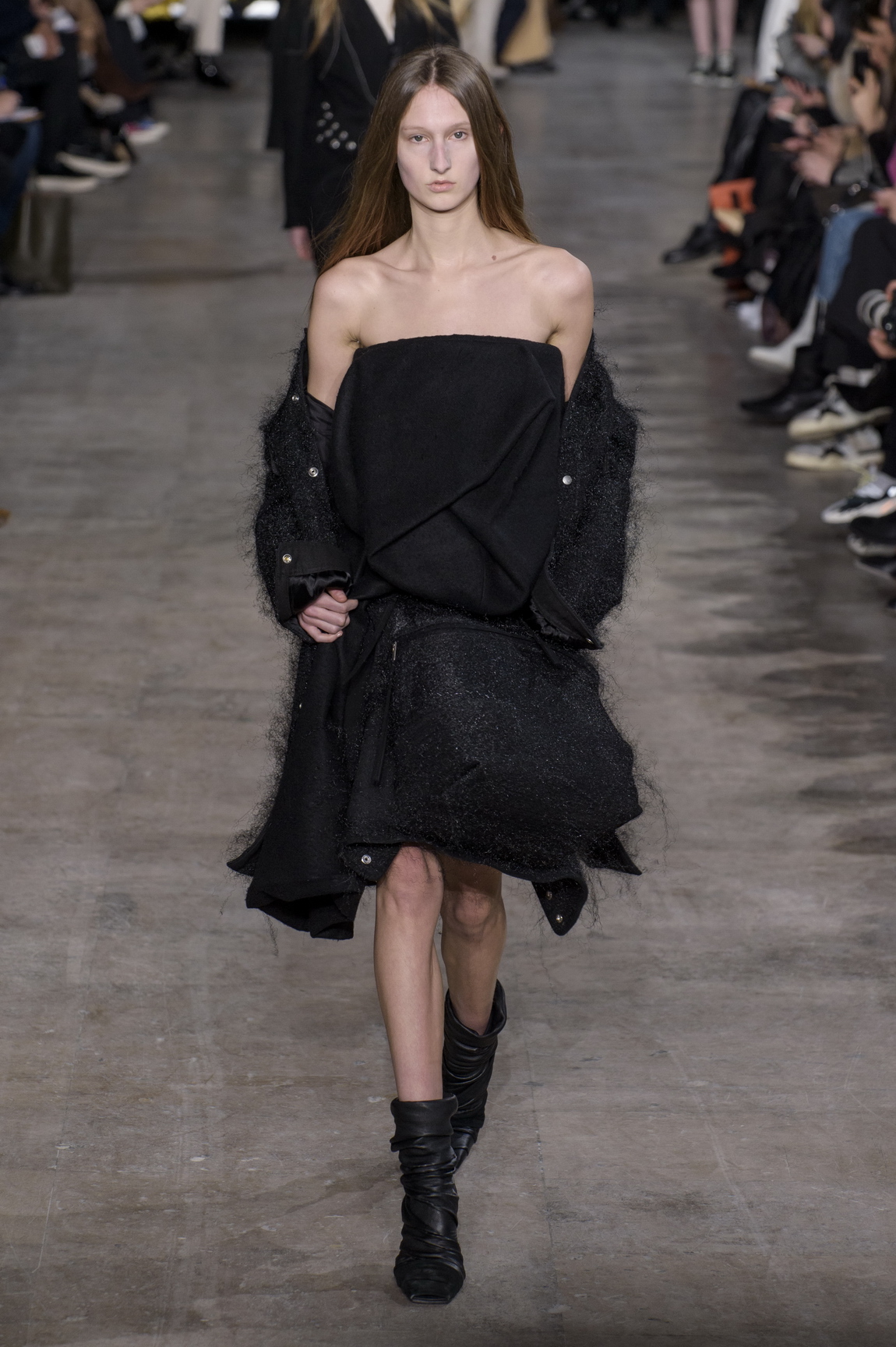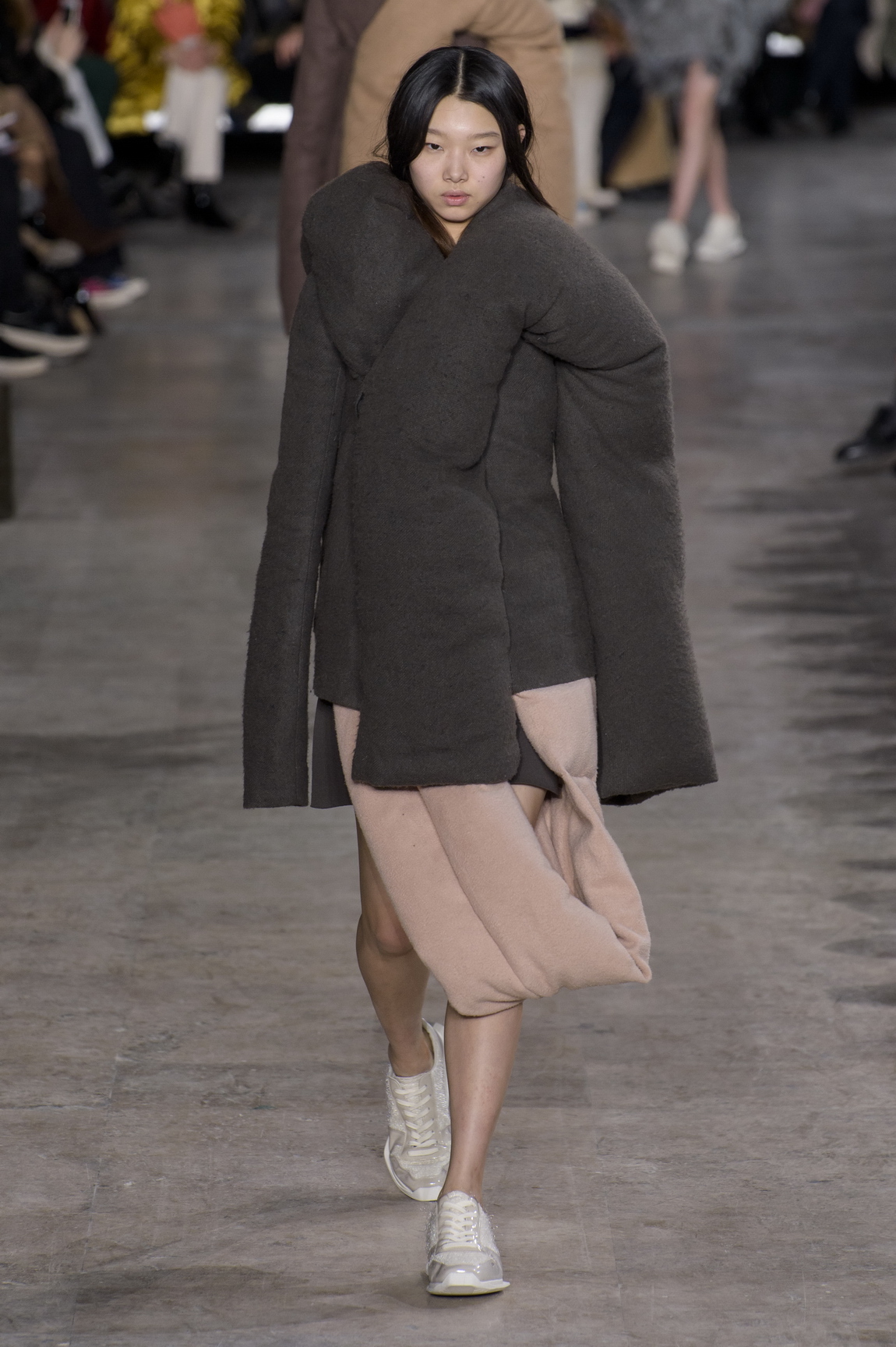 Credits
---
Photography Mitchell Sams