lauryn hill and nas explain the concept behind their powernomics tour
Along with guests Hannibal Buress and Chronixx, Nick Grant, Fefe, Dave Chappelle and DJ Lakim are joining the line-up. Mega.
|
07 September 2017, 12:17pm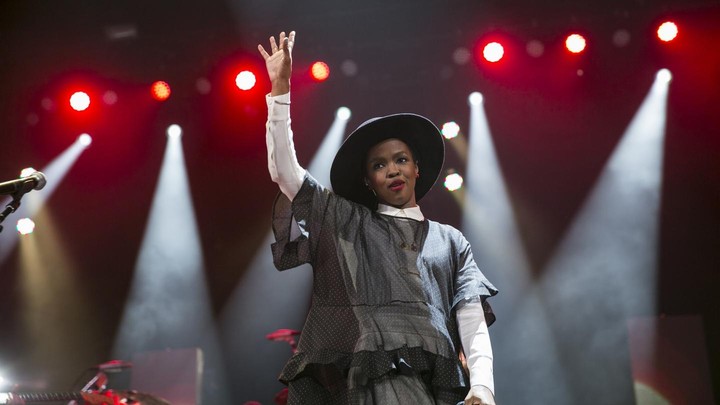 Lauryn Hill and Nas have announced the concept behind their upcoming PowerNomics tour, which kicks off tonight in Chicago before playing 17 cities through early October, finishing in Vancouver. Inspired by the name of Dr. Claud Anderson's book of the same name, PowerNomics is a plan intended to produce economic enfranchisement for the African-American community in America.
Nas and Lauryn's tour is the latest in a continuing legacy of rap and R&B stars teaming up, following Jay-Z and R Kelly's Best of Both Worlds tour in 2004, and Jay-Z and Mary J Blige's Heart of the City tour in 2008. But their PowerNomics tour adds a political and philanthropic twist to the trend. The pair last crossed paths when Nas worked with Lauryn on If I Ruled the World and also when Nas and DJ Khaled sampled the Fugees in 2016 on the track Nas Album Done.
In spirit of the PowerNomics concept, both Nas and Lauryn will be raising funds in support of education, health, agriculture, technology and community-based businesses throughout the tour. They're supporting 44 charities altogether, including The Harvest Institute, Yes We Code, Equal Justice Initiative and the International Peace Initiative. Alongside the concept, Lauryn and Nas also released names of new guests on their tour, with Dave Chappelle joining tomorrow night in Detroit as well as Nick Grant, Fefe and DJ Lakim joining special guests Hannibal Buress and Chronixx on selected dates.
The PowerNomics theme fits in with Lauryn Hill's longstanding narrative of amplifying and elucidating the marginalised,and the unheard, as well as bringing culture together creatively and economically. Speaking about the tour the singer said: "My interests have always centred around encouraging empowerment, and focusing on ways to help heal, repair, educate and promote enfranchisement to the disenfranchised. I'm excited to share this platform for community, creativity, and progress, helping to expose, educate, and magnify the beauty of cultural amalgamation."
Nas added: "PowerNomics tour is our way of being a part of the solution. We are here to lend a hand where it is needed and hopefully to inspire. I'm a part of a mission to help build a more diverse tech industry and to encourage my people to see beyond what they believe is in their reach.
"Music is spiritual, and we are a musical people, so what better way to contribute to our situation than to bring some spirituality? And what better time than now, in the midst of the devastation of Hurricane Harvey as well as the dire situation of many African-American communities?"