rina sawayama's cyber stockholm syndrome and the other new music vids you need to watch
Annie Clark restrains a swan, French-Cuban twins Ibeyi announce their second album and reenact the circle of life with a disturbing visual, and our pal Rina Sawayama gives us life with her 90s R&B dreamworld.
|
01 September 2017, 1:11pm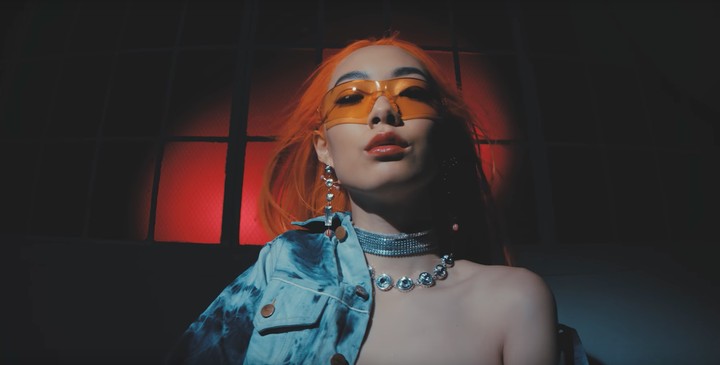 Rina Sawayama, Cyber Stockholm Syndrom
St. Vincent, New York
In the first video from her forthcoming album, Annie Clark manages to fight off a sequin-eating swan all while performing her Jack Antonoff collaboration down the camera. The song is in part an ode to New York -- her home since the mid 2000s that she now splits with Los Angeles -- and it's filled with emotion. "I get a lot of pleasure from saying fuck," she told listeners on a song exploder episode about her extensive use of 'motherfucker' on the song, which we love her for, but it's the wink at the end that really does it for us.
ZILLA, Get Your Way
It might have been floating about on the internet/through people's hearts for the past couple of years, but classically trained Parisian pop musician Zilla's debut single is finally, officially, out today on producer Matthew Herbert's Accidental Records. As well as layer upon layer of hypnotic vocals, the track has the best use of drip sound since that one on Noah Cyrus' Cry, while the accompanying video is a strobe-inflicted night terror that ends with Zilla wielding an axe.
Rina Sawayama, Cyber Stockholm Syndrome
For this long-awaited digital love affair, Rina called for low angles, wind machines, a car ride through hyperspace, a flip phone, and of course a killer dance routine. It's pure 00s and we can't get enough.
Jorja Smith x Preditah, On My Mind
A low-key video for Jorja Smith's new garage tune with Birmingham producer Preditah. Here we find Jorja and her mates bringing pirate radio back to the airwaves with a house party attended by faux UKG crew, Kurupt FM. Tbh, this tune has been on our minds since we ran the exclusive last week.
Ibeyi, Deathless
Those Ibeyi angels just announced their forthcoming album Ash (out 29 September on XL Recordings) and with it, shared this mindfuckery. In the Pulse-produced music video, twins Lisa and Naomi take it in turn to be born, die and birth each other again in a beautiful story of reincarnation that should really be added to the school curriculum. The brass on the song comes courtesy of LA Jazz king Kamasi Washington, because he knows what's up.
GIRLI, Hot Mess
There are two takeaways from GIRLI's new video in which she hangs with her skate mates in Hackney before her Moth Club gig. Firstly, non-dairy milk: much better for everyone than the regular stuff. Secondly, GIRLI is not your bitch.
Jae Tyler, Life As a Wall
Well, this is glam, isn't it? Multiple incarnations of Oklahoma-born, Berlin-based Jae perform throughout this kaleidoscopic split screen short in which all manner of supernatural wonders occur, with earthquakes giving way to meteor showers and a lunar eclipse. Life As a Wall, in all of its psych-pop/surf-metal glory is out now on Week of Wonders.
Yaeji, Last Breath
Next up, it's a fun one from GODMODE/88rising's Korean New Yorker, Yaeji. In the fake make-up tutorial, she introduces watchers to a product called depression that stays on for 24-hours, and urges them to massage all embarrassing memories into their coming years. Both video and track are kind of genius, as is her rework of Drake's Passionfruit.
Alex Cameron, Runnin' Outta Luck
This guy! Someone give him his own dance show please. Alex Cameron -- big fan of tank tops, Jemima Kirke, and the great British seaside -- gives us the next visual from his forthcoming album Forced Witness, out 8 September on Secretly Canadian. The top YouTube comment here sums up the love-hate pull of this one: "He's fucking disgusting -- and I love him."
KWAYE, Sweetest Life
Young London director Billy Boyd Cape has done it again. And by 'it', we mean team up with exciting new artist KWAYE on a music video full of sunshine, positivity and more great dancing. This time, the duo went to Los Angeles and made full use of its pastel walls, blue skies and nonchalant passers by. Liven up your weekend by attempting to reenact this through whichever town/city/village you call home. Have fun.