the dior saddle bag is back (again)
A brief history of fashion's latest comeback trend.
This article was originally published by i-D UK.
Giddy-up cowpeople, the Saddle Bag is back. Last seen swinging off the Juicy Couture-clad, vajazzled flip-phone wielding arms of fashion's favorite It Girls, nearly two decades since launching, Dior's equestrian must have has made its long way back to the catwalk from the dark, dank cultural abyss of eBay. Can it really be? Yes. Punctuating yesterday's Joseph-and-the-Technicolor-Dreamcoat-meets-flower-power-protest-inspired collection, Maria Grazia Chiuri sent a handful of models down her fall/winter 18 runway clutching a not-so-different version of the late 90s/early 00s classic in their well-pruned paws.
But, wait, didn't this already happen? Well, sort of. In the last few years, a flurry of think pieces heralding the much-awaited return of the Dior It Bag have surfaced after a handful of random Saddle bag sightings (more on that later) on the arms of people who know. But, like most guys on Tinder, this coming was premature. Because, they weren't back, not really. These were just vintage finds being worn in new contexts. Think of them as the warm up act to the main event, the amuse-bouche to the opulent feast that was to come, courtesy of MGC. So, why now? Well, before we get into the here and now, a brief history lesson is in order.
The year is 1999. The Mickey Mouse club alumni were dominating the charts and everyone* still thought that Ricky Martin was straight and Britney Spears still a virgin. Over in fashion land, we were in the height of logo mania. Forget ugly trainers, it was all about Ugg(ly) boots. Von Dutch had just been founded and Juicy Couture was in full swing. Kim Kardashian was working as the wardrobe girl for Paris Hilton, who was still signed to Donald Trump's modeling agency. This was pre-Hijab Lindsay, but post Wino Forever Johnny Depp. Motorola had a monopoly on what mobile phone you were using and MSN was the mode of communication du jour. It was a simple, Swarovski'd time. All was right with the world.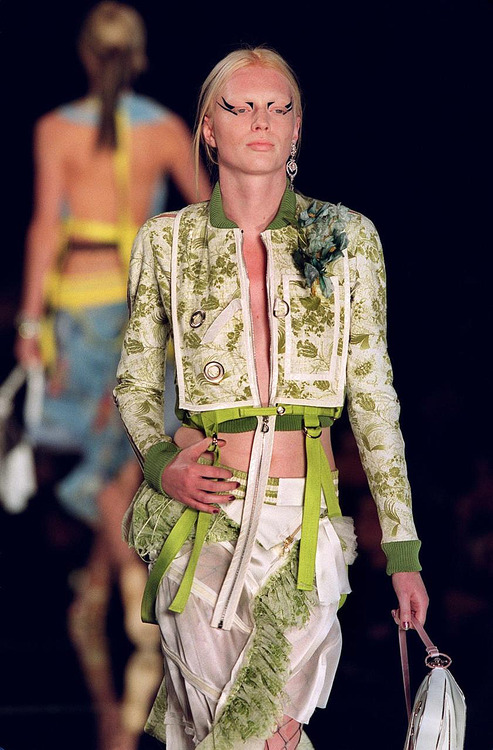 Over in Paris, John Galliano was making nothing short of magic at the helm of Dior. His spring/summer 01 collection, a love letter to Lauryn Hill, which, looking back at now, with the waify white models rocking dreadlock hair wasn't really all that woke. But beyond that, it marked the birth of the new It Bag — a micro horse saddle-shaped sack, which closed with a flashy gold D-shaped stirrup, that went o'er your shoulder and sat snug under your armpit. The first iterations came in blue denim, camel leather, a Pucci-esque print, and the classic grey logo, and as demand for fashion's new must have grew, so did its style variations. There was the rasta one, the baby pink one, the double denim one, the Trompe-l'œil newspaper print one, the camo one, one for every Spice Girl.
By the time the noughties rolled around, they were everywhere. Paris Hilton, Nicole Richie, Sienna Miller, Destiny's Child, Mischa Barton, Carrie in Sex and the City, Shawn and Marlon Wayans in White Chicks. Actually that last one might need fact checking but you get the vibe I'm selling. With only enough room for a Lancome Juicy Tube and some breathmints, they weren't exactly practical. What they were was an unmistakable marker of celebrity, status, and wealth; if you weren't spilling out of a hummer, flashing your poon at the paps, and spilling the contents of your Dior Saddle bag onto the floor of Le Bain for the whole of TMZ to see, then, eww, who even were you?
Then something happened — for all intents and purposes let's call it the Danniella Westbrook effect. The 2008 financial crash put an end to obvious flaunting of wealth. And besides Paris went to jail, Destiny's Child broke up, Kim Kardashian made a sex tape: culture had moved on, the Saddle Bag was over, cast to the back of wardrobes around the world or relentlessly flogged on eBay.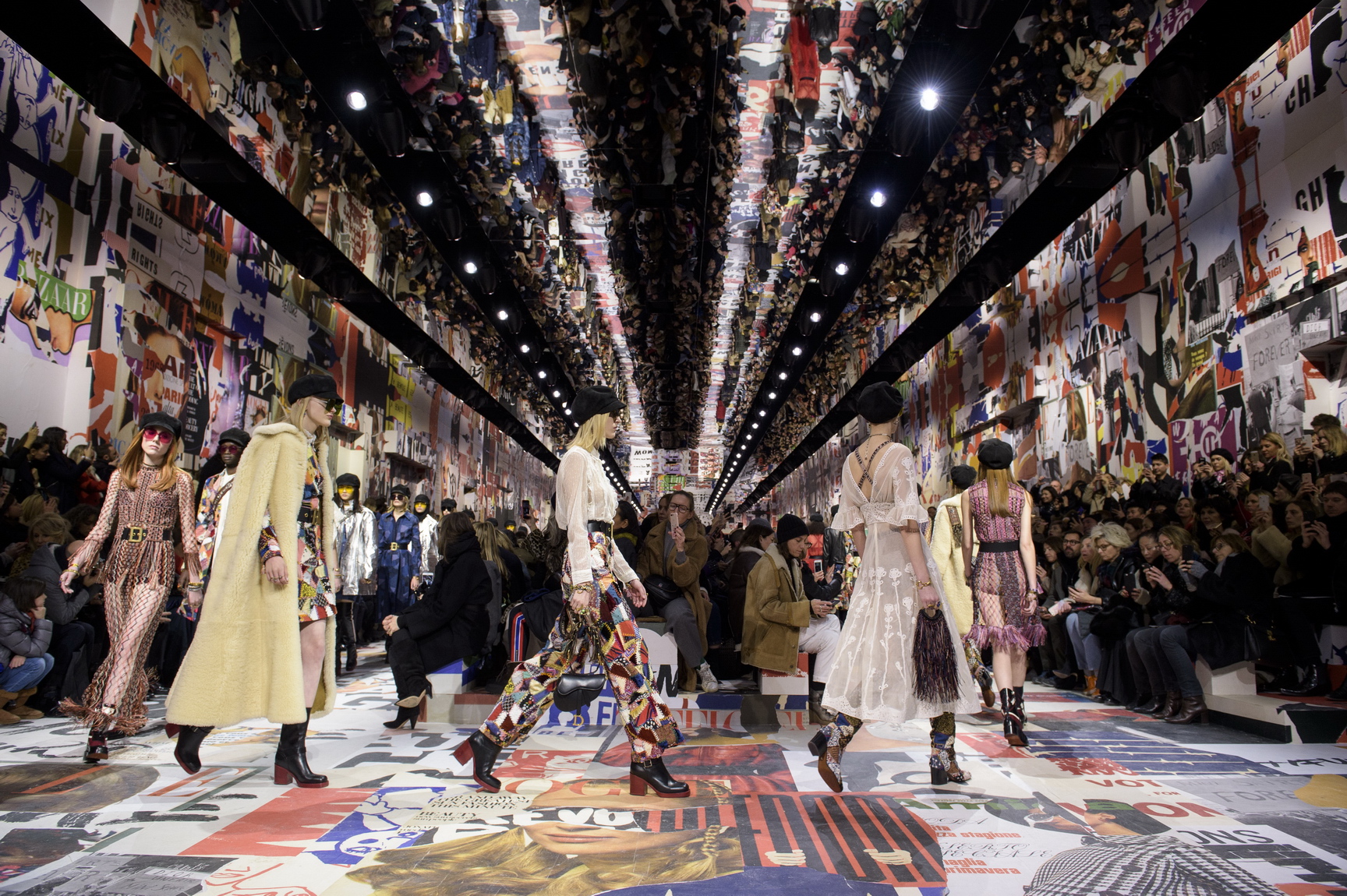 But that's not where the story ends. Over the last few years, vintage Dior Saddle Bags have been cropping up all over the place, excavated from the dusty annals of fashion history. Indeed, only the other day Bella Hadid was papped repping a retro denim one, our gal Riri was seen sporting the traditional logo one, Queen Bey took a brown one out to dinner, Adwoa wore one to a wedding and this massive Chinese pop star CL posed for a picture in one.
Framed within a normcore or sportswear context, they're no longer a seen as a symbol of ostentation. They're no longer naff, they're cool in an ironic sort of way, which isn't surprising considering the recent return of other late noughties trends.
Even designers are referencing their own nineties and noughties archives. Just look at Donatella Versace's brilliant tribute to her brother Gianni; Miuccia Prada's print mash up and references to Prada Sport. It's no wonder then that Maria has dipped into Dior's archive to unearth the iconic It Bag. But what's the point? Well, beyond consolidating the brand's DNA in an age of derivativeness, the reissuing of the Saddle Bag makes for great Instagram fodder. It's a smart move. A quick scroll on Insta, and already the pipes are clogging up with the returned must have bag. What else is there to say? The Saddle Bag is back, tell your friends. Yee-Haw.
*no-one really thought he was straight though, did they?
This article originally appeared on i-D UK.