Photography Mitchell Sams
marni lead the retrovolution at milan fashion week
Francesco Risso's Marni is youthful, unexpected, thought provoking and fun.
|
26 February 2018, 3:57pm
Photography Mitchell Sams
Who?
Since he replaced Consuelo Castiglioni at the creative helm of the off-kilter luxury label that she built over over two decades, Francesco Risso has personified the fresh energy and sense of excitement that has revived Milan in recent seasons. Right from his thrown-in-at-the-deep-end autumn/winter 17 debut, his Marni has been a shake-up of the senses that is youthful, unexpected, thought provoking, and fun. He's stepped out from the shadows, not only of Marni's beloved founder but of Prada, his previous employers -- Risso spent eight years with Miuccia Prada working on women's design and special projects. Now is his time in the spotlight. Driven by what he calls his "retrovolution", Risso cuts, pastes and innovates everything he's learned, building on tradition and moving beyond it to create for a brave new tomorrow. From the latest madcap art installation-worthy show set that saw guests sit on bales of discarded materials -- everything from vac-packed garments, newspapers, electronics -- to the collaged collections themselves, Marni doesn't want us to sit too comfortably as Risso continues to ask questions and ignite imaginations.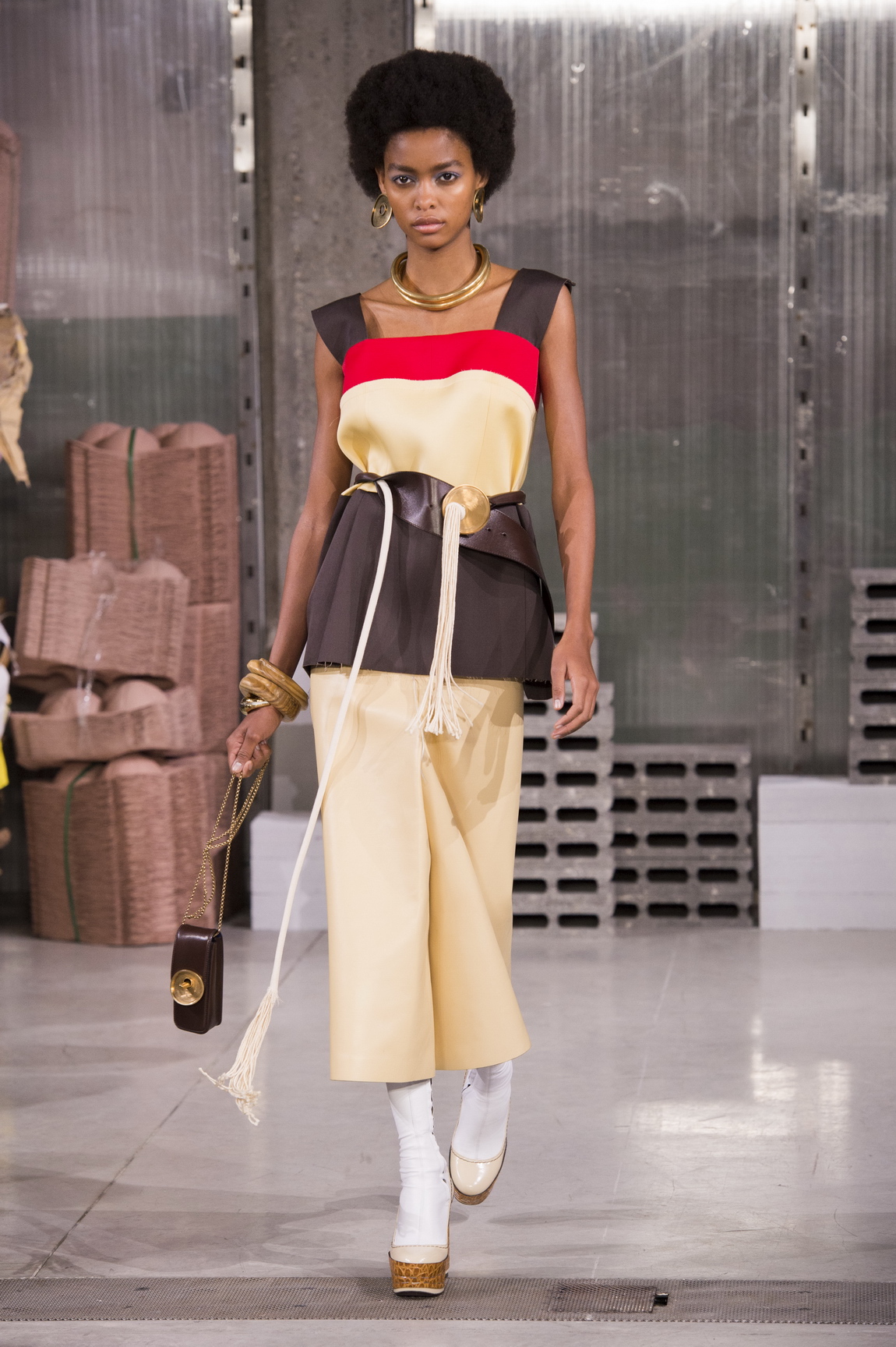 What?
"It's about collecting, obsessively putting things in order and expressing human waste," Risso explained backstage when probed about the set. These ideas echoed throughout the garments themselves as contrasting textiles and techniques were collected and collaged together in a delightfully disheveled order that only makes sense through the filter of Risso's mind. "Each garment is built through an elementary construction, like the bust, the sleeve and a skirt stitched together in a primal way," he explained. It is this childlike naivety and sense of wonder at the world around us that pushes Marni forward. For autumn/winter 18, he was driven by the concept of techno primitivism -- a combination of old and new ways of living. "It's about this irresistible, loving obsession for technology and innovation but also the movements of the soul that you can't put into technology," Risso explained. Delighting in the duality, he spliced and stitched his contrasts to fuse new possibilities -- polyester met leather, PVC met silk, raw edges met laser-cut precision.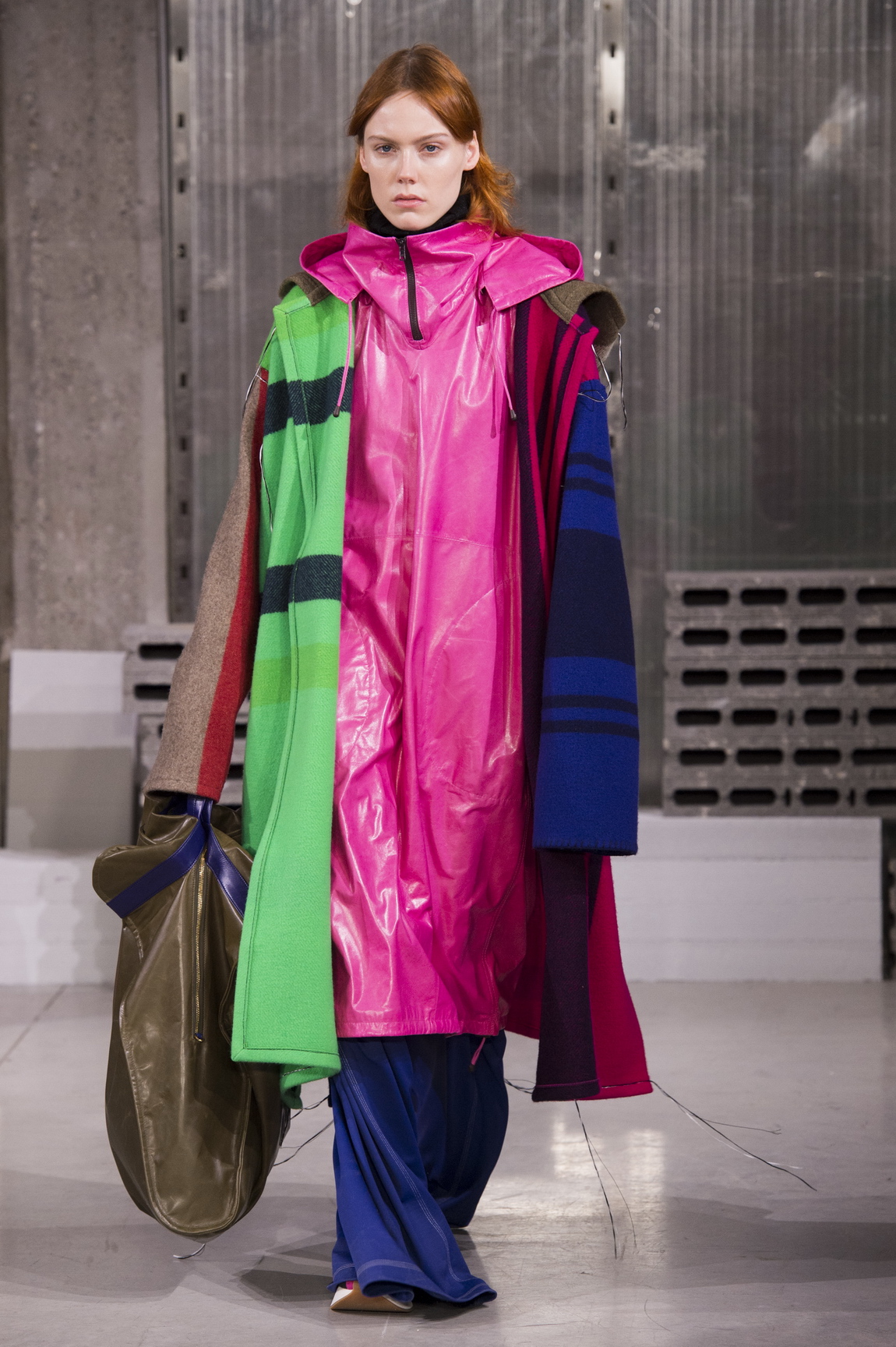 Wow!
Mayowa Nicholas' opening look of a wipe-clean hyperlink blue trench with a contrasting leather belt and unravelling cords set the scene perfectly and Sora Choi was purr-fect in her pretty in pink catprint coat and the final few dresses saw two distinct vintage-inspired prints stitched as one. While garments hinted that they had been recycled, only one jacket fully was and it stole our hearts in the process. Tasha Tilberg's flecked and felted coat repurposed and reimagined carpet underlay. Genius.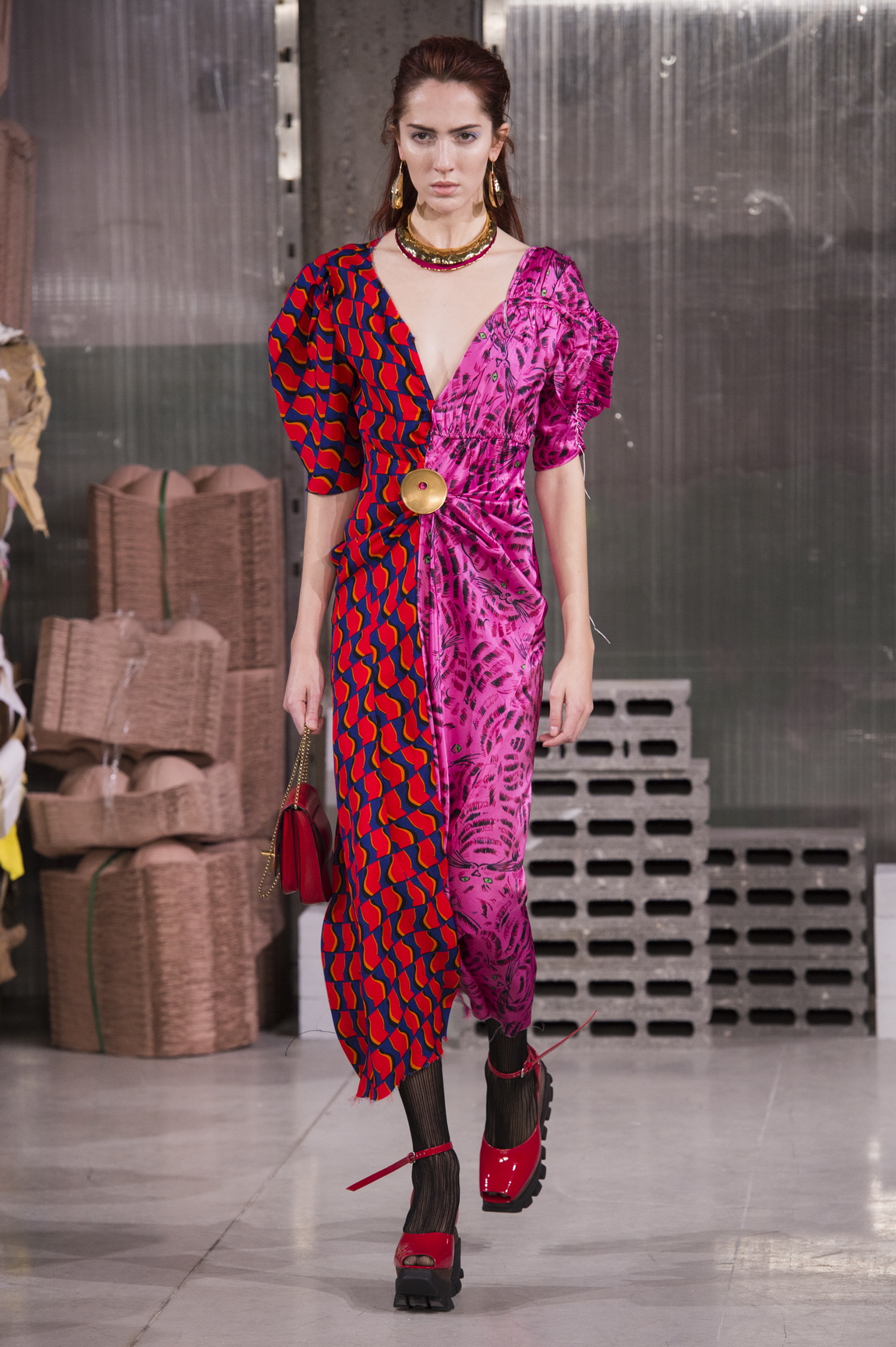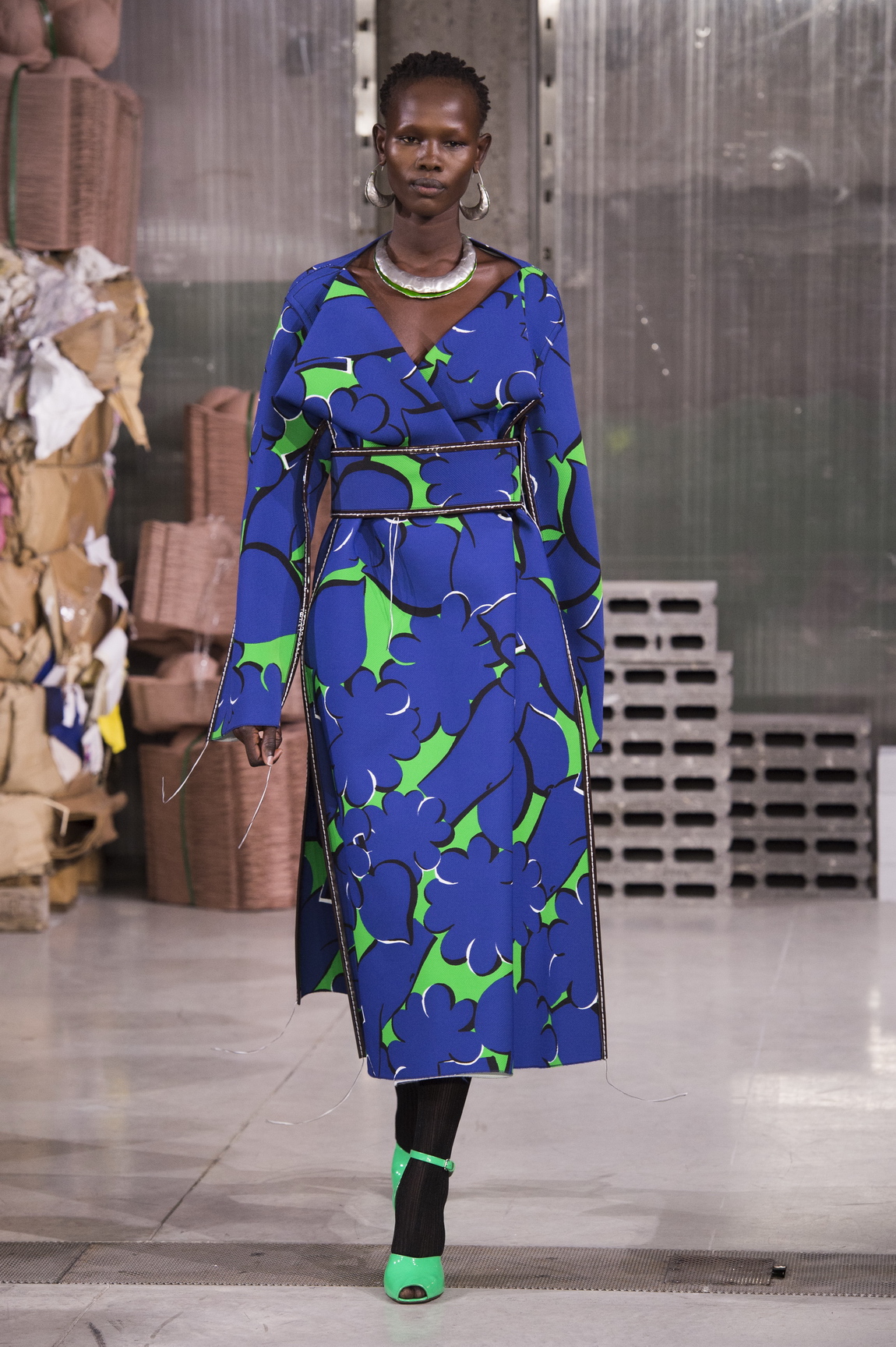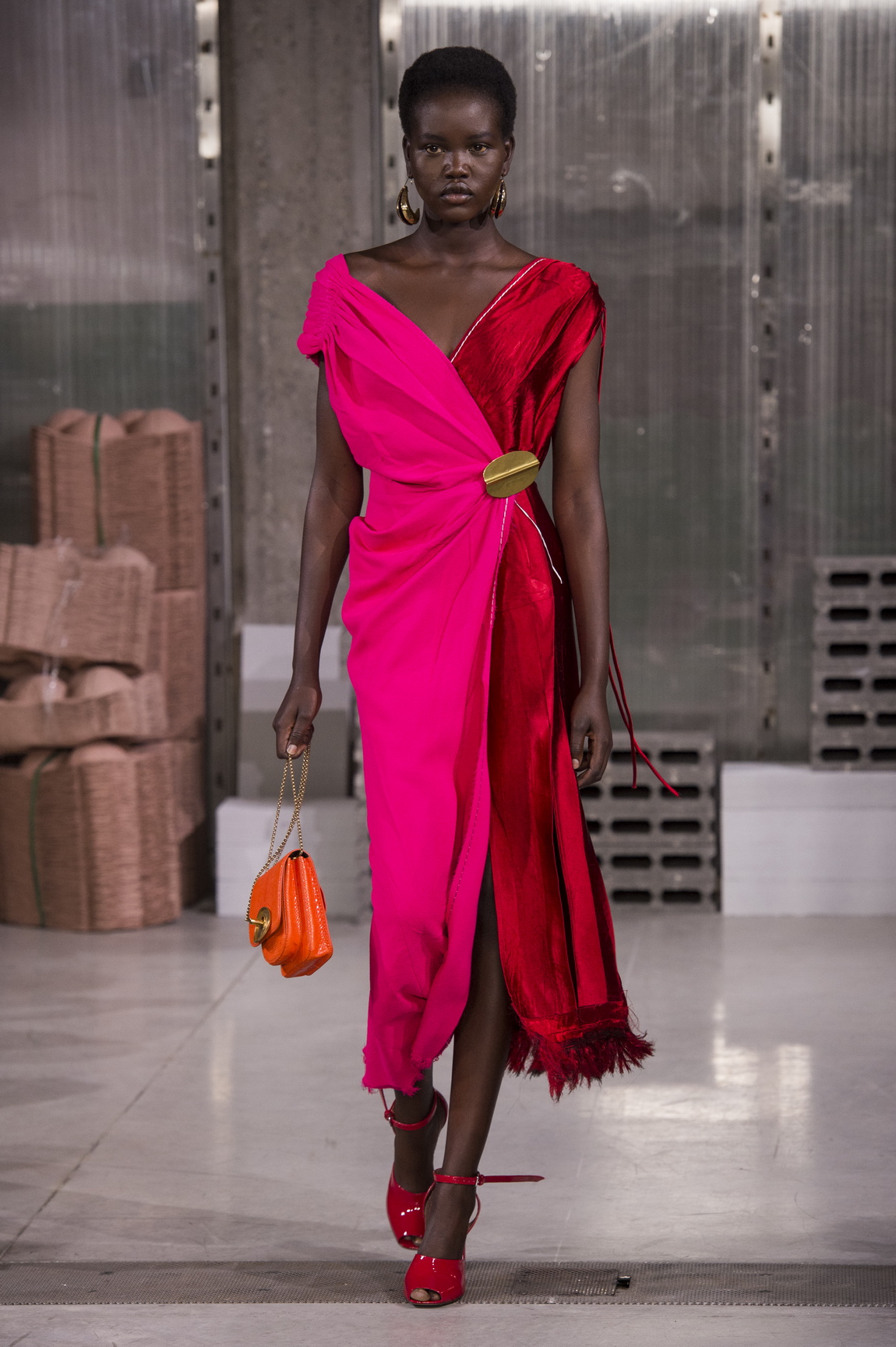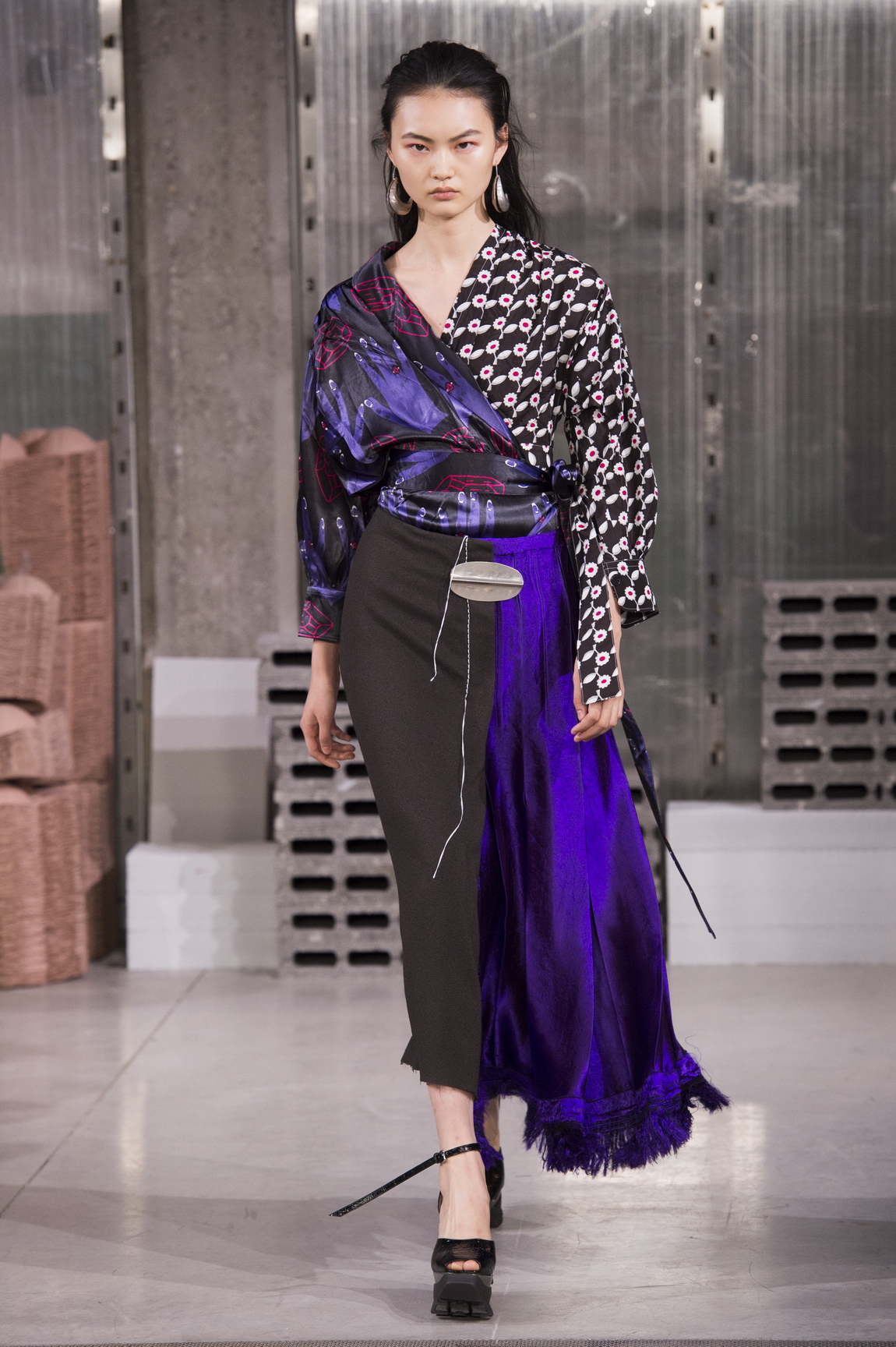 Credits
---
Photography Mitchell Sams