inside block9's augmented outdoor music arena
An immersive stage that resembles a floating head-cum-religious monument. Welcome to Block9's IICON.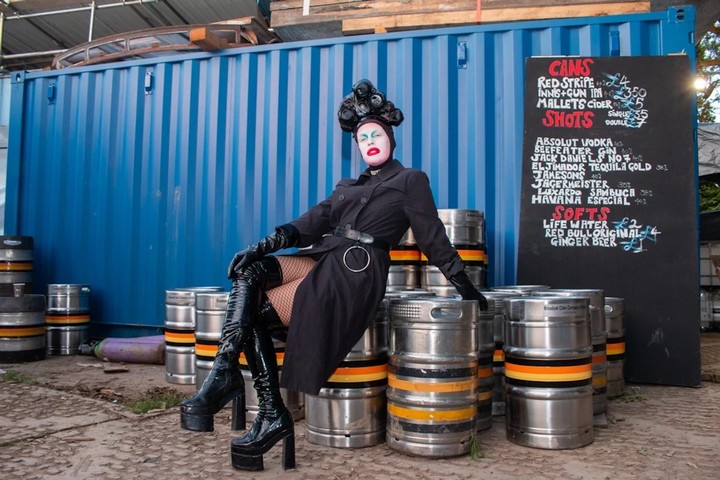 Deep rural Somerset isn't a region famed for its nefarious nightlife. But for one weekend a year, Glastonbury Festival arrives in all its sprawling glory, and with it brings Block9: a late night dance party open until 6am, that transforms a small section of its rolling green hills into a no-holds-barred, world-leading club spot.
Since it began 12 years ago, the line-up for The NYC Downlow -- the jewel in Block9's crown, an infamous gay club built to resemble a abandoned warehouse in New York's meatpacking district -- has become as important to many festival attendees as the main stage headliners. Its neighbouring stage, Genosys, similarly commands a cult-like status amongst those in the know. Come midnight, as the festival's live music stages begin to wind down, queues into Block9 can be seen winding around the steel fences of its boundaries, deep into the night.
For 2019, founders Gideon Berger and Stephen Gallagher have dialled things up a notch, and for the first time ever, split Block9 across two separate fields. "We've had our eye on the field next door to the old Block9 field for a few years," Andrew told us, just days before Glastonbury kicked off. "We've been talking to Emily, Michael and Nick about doing something big and spectacular in that field, which is the entrance to the late night area. It was always part of the licensed festival, and had some nice stuff there, like the salsa tent, but nothing of the sort of scale or ambition that we try to achieve."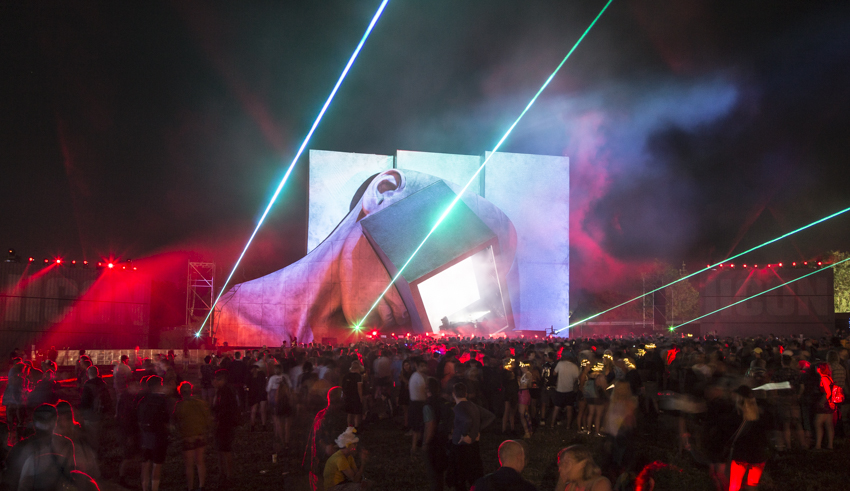 Move aside, salsa tent, the Block9 field now instead hosts a sculptural artwork and stage with a six-point ambisonic sound system and state-of-the-art video mapping. "It's called IICON. It's a monstrous new stage that we've designed, an artwork and stage combined. It's a brand new, 15,000 capacity music arena." Head to Block9 West to find The NYC Downlow and Genosys, the latter in an expanded area -- "it's gotten so popular that we had to expand the space we had for it" -- and in Block9 East, you'll find IICON.
When it first started, what were you setting out to create with Block9?
Stephen: God... well, it wasn't that grand I'm afraid! Co-founder Gideon Berger and I had been working in Glastonbury before then, just coming down and doing stuff with other people in different areas, and we had the idea to build a venue called The NYC Downlow. We had a couple of grand given to us by Joe Rush from the Mutoid Waste Company, who are like Glastonbury royalty, as he was setting up a new area in one corner of the circus fields called Trash City. He was building a nighttime area, and it just happened that we had the idea to build this gay club at Glastonbury at the time. He loved the idea and we got a bunch of mates together. Nobody got paid, and we spent most of our money on a truck to be able to get our stuff off the site, and then on materials. Otherwise, everyone just pitched in to make it happen. It was a huge success right from the get-go!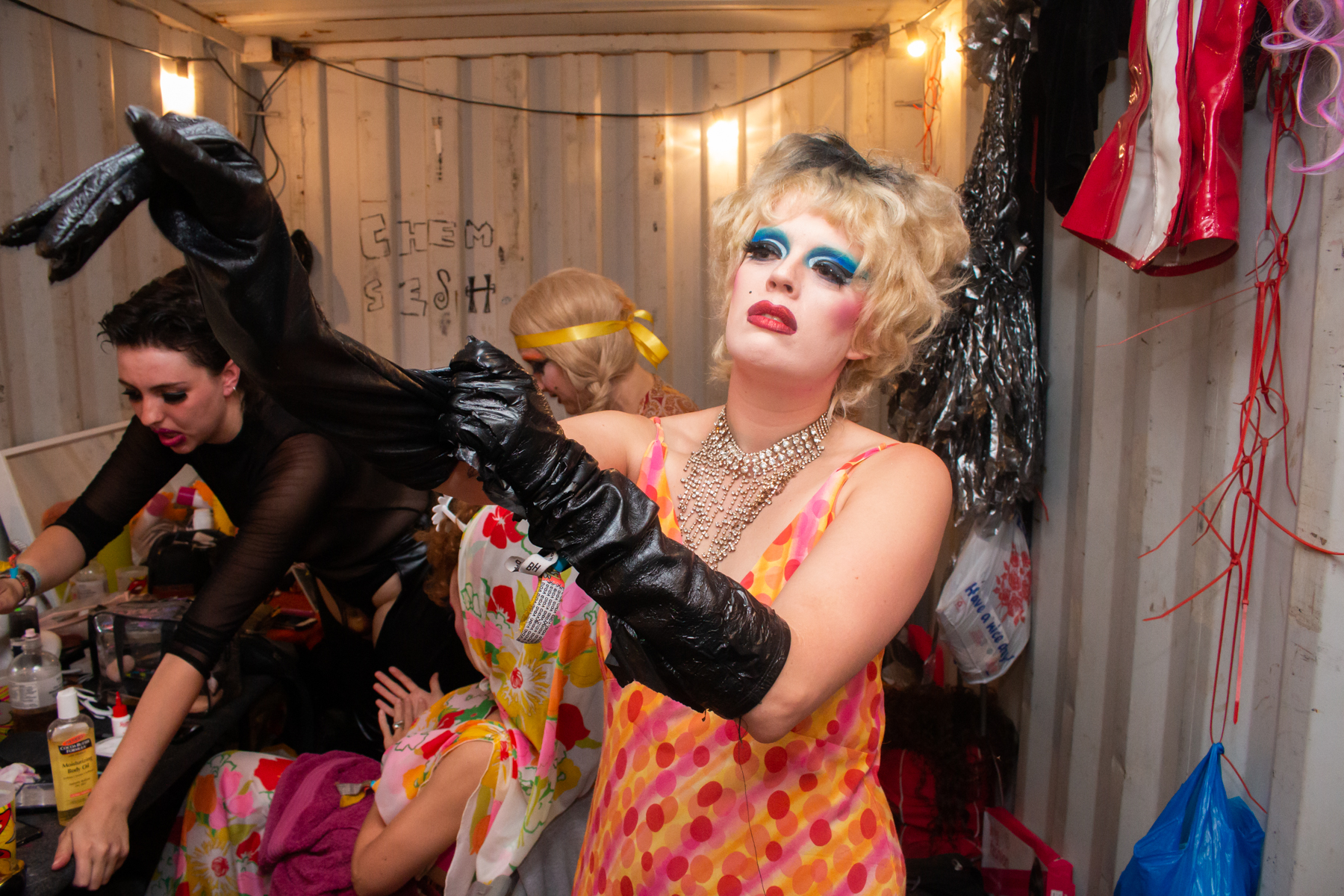 It's grown massively in size and popularity since then. Has there been a noticeable change in people's reactions to it since you began?
I don't know really, I thought about this a lot when we first opened. We had no idea whether it was going to be well received, and I came to realise that there was a big mix of the sorts of people that came to The Downlow. There was obviously a massive gay contingent, there was a queer, outsider-y kinda vibe. It felt alternative, as well as being a gay club. It sort of changes sometimes, but there's a family at the end of the day, core people who come year on year and just fucking love it! It used to be a kind of brilliant secret, now it's hailed as one of the best clubs in the world, if only for a weekend.
It has queues for miles out the door, so presumably the cult reputation's grown massively.
It has! The Downlow's got a bit bigger over the years, with bits and pieces added to the set, or adding bits of narrative -- like the year we built an exploded upstairs apartment you could see into that served as a performance space, and the year we had a piece of the set suspended on a crane, so it looked like it was floating up into the sky. But even in its bigger format, we're still quite keen to keep it intimate and not lose that vibe. So, unfortunately, the queues come along with that and there's not much we can do.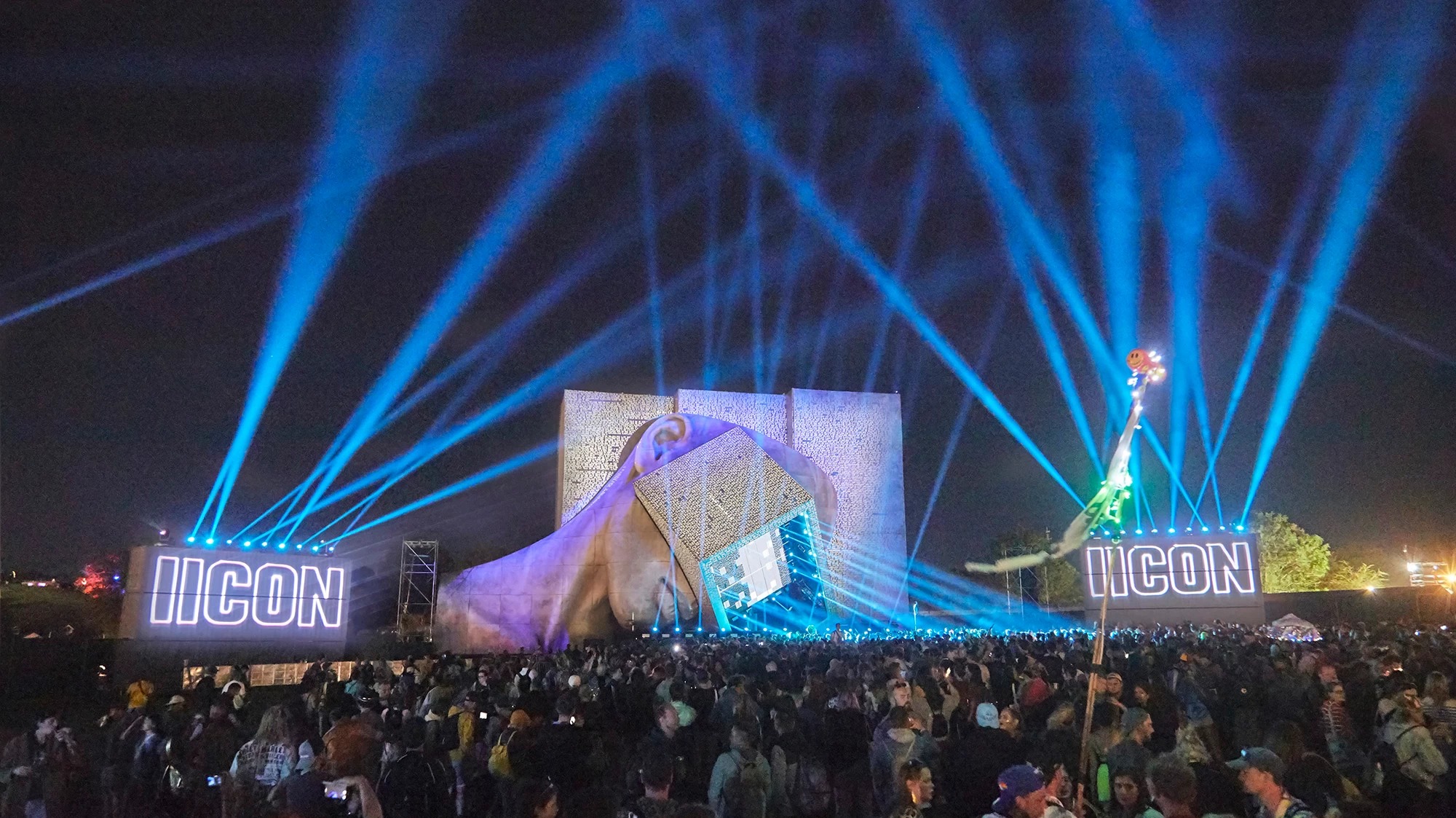 Well, nothing creates hype like a long queue…
Well that's it, isn't it? The best parties are the ones that are rammed to the doors, you don't want a half empty room!
IICON is the biggest addition this year, could you talk more about how it came about?
Yeah, it's been on the boil probably for the last three years. We wanted to create something that was a standalone artwork, but that would function as a music arena, as well as something that responded to the times in which we live. It looks kind of like a religious statue or monument -- it takes the shape of a human head with a visor, and that's the stage itself. It's also video-mapped, so the whole thing is animated with a narrative, along with amazing lighting and visual effects. The whole thing is set in a six-point surround sound arena, so we have an ambisonic spatial audio system. It's got something of a club feeling to it rather than a rock 'n' roll stage, so it feels a little more immersive.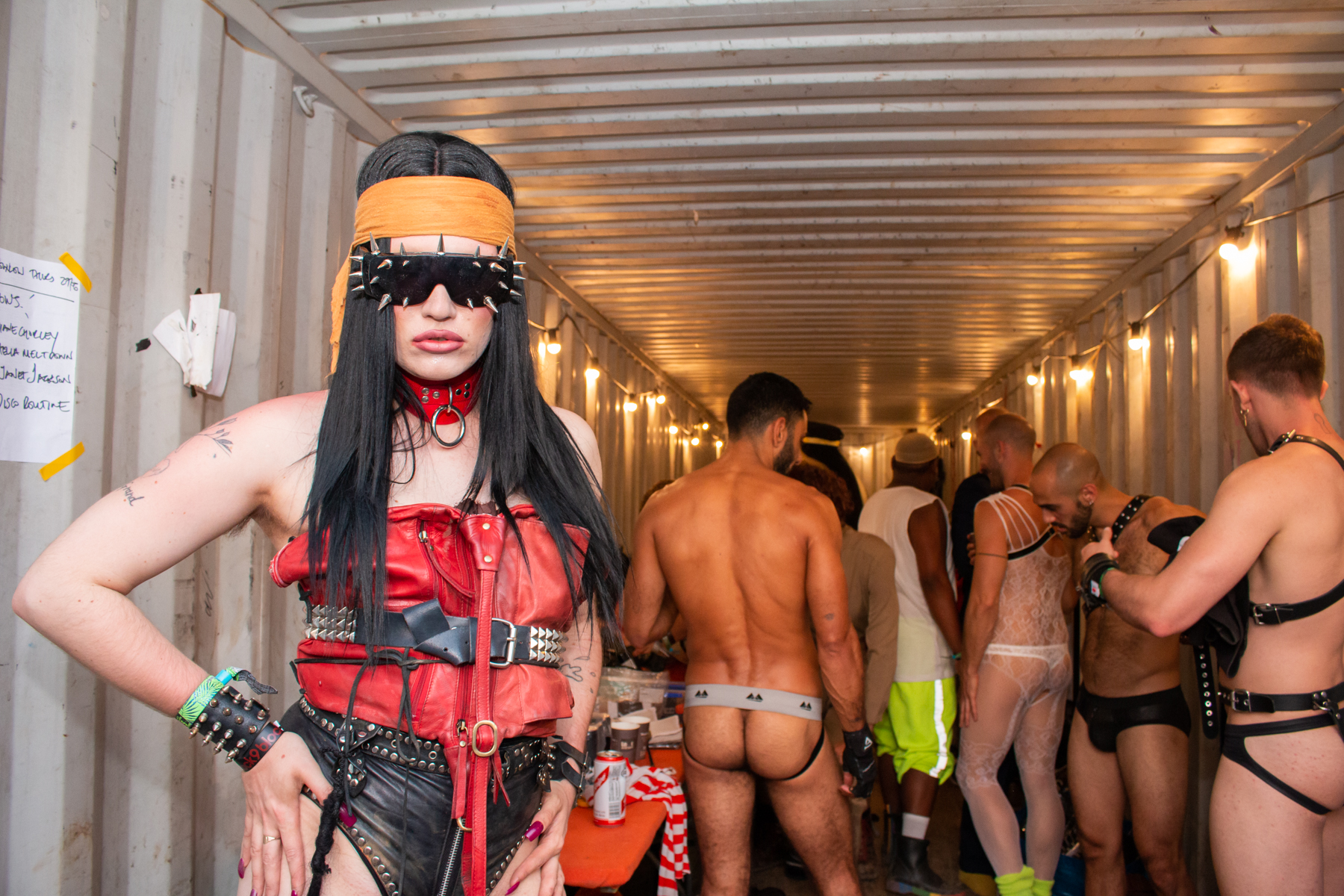 As for the narrative behind it, over the course of the development, we came across a piece of music called Quartet for the End of Time by Olivier Messiaen. He first performed it when he was a prisoner of war during WWII in Germany. He was French. They had some battered old instruments, so he wrote the piece and performed it to the guards. It's inspired by a passage from the book of Revelation, which tells of the coming of the angel that announces the end of time. The situation in which it was written, and the narrative of the piece and what it discusses seemed perfectly in tune with what we were thinking about and working on at the time.
So IICON is kind of our version, or translation, of Quartet for the End of Time. The space you find yourself in, and in particular the nightly show we'll be doing -- a 20-minute showcase called AV-3D -- is very much inspired by the themes and ideas of the piece and reimagining them for 2019. There's the idea of being in an occupied country and the sensation of that experience, and taking it to us living in what's known as the "digital panopticon", the idea that we're stuck in this brand new digital realm that's only existed for the last 20 years or so, and the effect that might have on humanity as a whole… so it's got quite a highfalutin story behind it all, but it's something that lies close to our hearts.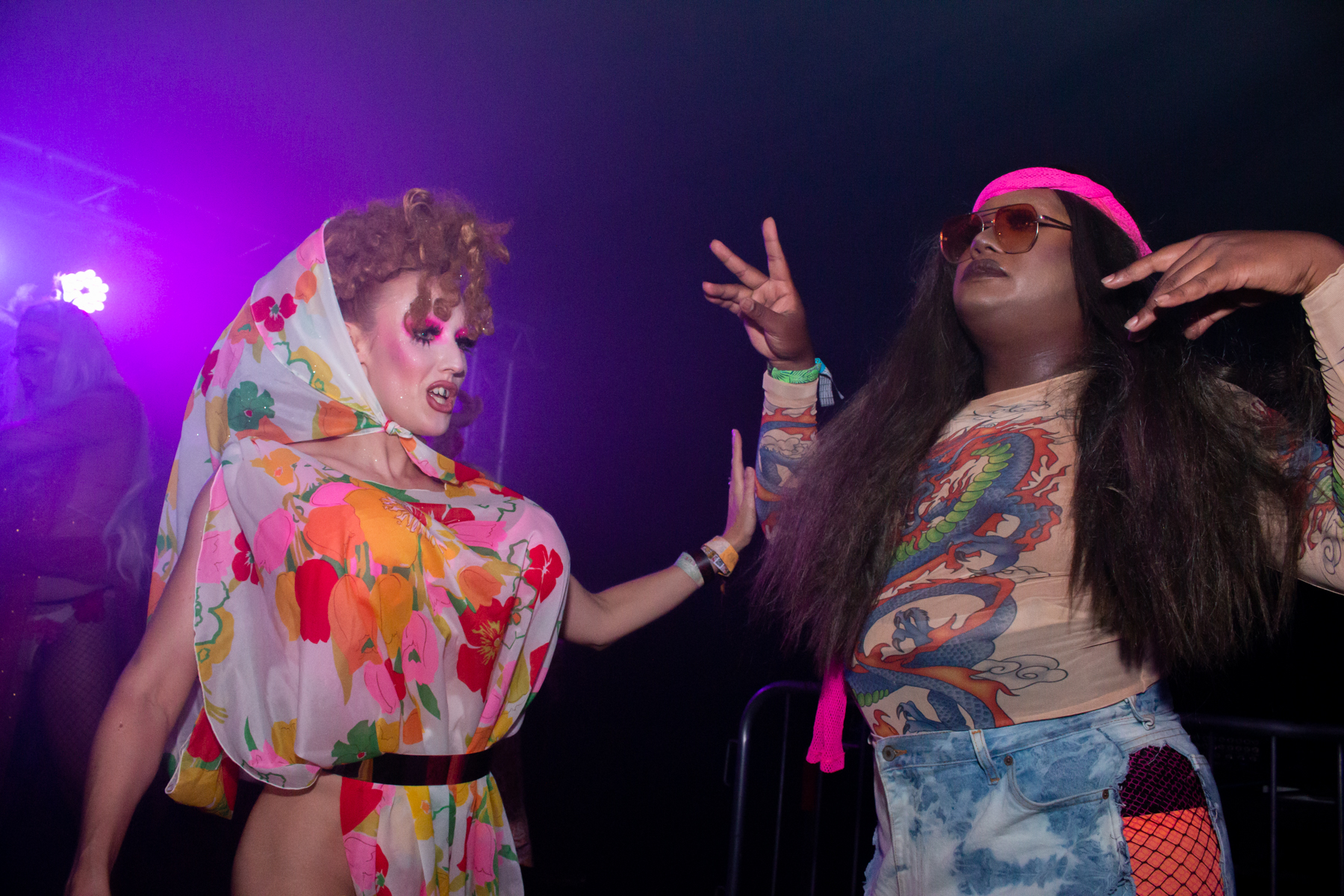 I read that it's not just for Glastonbury, but will be going on a global tour?
Yeah, that's true. So the idea is that we'll be debuting it at Glastonbury, and for the next five years, IICON will take this form, a big outdoor music arena. It's Block9's augmented version of an outdoor music arena, so it's taking all of those component parts -- a stage, amazing visuals, lighting, iMAG camera work, a soundsystem -- and doing something unusual with them to create this immersive environment. When we go on the road, we'll be adding a second chapter to that, which is our version of an interior music experience. You'll be able to go inside a space which is part-club, part-gig, part-theatre: it'll be like being inside an artwork. It's an opportunity to be in a set-built environment in which you can experience music and the narratives behind that music and where it came from, in the same way as you can experience the narrative of Messiaen in the outdoor arena.
It's 4am, I'm bleary-eyed, I've lost my friends, I'm ankle deep in mud and confronted with this colossal, head-cum-pseudo-religious monument towering above me. What now?
God help you! Hopefully, you'll stumble into the middle of the arena and have the most amazing time. But in a way it all follows a timeline or trajectory that we've been following for quite a while, encouraging people to think for themselves a little bit more. We're not preachy, but true festivals, like Glastonbury, are all about connecting with other human beings in a very direct way. You know, meeting people on the dancefloor, and discovering unusual unexpected things. IICON will definitely be one of those things if you're not aware that it's there. If you make through to 6 am, you can start thinking about getting a breakfast burrito somewhere I guess!