how not to go to fashion school
5 tips for those not planning to study at a college of fashion, but hoping to make it in the industry.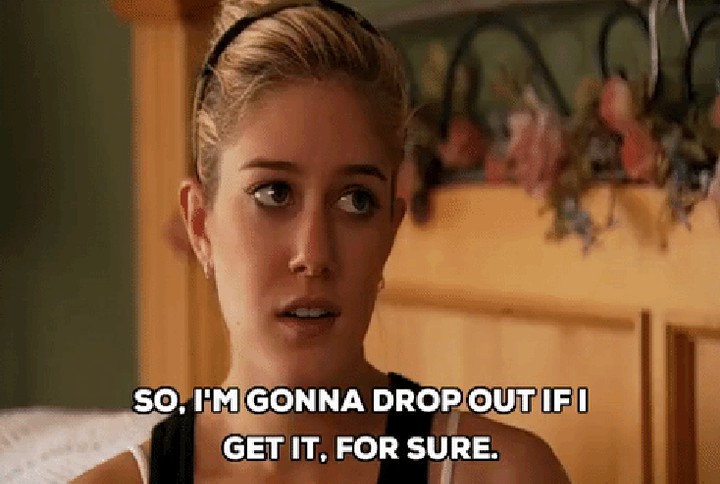 Is a fashion degree worth the money in 2018? As a new wave of students enroll and apply to colleges, i-D and 1 Granary take a closer look at fashion education and beyond, to better understand how to make it in one of the toughest industries to crack.
"The fashion industry contributes £20.9 billion to the UK economy."
"In Britain, the fashion industry is twice the size of the publishing, car manufacturing, and chemical manufacturing industries."
"Almost a million people in the United Kingdom have jobs in fashion."
Any fashion student has heard these statements repeated ad nauseum in course promotional videos, during welcome speeches, or in private tutorials. This was certainly the case for me as I was sitting in my synthetic cap and gown on a fold-out chair at the Royal Festival Hall, waiting to collect my diploma from Central Saint Martins. The words, thundering from monolithic TV screens, landed on an audience of proud parents and worried graduates. After an orgasmic release into the "real world" and many celebratory tinned gins consumed, the facts stung a little. Although I can not claim to have made an official census, I am positive that at least 85% of the hall was unemployed and would be for the foreseeable future. If there are so many jobs out there, and we are graduating from "the King of all fashion schools", why are most of us going to be hopelessly unemployed in the industry?
A quick sift through data provided by the British Fashion Council revealed the truth: out of the 815,500 currently occupied jobs in the fashion industry, a whopping 80% are in retail, 9% are in manufacturing, and 7% in wholesale. Roles in marketing and PR account for 0.9% of the total pool, in media, 0.4%, and the proportion occupied by actual design jobs is so small that the percentage box is labelled "n/a".
Roughly 120 institutions in the United Kingdom churn out batches of fashion graduates year after year, with no guarantee of decent work and at a huge expense to families. As a thought experiment, I began to think about what a fashion education would look like if one were to completely remove the academic element; to devise a curriculum that relies purely on mentorship and a lot of self-motivation.
I am not claiming that we should all bail on the universities; undoubtedly going to a great school will increase your odds of landing the rare job. But if nothing else, the following guidelines will help boost your professional and personal development way beyond those of individuals foolish enough to rely on a degree alone for success.
Here is how to succeed without going to fashion school.
1. Have unparalleled cultural knowledge
There is a no more surefire way of standing out in fashion than speaking articulately and with confidence about the arts, current affairs, culture and history.
Aim to go to all the galleries and museums -- take advantage of student and young persons discounts and free exhibitions -- research the greats, read the classics, study biographies and go to club nights. Before you know it, you will be name-dropping that breathtaking Giotto fresco you saw in a chapel in the middle of Italy, that no doubt inspired the latest Gucci collection.
If you effortlessly and modestly succeed impressing those around with your intelligence, you will forever be added to their mental directory of competent people.
2. Hone a skill
Helping students master a skill set is neglected in many art institutions in favor of developing creative vision, which is a huge mistake. The world needs people who are very, very good at doing things. Period. And if you are very, very good at doing something, maybe even the best, the chances are high that someone will want to pay you a lot of money to do it.
Sarah Mower, renowned fashion critic and columnist for American Vogue, recently went on an Instagram rant about the crucial necessity of skill development, in this case, pattern cutting: "Make absolutely certain to take pattern cutting seriously," she wrote. "Never believe anyone who says it can all be done on computers, or never mind, technicians will do it for you. Pattern cutters are some of the most in-demand experts across the fashion world. There is a skill shortage no-one will tell you about. A way to learn well, long term. Alexander McQueen's cutting skills were spectacular and learned on Savile Row."
Additionally, where possible, develop an adjacent field of interest which feeds into your core skill set. This is sometimes called a "third dimension". Become the person who is a killer fashion designer with a sharp sense for business, or a part-time carpenter who brings an architectural dimension to their fashion designs. This will push your practice to a stratospheric dimension, help you stand out and reach broader professional networks.
3. Find a mentor (but ideally multiple)
How do you master skills without going to university? We seem to have forgotten. Apart from the infinite resources to be found online, a great way is by seeking out a mentor or apprenticeship. With an over saturation of dubious degrees, we can begin to doubt the worthiness of many university courses. Mentorships and apprenticeships are on the rise, and a promising alternative model to traditional education.
It is a myth that older, more experienced professionals will turn their nose up at doe-eyed students. Most of our elders will jump at any opportunity to help rear the young, and what you can gain from that can be far more valuable than any degree. Don't be deluded into thinking that they will find you a job at the push of a button, but they can provide essential introductions, reference letters and career hacks.
A reputable fashion publication recently advertised a short course offering nine hours of prophetic insights from a marketing genius for a fee of £150. The man is undoubtedly full of wisdom; reading his bio made me want to pick apart his brain. If you can spare £150… worth it. But there are hundreds of industry experts you could approach who can boast the same breadth of knowledge, and who will offer you, instead of just nine hours of curated content, a lifetime supply of inspiration and support (if you develop the relationship correctly). This will come at the price of two good cups of coffee, so £5? Maybe £9, if you go to Caravan on Granary Square.
4. Socialize
Too many of us are guilty of sticking to our comfortable, yet narrow urban tribes and not dedicating enough time to networking. In fact, "networking", I have found, has an almost negative connotation in the creative bubble.
With the absence of the university, which is above anything else a social networking tool, you will have to make an extra concerted effort to build your social web. By almost artificially collecting people who are from different generations or creative areas, your social circles will continuously expand until they start overlapping. This is when magic happens: nothing forms stronger connections than mutual friends. A snowball effect will ensue, following the Pareto principle. Before long, you'll be that person who just "knows everybody" and "can introduce you". That's a great person to be.
5. Work damn hard
According to statistics, the top ten ranked fashion schools pull the most industry weight in terms of recruitment. Whether we like it or not, it is very much true. So if you are not in one of those schools, or any fashion school, it could be harder breaking into the industry. The only thing you have any control over is how much effort you invest.
Every day, get on the phone with people you want to speak to. Go to parties and make a point to meet five people, then leave before you get too drunk and make an ass of yourself. Find creative ways of financing your projects. Apply for funding. Apply for residencies. Team up with people who are creating innovative things and ask them for help. Become an entrepreneur. Understand marketing, or make friends with marketeers, and start curating your work online and getting it in front of the right audience. Track your growth. Count your numbers.
It will be grueling at times and nothing will be handed to you, but becoming a successful self-starter in fashion will give you an edge over yet another Central Saint Martins or Parsons graduate. And who knows? One day, you could even be offering one of them a job.
This article originally appeared on i-D UK.