Images courtesy of Diesel
diesel's anti-cyberbullying ads have the internet divided
The brand's 'Hate Couture' campaign — starring Barbie Ferreira, Tommy Dorfman, Bria Vinaite, and Nicki Minaj — aims to reclaim troll comments.
|
20 September 2018, 2:24pm
Images courtesy of Diesel
Diesel Is Dead," someone hate-commented to the iconic denim brand recently. Normally we don't condone comment-stealing, but this one is hardly cutting-edge, and Diesel's decision to make bank by slapping it across a jacket is kind of a genius move. Whoever commented "Diesel is overpriced shit" probably wouldn't agree, especially since that version costs $400. It's part of the Italian denim brand's new campaign targeting online hate. Dubbed "Hate Couture," the ads feature an all-star lineup of artists, activists, and problematic faves: including Nicki Minaj, Gucci Mane, Bella Thorne, Barbie Ferreira, Bria Vinaite, and Tommy Dorfman. And possibly but probably not Charlie Sheen, who inexplicably posted a photo of himself in a #STILLWINNING long-sleeve while omitting the #ad tag.
Every campaign star was asked to submit a few of the hurtful comments they've had hurled at them on social media, and Diesel turned those comments in custom pieces. Body-positive badass Barbie wears a "FAT" shirt, "unapologetically queer" actor Tommy in a "FAGGOT" sweater, and divisive rap queen Nicki a jacket emblazoned with "THE BAD GUY." "The more we care and feed into online hate, the more it will come," wrote Barbie in a sponsored yet heartfelt message on her Instagram. "Embrace your flaws, your differences, the hate you get, and own yourself. The more hate you wear, the less you care." Barbie has long used her platform to call for inclusivity, advocating for representation across size, gender, sexuality, (dis)ability, and race.
As people have been quick to point out, some of the ads haven't been so compelling. Nicki has certainly been unfairly vilified at points in her career, but she has also been called out for homophobic lyrics, and recently slid into a random blogger's DMs to criticize her looks. One person to question casting Nicki in the Diesel ads was the receiver of the DMs herself, Wanna Thompson, who branded the move "tone deaf." Amber Rose is also rather displeased, though perhaps not at Nicki per se, as much as not being consulted herself. Amber's SlutWalk has been targeting slut-shaming since 2011, while her crew rolled up to the 2015 VMAs wearing catsuits stamped with "SLUT" and "FAGGOT," as seen in the photo Amber posted on Instagram today.
If you actually had brain power remaining at the tail end of New York Fashion Week, you might have caught wind of another controversial campaign aimed at reclaiming hate. Revolve was recently dragged to hell and back on social media (naturally) for featuring fat-shaming slogans on skinny models. The slogans — i.e. "Being fat is not beautiful it's an excuse" — were similarly inspired by troll comments received by a diverse bunch of artists activists, including Paloma Elsesser and Jameela Jamil, which sounds all well and good, except that Elsesser and Jamil had no idea their shirts would be modeled by sample-size white girls.
Diesel sure loves a clever marketing stunt. At New York Fashion Week in February, the brand opened a knockoff of a knockoff store, with $60 "DEISEL" sweaters stuffed into cardboard boxes scrawled with handwritten "buy 2, get 1 free" signs (one of them later resold for $500). But, while Revolve has a troubling diversity track record, championing tolerance and inclusivity is an intrinsic part of the Diesel DNA. Former creative director Nicola Formichetti personally cast disability activists and transgender sex workers in campaigns, and tackled Trump's racist border wall rhetoric while making a larger statement about sexuality, race, and divisions. And it was all the way back in 1995 — shortly after the Clinton administration implemented the Don't Ask, Don't Tell policy concerning openly gay, lesbian, and transgender people serving in the military — that Diesel founder Renzo Rosso and photographer David LaChapelle created an advert depicting two male sailors kissing. The iconic image was one of the first advertisements to show a gay couple kissing to 72 countries across the world. Diesel will donate a portion of all sales from the Hate Couture collection to the OTB Foundation in support of anti-bullying and cyberbullying programs in countries around the world.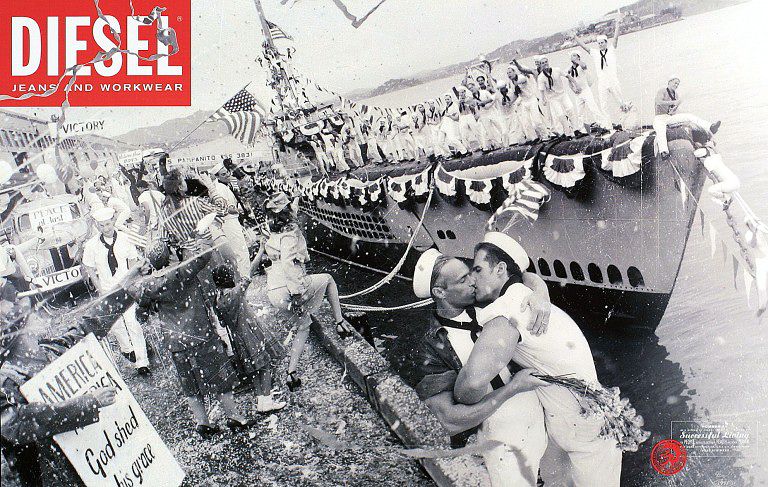 Context is everything, as anti-cyberbullying spokeswoman Melania Trump may or not be blissfully unaware of. And reclaiming hateful words — "queer" was until very recently a homophobic slur — is not a new form of activism for marginalized groups. "One of the most powerful ways to heal after a historically ugly word has been used against you, is to reclaim that word and turn it into something that empowers you," wrote future queer icon Zolita on Twitter today in support of the Hate Couture campaign. "I love that @DIESEL is reclaiming the negativity thrown at them, especially in an era when consumers are so quick to 'cancel' artists and brands and decide their irrelevance."