take me to the disco
Coach creates the best Christmas ever with a dinosaur-drenched dance party in new holiday video.
|
17 November 2017, 11:31am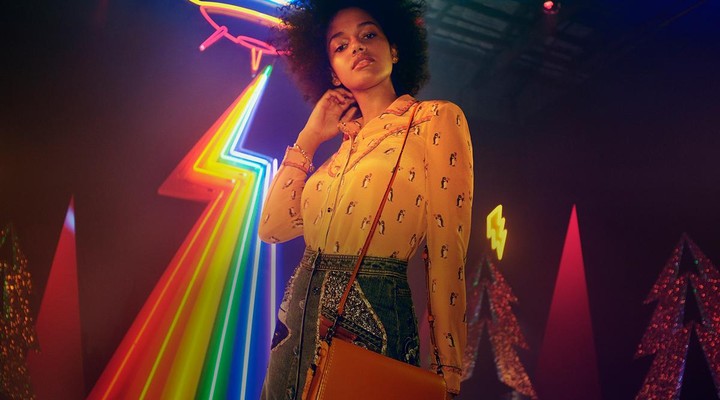 Coach is the quintessential New York brand, founded in a Manhattan loft in 1941. It joins the pantheon of iconic things from New York like hot dogs, hip-hop and more surprisingly, air conditioning – all modern necessities without which the world would be a less fabulous place. For their holiday video however, the brand has focused on a series of scenes, that, while not unique to NYC, are certainly key to the city's charm – a snowy Christmas street, a neon drenched roller rink, a lovers' arcade, and a disco redolent of the one frequented by Donna Summer in her heyday. Winter wonderland, winter on wheels, or just wintery winter - there's something for everyone.

The video opens with Coach's heroine walking through the kind of holiday set up you've seen before with fluffy snow falling on a moonlit city street. Obviously it's superior because she's not been subjected to a knitted-by-grandma jumper and is, instead, in a leather jacket and pussy bow dress. Waltzing straight past the most handsome of the revelers, probably feeling quite good about herself, she swipes her Coach hangtag in a secret doorway.
Surprise! It leads to an uber exclusive roller rink, AND the really quite hot guy from the street is there (she's still not bothered however). She is also not impressed by roller skates, preferring to dance on a revolving stage in quite ace glittery boots surrounded by a neon rainbow and spaceship. Then, she and her friends dash through a similarly sparkly curtain.
Luckily, behind the curtain is not the coat check but a giant arcade, made even better by the prizes, which aren't sad looking teddy bears but Coach leather mascots while the dinosaur Rexy stalks both the club's walls and her sweater. Even the arcade games are souped-up, including a particularly good one where Uni, the Coach unicorn, zaps lightning bolts out of her horn. Finally, the heroine's eyes meet her admirer's across the claw machine.
Now, through another door and into a Christmas party of sorts, redolent of the very best discos of the '70s (and sans anyone from accounts or HR). From the disco balls to her dress and bag, absolutely everything is metallic or bedazzled, which is both festive and practical if you want absolutely everyone to look at you. Which she does, and she finally gets to dance with her admirer.
These are the holidays that we want. Bring on the joy indeed!
Shop the Coach collection here.
Tagged: