Photography Richard Corman
raw, unseen photos of young basquiat at his studio
Photographer Richard Corman talks about what it was like to shoot the now-iconic artist.
|
09 November 2017, 4:18pm
Photography Richard Corman
In June of 1984, L'Uomo Vogue sent photographer Richard Corman to photograph Jean-Michel Basquiat at his Great Jones Street studio. Corman was already accustomed to celebrity — he had apprenticed with Richard Avedon, and photographed the likes of Madonna and Keith Haring — but he was still astonished when he walked into the artist's loft. "I was immediately engulfed by a wave of creative confusion," Corman recalls. "The room was a swirl of people, paint, canvas, color, and smoke. Off in the corner was Basquiat, submerged and almost invisible." Corman separated Basquiat from the frenzy and asked him to stand in front of a seamless paper background. "He was comfortable, uncomfortable, angry, curious, and intense," Corman explains. "He just created his own space and energy, and I followed it."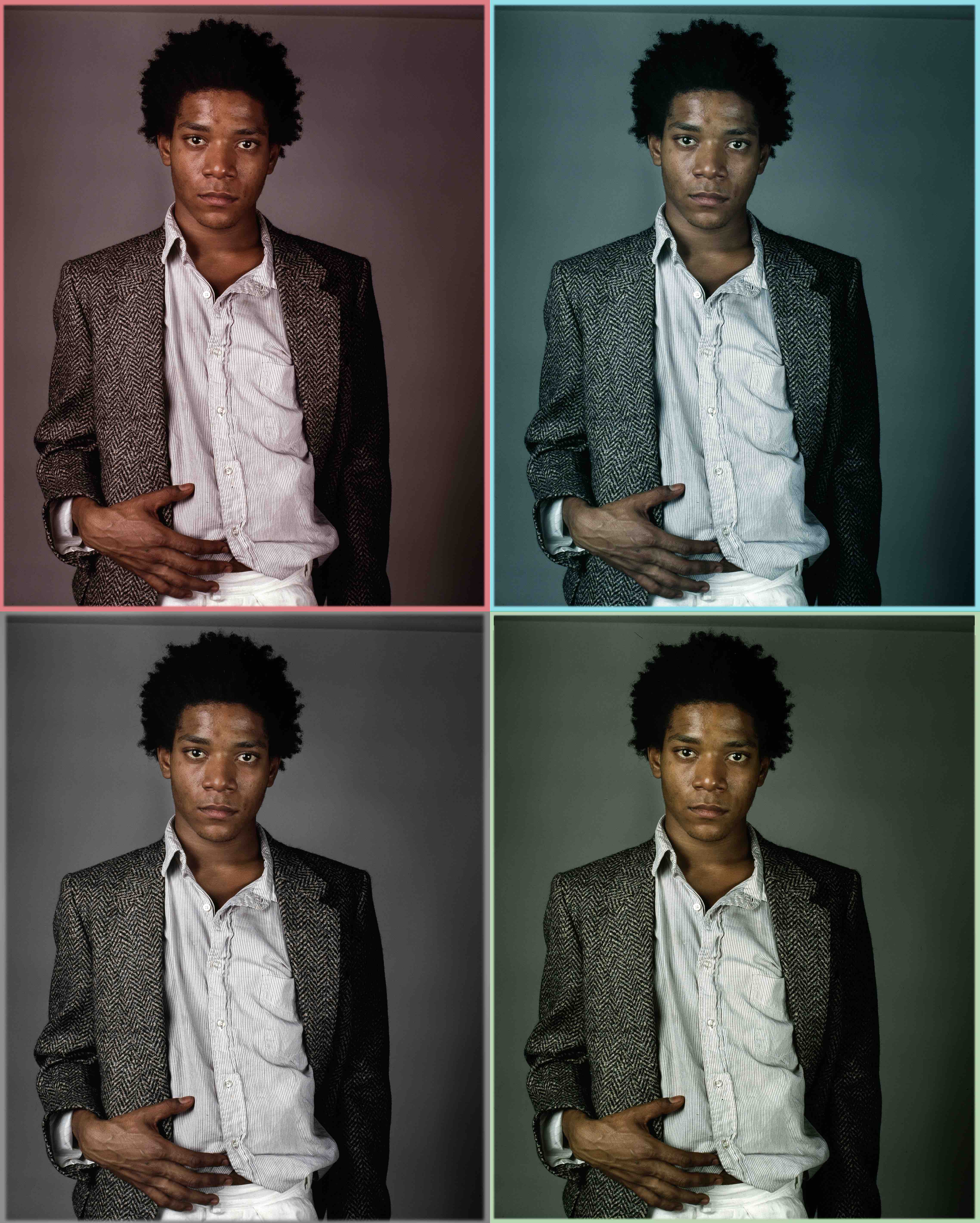 Corman shot 79 frames of the iconic artist that day, most of which he never published or shared. But now, in Basquiat, a portfolio designed and published by Nicholas James Groarke of NJG, Corman has released a selection of the quietly profound portraits from that shoot. Limited to an edition of just 20, the portfolio features 12 prints created by master printer Ruedi Hofmann (nine silver gelatin and three archival pigment dye). Each one is signed by Corman and Hofmann and housed in a handmade slipcase and Plexiglas box that doubles as a frame.
Below, in an exclusive interview with i-D, Corman talks about his experiences as a photographer in 1980s New York, his shoot with Basquiat, and how both still influence his work today.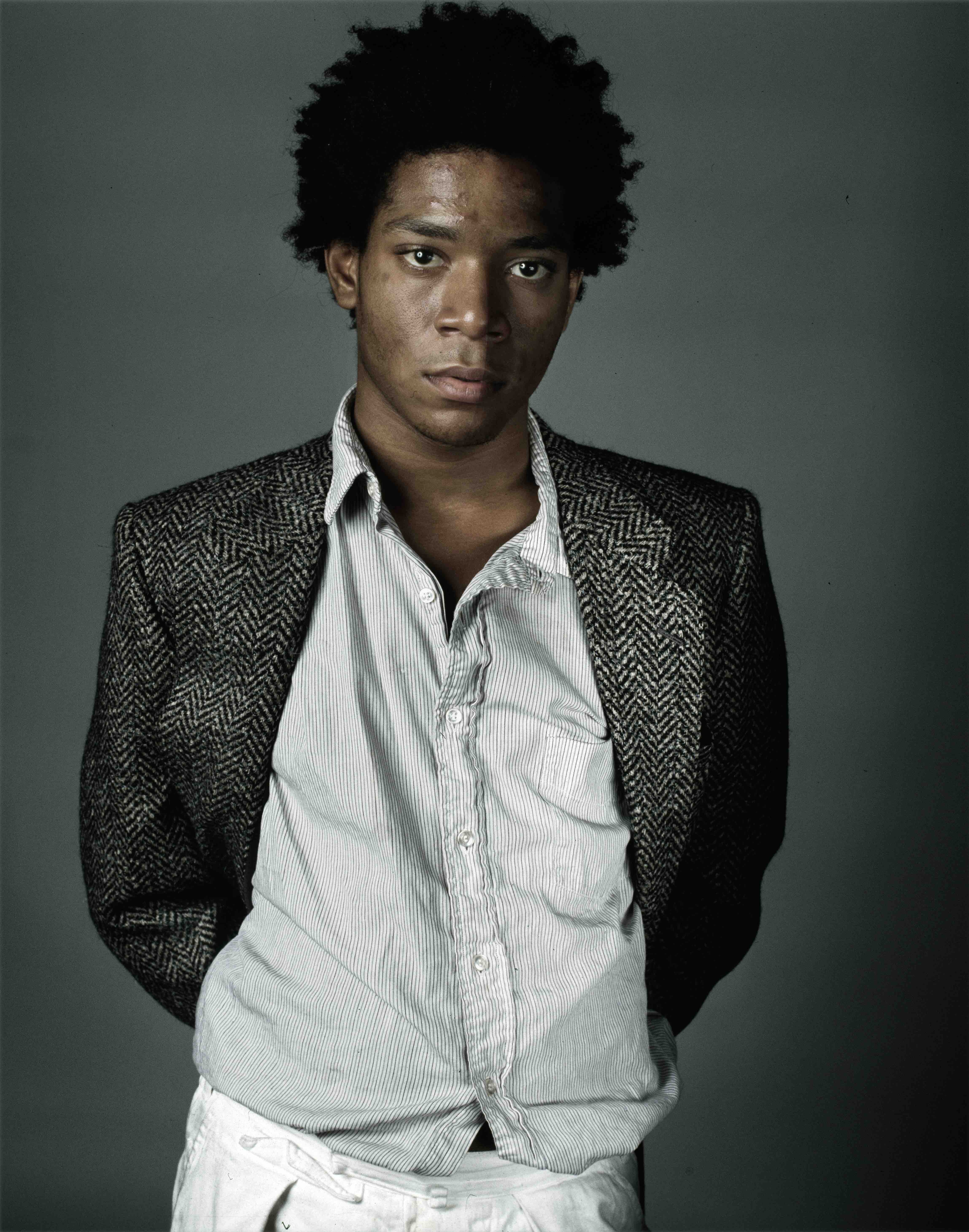 "I had no intention of becoming a photographer; I was planning to get my graduate degree in psychology. But I took a year off from academia and had access to a camera, so I just started photographing anything and everything — void of people, because the thought of a person in front of my camera terrified me. I would go to the Meatpacking District at five in the morning, when the sun was coming up, and there I found gorgeous light, NYC grit, and a cityscape that was so intriguing.
After about a year, I had fallen in love with taking pictures, but the thought of photographing professionally was daunting. I assisted with a couple of photographers in order to gain experience. One day, I was interviewing at a studio, and they said, 'You're not right for what we're doing, but Avedon is looking for a studio assistant. Give him a call.' A gentleman interviewed me, told me to wait a minute, and then Dick interviewed me while he was shaving and getting ready to go to the theater. He hired me on the spot. For six months, I scrubbed toilets and floors before being allowed on set and in the darkroom. After paying my dues, I traveled with him off-and-on for two years, while he was creating In the American West, one of his most iconic bodies of work. Dick Avedon lived for his work, for better or for worse, and every day there was something for me to learn. My life changed because of that experience.
In 1983, I concluded my apprenticeship with Avedon. It was then that I ended up spending a fair amount of time downtown on the Lower East Side, which was industrial, very ghetto, and many blocks looked as if a bomb had been dropped… all rubble and distress. I photographed many young artists — sometimes through assignment, and sometimes it was just being in the right place at the right time. I was going from Madonna's East 4th Street walk-up to Haring's place on West Broadway to Basquiat's studio on Great Jones Street. It was creative overload in the best way. NYC was and will always be a creative carnival for me.
I was shooting for many Italian magazines at that time. American photographers would get their feet wet by shooting for European publications. They would give you 40 pages in the magazine, and pay about $60. You were basically painting the magazine with your pictures, and it was the way to promote yourself back then. It was actually quite remarkable.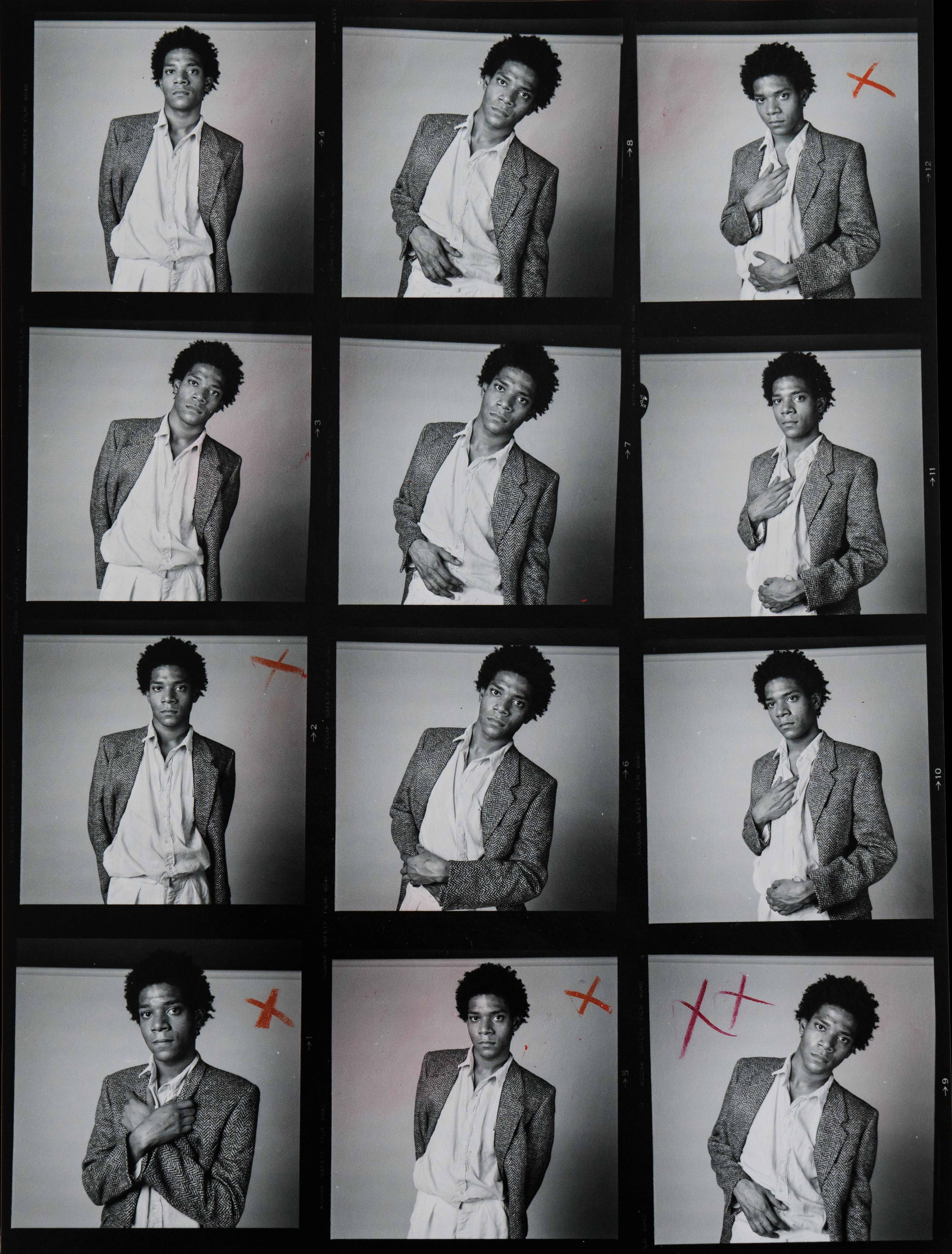 L'Uomo Vogue sent me to photograph Jean-Michel. I tried to be as prepared as possible for my shoot, but until I had walked into his studio, I was really entering the unknown. His space was packed with people — Jean-Michel attracted people for all kinds of reasons. He was charismatic, beautiful, a bit haunting and a genius in his own right. There was just a wonderfully crazy energy of smoke and people and music and painting. It was messy and cool in the best way. I decided to kind of isolate him in the photos from the chaos. For me, that's what makes these pictures so interesting — the focus is on him, instead of the mad energy surrounding him.
All I had with me was a twin lens Rolleiflex camera, one strobe, and a 4-foot-wide grey seamless paper. I hung it up, had him stand in front of it, and began taking pictures. I would say he was comfortable, uncomfortable, angry, curious, and intense. He just created his own space and energy, and I followed it. He put his hands by his stomach, and it almost seemed as if he was in pain, but it was a pain that I was encouraged to see, as it was evident he was very complicated. His hands, eyes, and body language were so expressive, and he revealed so much through his luminous presence.
For me, as a young photographer, and even 30 years later, I'm always looking to find someone's story behind their eyes, and in his own way, Jean-Michel shared that with me. It was kind of magical, even though I didn't know what I had at the time. I didn't know who I was photographing, other than someone with a unique soul and spirit. I felt how multi-layered he was. His presence was quiet yet mesmerizing.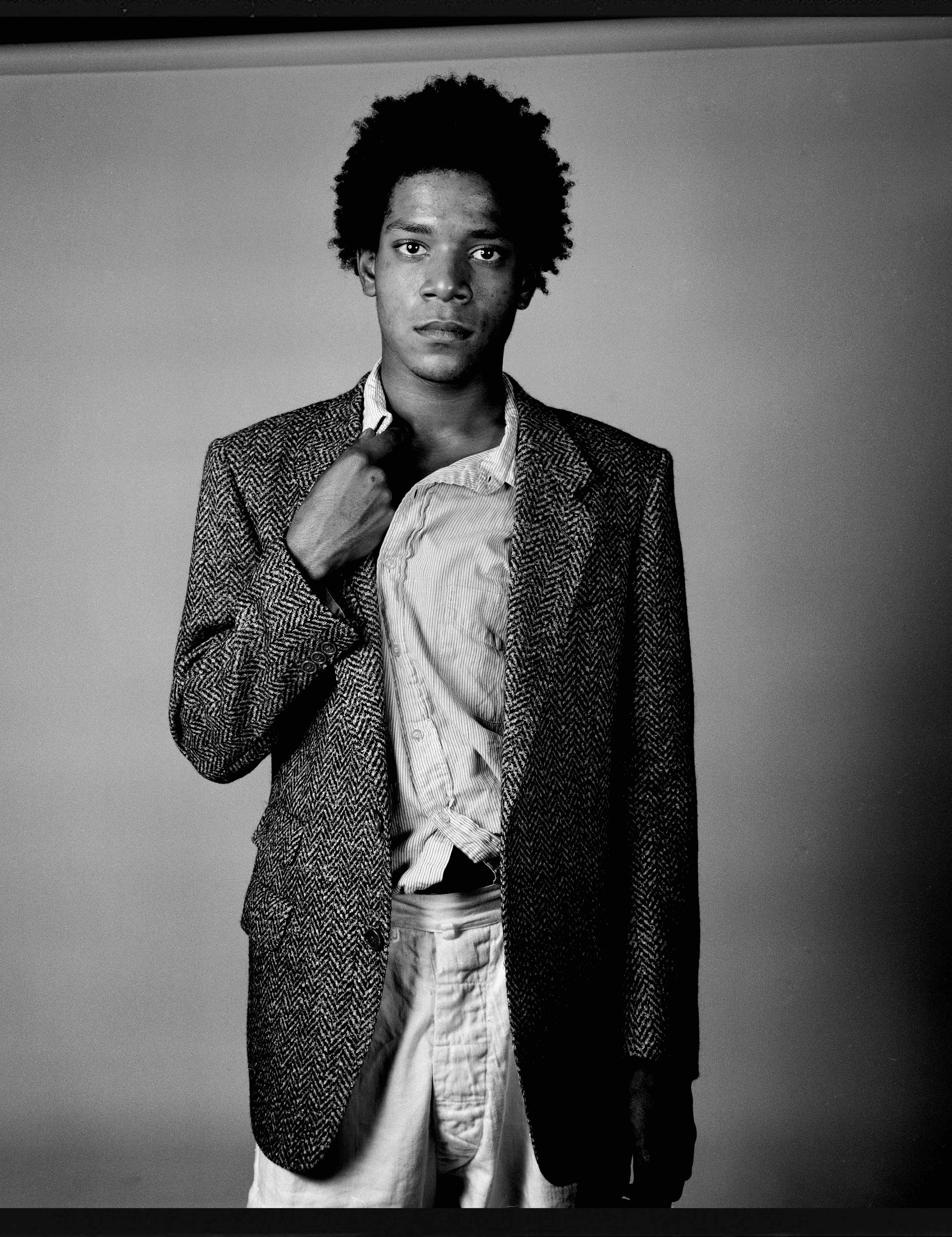 I had photographed Madonna in 1983, in her apartment. She leaned over her banister, four flights up, and looked at me with those cat-like eyes and I knew she was someone to be reckoned with before she ever said a word to me. She was unlike anyone I ever met before. But I got the same feeling when I looked into the eyes of Basquiat — it was a different vibe but just as original. You just feel talent when it's in front of you. It has less to do with physical beauty and everything to do with one's story behind their eyes.
I only shot 79 frames, but it was more than enough to capture his essence on that day. I am in no way saying these are the most profound pictures taken of him, but I think the bare simplicity of these images does not interfere with his very elaborate persona and allows it to be revealed.
The images I took of Jean-Michel Basquiat will always remain memorable, but the experience in 1984 at 57 Great Jones Street continues to influence."

The Basquiat portfolio is available here . For more on Richard Corman, follow him on Instagram and Twitter .