watch what happens when you lock three couples in a room for twenty-four hours
Bonobo's new video may not be "Love Island," but it's the next best thing.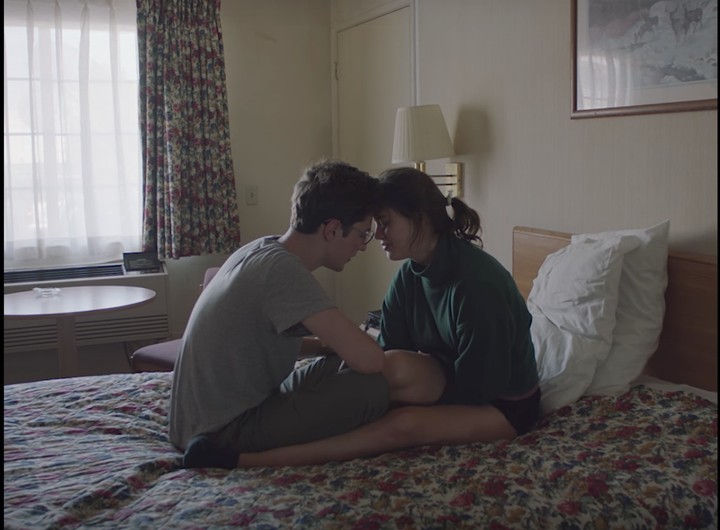 This article was originally published by i-D UK.
What do you get when you take three diverse couples, lock them in a budget motel room, and throw away the key? No, not a remake of Love Island. You get Bonobo's new music video, and what a mighty fine one it is.
The clip accompanies the melancholic musician's new track " Break Apart," somewhat ironic given that the three couples drift between various states of embrace. LA-based director Spencer Creigh locked the three sets of lovers in the same room (but at different times) for 24 hours with no phone, no TV, no nail clippers — all those little distractions you subconsciously resort to when your other half starts moaning about the rogue spaghetti strands clogging the sink.
"I wanted to create the sensation that you, as the viewer, are somehow participating in voyeurism by watching the video," Spencer explains. And he did — watching the video feels weirdly, mesmerizingly intrusive. We may be used to watching Kim K wax lyrical on public television about how she doesn't like to talk publicly about anyone, but in those instances the characters are so evidently performing their "real" lives. Here, it's beautifully boring, more intimate and genuine, closer to reality television than actual reality television.
Spencer sums it up pretty well: "There's this great dichotomy that you experience watching the video where you're simultaneously moved by watching these very authentic moments of true feeling, and then this uneasy feeling that you're invading their privacy."


The song itself is the perfect soundtrack to this paradoxical feeling. There are eerie yet soothing vocals from Rhye, layered but minimalist production, all converging to create that Bon Iver-esque balance of uplifting melancholy. There's even a slightly unnerving little time ticking noise underpinning it all, because 24 hours hanging out with only one person and zero ability to chuckle at hippo memes on the 'gram? Intense.
You don't have to give up 24 hours, but the video below is definitely worth three minutes of your time.
Tagged: