the queer bible is your new favourite bookmark
"We shouldn't just not be ashamed, we should feel inspired."
|
22 November 2017, 2:20pm
Laverne Cox by Fernando Monroy
"Know your history. Live your present." These are the words crowning the collection of incredible stories curated by Jack Guinness for his new website, The Queer Bible. The title says it all really -- it is a compendium of moving, funny and poignant stories, interviews and drawings, from and featuring a range of iconic figures that include -- deep breath now -- Laverne Cox, Paris Lees, Robert Mapplethorpe, Leigh Bowery, Amanda Lepore, Prince, and -- well, we could keep going, or you could just go and inhale it all here.
"So much queer history is hidden or erased," Jack explains. " The Queer Bible is a home for all those personal stories and histories." He would know -- the bearded, motorbike riding model has spent years working in the fashion industry, which hasn't always been as accepting as we'd like to think it is. "In the past I was encouraged not to share my sexuality with clients," he says. "I think the fear was, will brands want to be represented by a gay man, and then maybe, will straight men want to buy clothes from a gay man?"
Fortunately, the times are a changin', and the spaces for exposure and open dialogue are evolving -- as The Queer Bible evidences. We caught up with Jack to discuss queer history, LGBTQ+ rights and how Sam Smith spurned the whole idea.
What was the genesis of you wanting to launch the site?
'Genesis' makes it sound really spiritual. It wasn't. Weirdly, it was Sam Smith! Remember at the Oscars when Sam thought he was the first gay person to win an Oscar and everyone went crazy at him for not knowing queer history? Sam got so much grief on Twitter. He's a lovely person and would be mortified at causing offence. Whatever you think about what Sam said, it really challenged me, how well do I know my queer history?
There are great online resources... some brilliant instagram accounts -- The Aids Memorial is so so important. Books like Gay Life Stories by Robert Aldrich and Colm Toibin's Love In A Dark Time also blew me away. I wanted to learn more, so I made The Queer Bible -- an online guide to queer culture. I asked my favourite people to write about who inspires them. Each entry is accompanied by an original illustration by a young queer artist. The art is so good -- Kim Jones's Louis Vuitton collaborator Gordon Flores is just one of the young artists that give the site such a unique look.
Being queer in a straight world is difficult. As soon as you realise you feel different from your immediate friends and family, many young LGBTQ+ people, myself included, feel isolated and alone -- we feel 'other'. Something magical happens when you learn about your history. It empowers. It connects you to this line up of incredible human beings who have gone before you. We shouldn't just not be ashamed, we should feel inspired. People have paved the way for us to be who we are today and learning about them speeds up the process of just being proud of who you are... not taking any shit from society or from ourselves.
Who have you got involved, who have they written about?
So many amazing people. This space is a platform for other people to tell their stories, in their voice. I don't edit. Robert Mapplethorpe's ex-boyfriend has written a piece that reads like poetry, all about meeting Robert and Patti Smith and the climax is devastating and hopeful and just really beautiful. The pieces by activists like Paris Lees and George M Johnson are brilliant. Queer Bible entries about figures that maybe aren't that well known are some of my favourites... So much queer history is hidden or erased. The Queer Bible is a home for all those personal stories and histories. On the Instagram account we have takeovers from my some of my favourite queer artists and some very exciting content.
Have any of the stories particularly touched you, if so how, and why?
Sophie Heawood's piece about poet Frank O'Hara, which is coming out soon, had me crying like a baby. Lucien Freud's muse Sue Tilley has written a very moving and funny piece about her best friend, performance artist Leigh Bowery. She shares some stories and information she has never spoken publicly about. That trust she's put in Queer Bible is humbling. George M Johnson writes about erasure of black history in a searing piece on Prince. Trans History podcast host Morgan M Page wrote about Indigenous North American performance artist Aiyyana Maracle. Such life-affirming writing about someone I had no knowledge of before.
What is your own relationship with being gay like?
I think for every LGBTQ+ person, coming out happens in stages. Friends, then family, then people we work with. For many of us, we have to come out again and again and again. In the fashion industry, which people think of as very gay-friendly, it can be quite difficult. In my modelling career, I'm portraying quite a narrow idea of masculinity... a bearded man riding motorbikes! In the past I was encouraged not to share my sexuality with clients. I think the fear was, will brands want to be represented by a gay man, and then maybe, will straight men want to buy clothes from a gay man? I remember meeting with theatrical agents who told me to decide what type of career I want -- a leading 'straight' man career or one playing the gay best friend. It's horrible when you've battled to come to terms with who you are for years and then told to go back into the closet. It kills a part of you. That fucked me up for a long time. You're literally being told that there IS a problem with who you are. Fortunately I failed completely as an actor so that's one thing I don't have to think about! Times are definitely changing -- especially in the modelling world -- there are so many great role models out there for young people. Plus brands are really engaging and evolving and LGBTQ+ representation is improving, so that's exciting. We'll see if the work dries up after doing this interview!
Who did you look up to as a young person, and in what way?
TV and literature were my biggest influences. When I was a teenager I'd devour anything even slightly gay related (that sounds ruder than I meant it to). James Baldwin's Giovanni's Room made a huge impact. But so many of the books and films I found were about how tragic and awful it was to be gay. That's why TV shows like This Life and Queer As Folk were so important. They were complex, and heartbreaking but celebratory. George Michael's coming out really impacted me too. He was so rightly unapologetic and unashamed of who he was. Plus, he was a sex symbol. That was so threatening and transgressive and challenging to the mainstream. He didn't de-sexualise himself. I remember in one TV interview someone asked him, are you scared about people not buying your records anymore? And he replied, "I don't want homophobes buying my records anyway." He basically told them to fuck off. I thought that was amazing.
Why is it important to you to be visible as a gay person in the media?
I am in such a privileged position. I can't overstate how lucky I am. While I've been very honest about who I am in my private life, I haven't spoken about my private life publicly before. I think the decision to come out is very personal -- it's not my place to judge anyone. A big part of The Queer Bible is thanking those people who have gone before me, people who have been brave and honest enough to stand up and be visible and fight for many of the rights we enjoy in this country. I want to use any platform I'm lucky enough to have, to be as visible and politically engaged as possible. With Trump in power, and some very regressive forces at work in our country, LGBTQ+ rights are under assault. There is so much misinformation about trans people in the press at the moment -- there's some vitriolic scaremongering going on in the mainstream media. The physical safety and mental well-being of members of our community is being threatened. In the face of ignorance and hatred, queer people are standing strong. I'm really proud to stand as one of them.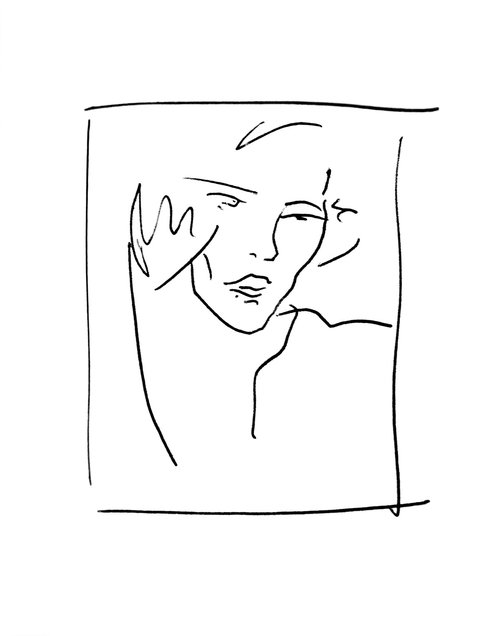 Tagged: