watch this lost 1990 interview with studio ghibli founder hayao miyazaki
Thanks to a fan blowing the dust off an old VHS tape, we have a glimpse of the Studio Ghibli director during his younger days.
|
28 December 2017, 7:06pm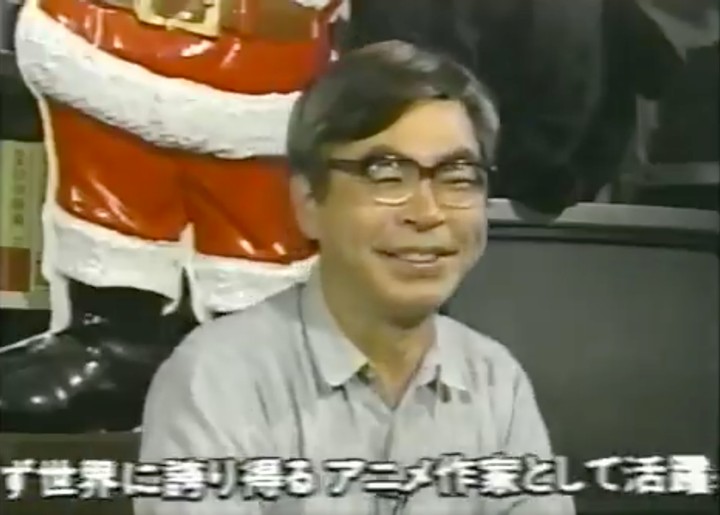 Screenshot via Twitter
Once upon a time, people used VCRs (instead of DVRs) to record special television events. That was the case for one OG Studio Ghibli fan, who recorded a 1990 broadcast of Nausicaä of the Valley of the Wind (largely considered by fans to be the first "Ghibli work") on a VHS tape. And there was something very special about that particular broadcast. A personal interview with Hayao Miyazaki aired before the film. And up until now, that interview was never released on home video or online.
Miyazaki shows off his signature fiery spirit in the clip. He starts off the interview saying he really didn't want to make Nausicaä of the Valley of the Wind. That's because the manga series the film is based on was still running at the time. "I was actually opposed to making this into a movie," Miyazaki says, as translated by anime site Rocket News. "The serialization isn't finished yet. Even I don't really know how long it will go on…It was difficult to make it a movie. I mean, the story isn't finished yet. I wanted to show the ending."

Miyazaki has been against making a sequel to Nausicaä from the very beginning. When the interviewer pointed out that Nausicaä still running as a manga left room for another film, Miyazaki quickly vetoed the idea. "No, I think that would be even more difficult. I don't think I could do it."

Over 20 years later, Miyazaki has stuck to his word. There have been reports a proper sequel to Nausicaä could still be made, just with a different director. But, as we all know, Miyazaki didn't really stick to his plans for retirement. He came out of it to work on a new film for his young grandson. So maybe he'll have a change of heart.
In the interview, Miyazaki also reveals he shares a deep personal connection with Nausicaä. "I was always thinking about [if Nausicaä and I have the same dreams]," he revealed. "It was something I kept coming back to, and I didn't know how it would turn out, and so I created a world even I don't understand entirely." If anyone can convince Miyazaki to make the sequel we all want, it's obviously his grandson.