why fashion needs to join the golden globes #metoo protest
The powerful Hollywood players behind Time's Up appear to be giving designers an ultimatum: condemn sexual harassment, or risk being boycotted.
|
05 January 2018, 11:12pm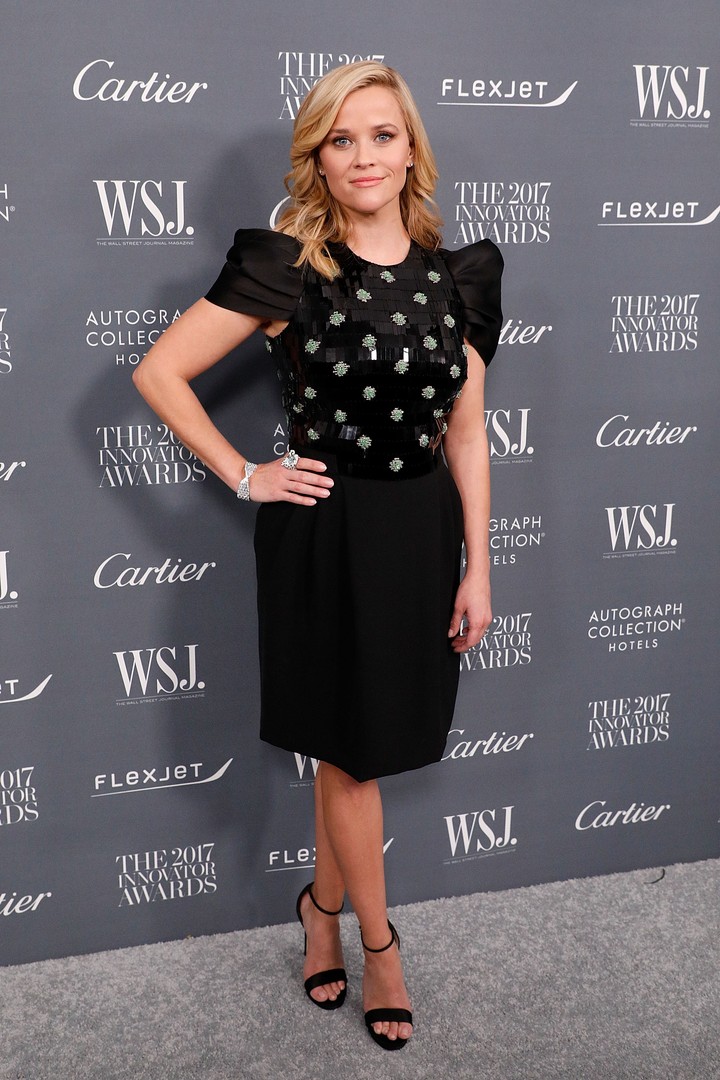 Photography Taylor Hill via Getty Images
In December, it was rumored that women were planning to wear black to the 2018 Golden Globes as a silent protest against Hollywood's sexual harassment epidemic. The news drew skepticism from many, and outrage from Rose McGowan, who has been vocally protesting Hollywood misogyny since long before #MeToo started trending. Except that the all-black protest was never supposed to be silent.
On New Year's Day, over 300 women in Hollywood unveiled a comprehensive campaign called Time's Up, which had been in the works for months. The initiative was announced in a full page ad in the New York Times (and Spanish-language paper La Opinion), and has established a $13 million USD legal defence fund for victims of sexual misconduct — not just in Hollywood, but in less privileged fields such as hospitality and agriculture. The initial $13 million was seeded by Hollywood actors and insiders, and the public can also donate via a GoFundMe site.
It's within the context of the Time's Up legal fund that another red carpet protest has been announced: a pin that calls on the fashion industry to donate to Time's Up. Costume designer Arianne Phillips has designed a "Time's Up" pin that Golden Globes attendees will be wearing over their black gowns and suits on Sunday, The Hollywood Reporter reveals. Reese Witherspoon asked Phillips to create the pin at a private Time's Up meeting last month. With the help of her partner-in-crime, Los Angeles jewelry designer Michael Schmidt, Phillips came up with a design and had 500 pins made in two weeks. Her job now is to get the fashion industry to rally behind Time's Up initiative — or they might find their brands targeted by Hollywood boycotts.
"I can't think of anything more appropriate than fashion brands who have built careers on the red carpet donating to the Time's Up legal fund, because as we've learned in the last year, there's nothing more powerful than how we spend our money," says Phillips. "I will take notice of these brands and want to do business with them."
Time's Up is hardly the first instance of the red carpet being used to protest injustice. At the MTV VMAs in 2016, Beyoncé made a powerful statement in support of Black Lives Matter by rolling up with the Mothers of the Movement. Last year at Cannes, judges protested the persecution of gay men in Chechnya at the premiere of 120 Beats Per Minute. The election of Donald Trump has resulted in multiple red carpet protests against his policies. But since news broke of the Time's Up protest, critics have been asking the same question: wouldn't a more forceful statement be to just... stay at home? Particularly when it comes to men, many of whom plan to wear black in a show of solidarity, earning a pat on the back for being good allies while doing little more than changing their white shirts for black ones. Women often wear black to award shows anyway too. Perhaps we'd do better to look to the women not wearing black — the ones who can't yet afford to throw a wrench into the Hollywood machine.
The #AskHerMore red carpet campaign of 2015 was met with similar skepticism. The idea behind that campaign was that journalists should ask female actors more substantial questions, outside the go-to "Who are you wearing?" #AskHerMore was also largely started by Witherspoon (and by Cate Blanchett calling out E News's "Glam Cam"). While not everyone viewed it enthusiastically — least of all designers, who often donate expensive couture gowns with the expectation of getting a name-drop — it did draw attention to the inherent misogyny of the red carpet. Those involved in Time's Up, meanwhile, want reporters to ask who they're wearing. Or rather, why they're wearing black. But fashion hasn't always been the most vocal industry when it comes to injustice. If it's scared to speak up about Black Lives Matter or Trump's immigration ban, will it be prepared to call out Hollywood? Dressing celebrities for the red carpet is a big, complicated, and time-established business.
Detractors of the #MeToo protest may be missing a larger point. Hollywood's culture of silence around harassment has resulted in victims' careers being derailed and their art being compromised. While the film industry can be a dark place, award shows are a chance to celebrate the beautiful, complex films and TV shows that get made against the odds. That's nothing to shut up and stay home over.