how to make work that matters with margaret zhang
What we learned at Forefront, a summit co-curated by Margaret, where creative leaders discussed the future of culture.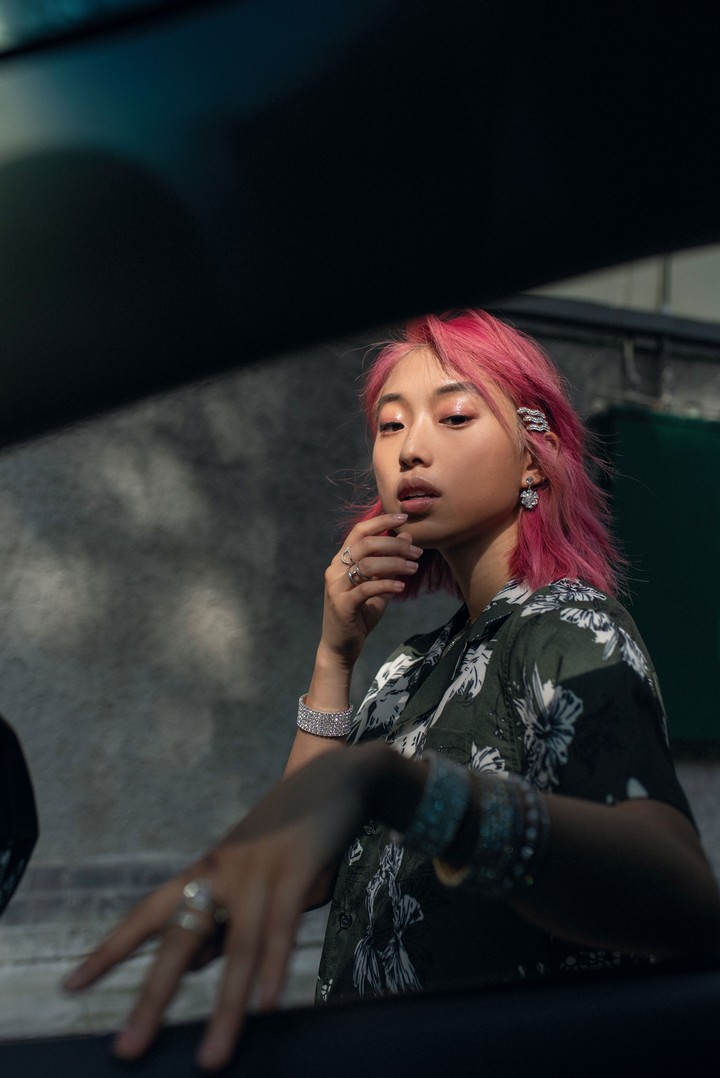 Margaret Zhang isn't like most influencers. In addition to holding a law degree and being an accomplished pianist, Margaret is also a model, stylist, writer and accomplished photographer and filmmaker. Leveraging her popularity to create work that counts, Margaret is an inspiring ambassador who's also generous with her wisdom. A case in point is Forefront, a Sydney-held summit co-curated by Margaret bringing global thought leaders together to discuss future culture and innovation. Speaking this year, amongst others, were Acyde from No Vacancy Inn and Gary Aspden, a brand consultant for Adidas who's regarded as one of the most influential voices in street culture. The first in what will hopefully become an annual gathering, we spoke to Margaret about the best advice from the event.
Working with people in other fields is important.
"There is a lot of value in cross-disciplinary collaboration: not only are there common pain points industry to industry that we can collectively solve but taking a scientific approach to a creative field or a disruptive, activist approach to corporate challenges can really help identify industry norms that could use an update."
Digital is important but logging off and interacting with people irl is essential.
"We spend so much time chasing the next digital cutting edge moment that we forget about the value of offline, physical communities."
Collaboration is key.
"We have a habit of creating dichotomies out of things that should actually be collaboratively viewed and not silo-ed or even pitted against each other. Let's integrate things like brick-and-mortar and e-commerce, print and digital, brand and editorial and science and social activism and see what happens."
Flexible work conditions will continue to help gender inequality in the workplace.
"The most sobering conversation for me was about women in the workplace. We can't deny that those of us living in liberal, progressive cities, surrounded by strong women doing great work, can often live in this illusion that we are a lot further along than we really are when it comes to gender equality in any kind of workplace. An interesting part of that conversation at Forefront was the fact that youth demands for more flexible work conditions and freelance culture are potentially extremely helpful in the uphill battle for female flexibility, particularly in more traditional corporate environments."
Australia is well placed to be a leader in innovation.
"Australia has all the elements to really lead the charge in innovation by restructuring outdated formulas. Our smaller market and geolocation amongst incredible development and opportunities throughout Asia-Pacific and China regions should enable us to be agile. And yet, we do often cling to infrastructure in a bit of a "don't fix what is not broken" way, which will do nothing for us in the longer term. Companies have a mental block about the Chinese market and consumer for apparently no reason. We need very practical applications to take hypothetical conversations out of the Forefront room and make them actionable for every attendee and the people they interact with in their work."
To succeed in developing yourself, you need to step outside your comfort zone.
"There needs to be an overarching purpose that dictates the standard and direction of the work you do. The platform on which you publish or project your brand, or the mere fact of the skillset you have, does not itself comprise a sustainable narrative that will force you to evolve and adapt to shifting market demands and audience sentiments. I can't stress enough the importance of constant self-learning and forcing yourself outside your comfort zone — perhaps even side-stepping into adjacent industries with different structures to really identify your weaknesses and work on them under pressure. There's nothing more lacking in longevity than complacency."
Forefront is a summit anticipating future culture presented QICGRE.