Photography Ben Taylor. Jacket by Snow Xue Gao.
allie x's new video is a twisted take on hollywood glamor
"Imagine walking into a department store in the early 90s, and everyone is in drag."
Photography Ben Taylor. Jacket by Snow Xue Gao.
In the trailer for her debut album Super Sunset, Allie X sets the scene as if she's thought over it a couple times: "Imagine walking into a department store in the early '90s, and everyone is in drag." She's come to the photoshoot hair and makeup ready, and contrary to the natural, long black hair we were expecting, she shows up to the studio in full drag regalia: a black mesh veil, fuchsia eyeshadow, a short but curly blonde wig, and a red lip. Allie X walks the walk.
The LA by way of Canada electro-pop star looks like if a witch from Hocus Pocus cosplayed as a Macy's perfume sales rep for the day, exhibiting the distinct and intentional blending of narratives that has been the driving force behind her new project. Super Sunset, she tells me, documents the ups and downs that come with moving to Los Angeles to pursue a music career—no Visa, no real plan even. Just a publishing deal and pure, concentrated ambition.
"What I've done with this record is pretty directly told my story of the last five years, but I wanted to place it in a surreal environment, almost as if I was directing a Hollywood movie about my Hollywood story," she says. "I wanted to sort of personify the different people I've been and become in a very exaggerated way. I also wanted to show the grotesque, as well as the glamorous, side of this extreme of 'trying to be a star' and what that even means and how pathetic that could be."
The music video for lead single "Not So Bad In LA," which premieres today exclusively on i-D, portrays the transformative journey of just one of her many self-reflective archetypes: the Hollywood starlet. "She's usually gonna be blonde, and she's really the one who represents the desperation and the glamour of wanting to be famous—the delusion that you fall into." Then there's the "nun" character who "represents pure artistic drive, the musical and spiritual side of art, the beautiful side of wanting to make art." And lastly is the "sci-fi girl" who is "retro future and encapsulates all the weird, disconnected, quirky things about me that you see Allie X as," she explains, like a theatre kid with a hyperactive imagination. "That's usually how people identify me — like, she's kind of cold, or witch-like, or like an alien. And those are all qualities that exist in me that I'm comfortable showing people." She's right. If Allie X is anything, she's a shapeshifter.
Having first made her way on the pop radar in 2015 with Collxtion I and then last year with Collxtion II, both releases filled with bright, glowing bops like "That's So Us" and dark pop runway anthems like "Casanova," the singer seemed primed for pop princess status from the jump. "When I first arrived in LA, I was just listening to a lot of Max Martin and trying to understand the whole 'formula' of writing a pop song," she reflects on her beginnings as a songwriter. But after the success of her earliest tracks and a string of visuals that (compared to what we're getting now) teeter toward the subdued side of the spectrum, Allie realized she didn't need to try and fit the "top 40" mold anymore. "Not fitting in is kind of what makes me different and special."
When she performs her new album track-by-track at Rough Trade in Brooklyn, the full-fledged Allie X comes out, and it's almost face-melting. Emerging from the darkness in her signature veil and emerald green prom dress, she situates herself behind the keyboard and plays new songs in a way you've probably never seen her: high-octane and high note-hitting (belting, actually). On "Little Things," she explores the frustration and desperation that often comes with a nitpicky mentality: "It's the little things that all add up / Death by a thousand cuts." It's emo theatre almost—her very own grunge opera — and the performance proves that Allie thrives in a live, full band setting where she can truly emote.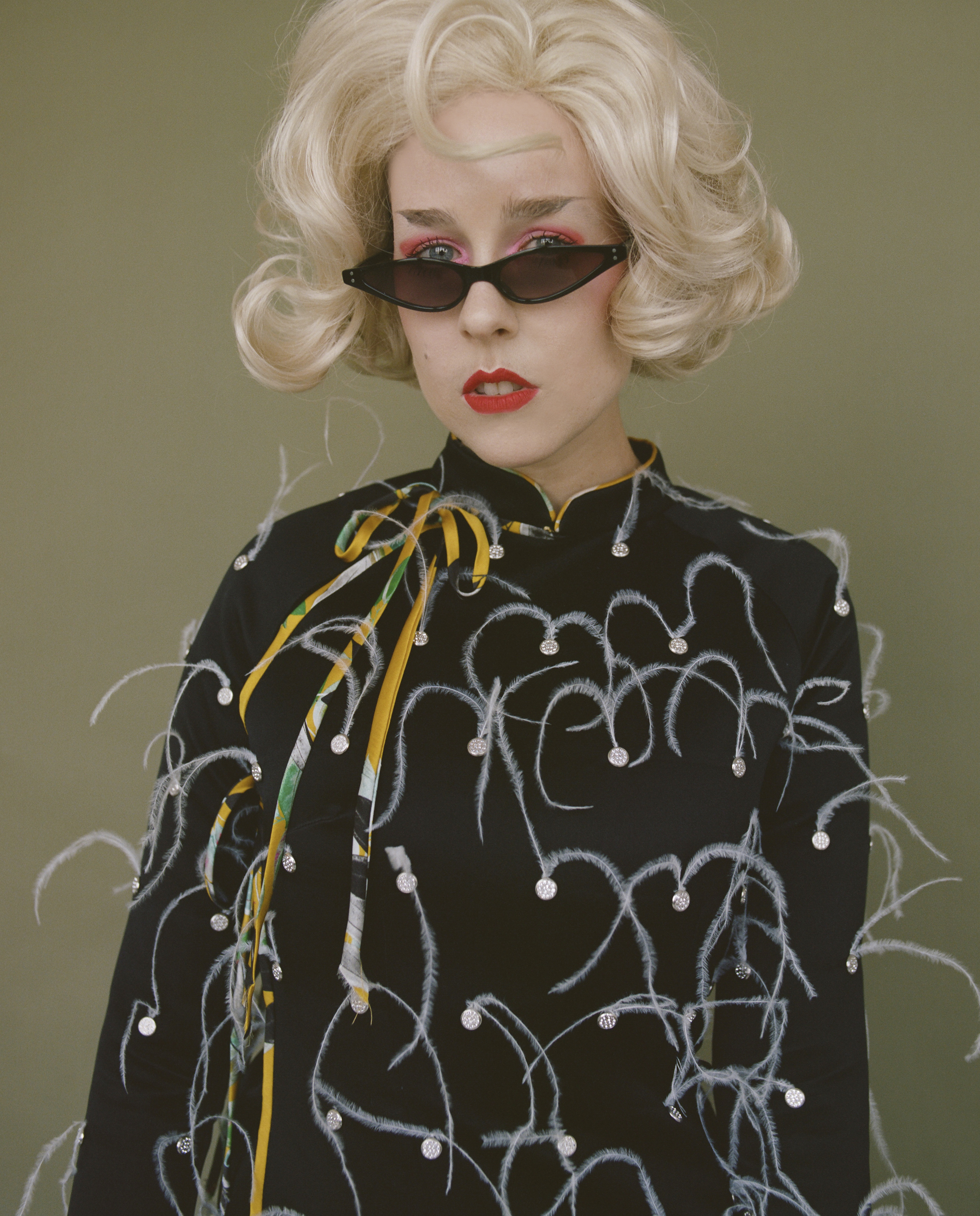 The audience and her fanbase as a whole, she tells me, is largely queer — a community of pop heads who yearn for the time when the genre had layers, when artists were theatrical, and not only had important artistic statements to get across but interesting and mind-bending ways of getting them into their listeners' heads. If not the most "current"-sounding artist of the moment, Allie X is certainly filling that gap for the gays. "Who could ask for anything more?"
We end our conversation talking about Angelyne, the LA darling who became famous in 1984 after a series of iconic billboards were posted with just her name and a suggestive pin-up photo, up there in the sky for all of the city to lay eyes on. Having become a part of LA's cultural fabric, the 60-year-old can still be seen driving around her signature pink corvette in head-to-toe looks, a living embodiment of fame culture and the classic chase for those coveted fifteen minutes.
"She seems happy, so I'm not trying to put her down, but it's kind of sad," Allie observes. "Sometimes I look at my own story in the same way. It's not strange to want to be an artist and express yourself, but it's a strange thing to wanna be famous. There's something dehumanizing about that whole pursuit."
Maybe this is why Allie X chooses to explore herself through different personas, to avoid the inevitable dehumanization that comes with exposing yourself to the world. The "dream of Los Angeles" is a cliché, yet through Allie X's altered lens becomes fresh once more, capturing our pop hungry hearts with each and every iteration.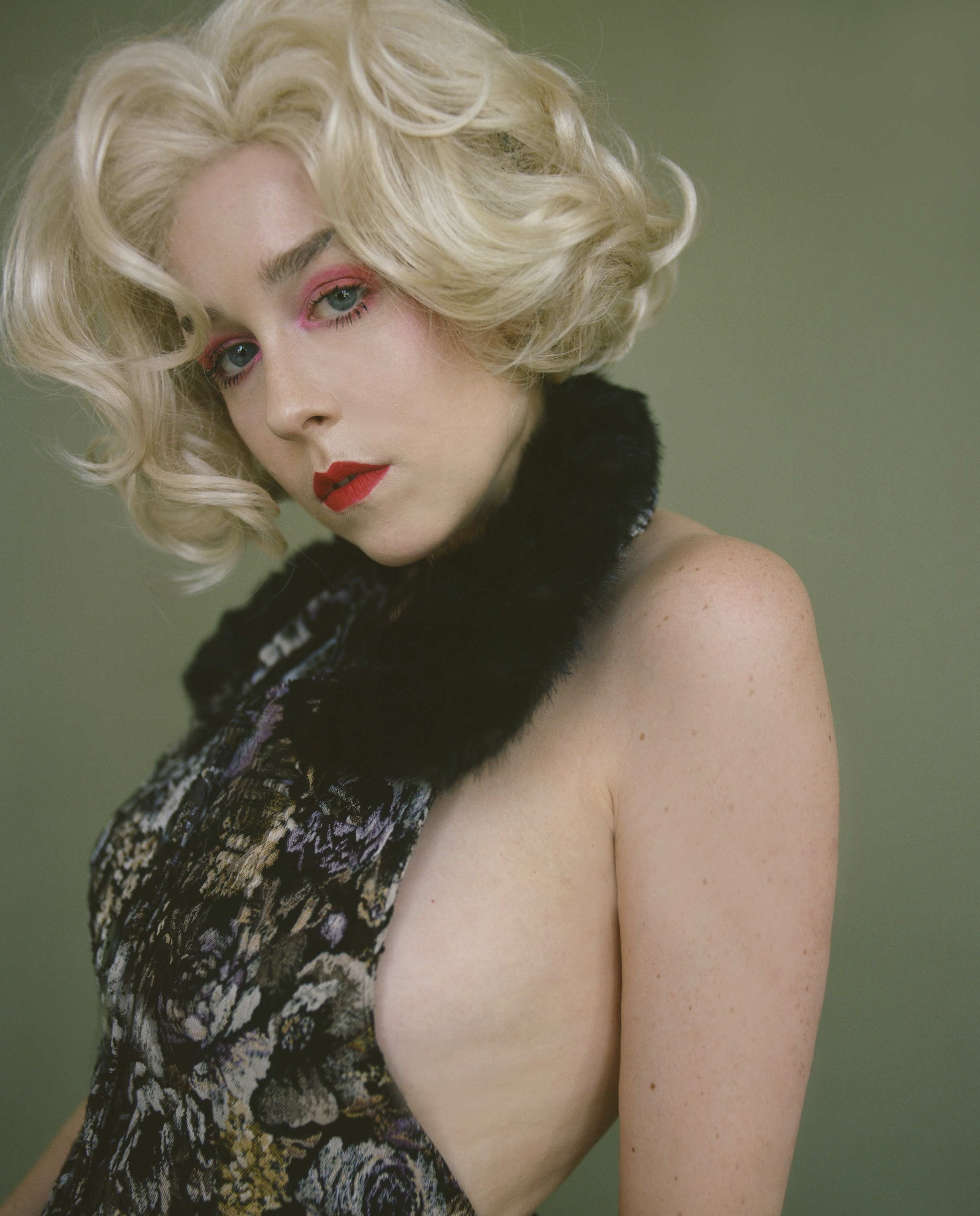 Credits
Photography Ben Taylor
Stylist Sharifa Morris
Tagged: