Photography Sophia Wilson
sundae school wants to elevate your stoner uniform
Dae Lim's Korean-American 'smokewear' brand grows up at NYFW Men's.
Photography Sophia Wilson
If anyone disputes the idea of a diligent stoner, introduce them to Dae Lim. The Sundae School designer didn't spend his July 4 holiday getting blazed on the beach. Instead he was puffing spliffs while putting the finishing touches on his first presentation at NYFW Men's, which functioned as something of a coming-of-age for the Korean-American "smokewear" brand. Previously known for streetwear staples like hoodies and bucket hats, Sundae School is now a college freshman — majoring, naturally, in weed.
"This collection is called 'Ddul-Sunbi,' or 'Stoner Scholar,'" Lim told i-D at his airy, sunlit presentation yesterday — no hotboxing here. "Those two things are very incongruous, especially in Korea where weed is so taboo. We were imagining a word where Korean goody goodies are actually teaching kids about safe usage of cannabis, and the different ways to smoke it."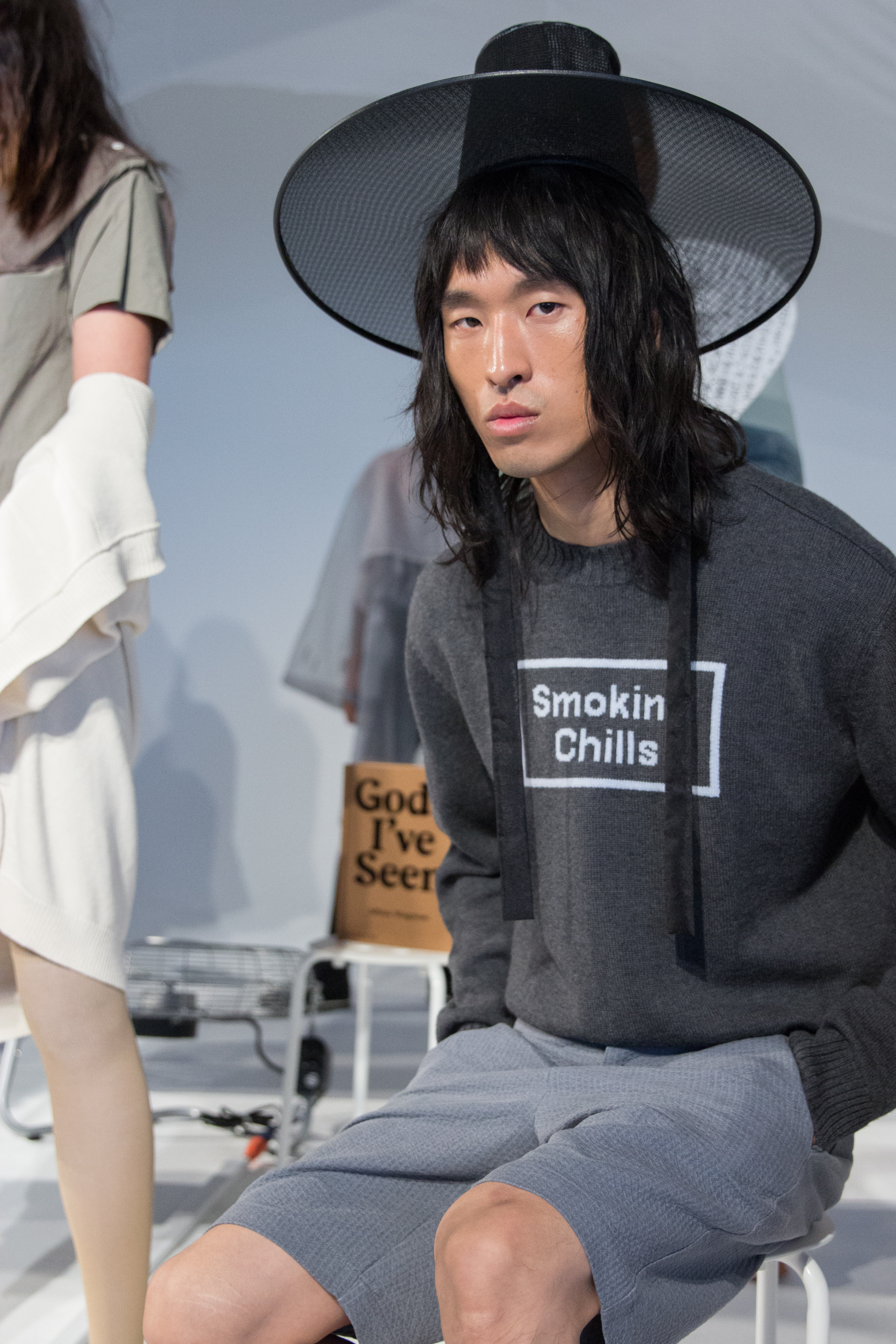 So what does a budding bud scholar wear to Lim's college of cannabis? Sweats still made appearances — as the designer says, comfort is always fundamental to the finest smokewear — in the form of a crew-neck warning "Smoking Chills," and a hoodie featuring prints by Korean-based artist/ illustrator Yeonbun. But Lim has really capitalized on the chance to elevate his brand with softly structured tailoring and traditional Korean fabrics. Smart, cropped trousers were made from the same nubi quilted cotton Lim used to curl up in as a kid. "It's like quilted blankets," he explained. "It's the blankets we used to wear whenever we went to my grandmother's house. If you go to the temples, all the monks sleep in this, with a thicker one on the top." He likes that quilting transcends cultures — "There's a Korean way of quilting, there's a British way of quilting, an American way of quilting — it was so fun to explore." They were anchored with leather sneakers, suede boots, and modern hybrid moccasins by Heirloom Footwear.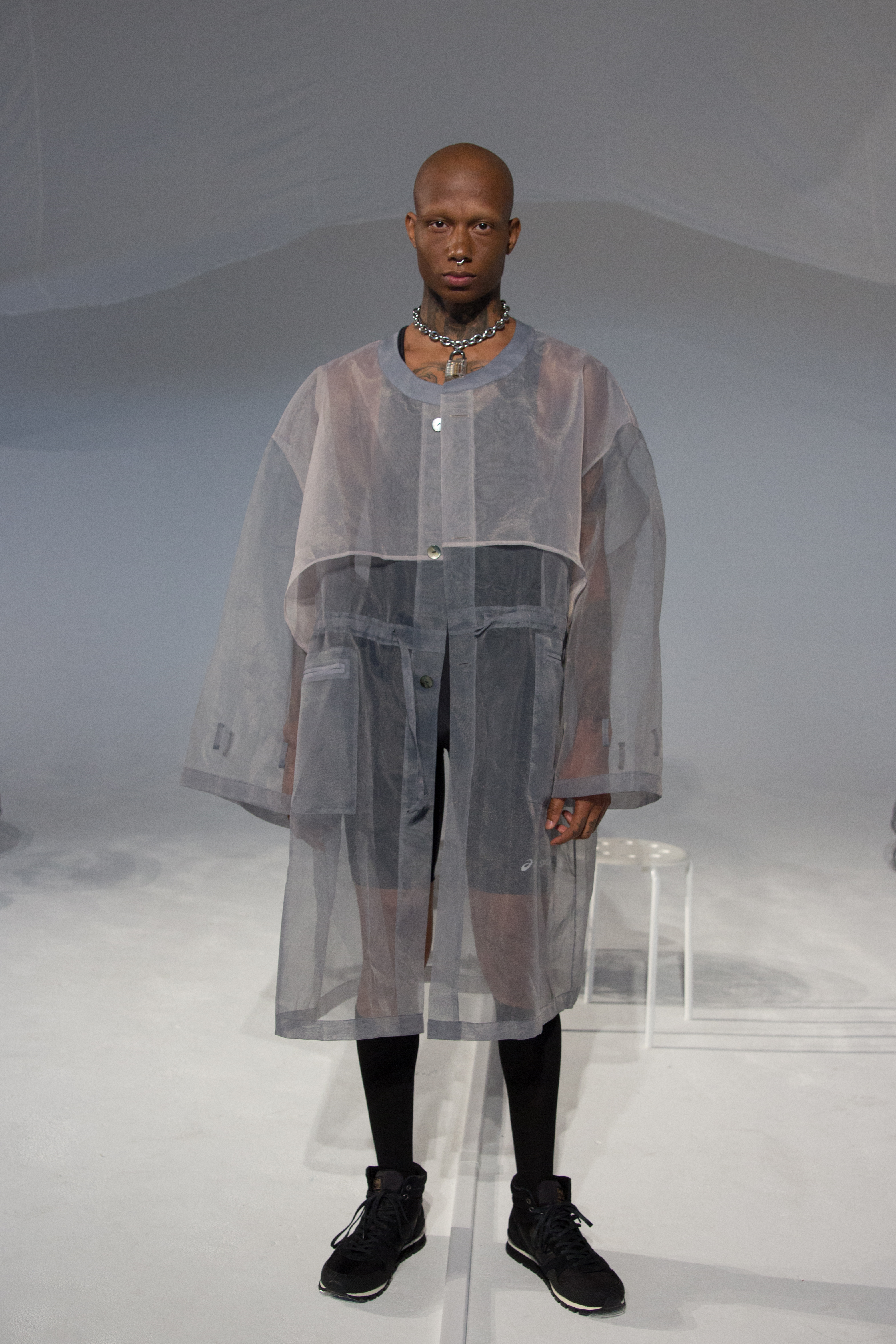 Collaborating with artists is still very important to Sunday School. Even the most studious weed scholar can't do everything alone, and Lim doesn't want to. For a few beautifully gauzy, structured organza pieces, he was inspired by Korean artist Do Ho Suh, who makes immersive organza sculptures exploring the intersection of East and West. Lim came up with the idea of cargo pockets that resembled packets of cigarettes. "A lot of Seoul-based artists are underrepresented in the global landscape," the designer says of working with his friends in Seoul's creative community. "There are amazing foreign galleries in Korea, but you can only name a few interesting Korean artists that are in the global landscape."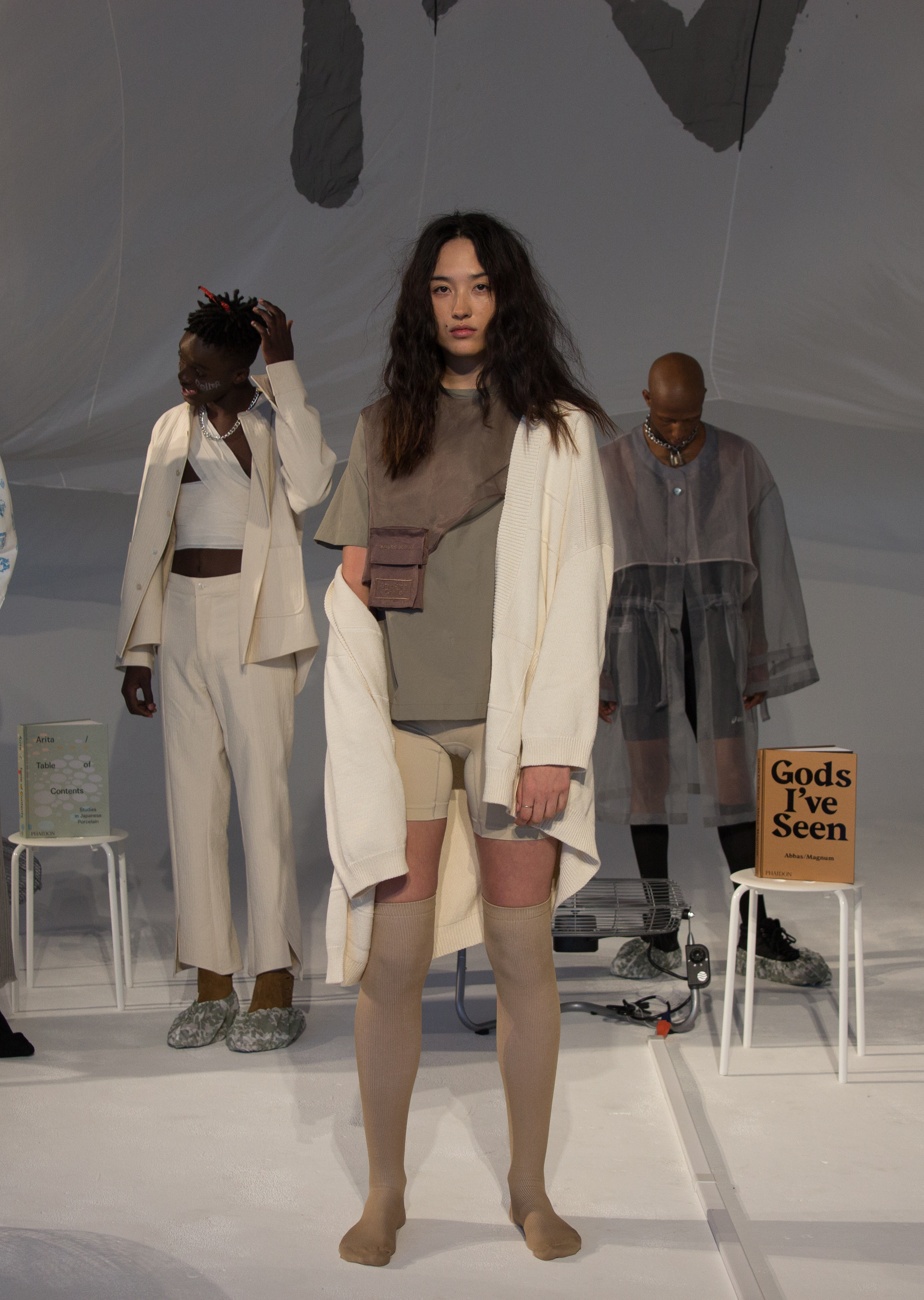 One thing not present in yesterday's show was actual weed. "We wanted to be less literal," Lim explained, opting instead for an overall feeling of etherealness that comes with an amazing high. He did, however, take a dig at the current administration's admonishment of recreational cannabis use. A couple of models held pleated fans reading "Smoke Sessions not Jeff Sessions," a reference to the elfin Attorney General at the center of a losing battle over legalization. "The culture around [weed], even if you don't smoke, is so vibrant," Lim says before inviting me to his Soho workspace for a spliff.