king krule's in-flight movie and the other new music vids you need to watch
Ratking's Wiki runs for Mayor of NYC, LA artist Phoebe Bridgers gives us emotional motion sickness, and London band The Big Moon take down Marika Hackman with a fidget spinner in new video for Pull The Other One.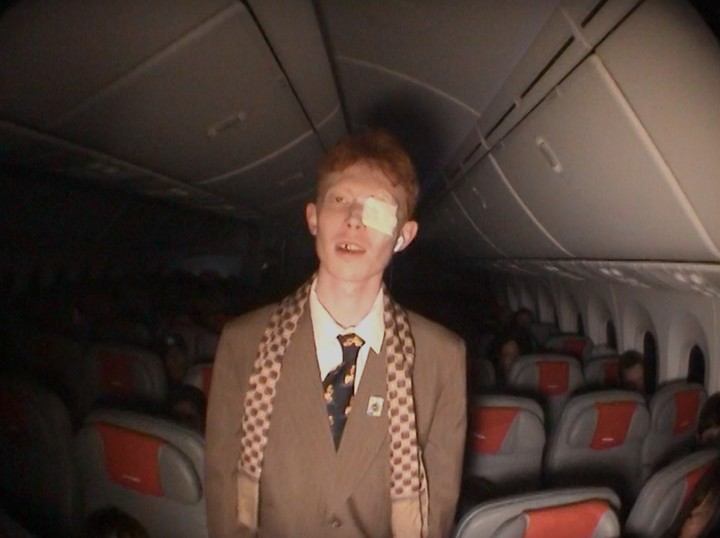 King Krule, Czech One
Don't you just hate those long nights on planes when you can't sleep and your eye patch is causing you no end of trouble? This video is really great. Why aren't more music videos shot on planes? Sure, there's Britney's Toxic and that equally as well-choreographed OKgo one, but we literally can't think of any others. Welcome back, Archy M! Nice travelling attire.

GoldLink, Meditation ft. Jazmine Sullivan, KAYTRANADA
This is the West Side Story of GoldLink's At What Cost LP. Ever the charmer, our leading man steals the girl he likes away from the guy she came with… but at what cost? Dum dum dummmm.

Wiki, Mayor
Wiki for mayor of NYC! Wiki for president! Gotta be better than the current set up, right? Look at all these nice people in the video supporting the Ratking producer just because they can tell he's a nice guy. It matters. Wiki's solo album is out today with features from fellow New Yorkers Ghostface Killah and Your Old Droog -- give it a listen.

Dai Burger, Where My Girls?
Queens rapper Dai Burger wants to know where her girls are at and why they're not all at her BBQ yet. That's the trouble when you've got supporters all over the world. Taken from her forthcoming debut album Soft Serve, it's an essential addition to your summer soundtrack. The take home message? DGAF about dieting. Celebrate your womanhood. Have fun.

The Big Moon, Pull The Other One
Marika Hackman, in the cupboard, with the blunt wooden object. Looks like The Big Moon girls and Marika had a lot of fun on their recent US tour. If anyone fancies making a DIY murder mystery music video this bank holiday weekend, hit us up.

Desiigner, Liife ft. Gucci Mane
Sorry but did that caterpillar just evolve into a bear in the weird opening sequence? Upgrading from a Panda to a motocross bike, Desiigner and friends ride through soldier-infested woods to a fancy house, all while Gucci Mane fills him in on some real life shit. "Why does this song remind me of goosebumps so much??" asked one YouTube commenter. It's the piano.
Scottie Le'Jour, Petty Poems
Next up, we've got Inglewood native and member of LA collective Busy Sounds with an amusingly on point post-breakup stream of consciousness. Scottie says everything you never found the right words for in this petty poem.

Phoebe Bridgers, Motion Sickness
Usually, if you're riding a micro scooter and you're not a child or a person collecting a child from school, you're the worst kind of person. Somehow, 22-year-old Phoebe Bridgers pulls it off. Ending with an emotional karaoke performance, this song really should've been around in 2004 to sit alongside The Shins and Zero 7 on the Garden State soundtrack.

Clarence Clarity, Naysayer Godslayer
Last but by no means least, Clarence Clarity's new one is like watching Saved By The Bell or another one of your new favourite shows that'll soon become your whole reason for living. We'll have one of whatever that dancer had, please!