your fave woke podcast '2 dope queens' is coming to hbo
Phoebe Robinson tells i-D what fans can expect from the upcoming live comedy specials.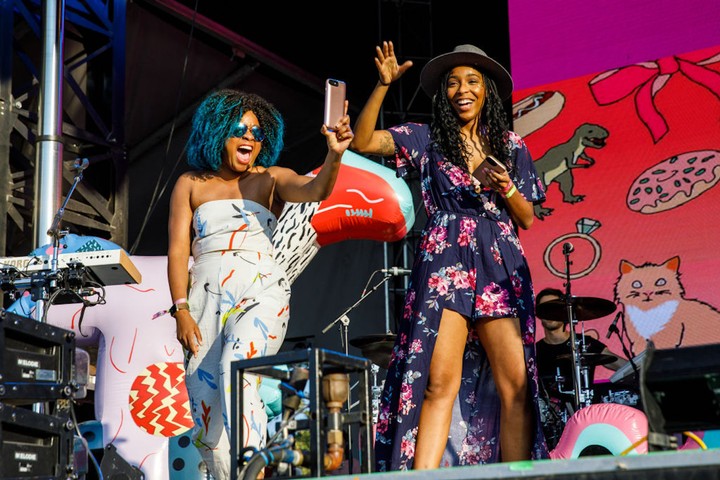 Getty Images/Josh Brasted
Premiering on New York Public Radio and iTunes in 2016, 2 Dope Queens is one of the most woke podcasts out there. Coming from comedians Jessica Williams (former Daily Show correspondent) and Phoebe Robinson (Broad City and I Love Dick), the show touches on everything from race politics to their Netflix binge sessions. Now it's being adapted into a series of hour-long live comedy specials for HBO.
Phoebe Robinson shares her excitement with i-D: "So pumped to be joining HBO fam," says the comedian and writer of You Can't Touch My Hair: And Other Things I Have To Explain. "When I started comedy nine years ago, my dream was to be on HBO and now it's happening!"
While the podcasts are still set to air on New york Public Radio, the specials will capture what listeners don't get to see: Phoebe and Jessica on stage as they record, sharing anecdotal tales and talking with guests like Ilana Glazer and Jon Hamm.
Phoebe and Jessica will add to representations of black womanhood on HBO. The network is currently airing season two of Issa Rae's comedy series Insecure. On the flip side, the channel recently came under the attack of Black Twitter for announcing a show that imagines an America where the Confederacy never lost the Civil War.
Read More: The Women Behind #NoConfederate Discuss the Power of Black Twitter
"I think that Jess and I are just going to show another layer of what a black woman is and can be," Robinson tells us. "With Issa and now us, hopefully we're helping to open the door for other women of color and show that they can be true to their voice."
Transferring a podcast over to the small screen may sound weird, but 2 Dope Queens is already filmed in front of a live audience at Union Hall in Brooklyn. If anything, fans will be getting the full experience now. "Jess and I are [into] physical comedy and act outs, so it'll be amazing for our audience to see that side of us," Robinson teases. "Also, we're gonna have bomb ass hair stories, so we'll want people to see that and take screenshots and add it to their Pinterest pages for inspo."