virgil abloh x ikea – everything we learned from their livestream
The best glimpse of the upcoming collaboration so far.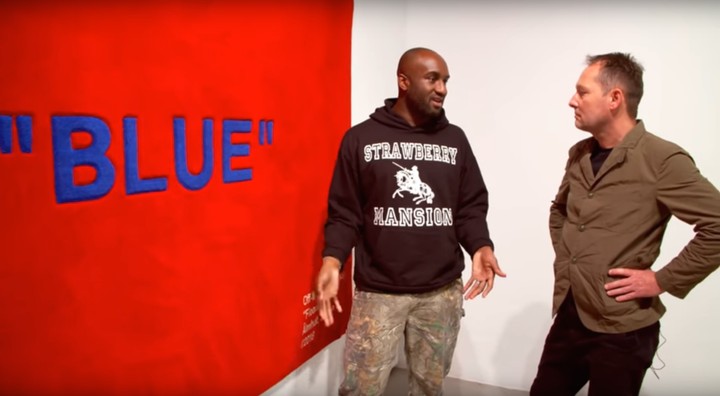 Youtube
Virgil Abloh might just be the busiest man in fashion. With his Off-White label maintaining its buzz, and a first day at Louis Vuitton under his belt, attention has turned to another one of the designer's landmark collaborations. Today we got our best look yet at Virgil's upcoming collaboration with global furniture giant Ikea through a livestream event. Over 25 minutes Virgil and Ikea walked us through some of the collection prototypes while answering questions from the comments section. While the livestream didn't show Virgil struggle to assemble flat pack furniture, as we had originally hoped, we still learned a lot.
The collection is named in Swedish like every other Ikea collection
Virgil Abloh might be a big name but Ikea is an even bigger one. That means this collection will follow Ikea guidelines and be named in Swedish. "Markerad" will be the title of the collection, which translates to "marked" in English. Of course Virgil still gets to put his spin on the name by including his trademark use of quotation marks.
The collection will be affordable and available
Since Virgil comes from the world of streetwear (where products get hyped and sold out before many potential buyers get their chance) many commenters wanted to know their odds of being able to buy the collaboration. Virgil responded to this with one of his first statements of the livestream, assuring fans the collection would be affordable and available, staying true to Ikea values.
Millennials shopping for their first apartment are the target market
As you might have expected from a collaboration with a streetwear designer, this collection is all about Ikea looking to younger markets. During the livestream it was stressed that the collection is being built for millennials looking to furnish their first apartments or dorm rooms. Let's be real, most first apartments are already made up of a mattress on the floor and a clothing rack from Ikea—at least now they can be made by Virgil Abloh.
We saw items we haven't seen before
We've seen glimpses of the collection as a work in progress before (like its take on the iconic Frakta bag) but this time we saw new items. One of the first things we saw was a chair with with three normal legs and one uneven one that uses a doorstop to balance out. The bright red doorstop being reminiscent of the zip ties that have adorned Virgil's work before. There was also a display cabinet (shown with Nike x Virgil Abloh sneakers inside) with red handles designed in the shape of nails. And finally a "blue" rug which is actually red but with "blue" shaved in to the centre of it as text.
The collection isn't finalised
During the livestream the team kept pointing out that the products we were seeing were prototypes and nothing had been finalised. This was best highlighted when Virgil sat in a chair and the Ikea team stressed their concern about its functionality. Before the 2019 release of the collection many things could change, including the colours and materials used for production. According to Virgil he only has a couple of months to finalise the collection before it's pencils down.
If you missed the livestream you can still watch it
Here's a link.