everything that happened in the beautiful, insane world of rihanna this week
Because honestly it's Rih's world and we're all just living in it.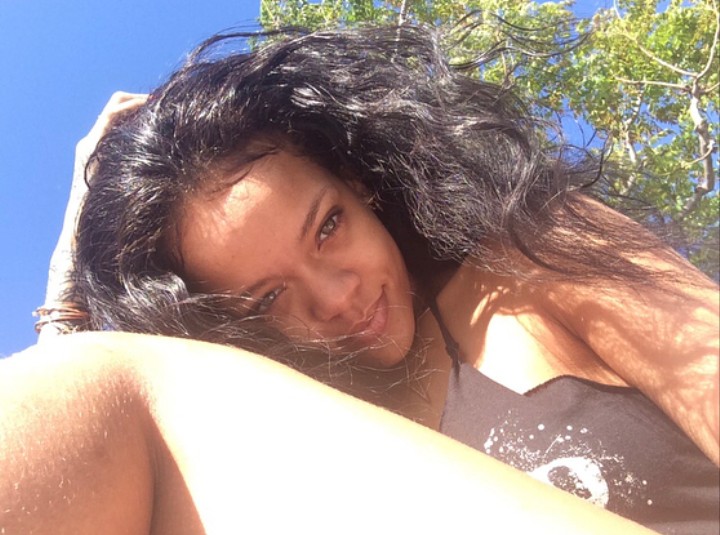 Image via Instagram
For a normal person, a week is a standard unit of time, filled with seven days, 168 hours, 10,080 minutes. It's long enough to get a decent amount of work done, relax, have some drinks, maybe go on holiday, but realistically, you can't fit much into it. Well unless you are Rihanna. And because Rihanna is more than just your average normal person, she can fit a helluva lot into just one week. This week was no exception.
A word of warning: keeping up with this stuff will have you exhausted, and you don't even have to do it.
She wants to make a reggae album
Brilliant news for hardcore fans of Man Down, RihRih's 2011 reggae inspired banger, as she's just revealed her new album will be full to the brim with more reggae influences. While she's been tight-lipped about #R9, the follow up to her 2016 piece de resistance, ANTI, Rihanna revealed to Vogue that it will be heavily reminiscent of the works of her favourite reggae artist of all time, Bob Marley.
And her favourite Bob Marley songs? Three Little Birds, No Woman, No Cry and Redemption Song, obv.
She just casually appeared on the cover of Vogue
Where she talked about turning 30, and helped the writer interviewing her to finesse her Tinder profile. Naturally.
She wants everyone to know she's not friends with Drake anymore
If you still harboured hopes of a DrakexRih reunion in the near future (we've all shipped it at one point or another but it's time to move on) then this will be a bitter pill to swallow. But it seems after what feels like hundreds of years of their on again, will they won't they complicated relationship, the pair aren't even friends anymore.
Explaining the situation, Rihanna told Vogue: "We don't have a friendship anymore, but we're not enemies either. It is what it is." She also talked about their awkward moment at the MTV Awards in 2016, where Drake announced to the audience (and the world) that he was in love with her, while Rihanna cringed behind him. "Waiting through that speech was probably the most uncomfortable part. I don't like too many compliments, I don't like to be put on blast."
A mature, healthy queen with the ability to move on. We stan.
Her Fenty lingerie line is going to be body-positive as hell
Ever since Our Lord and Savior announced that Fenty will be launching a lingerie line, we've been waiting in anticipation, having thrown all our sensible underwear out immediately and taken out a bank loan to finance a new, solely Fenty knicker drawer (or maybe that was just me). And now, to compound that anticipation, Rihanna has announced that Fenty x Savage will address the age-old problem of not stocking sizes that fit a wide variety of bodies.
The line's bra sizes will go from 32A to 44DD, to be exact, while the underwear will range from a size XS to 3X. Our bodies (but not our bank balances) are grateful.
Oh, and she just changed the game for YouTubers everywhere with this make-up tutorial
You know how YouTube make-up tutorials usually go. Lots of vocal fry, and an endless array of Sephora products that usually aren't available in your country or price range, and a dead-eyed blogger who opens with "hey you guyyyyyyys". Useful albeit irritating. Until, that is, Rihanna came along and changed the game with her own Fenty tutorial video. The bloopers alone are entertaining, but my personal favourite part in her official Vogue tutorial debut is when she stops to realise how popping her own highlights are. 10/10, would subscribe.