you need to follow this 'pop culture time traveller' on tiktok
TikTok might be best known for DIY memes and messy iPhone clips, but Maris Jones is one of an emerging group of artists using the app to create trippy short films worthy of a box office release.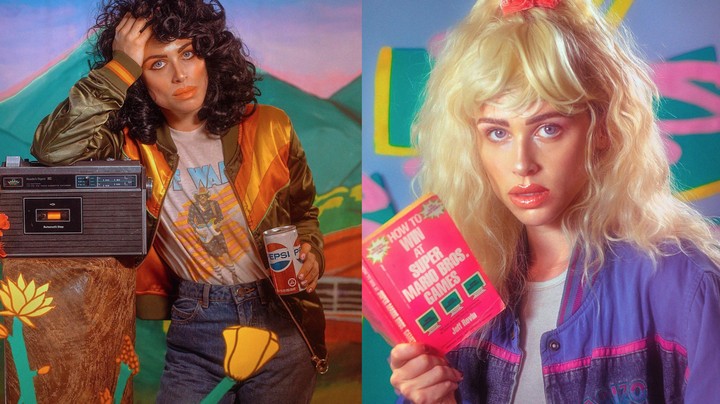 A furry dances to a song by Stunna Girl, viral moms force their children to perform badly acted prank videos, cosplayers duet to songs that would make even the hardened veterans of the subreddit r/tiktokcringe shudder. Let's be honest, there's a lot of bad content on TikTok. But for every video that induces second-hand embarrassment so potent it makes you want to tear off your skin and roll around in salt, there are some rare gems.
Filmmaker and photographer Maris Jones is part of an emerging community of creators using TikTok to make creative, visually arresting and high quality short film clips. The 27-year-old, who lives in Brooklyn, first discovered the app after falling in love with its predecessor, the dearly departed creator of all our favourite memes: Vine. Now on TikTok, Maris creates psychedelic, highly stylised video clips with a 60s and 70s aesthetic. Earlier this month, she emerged as a gem amongst the cringe warzone of TikTok reddit. Under the headline "seriously talented creator, go check her out" was posted one of Maris's creations; the video sees her slowly twirling round in circles, filming with a handheld camera as she transforms herself from a 1940s film star to a 50s housewife, to a power-shouldered 80s news anchor, and a sullen 90s teen.
"I can't tell if I'm being weird about this, but the way they look at the camera is really unnerving to me," one Redditor wrote under the video, which promptly went viral. "Impressed by their talent; felt mildly uncomfortable watching it."
"My work lives in a reimagined world of different time periods that I create using bright colours and cardboard sets," Maris tells i-D of her film aesthetic. "It's somewhere between a cartoon dream and real life. I think that my work reflects more of our idea of what a time period was like than what they [actually] were. It's based on how we remember different time periods when we are a little removed from actually living in them. I am so drawn to colour that I try to just suck up as much colour as possible and inject it into my work. I think colour itself can tell such a strong story on its own, and trigger emotional responses without having to put any dialogue into something."
Much of Maris's work is created with stop-motion animation, and in such a short space of time they cover several ideas, so the filmmaker and photographer spends anything from under a day to weeks on end putting them together.
The videos are influenced by technicolor and intricate set design, and are inspired by 80s adventure movies: both fantastical and light-hearted, but dark too. She was mainly posting on Instagram before blowing up on TikTok. "It's funny,'' she says. "I've had my TikTok account for years now, but never posted on it. Last week I was talking to people about the app, and how I hadn't figured out what to post on it yet, and then decided to go for it by posting a video. To my surprise – within an hour – it had a million views."
Maris, who began making her own movies as a child because her Cerebral Palsy made physical play more difficult, says she was surprised by the phenomenal response. It's not hard to see why. TikTok, while evidently a hub of young creativity, is usually associated with absurdist humour, memes, e-boy thirst traps and, most recently, horror jump scares. But upstart filmmakers, musicians, artists and creatives are also using the video sharing app to develop their practice and find a new audience. The most obvious success story here is Lil Nas X, but there are plenty of others. As well as Maris, there's also Laurence Becker, who creates intricate felt animation videos featuring Kylie Jenner, Lil Nas X and the Stranger Things cast.
"I do think there is some change happening with the community," says Maris of the TikTok scene. "I think there is a world where you can have art and straight-up fun all in one place. I have noticed that other visual artists have been posting on the app more, and I think that's great. Every app goes through evolutions, everything does, so I think it all makes sense that it's happening. People love different things and I think it's important to share your content, even if it isn't the norm for a specific platform. What I learned from this experience is "You never know unless you try posting". I know that people won't always get what you post, and that's okay, but there will always be a handful of people that do!"