the menswear designers giving us hope for the future
Fashion East and Topman have just announced their autumn/winter 18 MAN line-up, and what a line-up it is.
|
11 December 2017, 12:42pm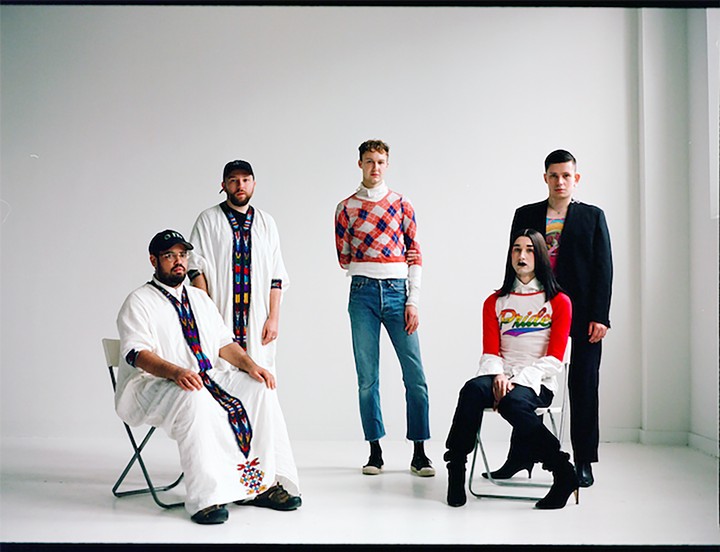 Photography Lily Bertrand-Webb
2017, what a shambles huh. Well, it's time to take a deep breath and start looking up, looking forward, looking to 2018 to give us hope about the brighter futures and shoulder pads just around the bend. Specifically: it's time to look at the just-announced line up for the MAN fashion show, the talent platform by Fashion East and Topman taking place at London Fashion Week Men's 2018.
The show has long been a launchpad for London's next number one menswear designers, counting the likes of Christopher Shannon, Charles Jeffrey LOVERBOY, Wales Bonner and Martine Rose -- to name but a few -- among their alumni, and this year's no different. In an eruption of creativity, ingenuity and multiple middle fingers up at the norm, the menswear (in the loose sense of the word) designers on the bill are, in no particular order:
Number one: Art School, our favourite young unisex designers putting fishnets on their non-binary friends on the catwalk. Created by Eden Loweth and Tom Barratt, they mess with gender normative dressing in a big, beautiful, original way. Number two: Rottingdean Bazaar, the duo who make tops out of tools and badges out of pubes and, in a nutshell, create fantastically bizarre getups out of seemingly mundane objects. They take the pasta frame you made in Year 2 art class and raise you an artfully constructed macaroni sweater complete with spaghetti hair:
And last but never least, relative newcomer Stefan Cooke who will be showing his debut collection at MAN. The Central Saint Martins graduate excels in manipulating a range of materials through a variety of digital and photographic techniques that we don't have the Fashion Textiles MA to figure out how exactly it's made. He does have that degree though, which is why he makes it so damn well.
Here's to 2018, may it be as exciting as this line-up.
This article was originally published by i-D UK.