ann ray shares her massive archive of alexander mcqueen photos
The photographer spent 13 years capturing Lee's preparations, runway shows, and (very) rare moments of quiet.
French photographer Ann Ray met British designer Alexander McQueen in 1996, after he'd been anointed the artistic director of Givenchy. Between 1998 until his death in 2010 — for 13 years — she photographed him in the atelier while he created and before each runway show, at Givenchy and for his own label. The two shared a love of Kubrick films, and Richard Avedon and Irving Penn were photographic touchstones. Ray's cumulative catalogue of close to 40,000 photographs are all analog. Some even include some 19th and early 20th century techniques such as bromoil and gum bichromate, which yield especially dreamy results.
For The Unfinished Lee McQueen, on view during Rencontres d'Arles — the annual photography festival in the South of France — Ray used both large and small formats to examine aspects of the designer's larger-than-life output, from his exquisite craftsmanship to his dramatic leitmotifs of birds and angels. If McQueen was the visionary, Ray's vision was the means to chronicle it. Sitting at a café in Paris, she discussed geographical overlap, mourning, and, above all, celebrating creativity.

How did you land on photography? Did you come from a creative background?
No creative background — my mom raised four kids, and my dad was a captain in the merchant navy. Very romantic job! He had fascinating stories from traveling all around the world. I did academic studies, so French — les grandes écoles. I started photography almost 20 years ago — just before I met Lee actually, in '95. I always had lots of artist friends, and I started, in 2003, to work for the Paris opera — I still do, covering all kinds of things: portraits, rehearsals, posters. I started to also work for the Met opera in New York in 2007. I love long-term things.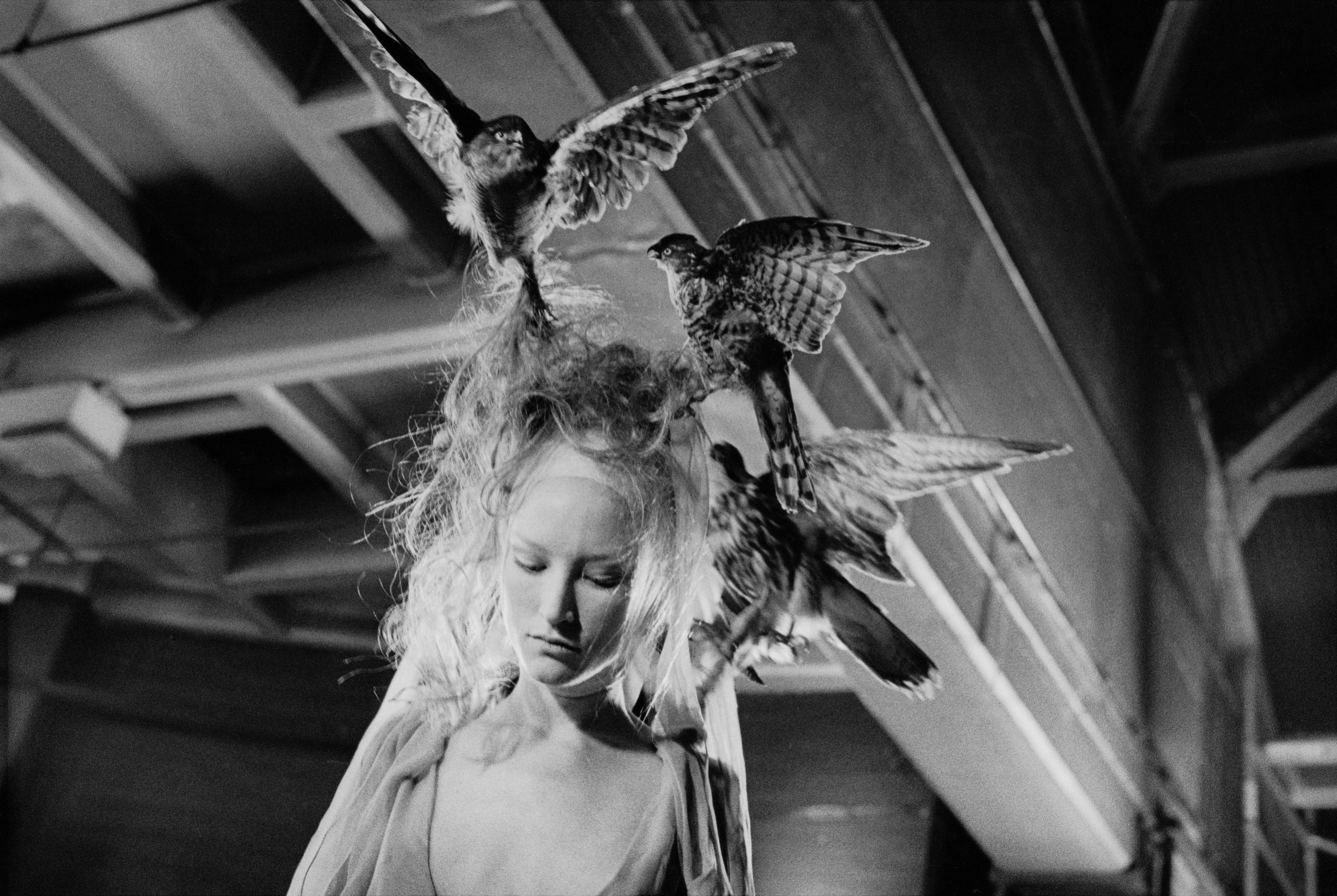 How did you and Lee develop a relationship?
Our lives had been very synchronized. I met Lee when I was living in Japan; in April '97, Givenchy sent him to Tokyo, for some reason, for three or four weeks. We became very close very quickly. I took photos of him in Tokyo just walking in the streets — this is not in the exhibition — looking at kimonos. That was really fun. He was still very young… Baby Lee.
In the summer of '97, I moved to London because my husband got a job there. Lee asked me to work on his universe, and we saw each other every week, maybe every two weeks. Then I moved to Paris. That's when he left Givenchy and started showing in Paris.
We never spoke that much, but were so strongly connected. He's always been so gentle with me. He knew he could trust me. We did a few portraits sessions. After ten images, he would say: 'Are you done?!' He didn't like himself. He would say 'What can I do with this face? Make me beautiful.' He was uncomfortable, shy, reserved. But apart from that, he was challenging everybody. That was so enjoyable. Backstage is a nightmare for photographers. It's dark, harsh contrast, crowded, stuff everywhere. I would say 'I have a bit of light, can you stand here for two seconds'? And he would laugh and say 'No—catch me if you can.'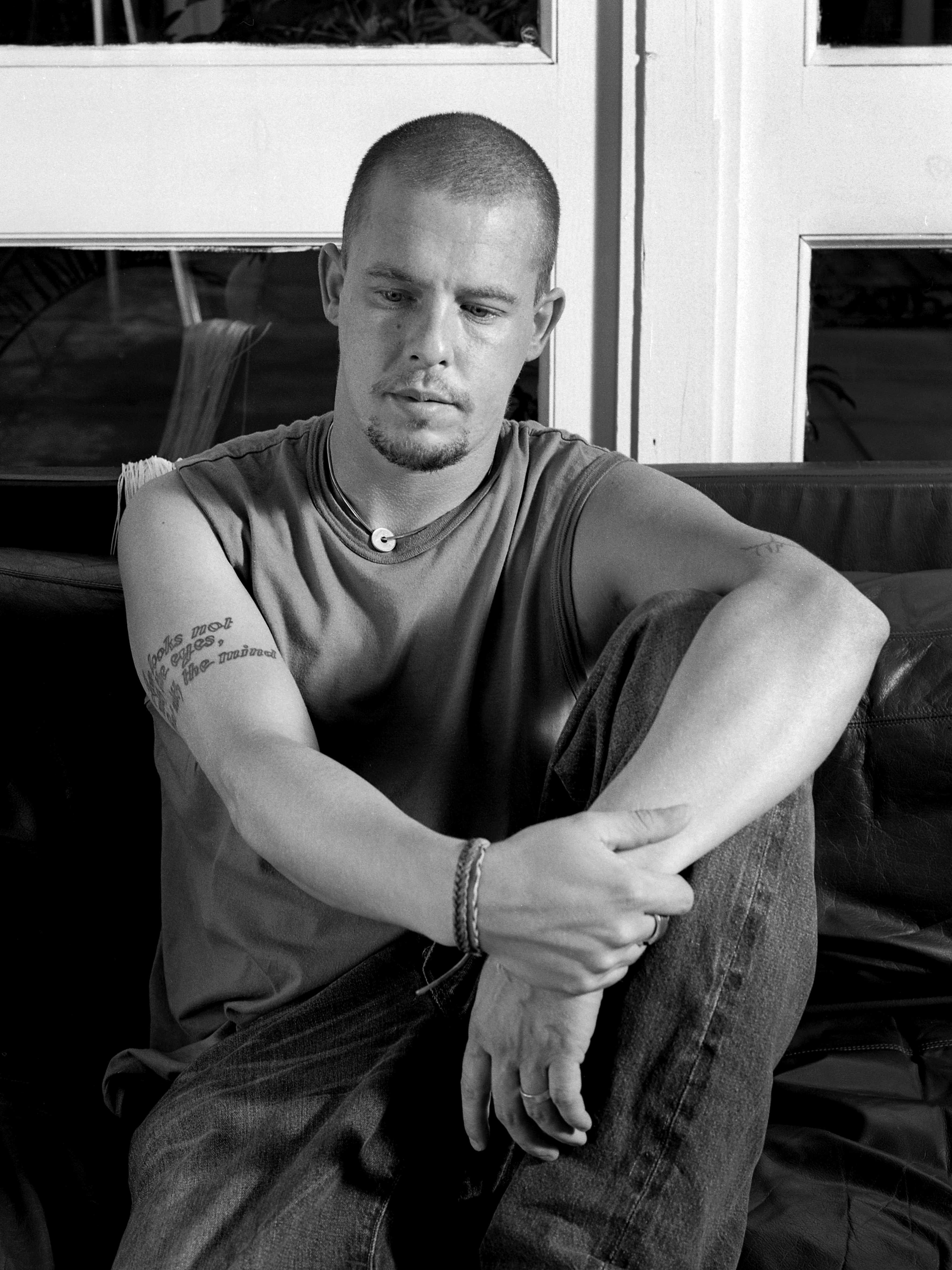 Your archive is so vast — what is the process of making a selection?
It's probably close to 40,000 images, which is really insane. It's physical: it's boxes, negatives carefully conserved. I haven't digitized them — that's a full-time job, and I'm the only one who manages the archives. I don't remember 40,00 pictures! Some I know by heart, but you can always discover one in the corner; it can give you goosebumps. I have some images that are very atmospheric or poetic, out of time. When I think of the picture of Erin [O'Connor] wearing this pair of wooden wings walking in the streets in London — I remember seeing it jumping off the contact sheet. Lee loved that picture; Erin loves it too. Some images are immediately iconic, and that doesn't change. Some are more reportage: Lee working, laughing with friends. It's a range. As strange as it might seem, the outfits were important, but they were not everything. I saw the man as much more than a fashion designer. I just saw him as an artist expressing himself. Fashion is just a medium, and that was very clear.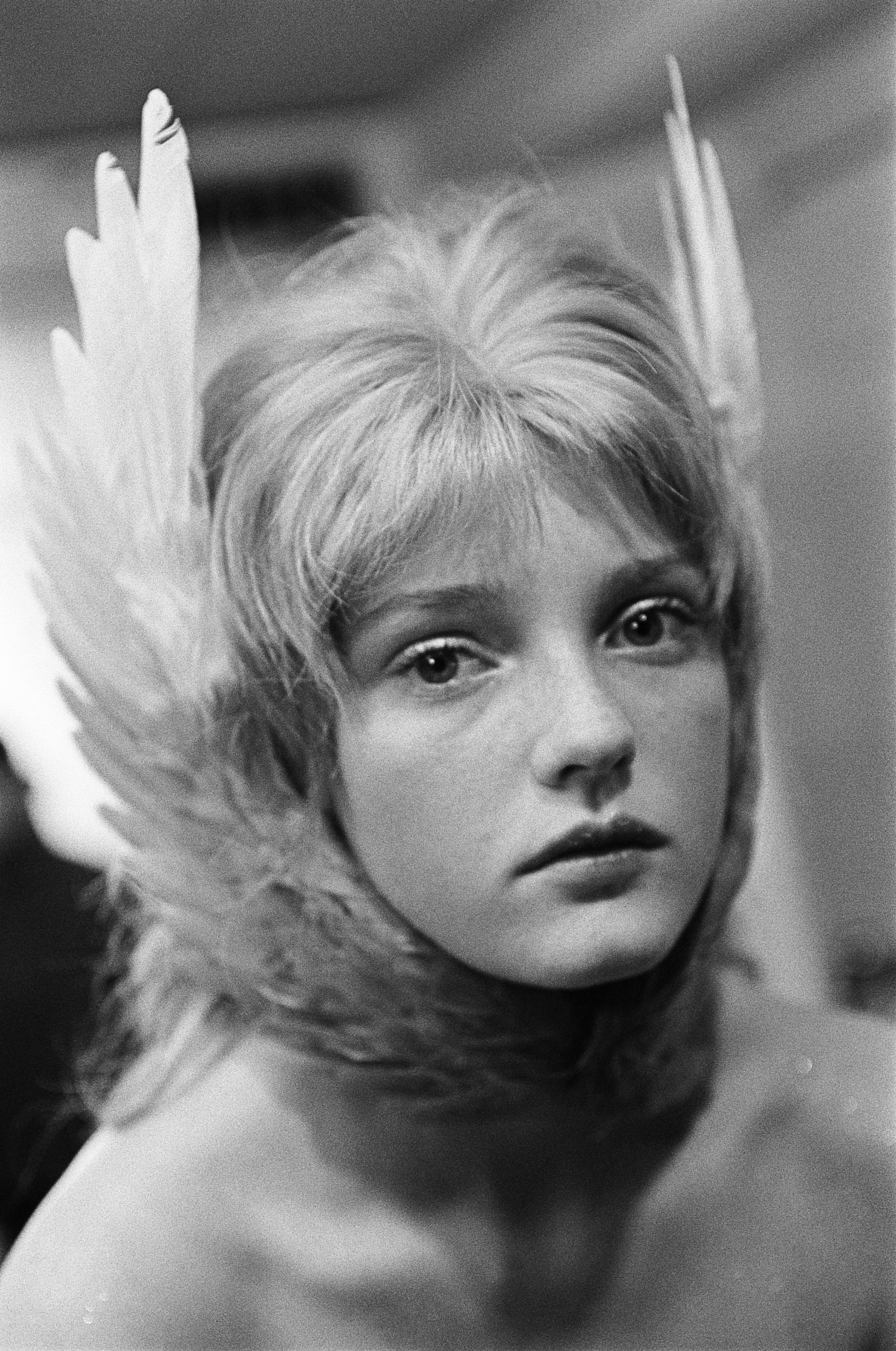 There are nearly 170 images in the show. How did you whittle it to those?
I was radical and said: I'm going to do the selection first, ignorant of the outfits. Because they will appear anyway! What I wanted, really, to transmit was the essence of his works, as I saw it. It could be portrait, a detail, a woman wearing one of his creations. He would express to models what the concept was, the body language, the gestures. He was very precise. You could do the most extraordinary photo shoot with his creations, but I wanted to be with a creator creating, at the moment of creation. La genèse. The exhibition is focusing on that — and on the man, of course. His weight changed, his haircut, his style. Like every creative person in the world, he had insecurities, fragilities, but was fiercely strong. You change your appearance — it's not a mask, but it's close to a mask. So I thought it was important to show that. The real question now, when we are doing something, is: 'Would Lee like that?' It's difficult to answer, to speak in his name, but you try hard.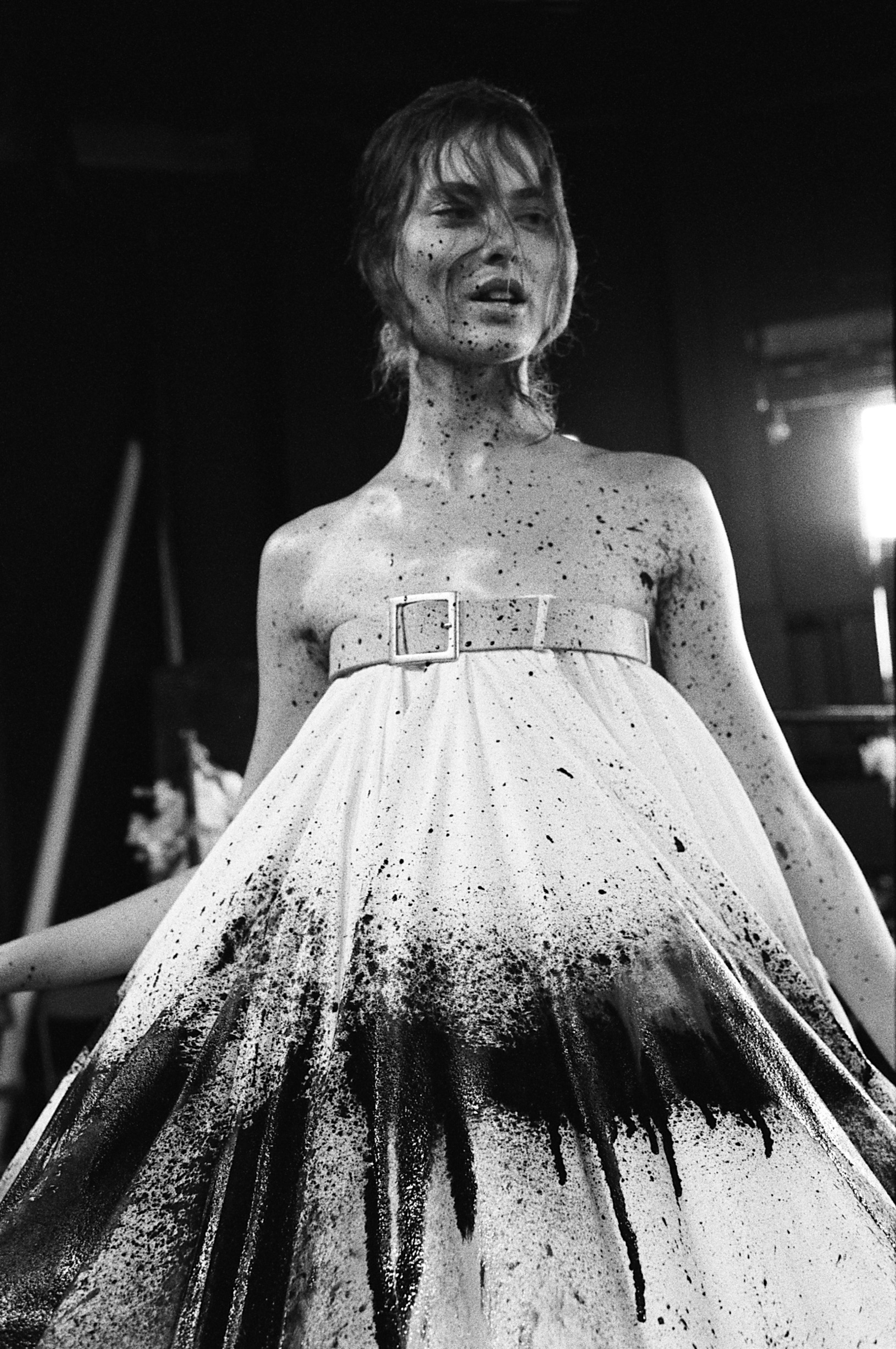 You capture a specific era of creation, but also an era with a totally different relationship to image-making and to access.
There is a very important thing in life, which is time. In a fashion show: you wait. The women wait while they do hair, fittings. There is a rush, but also lots of in-between moments. As a photographer, you can observe something very fragile and beautiful. It's something vanishing: a thought passing on somebody's face, unawares. I've been backstage at a show recently: everybody is looking at their phone. I thought: wow. These interior moments caught in the frantic atmosphere — these are gone. I think mobile phones are a curse to humanity.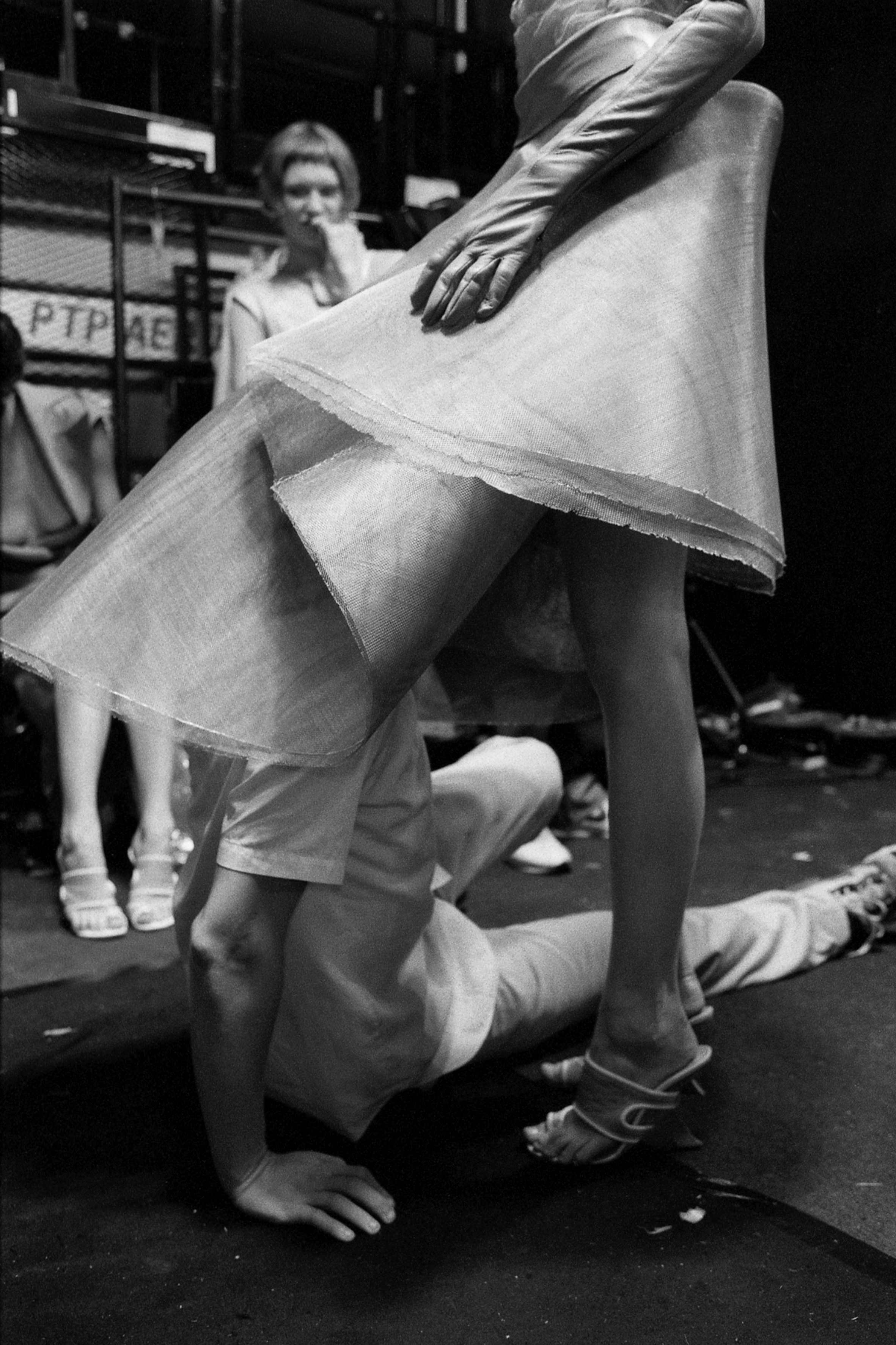 So you've done backstage fashion, aside from McQueen?
I went to Schiaparelli. I love the story of Elsa Schiaparelli — when you think about all the artists she collaborated with, it's insane. Cocteau, Picasso, Dali. What a life! I think the house is fascinating. Place Vendôme is really out of this world. The creative director, Bertrand Guyon, is a close friend from the Givenchy years. I was there for the last couture show, in January. That's where I saw all those iPhones. It takes a bit of the magic away. Everybody was together, yet now it's very individual: I'm sending a text to my boyfriend. I'm checking my email for my next job. I'm not in the moment; I'm just here. Relax!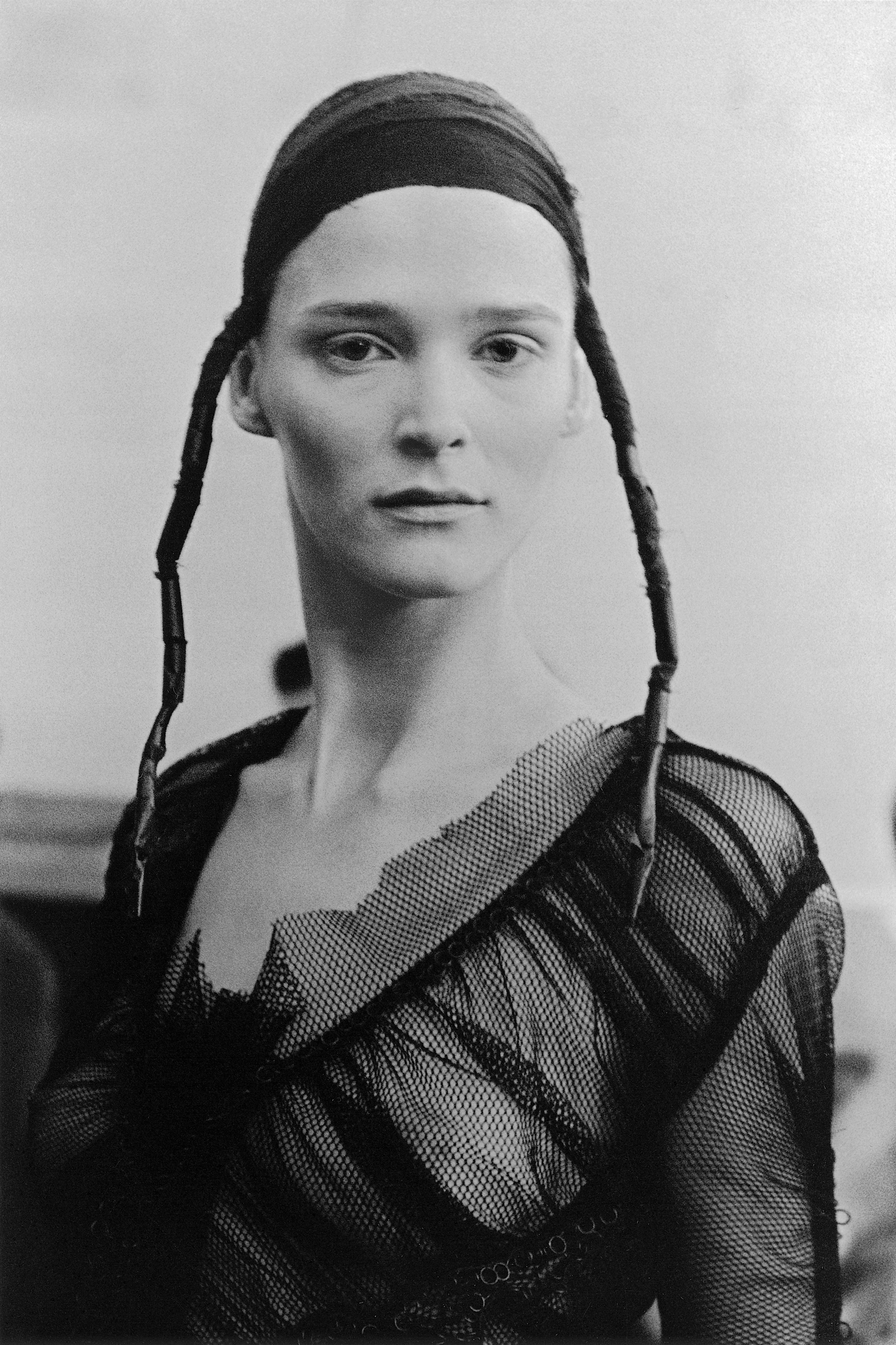 How has your relationship to the archive changed over time?
I made a first book in 2012. It was so raw. I had both an artistic relationship and a personal relationship with Lee, so I have to manage the two. When I made the first book, it was like a shout filled with grief, with a desire to pay a tribute to my friend. The book was chronological: one show after another one, not really analytical because I was not ready to do that. You have to control your grief. It's tough to go through that process; with time, you learn to manage this. Normally you only look at pictures occasionally, whereas it's been 15 hours per day for me, every day, since September. I've been looking at the face of man who was a friend and he killed himself. So I'm glad it's finished. I'm not complaining—it's a privilege, but it's very heavy.
All this work is about finished things, about London in the late 90s. It was an era. It's a kind of closure. The legend around Lee is the sadness, the grief, the magic. And all that is true, but it was really a revolution. We were having so much fun; it was joyful. The ending is tragic, for sure. But the story is so bright, and vibrant.
"The Unfinished — Lee McQueen" is on view at the Rencontres d'Arles through September 23, 2018.