men are finally joining the hair dye rebellion
Just call it the Frank Ocean effect.
Photography Julia Elena.
Supported by Aveda
Over the past few years there has been a growing number of men dying their hair. From Frank Ocean to Zayn Malik, dudes are changing up their look with colorful dye jobs opting for frosty gray tresses and pale pink buzz cuts. These rainbow-hued hairstyles are have popped up on the runway at fashion week and all over social media, as men around the country experiment with hair color more than ever before.

"Every time I change my hair color, I feel like I'm a new me," shared Jimi Lucid, who was inspired by his favorite Anime characters. The 24-year-old musician and model started dying his hair five years ago and is currently rocking a vampire red afro. "I love being able to change my vibe based on color and put that into the world."
While vibrant hairstyles have been in and out of style for decades, it was typically women who would embrace the trend. But, this time around, more guys are taking a plunge into the color club. Thousands of posts on Instagram show men sporting radiant manes from bright neons to sleek pastel ombres.
"Last year a lot more men started coming to me," said Julia Elena, a colorist at Hairstory in New York City, known for her prismatic dye jobs. "They send me the most beautiful emails about why they want this change. They are tired of being looked at a certain way. I think people are rebelling."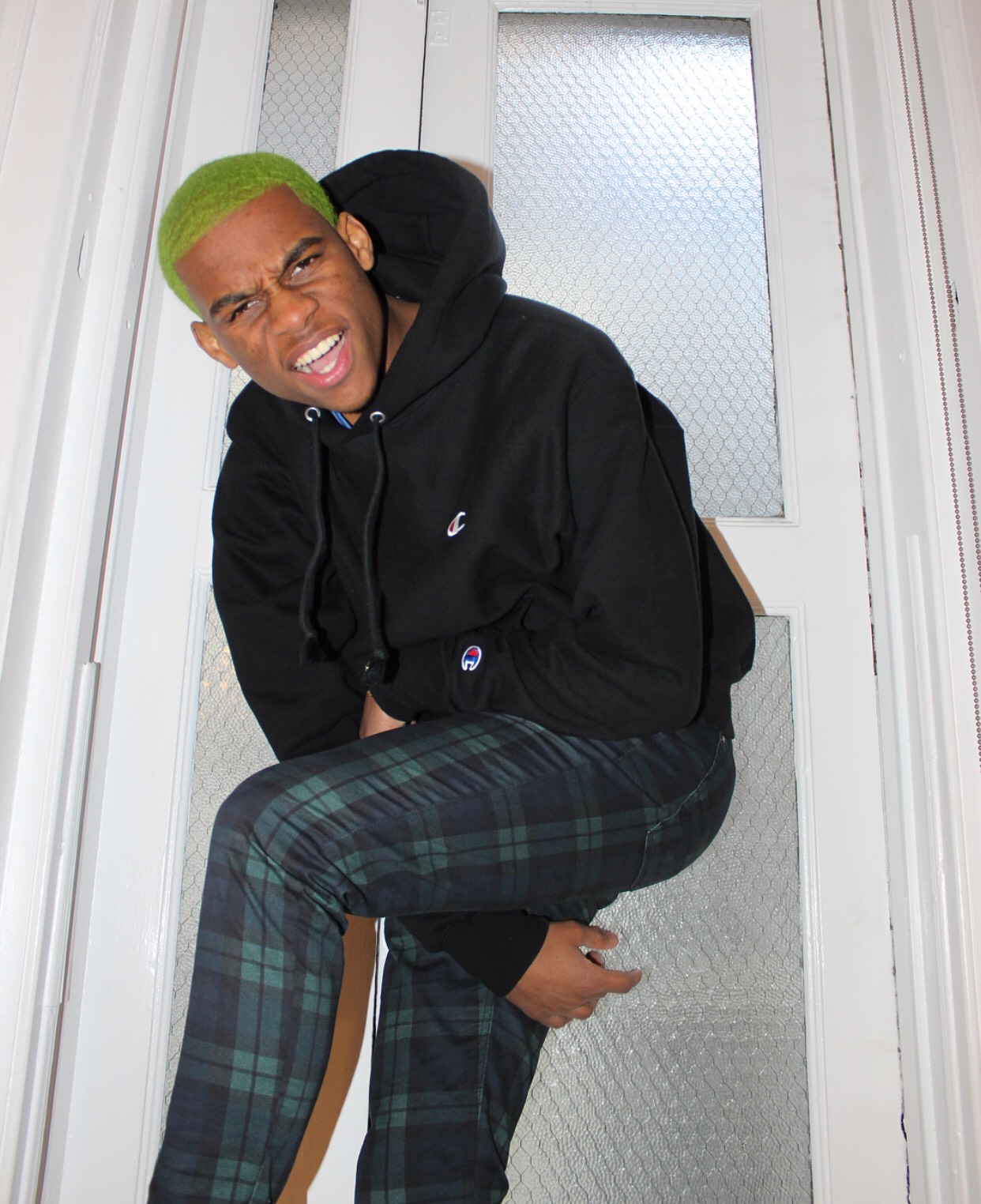 Commercial hair dye has been around since the early 1900s, but from the beginning it was marketed to women. With hair color they could maintain a youthful "feminine" look by getting rid of their grey strands. By the 1950s, hair color became a part of many women's beauty routine, which kept most men from experimenting with dye — at least openly.

When punk rock emerged in the 1970s, young people started to adopt extreme looks that went against the mainstream. Taking cues from proto-punks like David Bowie and Lou Reed, men started experimenting with hair color and gender presentation. With the introduction of Manic Panic's psychedelic dyes at the end of the decade, many punks were sporting bright mohawks and multi-colored liberty spikes.
Even though vibrant hairstyles were spread through subcultures from the club kids to grunge icons, and styles like frosted tips were pushed by our favorite boy bands in the 2000s, the stigma of men dying their hair was never really broken down. "There are some things men should never, ever do and dyeing their hair is very near the top of the list," one writer stated in The Guardian in 2009.
The Los Angeles Times reported that only 7 percent of American men colored their hair in 2010, which was actually an increase from years before. Even with the uptick, hairstylists said their male clients wanted to be discreet about their dye jobs.
Fortunately, a new generation lead by those like Frank Ocean and Jaden Smith are rejecting the hair color stigma and conventional gender norms that tell them "real men" don't dye their hair.
"There is this one guy in particular who wanted silver hair," explained Elena. "He looks very masculine and he wanted something that would break him out of that box. He wanted to look softer, so he chose something that was a little radical."
"I started dying my hair because I wanted my appearance to match my personality," shared Ziggy Mack-Johnson, a 22-year-old stylist who who currently has long bright pink dreads. "I always wanted to dye my hair, but my mom wouldn't allow it. I had to wait until I left home for college."
As Elena pointed out, it seems more men have committed to color in the past couple years. Everyone from Kanye West to Zac Efron started their hair dying journey with blonde locks in 2016, before experimenting with more vibrant colors.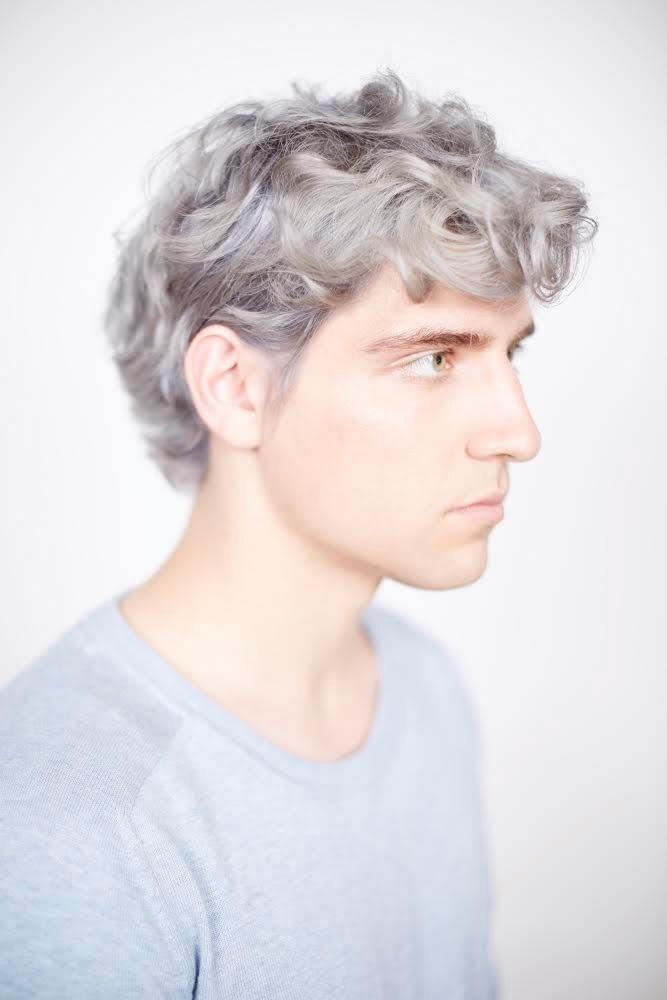 This movement has also been reflected by the fashion industry, as more brands breakdown the gender divide. For fall/winter 2018, the Brooklyn-based label Landlord sent men and women down the catwalk dressed in its gender-bending menswear pastel suits, leather harnesses, and topped with an array of psychedelic colored hair.
"Color is such a powerful tool," said Elena. "It can be such a vulnerable thing because you are putting it on your head. It is different when you are wearing a coat or a scarf, when you put it around your face you are saying a lot to people around you."
Like Landlord, many young men are taking cues from punk rock and the rebellion that fueled it. While colorful hair might be trending, this isn't about fitting in. Like the 70s, the extreme looks are a result of political unrest, which Elena feels plays a part in the recent rise in men dying their hair.
"Things have become more radical after Trump was elected," said Elena. "Everyone is kind of pushing things to the next level, they want to be heard and they want to be loud. I think that people have something to say."
Since Trump became president in 2016, more young people than ever have become politically active. According to a poll taken by HuffPost those age 18 to 30 are more likely to have gone to a protest since the election than any other age group. But, protesting isn't just taking to the streets, rejecting the societal expectations about the way we look helps us express our individual freedoms at at time it feels like they they could be taken away.
"I wanted to be able to speak without speaking," said Mack-Johnson about his look.
Even though guys like Justin Bieber and Jared Leto are helping more men feel comfortable with changing up their look with color, there is still work to be done in breaking down the gender expectations that might keep us from truly expressing ourselves.
"It has been a lot more men, but it is still not a lot," said Elena. "If there are men who are thinking about doing it, they should have a consultation. You never know, you might really love it."
Tagged: