this is why the solange and ikea collaboration makes perfect sense
Hello millennials, IKEA will see you now.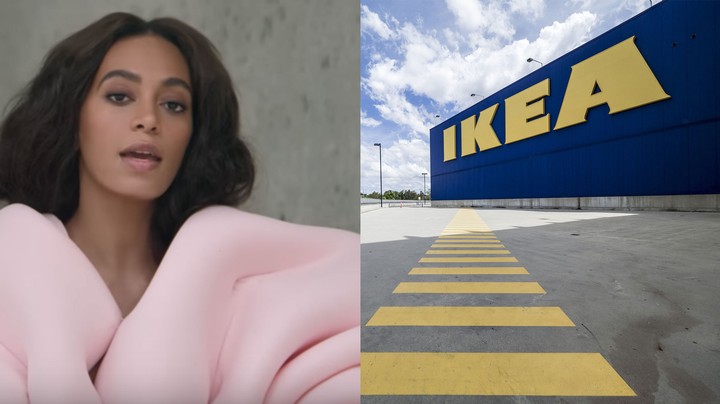 IKEA is a terrifying place. You go in for a singular plant pot and come out with a tea towel, frozen Daim cake, and a superfluous $20 sheet of glass to put on of top your Malm drawers. They have the miraculous ability to know what you want before you do, whether that's a mood lamp or an item from their collaboration with one of the most hyped designers in the world, Virgil Abloh.
The next thing you will want is every single item from their just announced collaboration with Solange. A tweet from Solange's art and culture platform Saint Heron says, "Saint Heron is excited to announce an upcoming creative collaboration with @IKEAtoday, exploring architectural and design objects with multifunctional use. Stay tuned for more information! #saintheron"
It's a savvy move from the Swedish retailer, which appears to be cottoning on to the fact that young people are so much more than a Billy bookcase. The Business of Fashion reported that "Generation Next" (millennials and Gen-Z) will account for 45% of the global market of luxury goods by 2025. Apparently, we have money to spend.
Of course, IKEA isn't a traditionally known as the pinnacle of luxury, but these collaborations tap into people with significant cred in both high fashion and youth culture — Virgil Abloh's collection was announced on the back of his appointment as Louis Vuitton menswear designer, every single still from a Solange video could be a fashion editorial.
And it's not just a one way infatuation. In ani-D article from last month, Matthew Whitehouse traces IKEA's transformation from doily flogging furniture shop to bonafide contemporary design brand beloved by the fash pack. He notes that Balenciaga made a $2,145 version of IKEA's $1 blue bag, Kanye West practically begged to work with the behemoth in 2016, and even smaller designers are taking inspiration from it. "I think designers are attracted by the fact that so many people meet and interact with IKEA items, and that they are used by billions of people," Edmond Looi, a designer who made sneakers out of IKEA bags, told Matthew. "To design for that level of use means that you design in an understated way. It's minimalistic without even trying to be."
Which is why it makes perfect sense for Solange to collaborate with them. She's the queen of sculptured design — whether that's her architectural headdress at this year's Met Gala, or the canary yellow pleated construction at last year's. She recently designed a sculpture for a piece of performance art, which is basically a distillation of everything IKEA — white, square, confusing to navigate.