Photography Mitchell Sams
margiela's first couture menswear show blurred the gender binary
Reassessing the future of dressmaking and redefining what sexy means today.
Photography Mitchell Sams
Who?
Just before one of fashion's most controversial and most creative of talents joined Maison Margiela in 2014, its elusive founder left John Galliano a simple instruction: "Take what you will from the DNA of the house, protect yourself, and make it your own." From the moment he stepped into the maison that Martin built, Galliano has followed those words of encouragement. Over the course of three years, he has confidently cut, copied and manipulated existing codes and introduced a few of his own. The result is a captivating conversation between two masters with two distinct yet complementary voices.
And what a voice Galliano turns out to have, with the launch of a new first of its kind fashion podcast series, The Memory of ... With John Galliano, on the morning of the show. We were all able to hear him share the story behind the collection. Something that is usually only heard by select fashion insiders can now be heard by everyone. Galliano talks us through new definitions of masculinity and femininity, his introduction of bias cut to menswear and the sensuality it brings to a tailored suit, and the current regeneration of menswear with new top designers at luxury houses. "I just got so excited with the changing landscape of menswear and the new energy that's coming in at different houses," he explains. "It felt like the right time to focus Artisanal on man because it's something that I believe in." Inspired by the infectious energy of the fashion capital, Galliano pushed himself, and menswear as we know it, to the highest of height.
What?
For his first Artisanal menswear show, Galliano invited Tony Matelli to present a series of four Vanitas sculptures, employing deconstruction, juxtaposition and trompe l'oeil which distorted the house's atelier into a warped version of Twin Peaks' The Black Lodge. From the moment Paul Hameline strode out in wipe-clean vinyl trousers and bias-cut tweed tailoring through to the closing look this was a captivating Lynchian-eque celebration of the intricacies, techniques and time of haute couture applied to question ideas of masculinity. From the intricate corsetry work to the reimagination of Japanese dress, there were hints of Galliano's couture past and present but it had both boot-clad feet in the future.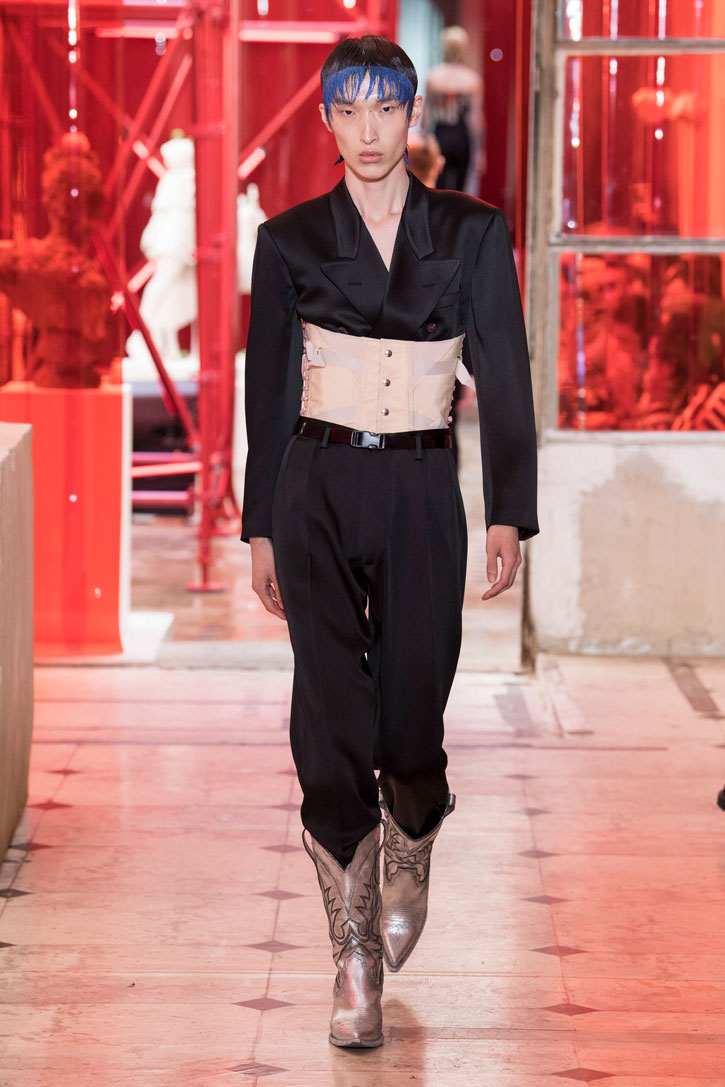 The result blurred the boundaries between gender-specific uniforms, it was an experimental proposal for a reimagined sexuality, sensuality and individuality. "What is sexy today? It's a moment to collectively redefine what it means or could mean," Galliano pondered on the Margiela podcast. Sexy could, and should, be defined as an original 18th century kimono tailored into a recycled and repurposed tailored coat and worn with vinyl trousers and patent cowboy boots. Take the beauty of the old world and make it relevant for now.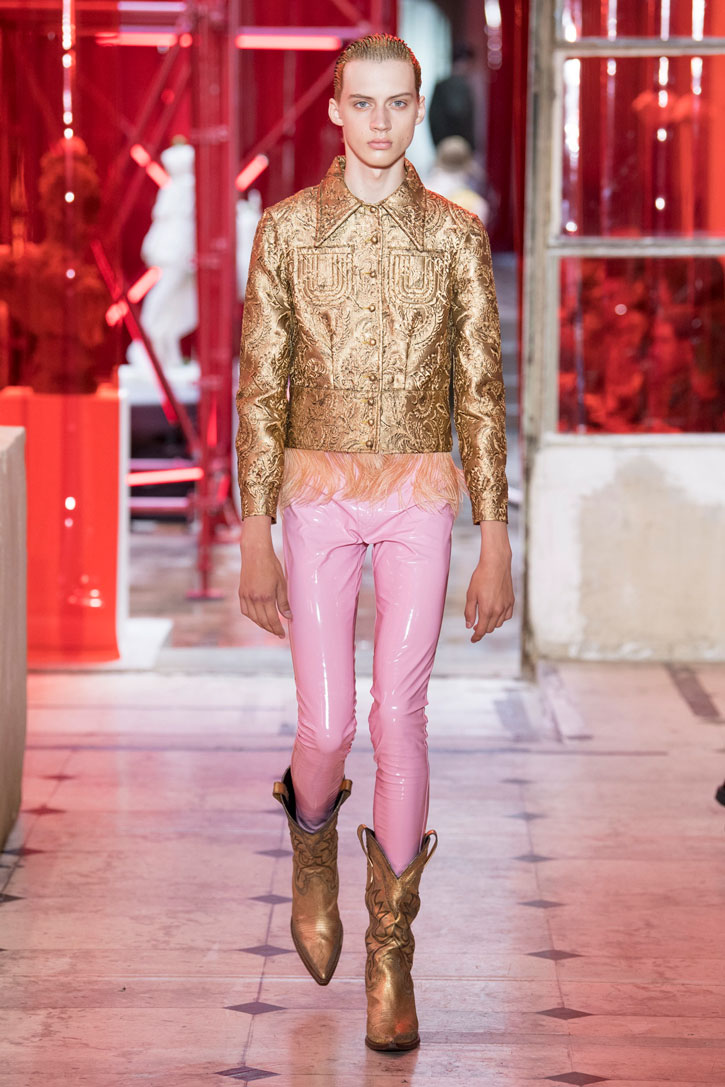 Wow!
Each considered component of this 34-look collection provided a wow moment. This was otherworldly dressing for a chic utopian future. In a world of imitation and homogenization, Galliano's Margiela is like nothing else out there, so the ultimate wow was hearing him talk us through it. "We are trying to define what Artisanal means for us," Galliano explains in the podcast. "It's rooted in craftsmanship and is the highest form of dressmaking, but for men. Its backbone is in tailoring but we are trying to further explore the bias-cut." Now, if you're wondering what bias cut means, Galliano goes on to explain the how, what and why of Madeleine Vionnet's revolutionary technique. "If you had a napkin at home and you hold it like a square, and you pull the left and right sides simultaneously, that's what is called straight of grain. Now turn that around to a diamond and pull the opposite corners – when you pull you will see what happens. There's a natural elasticity in the fabric and that's when you hit the true bias. That natural elasticity is the most modern thing any guy could wear. It's liberating, it's light, it gives you an illustrative line, it's relaxed looking, it's sensual." We could listen to Galliano talk for hours about anything but especially bias-cutting, it's Fashion ASMR heaven. "It's a never-ending learning process with the bias because each fabric reacts differently so a dialogue develops and you have to be quite attentive because it's alive and it teaches you, you can't read about it from a book." The learnings from this collection will inform the men's ready-to-wear line which will be included in a co-ed spring/summer 19 show come September. As the conversation continues, more boundaries are set to be blurred.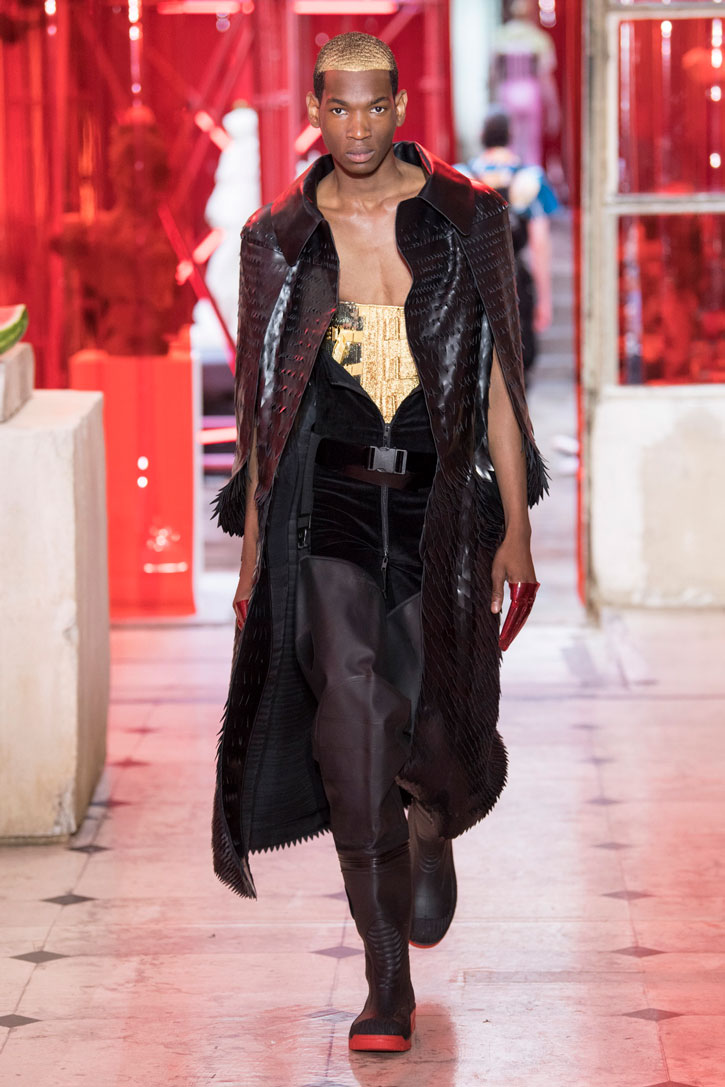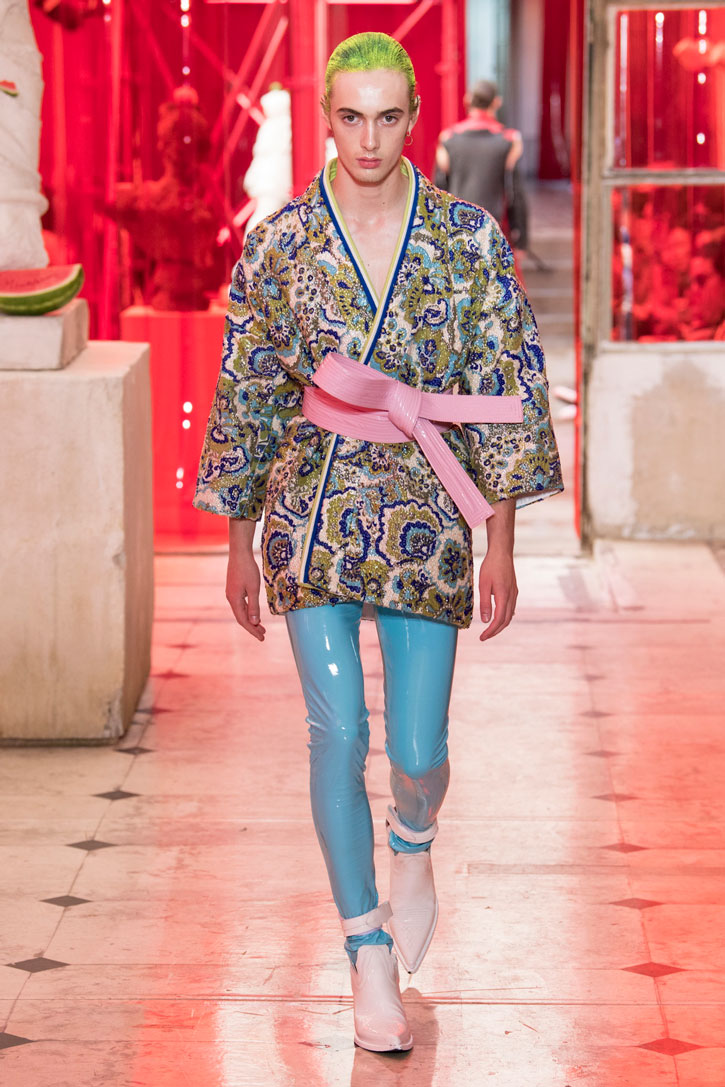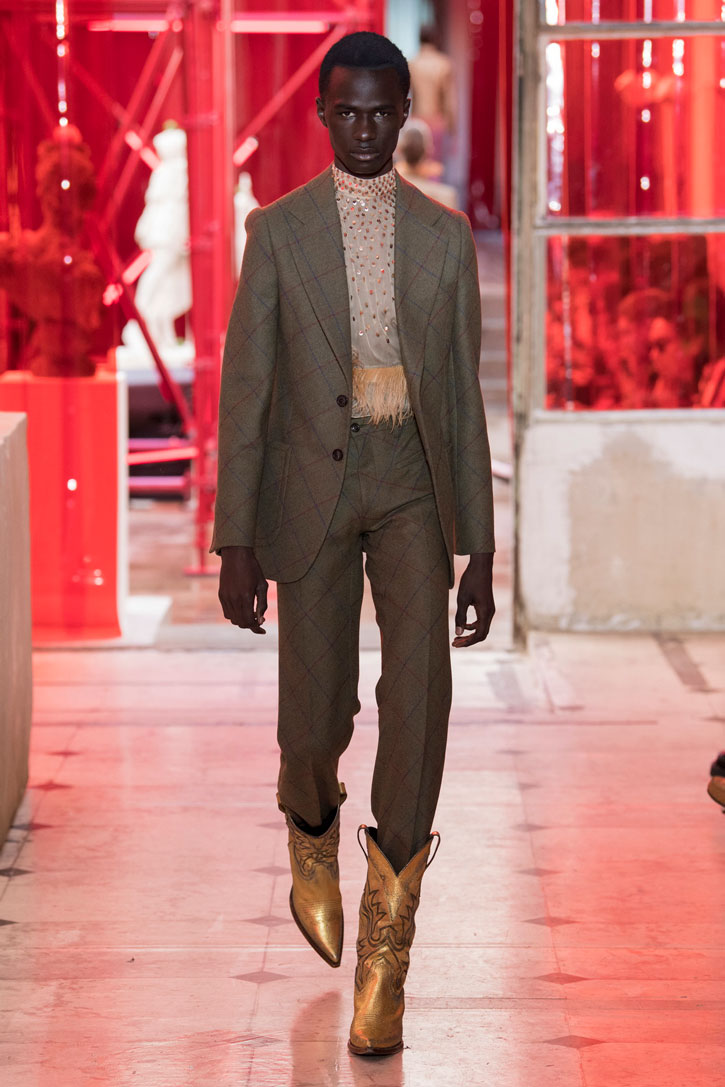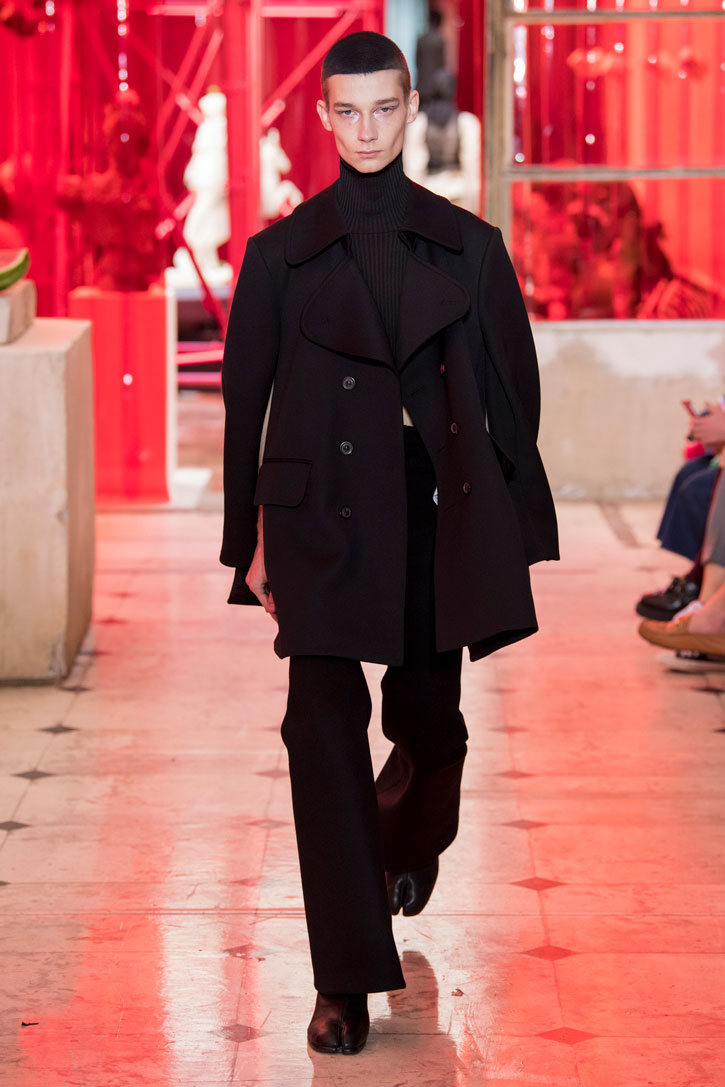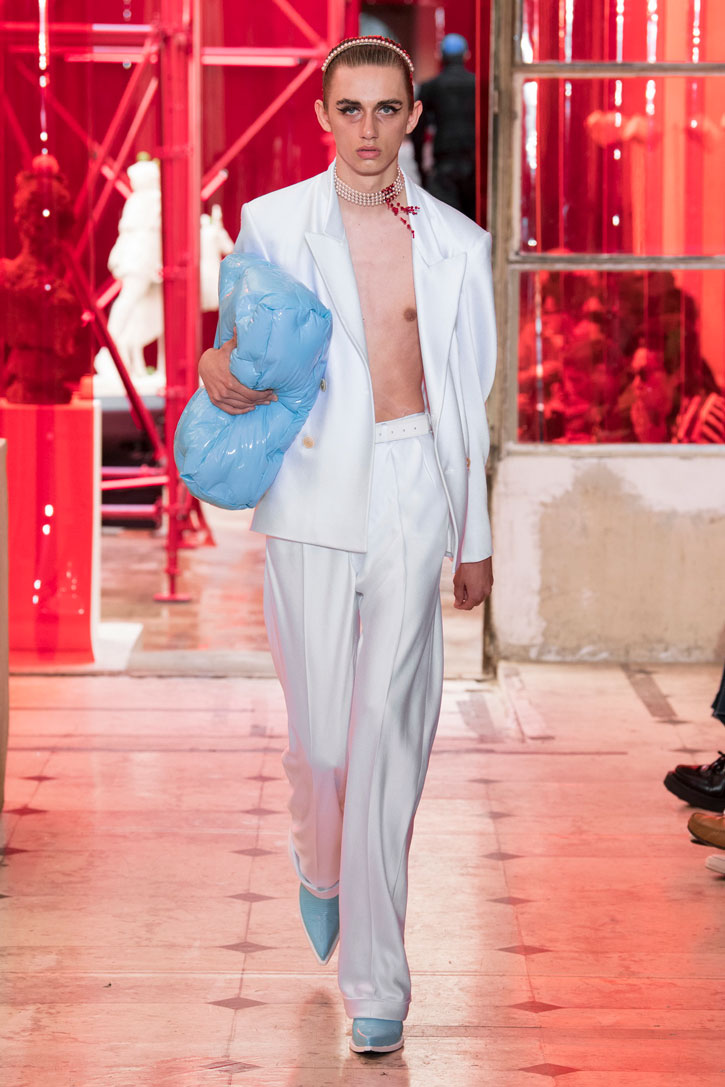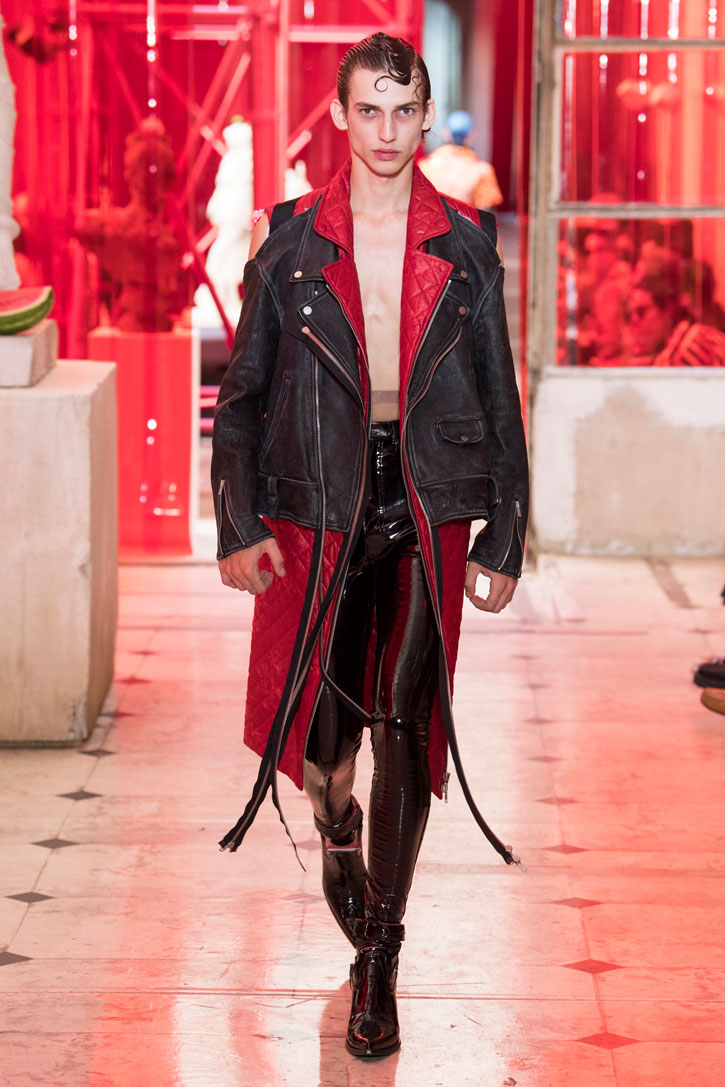 Photography Mitchell Sams
This article originally appeared on i-D UK.