meet the grad designers behind this car park runway rave
'Session Runway' started as a uni assignment and ended up a celebration of experimental fashion and youth culture.
|
31 October 2018, 12:43am
Photography Anjelica Angwin
For their student-led showcase Session Runway RMIT honours graduates Annabel Robinson, Simone Berman, Elly Blackwood, Conor Utri and Kurt Van Velzen were inspired by their own pre-party meet-up spots. With that in mind the designers held their show on a car park rooftop in the heart of Chinatown, complete with smoke machines, lasers and techno by DJ Brooke Powers. Here we meet the designers who kindly hustled for venue permits to remind us that fashion can be fun and a little bit dangerous.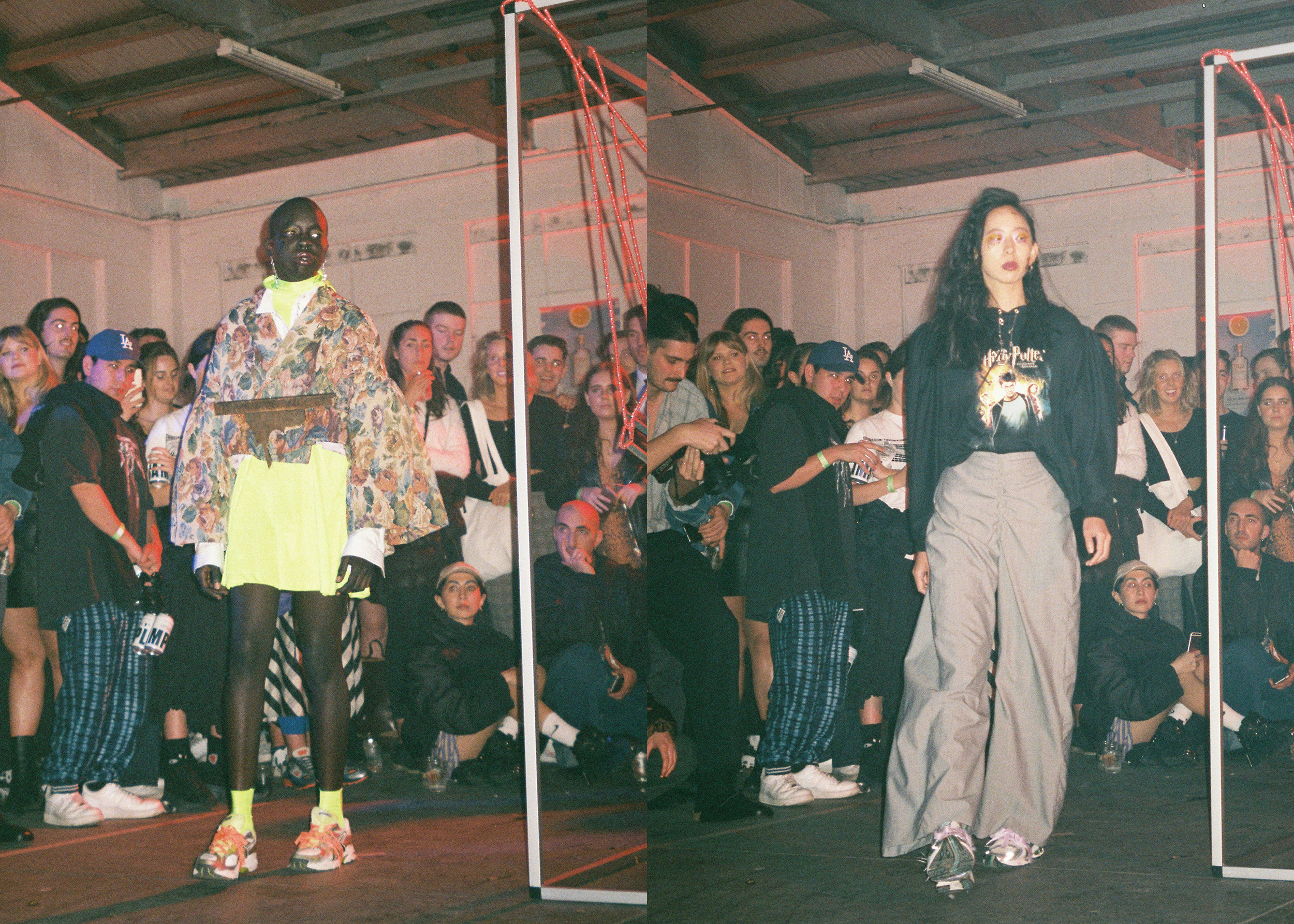 Annabel Robinson
"I wanted my work to challenge outdated notions of female sexuality by recreating a 'walk of shame' narrative. I love all things tacky, so I embraced fluro, incorporated a Harry Potter fetish and used lycra to reference scorned bikini culture. I also like playing with historical pattern making and dressing the female body in male fashion archetypes."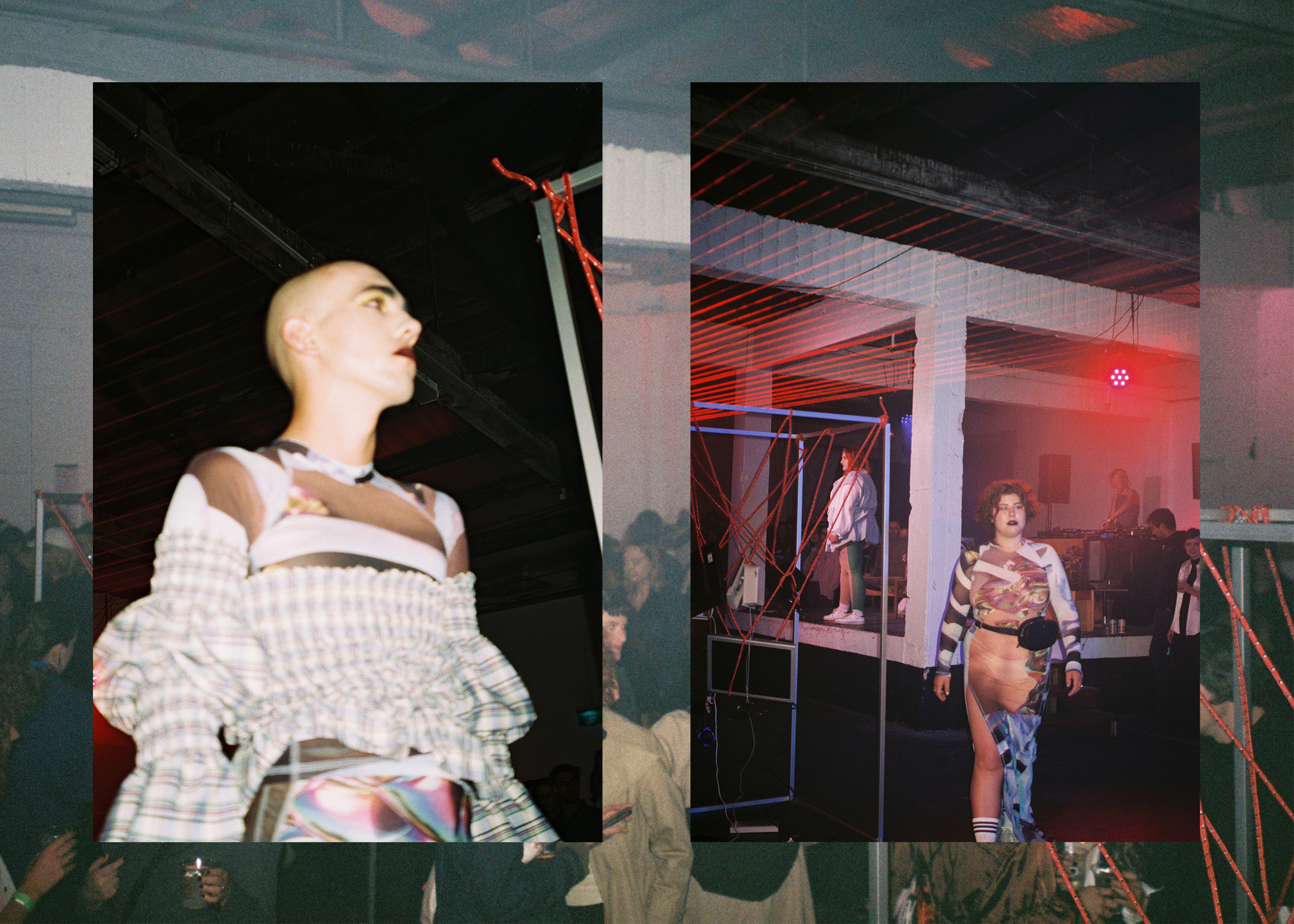 Simone Berman
"Creating a diverse runway acts as a connection between fashion and the real world. Diversity is a hot topic but there is often more discussion than action. The runway should be a representation of humanity because fashion is the only type of artwork that you can wear everyday. Seeing people on the runway you can connect with builds confidence and establishes a community around the brand. Each body brings a new life to the clothing, so I use a lot of stretch and mesh fabrics to accentuate different parts of the design. In regards to sustainability, I never felt good about the fabric I wasted but my collection is very different to many established zero-waste brands. The graphic print was developed by visual artist Nicholas Keays and is actually one large image before the fabric is cut. And I incorporated mesh to allow for stretch and comfort, so the sportswear aesthetic just evolved organically."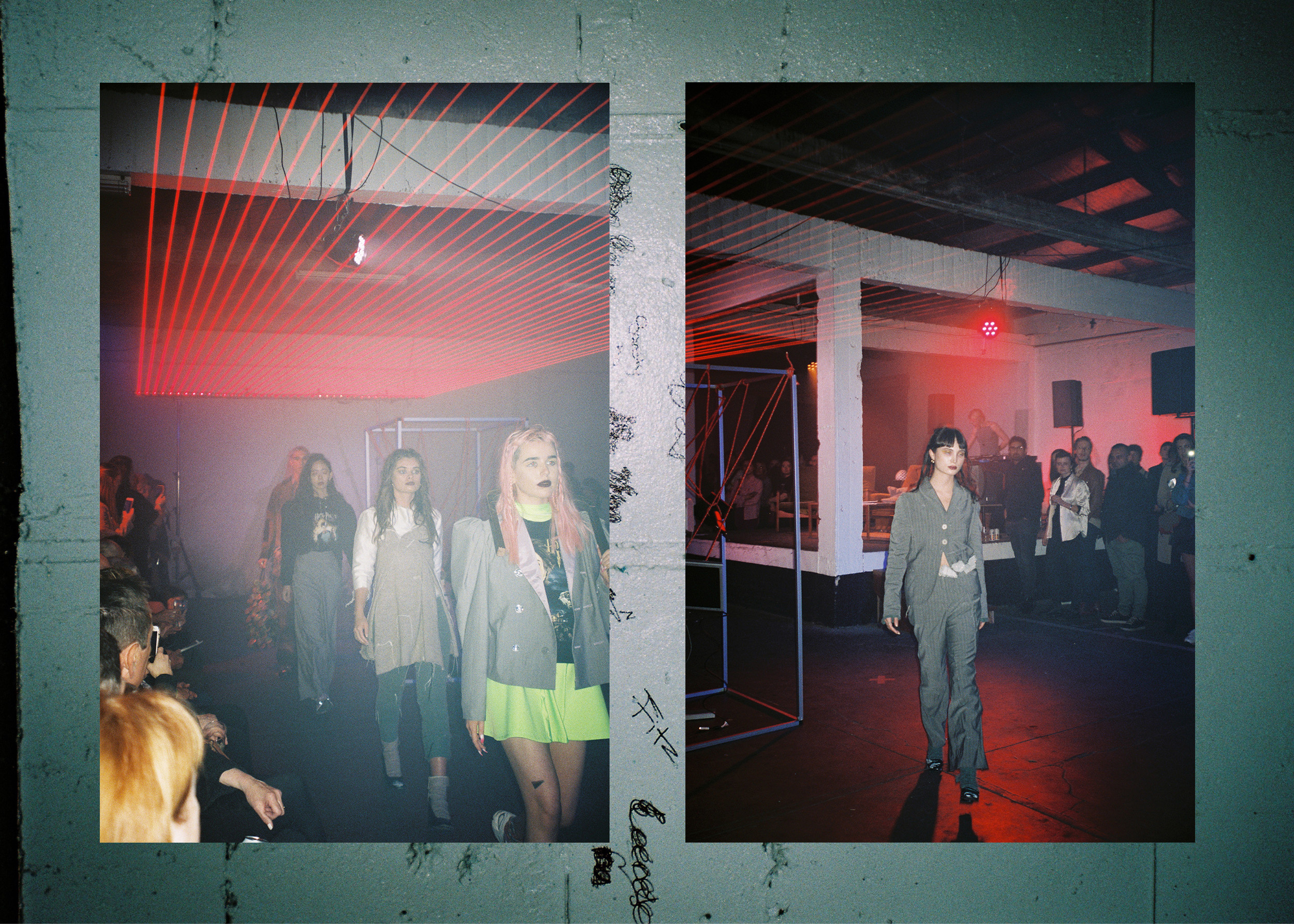 Elly Blackwood
"I was inspired by the irrational mind and a fear of the world ending — so major sad girl vibes [laughs]. A mix of pure anxiety and environmental concerns manifested in the collection. I wanted to create a sense of gloom or eerie-ness with a deliberate weathered and worn appearance. These are the kind of 'final outfits' you're left wearing when an apocalypse hits. Using familiar fashion archetypes like the suit, I unravelled threads, visibly mended cloth, made permanent creases as well as misfit the cut of the garments. I combined different textures to counteract each other and together, the hand stitching and concrete dust depict permanency while also serving as a reminder of the past."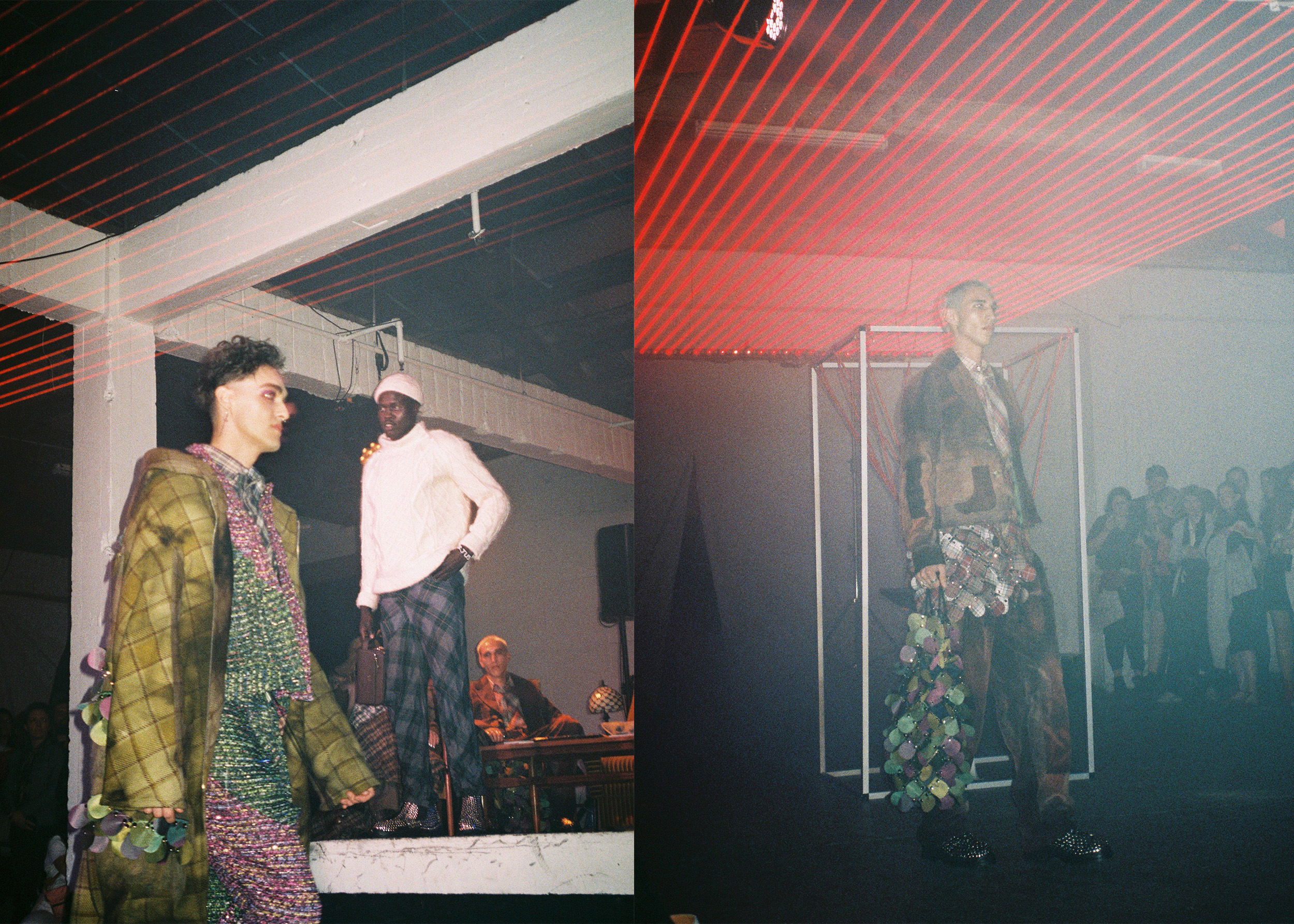 Conor Utri
"All my garments form a process of replication, reproducing a cultural attire of farming communities. My aim was to achieve an 'authentic' replication at a glance, but up close something has been affected. Things that might be considered tweeds or cable knits are actually needle felted wool roving and the worn aesthetic created by a mixture of dyeing, bleaching and shibori techniques. The layering is a reaction to cultural contexts battling against the elements, or life itself, a stark contrast to the ease and leisure the fashion industry often conveys. With Session Runway, we endeavoured to make the fashion and showcase a spectacle that included anyone who was open to it. We wanted to give our audience the opportunity to support emerging talent by welcoming those outside the niche. So far, the response has been really positive."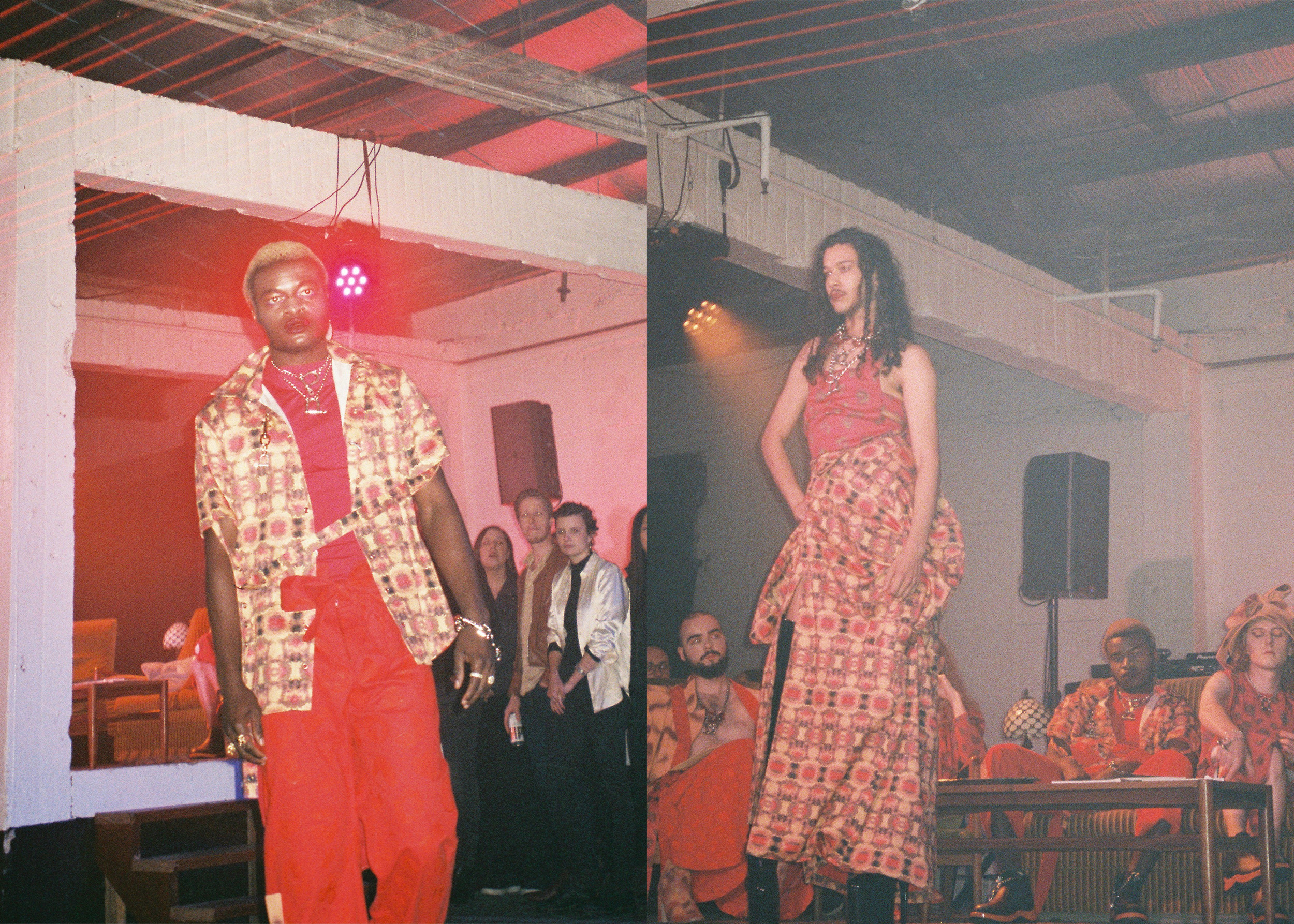 Kurt Van Velzen
"This collection was about revisiting the notion of gendered clothing. My work is gender neutral and I use this term because it rejects labels and the gendered body. My heavy use of red comes from the idea that it's a neutral colour and yet its meaning can change depending on the sex. By rejecting the traditional fashion model of categorisation and incorporating unruly leopard print, my aim was to challenge personal identity and the rigid fashion system as a whole. In my collection, a coat can be worn as a skirt, a jacket can be worn as a bandeau top, and so on. It's a pattern-making and sewing methodology that restores power back to the wearer. With the show, we wanted to create a celebration and a congregation of family and friends in a positive atmosphere with a lo-fi, house party feel."
Credits
---
Text and photography Anjelica Angwin