7 of Uma Thurman's most iconic outfits
With one Prada dress, the actress revolutionized red carpet dressing, forever.
If there's a queen of cult cinema, it's Uma Thurman. Through the late 80s to Y2K, she's starred in some of alt-cinema's most defining films. Think genre-spanning assassin flick Kill Bill and artsy sci-fi movie Gattaca. And, of course, who could forget her iconic turn as Mia Wallace in 1994 cult classic Pulp Fiction? Without a doubt, Uma has a discerning eye for the film roles she chooses. And she's just as discerning with her wardrobe choices, too. All Jil Sander minimalism and low-key red carpet looks, Uma had 90s style down to a tee. But she was also never afraid of a fashion risk, and it was her offbeat formalwear choices that made Uma one of the decade's chicest women. Here, we look back on the actresses' singular career and inimitable style through a selection of some of her most iconic outfits.
Shot by Denis Piel, 1986
The daughter of Mexican-born Swedish-American model — and Vogue cover star — Nena von Schlebrügge, Uma began her illustrious career in modelling, rather than acting. Not even a year after signing with Click Models, Uma landed her own Vogue cover, shot by none other than Patrick Demarchelier for the style bible's British edition. Here, a year into her modelling career (and with a second British Vogue cover under her belt) Uma poses for fashion photographer Denis Piel in a simple white tank top. The look is deceptively simple, but endlessly iconic: an instant moodboard classic.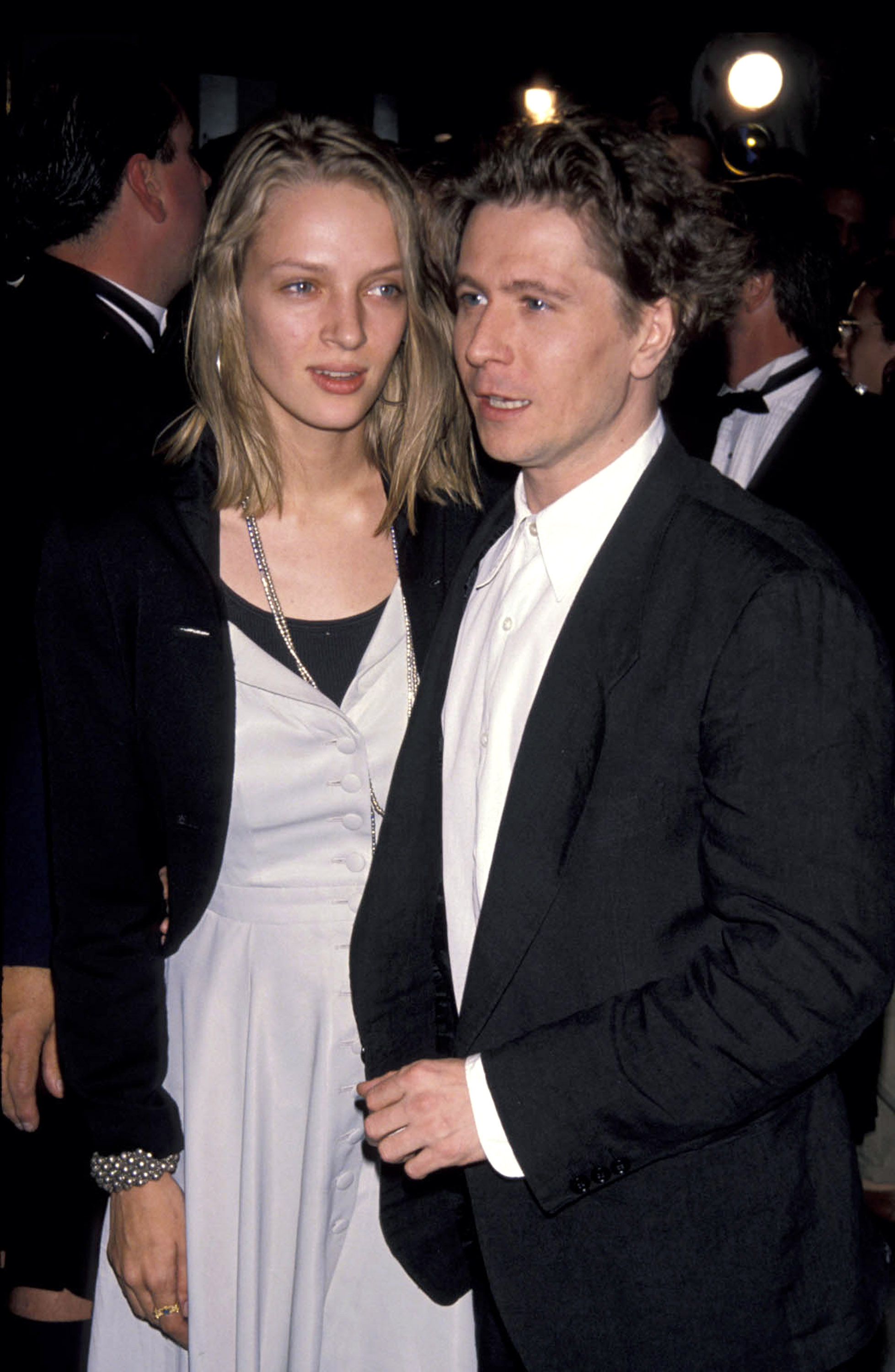 At the State of Grace premiere, 1990
After deciding to pursue a career in acting, Uma landed her breakout role in the 90s period drama Dangerous Liaisons, starring opposite Hollywood heavyweights Glenn Close and John Malkovitch. Throughout the early 90s, at the beginning of her career, Uma kept things ultra low-key on the red carpet. Think coatigans, black-on-black looks and baggy pantsuits. Here, attending a film premiere with then-husband Gary Oldman, she wears a buttoned dress, layered over a black tee and under a black blazer to keep things looking casual.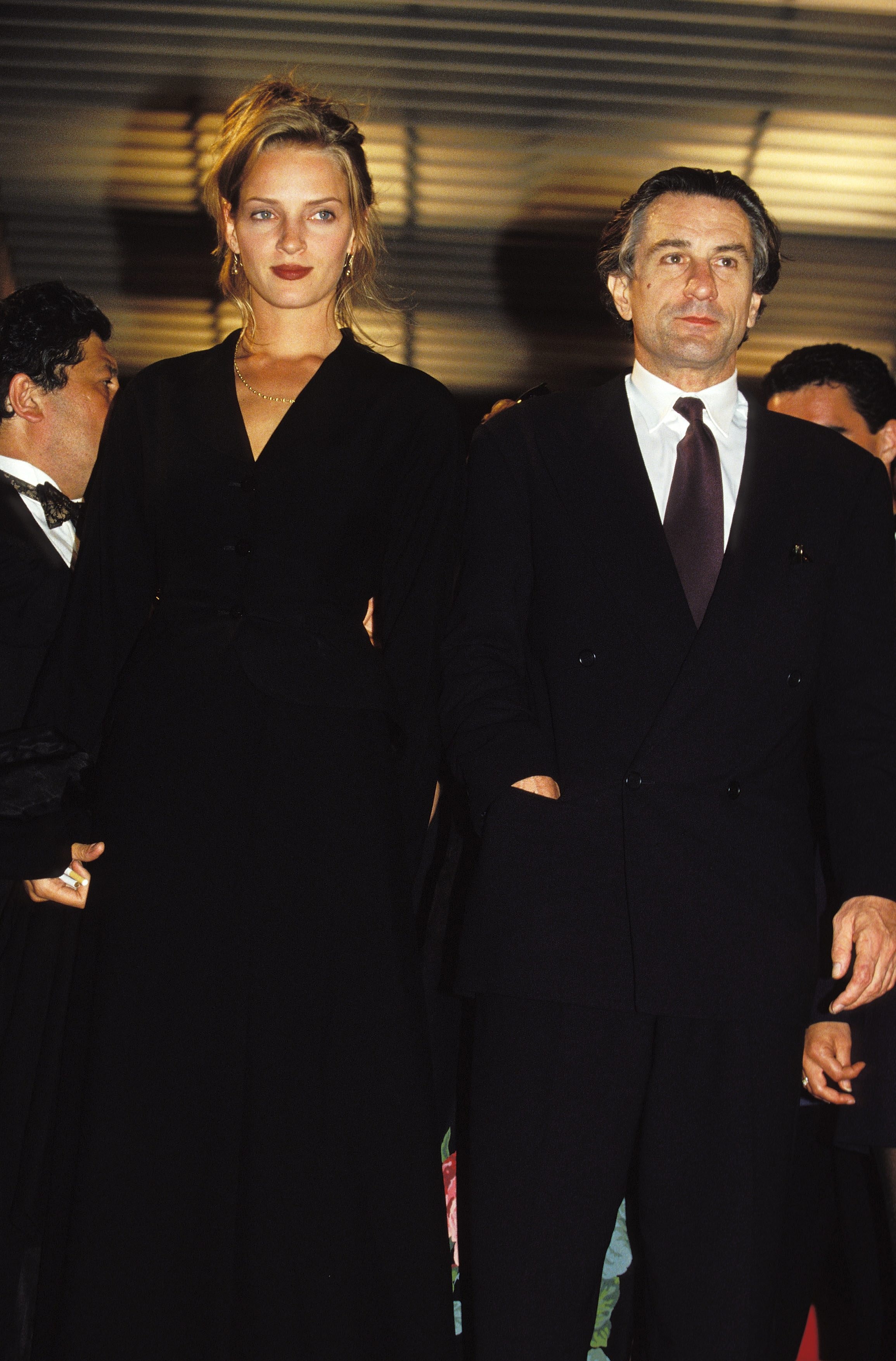 At Cannes Film Festival, 1993
For her first time at Cannes, we see a more polished iteration of Uma's low-key formal style. Attending the premiere of the movie Mad Dog and Glory with co-star Robert Di Niro, she wears her usual black-on-black tailoring. The look, however, is elevated with a belted hourglass waistline that nods to a Yohji Yamamoto-inflected elegance.
In Pulp Fiction, 1994
Throughout her career, Uma has worn some of cinema's most memorable outfits. And that's not hyperbole! Think Kill Bill's Beatrix Kiddo, speeding through Tokyo on a Kawasaki bike, wearing that iconic yellow leather jumpsuit. Or Batman & Robin's villainous Poison Ivy, all leafy-green leopards and blazing red hair. Or even Dangerous Liaison's Cécile de Volanges in sumptuous, corseted gowns. Uma's most iconic costume of all, however, belongs to Pulp Fiction's Mia Wallace. You know the look by heart: crispy white shirt, cropped black trousers, bang-ed bob haircut, Chanel "Rouge Noir" nails and the ever-present cigarette. While the outfit wasn't worn by Uma, herself, per say, it's one that's become synonymous with the actress' style legacy, in part, due to its deceptive simplicity.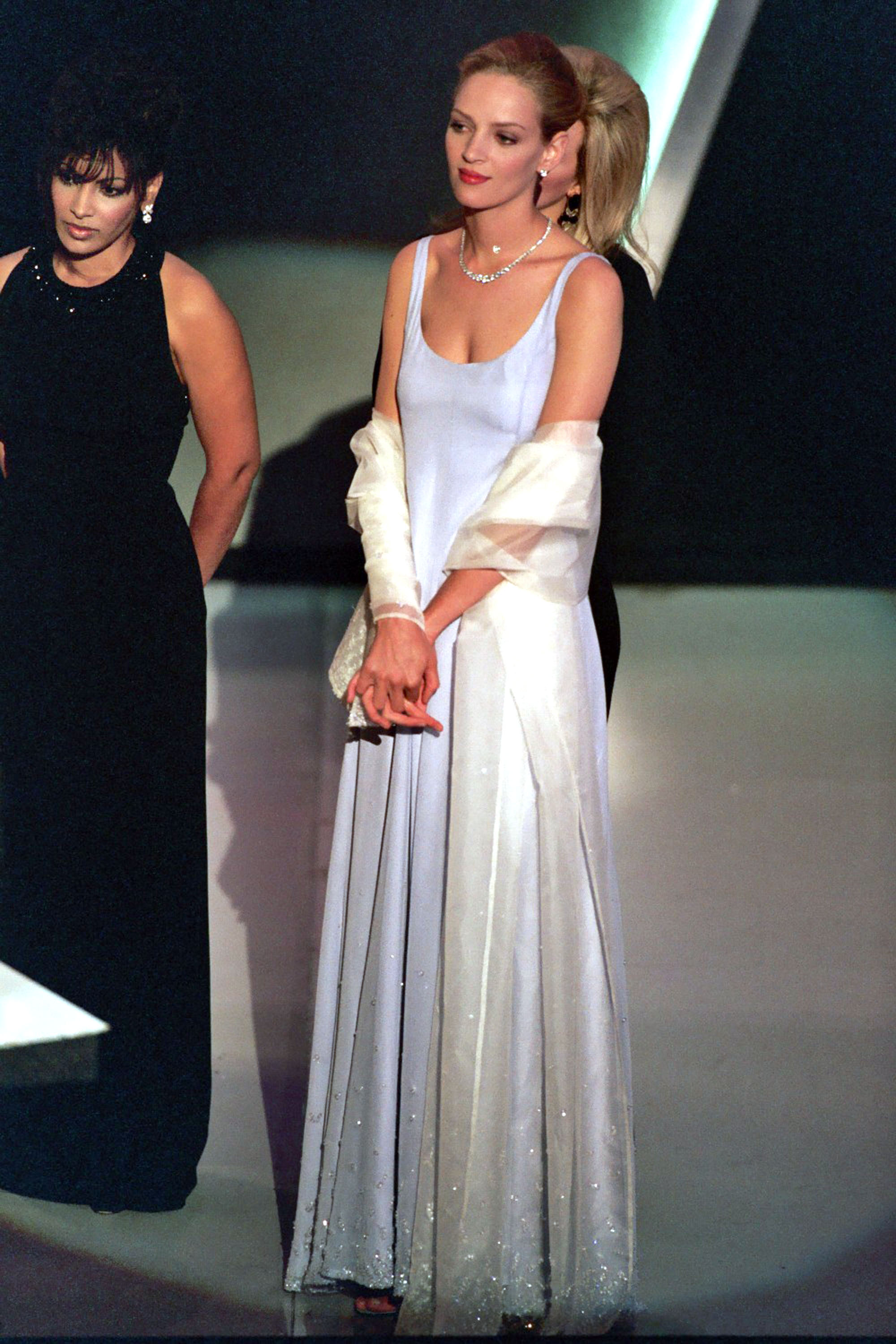 At the Academy Awards, 1995
Uma Thurman plus one lilac Prada gown changed the face of red carpet dressing, forever. Her star-making turn in Quentin Tarantino's 1995 classic Pulp Fiction not only earned Uma an Academy Award nomination, but made her one of the most buzzed-about actresses of the year. Knowing all eyes would be on her at that year's Oscars, Uma chose to wear a gown by a relatively unknown Italian fashion house named Prada. In an era when stars were either making safe red carpet bets or sensational statements, going with an obscure high-fashion name was an oddball choice. It paid off, however, for both parties. Although Uma didn't win the Oscar, the Prada dress garnered her a reputation as one of Hollywood's chicest starlets. And, in turn, Prada saw a major boost in popularity stateside. It was this moment that launched the era of celebrity stylists, red carpet marketing and fashion tabloids that we're still living today.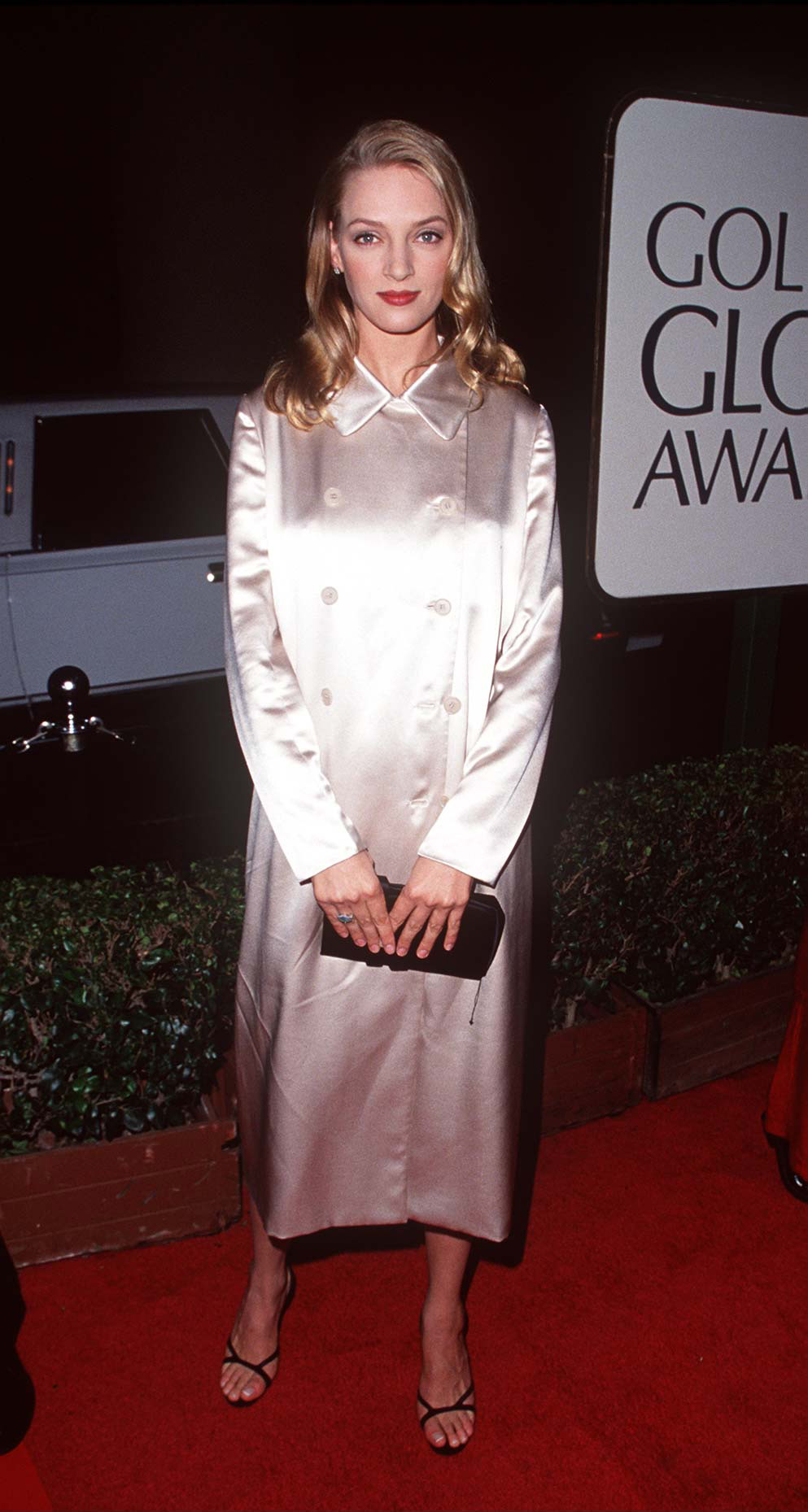 At the Golden Globes, 1995
After her infamous Oscars turn in Prada, Uma garnered interest from the fashion industry (and style tabloids) for her offbeat red carpet choices. Over the years, some of Uma's chic style risks have included: a goddess-like Chanel halter set to the Academy Awards, a bedazzled — and backless — Jean-Paul Gaultier number to Cannes, and an archival Christian Lacroix gown to the Oscars. The simplest, chicest — and most Uma — of all, is this satin coat, worn only with naked sandals, to the 1995 Golden Globes.
At the New York Film Festival, 1998
The power couple of 90s alt-cinema, Uma and Ethan Hawke met on the set of cult sci-fi drama Gattaca in 1997 and married a year later. Here, the duo attend the 1998 New York Film Festival looking very 90s, indeed. Ethan's pairing his grunge-y Hamlet-era hair with a three-button blazer. Similarly, Uma's silky, floor-length slip dress wouldn't look out of place on that year's Prada runway. A perfectly chic, perfectly low-key and perfectly Uma way to wrap up a decade of iconic looks.