Image courtesy of Savage x Fenty
Bella Hadid's fave new bag and Rihanna's return: What's in fashion? 
Your one-stop-shop for this week's fashion news to know.
Image courtesy of Savage x Fenty
My stylish darlings, you're back! My, how good it is to see you again. Another week has passed, and what a chic week it's been! There have been stunning campaigns from Coach and Courrèges, a brand-new, Bella Hadid-endorsed bag from one of London's most exciting labels, and, of course, the heralding of Rihanna's return!… Not that our queen ever really left, but trust us, there's good reason to get excited. Read on to find out what it is! Here's what's in fashion.
Rihanna just dropped her new…
Ok, fine, it's not R9. This is, however, something just as worth getting all hot and bothered about -- a whole new Savage x Fenty show! True to form, the announcement was made last night when our good queen dropped a stonker of a trailer on her Instagram account, simply captioned "Oh you think you ready?!" WE WERE BORN READY!! Seen seducing the camera in a decollete-and-whale-tail baring mermaid blue mini dress, the i-D zine subject has more than whetted our appetites for the main event, which will be broadcast exclusively via Amazon Prime on September 24th. Yes, that's right -- at the very same time when Milan Fashion Week is set to be in full swing. Woe betide whoever landed a spot on that day of the schedule (Prada who???). Of course, the fact that the event is tied to Rihanna isn't the only reason to get excited. Savage x Fenty's shows have famously set a new benchmark in the one perniciously exclusive world of high-end lingerie, expanding its remit to show that anyone -- no matter their race, gender or size -- deserves to look fab in their undercrackers. There's also the invariably knock-out cast, with last year's cast including (deep breath!) Lizzo, Chika, Indya Moore, Adesuwa, Jazzelle, Paloma Elsesser, Bella Hadid, Raisa Flowers, Rosalía, Rico Nasty, Normani, Cara Delevingne, Gigi Goode, Shea Couleé, Jaida Essence Hall, Paris Hilton and so, so many more. September 24th: get that date in the diary, girls!
Viscose proves there's more to clothes than meets the eye
If you like thinking about fashion -- by which we mean really thinking about fashion -- then we have just the thing for you! After putting out a viral 'bagazine' for its first issue, dedicated to the ephemeral-yet-essential theme of style, fashion criticism journal Viscose is back with a jampacked sophomore issue, this time on the theme of fashion's fundamental building blocks: clothes. Humble as the chosen subject may seem, the issue offers an esoteric expose of the complex infrastructures -- physical, emotional, social, and more -- that underpin the garments that we pull onto our bodies day in day out. Clothes are literally everywhere and cite complicated systems of production, distribution, and exchange on their paths around the world," a release reads. And yet, "they never fully reveal their journey or destination, and may often signify little else than their own commodity status, the total genericness of the fashion product." Edited by critic and curator Jeppe Ugelvig, the issue sees a host of artists, thinkers and writers ponder questions that include: "What knowledge can we gather from the studying of fashion objects, be they material or immaterial? What is the difference between clothes and fashion? And to which extent is even "fashion" ever successfully signified by things?" Food for thought, indeed. Keen to hear their answers? Head here bag a copy.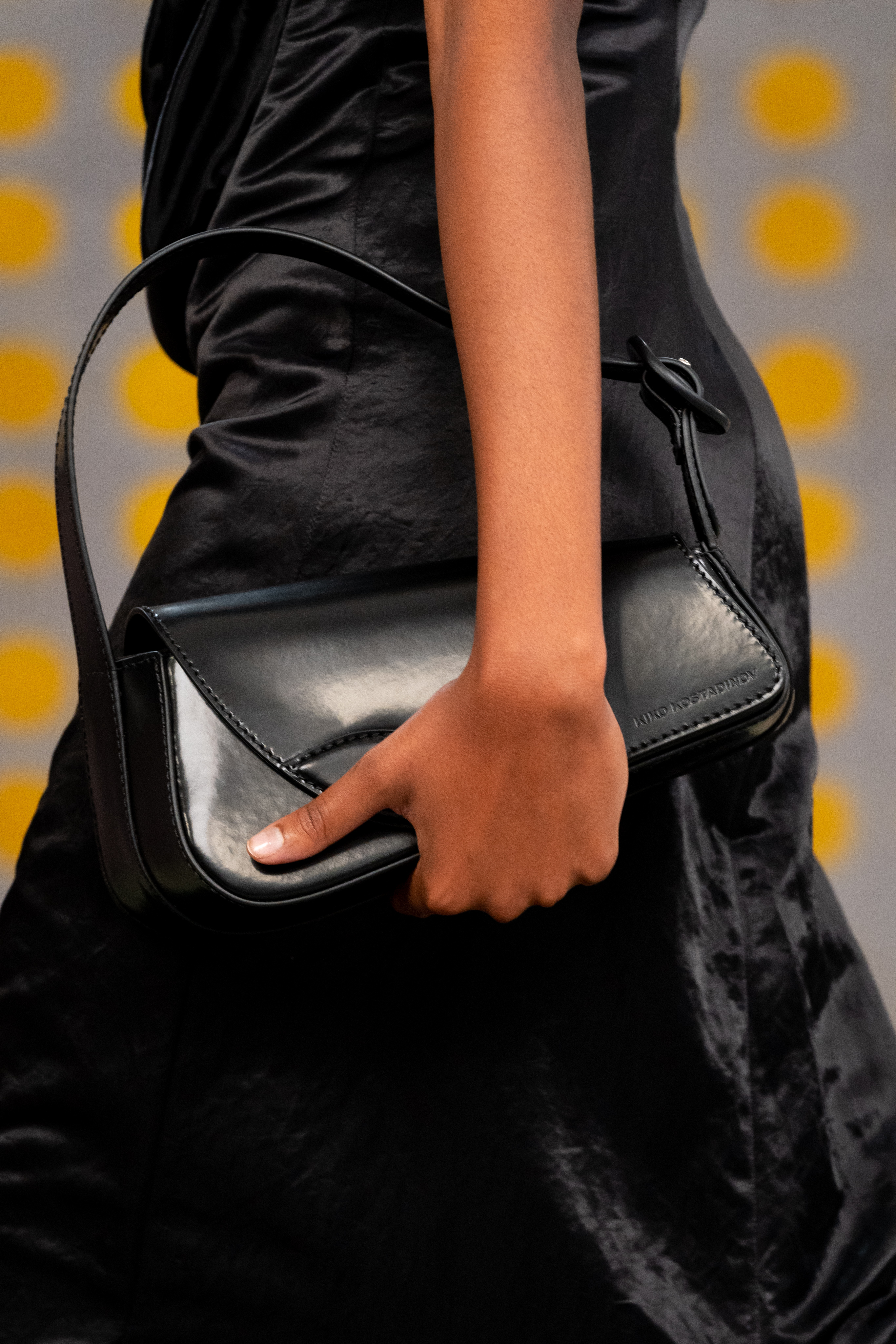 Kiko Kostadinov release a bewitching new bag
Listen to us: you need the Kiko Kostadinov Trivia bag. No, seriously, you need to get one -- NOW! If our urgent counsel wasn't enough to convince you (I mean, ouch, but whatever), then take it from Bella Hadid, who, last week, was seen toting the warped baguette from the London label's AW21 womenswear collection before it had even hit the shop floors! Marking Laura and Deanna Fanning's first step into the world of luxury leather goods, the asymmetrical leather mini shoulder bag takes its name from the Roman goddess of crossroads, magic, and witchcraft -- fitting, given how quickly we've fallen under its spell. If you're after something that screams 'occult, but make it chic', then the Abyss Black colourway is the one for you. That said, if you'd like something a little less foreboding, then you'll be thrilled to hear that Petal Pink and Ignis Red versions are available, too! How can you get your hands on one, you ask? Until September 8th they're to be found exclusively at Dover Street Market, either in-store or online, and will be available via the Kiko Kostadinov website thereafter. If you're in London, though, we recommend hot-footing it down to DSM's Haymarket store, where you'll discover a special Trivia Bag installation featuring ikebana-style floral arrangements by set designer and florist Julia Duong from Galerie Navy. That's our Bank Holiday weekend treat sorted!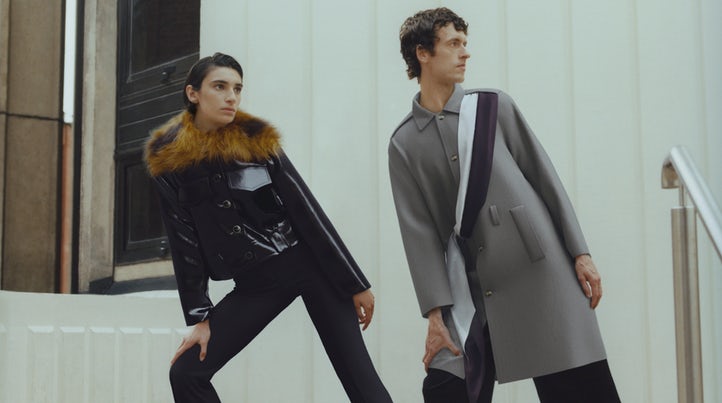 Farfetch gives you a fashion fast-pass
Fashion, as we all know, can be a pretty damn wasteful industry. Products are more often than not produced speculatively, with little idea as to whether they'll find a home. It's a fucked-up paradigm that ultimately results in vast excesses of stock, which, in the worst of cases, is either dumped or burned, purely for the sake of saving face on the part of image-anxious brands. This week, however, Farfetch announced a scheme that offers something of an alternative to the way things currently work. Joining forces with 10 brands, including Off-White, Khaite and Balenciaga, they've launched Pre-Order, a program that, as the name implies, allows you 'early access' to their latest products, and ensures that supply and demand meet. Rather than with typical pre-order set-ups, in which orders placed when a season is shown aren't delivered till 6-9 months down the line, new items will be made available to all Farfetch customers each month, and will ship approximately four weeks after purchase. Looking for a more savvy way to cop your next pair of Balenciaga it-sneakers? Your prayers have been answered!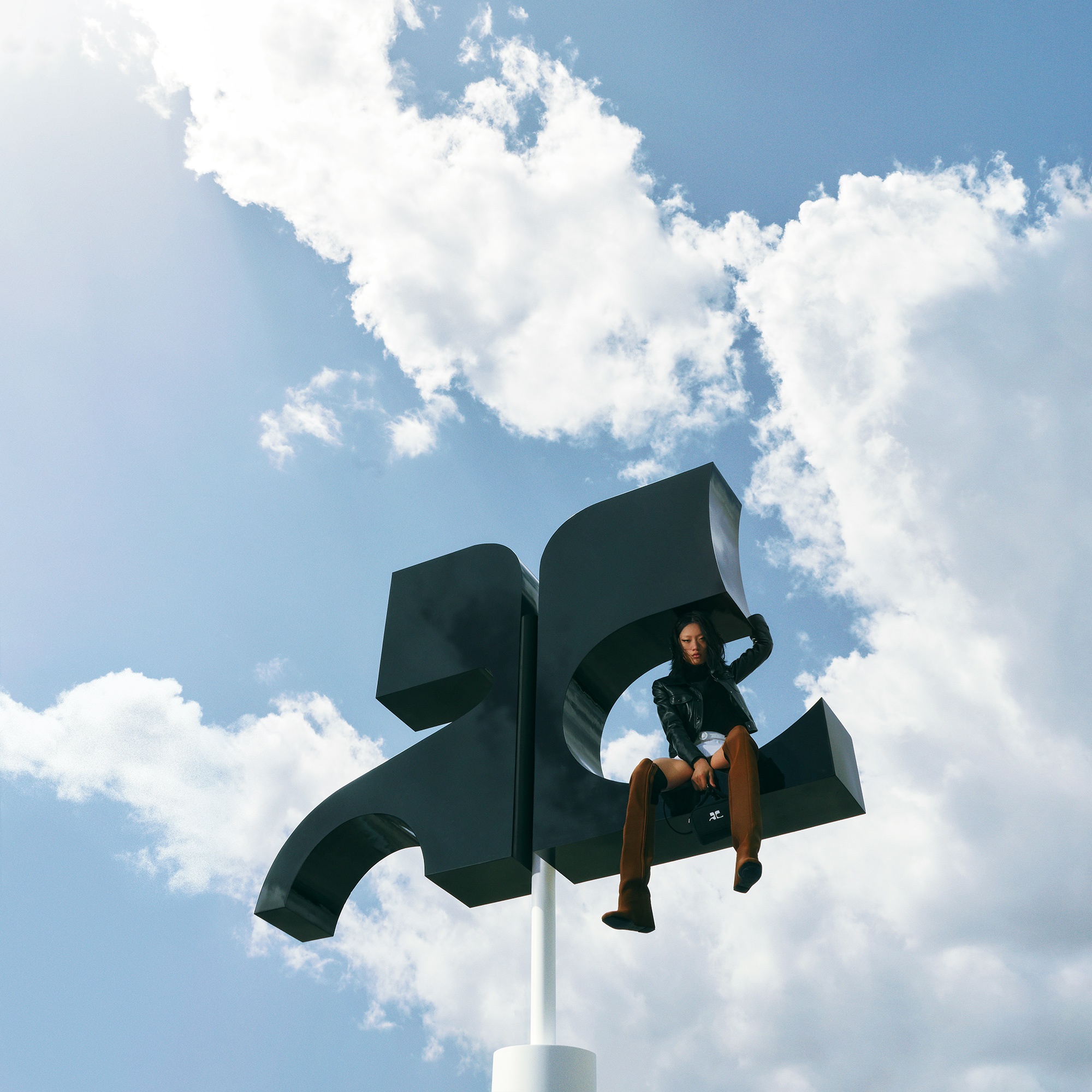 Courrèges adopts a blue-sky mindset for its AW21 campaign
Winning over the hearts of everyone from Dua Lipa to Marc Jacobs, few can deny that Nicolas Di Felice's takeover of Courrèges is the brand reboot of the year. His vision for the house -- optimistic, outwardly sexy, and party-ready in equal measure -- has offered up just what an audience starved of life's libertine pleasures over the past year and a half have been looking for. Now, as his debut collection for AW21 hits the stores, the house has revealed its first campaign under the Belgian designer's creative direction. Shot by Berlin/Athens-based photographer Spyros Rennt, the images convey the same sense of sunny-day sensuality that oozes from the clothes, with models seen climbing a giant 'AC' logo against a mottled blue sky. Lovely, isn't it? The only things lovelier are the goddamn clothes. Do yourself a favour and go get some xo

​​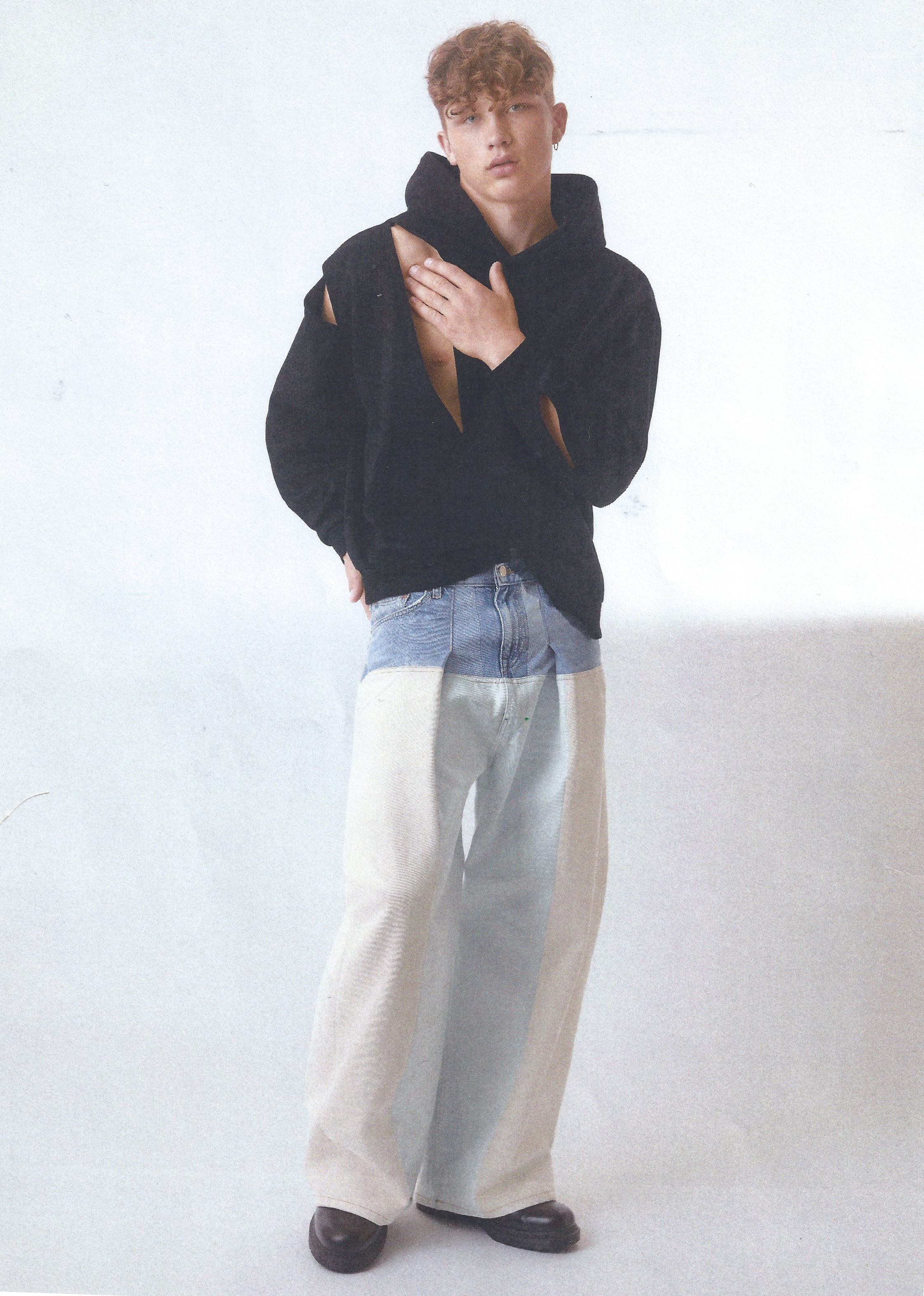 Per Götesson reinvigorates Weekday's left-behinds
Weekday isn't a brand that you hear us talk about much, but today, we're doing so with good reason. That's because the Swedish high-street label has joined forces with one of London's most innovative emerging designers, Per Götesson. Given access to the former's deadstock, Per has created a capsule collection using what he describes as some of Weekday's most "unloved" pieces. "For example, they had a lot of miniskirts, and I thought how sad it was for the miniskirts that nobody wants them!" he explains. "The intention was to work with the pieces that were the least desirable, I guess, and to make them special and beautiful." He and his team did just that, slicing, splicing and artfully altering their source material to create a collection rich with the London-based Swede's design signatures. Those abandoned miniskirts became a stepped hem kilt, écru and classic light blue denims are bisected in a pair of wide-leg jeans, and hoodies and tees are slashed and layered, giving glimpses of the body beneath. As ever with Per's work, there's a sense of subtle raunchiness at play here. "We're looking at masculine archetypes -- people like Marlon Brando, and the idea of denim iconography," Per says. The idea of taking a particular kind of sexiness and subverting it plays out in tonal compositions that echo the intimate tan line left by pair of boxer shorts, or slightly displaced pockets that offer peeks of pre-wash indigo. If you want to get your hands on the collection…. You can't! Not for now at least, as it sold out almost immediately upon its launch. There is, however, good hope that there'll soon be a restock. Watch this space!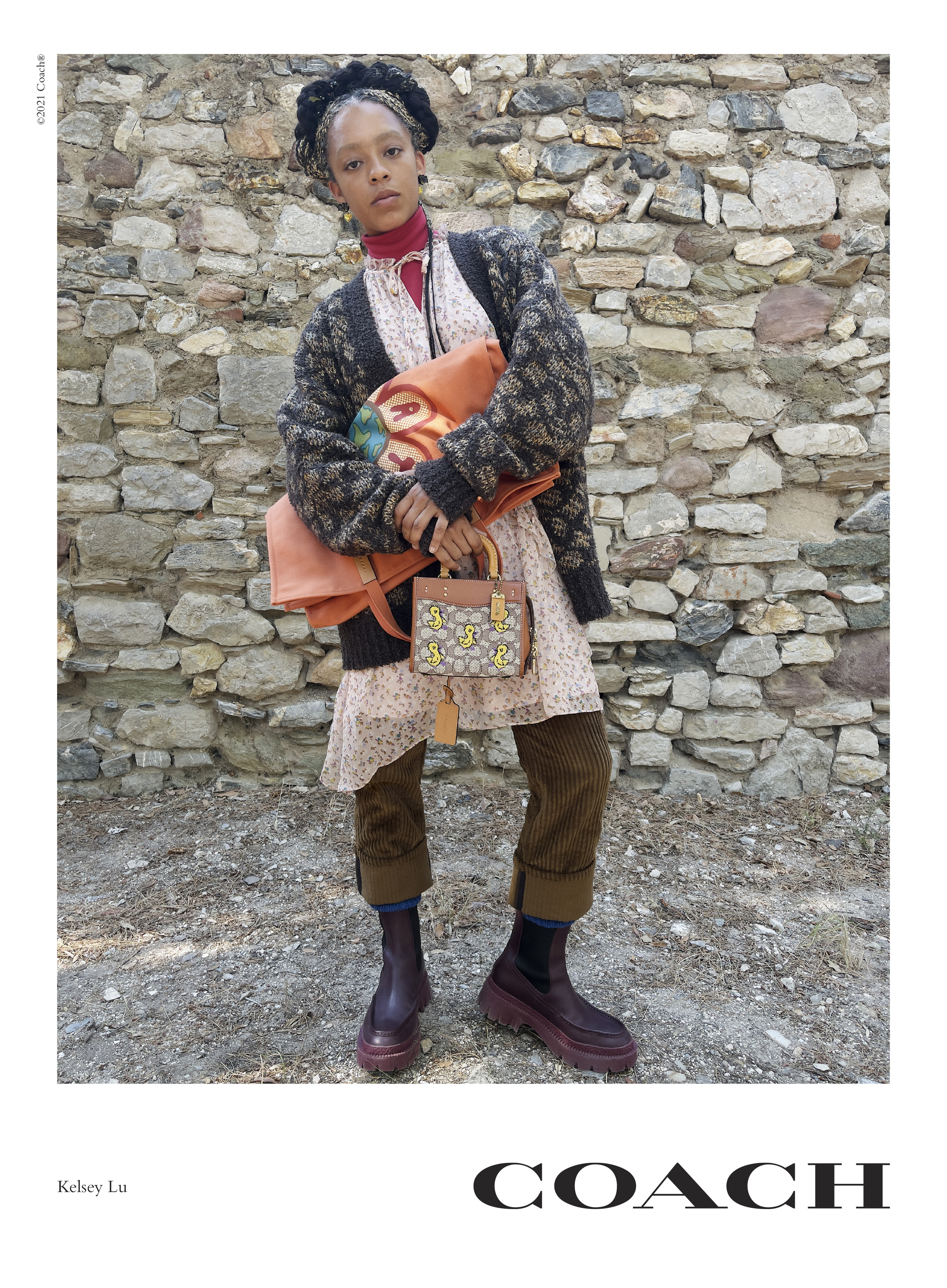 Coach goes all out with a Rogue campaign
What's the best way to relaunch a house icon of a handbag? With a no-holds-barred, A-list campaign, of course! That's the approach that Stuart Vevers, the creative director of American luxury label Coach has gone for, tapping Juergen Teller and Olivier Rizzo to shoot a new image series for the figurative rebirth of the Coach Rogue. First debuted back in 2016, the top-handle tote quickly won over fans for its versatility, practicality, and effortless sense of chic. Its popularity has been maintained since then, but it's just so damn nice that they had to launch it twice! Starring J-Lo, Kate Moss, Kelsey Lu, Xiao Wen Ju and more, each shot in iconic tourist hotspots around the world, this isn't your average bag reboot -- but then again, this ain't your average bag!
Tagged: