Every great new movie coming to Netflix this year
From ghoulish horrors to Oscar hopefuls, here's some of the most anticipated movies you can stream at home.
|
03 September 2021, 7:00am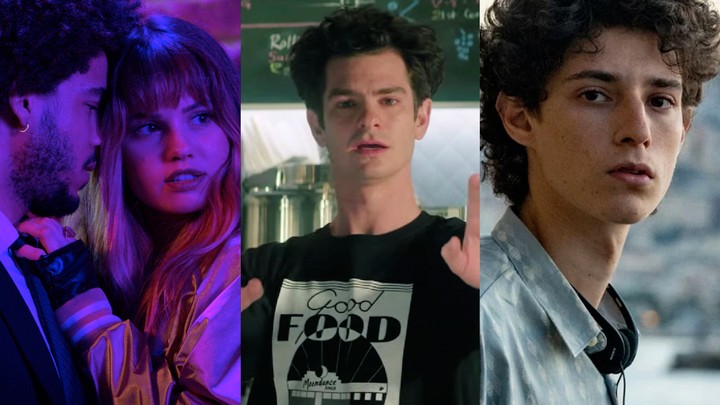 Netflix
Netflix's power in the movie industry has skyrocketed in the last five years. What was once a streaming service famed for producing low-budget crowd pleasers and giving you the chance to watch season nine of Friends again (and again and again) has since become a major player during Oscar season, picking up 15 Academy Awards and, in the last three years alone, producing five Best Picture nominees. With 'Oscar season' swiftly approaching already, Netflix are gearing up to release their next potential big-hitters; many of them bowing at buzzy film festivals to drum up hype beforehand.
As September arrives, we are about to enter 'Q4': a music and movie industry term used to describe the period of the year where you showcase your biggest critically acclaimed talents, as they bat their eyelids at the Oscar and Grammy voters in the hopes of winning big. (Wondering why you hadn't heard from Adele in 2021 yet? That could be your reason). So without further ado, here are the big movies Netflix are setting their sights on becoming a Very Big Deal this year.

The Starling (24 September)
We know Melissa McCarthy has shared a screen with Chris O'Dowd before, back in 2011's crass and iconic Bridesmaids. The Starling brings them together again, albeit for a far more sombre affair. Described as a dramedy, the film follows a couple coming to terms with the loss of their young baby in remarkably different ways: one through psychiatric help; the other through a territorial fight with a bird in their back garden.
The Guilty (1 October)
Loosely based on an Academy Award-longlisted Danish film, The Guilty sees Jake Gyllenhaal play a demoted police officer taken off the streets and sent to an emergency phone line operating centre instead. There, he receives a call from a kidnapped woman, forcing him to consider his role and responsibilities. Riley Keough and Ethan Hawke co-star.
There's Someone Inside Your House (6 October)
Co-produced by James Wan, the man behind movies like The Conjuring, There's Someone Inside Your House is a high school horror movie about a group of teenagers with a unique power to stop a masked murderer killing their classmates.

Night Teeth (20 October)
Night Teeth gives Euphoria's Sydney Sweeney another dark role to sink her, um, teeth into. This movie follows a student-slash-LA chauffeur who picks up two seemingly normal, fun party girls one night. But as he drives them around the city, he learns more about their murkier inventions.
Fever Dream (October)
A mysterious project that tells the 'haunting story of broken souls, toxins, looming environmental and spiritual catastrophes, and the ties that bind a parent to a child' as per IMDb, Fever Dream debuted at this year's San Sebastian International Film Festival. It's based on an acclaimed novel by author Samanta Schweblin.


The Harder They Fall (3 November)
Idris Elba, Regina King and Lakeith Stanfield band together in this rag-tag, comic book-like western movie about a rivalry between a ruling gang and a villainous outlaw who's just been released from prison. Expect blood, gunfights and viscera aplenty.

Passing (10 November)
Fresh off the back of her stirring performance in horror movie The Night House, actor Rebecca Hall makes her directorial debut with this tenderly formed and impressive adaptation of Nella Larsen's 1929 novel. Tessa Thompson plays a mixed-race woman living a middle class lifestyle in 20th century New York; Ruth Negga plays her childhood friend who's returned to the city, having lived her life as a white-passing woman. A surefire Oscar frontrunner.
Red Notice (12 November)
Netflix has nailed the arthouse vibe lately, but they're yet to go full balls-to-the-wall blockbuster. That changes with Red Notice, a Dwayne 'The Rock' Johnson-starring action thriller about an FBI profiler and two rival criminals on a treacherous adventure together. The budget? A cool $200 million.

tick, tick…BOOM! (19 November)
Your reaction to this will rely on whether you love or loathe the work of Lin Manuel-Miranda. The famed theatre-maker, known best for Hamilton, makes his directorial debut with this maybe-meta-fiction movie about a theatre director reflecting on his personal and professional life on the eve of his 30th birthday. All eyes are on Andrew Garfield, who plays the lead.

Bruised (24 November)
Another directorial debut Netflix are putting their cash behind is Halle Berry's. The history-making Oscar-winner's first feature film premiered at Toronto Film Festival last year, and follows a down-and-out female MMA fighter trying to make a comeback in order to create a better life for him.
The Princess Switch 3 (November)
A film so perfect Netflix are kindly not putting it forward in their Oscar buzzy slates (too powerful, or something), The Princess Switch series switches things up once again in its deranged third act.


The Power of the Dog (1 December)
Decades before Julia Ducournau became the first solo woman to win Cannes' Palme d'Or, Jane Campion won the prize in a tie for her masterful film The Piano. Nearly a decade has passed since her last film, but The Power of the Dog, about Montana farm life and the at-odds characters that share this isolated space at the turn of the 20th century, is arguably the most hyped return in the 2021 movie calendar. Benedict Cumberbatch, Kirsten Dunst and Jesse Plemons star.

The Unforgivable (10 December)
Having been in limbo since her Oscar win for The Blind Side, it's good to see our Miss Congeniality queen Sandra Bullock make her comeback. In The Unforgivable, she plays a violent criminal who when released from prison realises those on the outside world aren't as forgiving as she had once hoped. Viola Davis also appears.

The Hand of God (15 December)
If you thought The Great Gatsby was lacking a more modern glitz and camp Italian folks, then you should check out The Great Beauty, the film that made Paolo Sorrentino, the director of this film, famous. His latest feature, a return to his native language after two English features, is a coming-of-age story of a boy (inspired by himself) growing up in 1980s Naples, and his love for football and cinema. Set to be glorious.
Don't Look Up (24 December)
God, we wish we had the self-control of Jennifer Lawrence, an actor who felt the public getting sick of her and took a five-year break from the spotlight to let the mystique regrow. She makes an almighty return in Adam McKay's wild and starry sci-fi comedy Don't Look Up, playing a scientist trying to warn the world that a meteor that might destroy earth is hurtling towards us. Her co-stars? Deep breath: Leonardo DiCaprio, Timothée Chalamet, Meryl Streep, Cate Blanchett, Ariana Grande, Chris Evans, Jonah Hill, Mark Rylance, Matthew Perry and Kid Cudi.

The Lost Daughter (31 December)
A Netflix release in the US only (other distributors are snagging other territories), Maggie Gyllenhaal makes her directorial debut with this also-starry adaptation of Elena Ferrante's novel. Olivia Colman plays a college professor who, when she meets a younger woman while on holiday, starts to spiral back to her old memories of early motherhood. Dakota Johnson and Jessie Buckley also make an appearance; it also marks Paul Mescal's big screen debut.