Adele leaked her new song and got confused on her chaotic first Instagram Live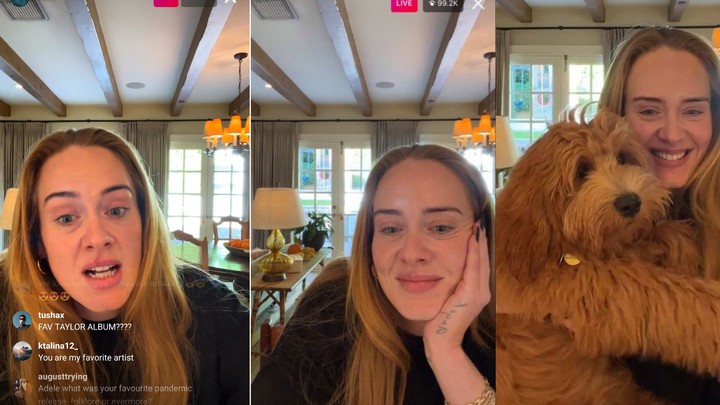 Images via screenshot
Adele went on Instagram Live for the first time last night and it was a chaotic joy to witness.
The global superstar has more or less swerved a permanent presence on social media since promotion for 25 stopped in 2016, so to see her hop on to chat to fans in real-time was something of a rare treat.
But it was so good, we'd like this to be a weekly occurrence, please.
The biggest news from the stream was that Adele actually leaked the first 40-or-so seconds of her comeback single, "Easy On Me".
"I'm gonna get in trouble for this," she said as she pressed play on the start of the new piano ballad, which is produced by frequent collaborator Greg Kurstin, who also worked on mega-hit "Hello".
And, surprise surprise, what little we heard sounded absolutely gorgeous. "There ain't no gold in this river," the opening goes, Adele's voice bruised but not broken - so powerful it's breaking the banks of a dam. "I know there is hope in these waters, but I can't bring myself to swim."
It's the first release from her forthcoming fourth album, rumoured to be titled 30. In dual interviews on the cover of both Vogue US and British Vogue (a world first), news emerged that Adele has worked with Kurstin, Swedish superproducers Max Martin and Shellback, as well as film composer Ludwig Göransson and British producer Inflo on tracks for the new record.
There was a myriad of other highlights too. Adele fielded questions from viewers and it was about as mixed a bag as you could expect. She got confused over whether she liked PC Music and hyper-pop ("I dunno, do I?"), praised Harry Styles ("a very sweet boy") and supported the Free Britney movement ("I absolutely adore her, I'm really happy for her").
Oh, and she did get a bit confused on how to actually run the Live and whether to accept people's requests to join the room with her, so Alicia Keys popped up several times to function as Adele's own personal IT support.
Basically, Adele is really, really coming this time. Get ready.