Adrienne Raquel captures the fantasy of Houston's favourite strip club
The photographer discusses 'ONYX', a luxurious new series shot inside a local institution.
6 Inches To Heaven, 2020
Club Onyx bills itself as the ultimate experience in adult entertainment, offering 12,800 square feet of dancers, premium liquor and a full menu replete with the "finest wings in Houston". Its Instagram is awash with mid-week drink deals and videos of dollar bills lining the floors at the end of the night. Adrienne Raquel's images might acknowledge these details, but they don't focus on them. Instead, ONYX — a story she worked on last year, and is presenting for the first time at Fotografiska New York tomorrow — shifts its focus to the inner workings, almost as if we're looking from the inside out for the first time. As the photographer Quil Lemons writes under Adrienne's Instagram post announcing the show: "My body is ready for this! Take us to Onyx."
Adrienne typically shoots big names — Travis Scott, Selena Gomez, Indya Moore, to name just three magazine covers from the last few months — and glossy campaigns. So this project is something of a gear change from her usual work. But all the elevated editorials and celebrity features Adrienne typically works on are present in ONYX in its small, elegant details. "My work is all about celebrating womanhood and making women feel beautiful and seen at their best," she says. "My photography is rooted in fantasy — it's sexy, it's glamorous, and at times, it's nostalgic and a bit dreamy. I feel as though these attributes are what gives my work a special aura. I feel like the women that I photograph radiate confidence, sensuality and self-love."
"With ONYX, I wanted to document these dancers from the female gaze, which I feel is rare in this space," she says. "There's more to it than the debauchery, the power, the misogyny and the money floating through the air. Women that work in these clubs have been shamed and often minimised and I believe that the women that perform on these stages are artists and deserve to be shown in a positive light."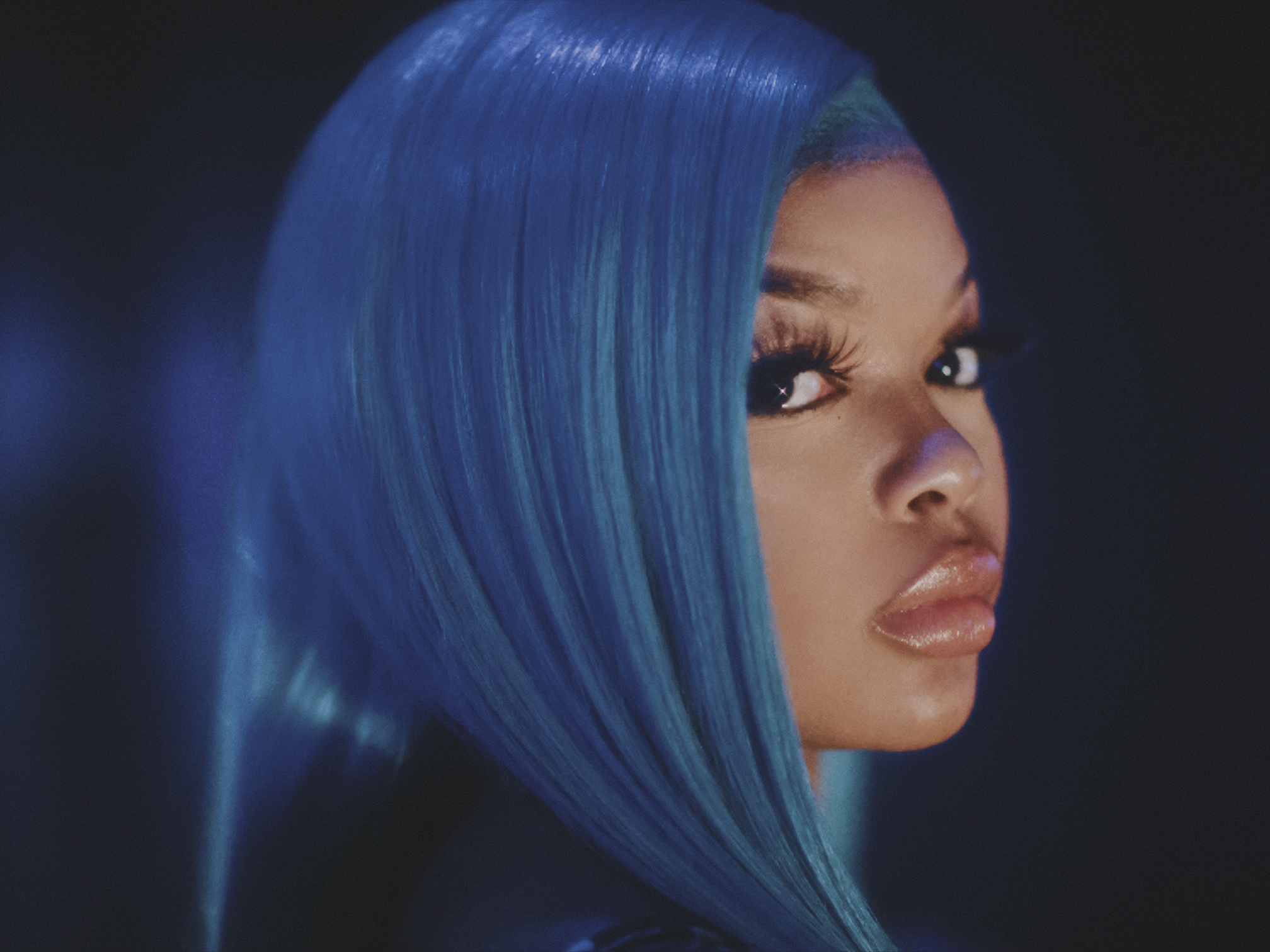 Born in Cleveland, Ohio, Adrienne moved to Houston at 17. She now lives in New York and came up with the idea of shooting this project in 2018, whilst back in Houston and visiting the club on her aunt's birthday. Even though she'd been before, this time a new appreciation for the dancers took hold. "I was in awe by the way they seductively floated around the club, and how they interacted with men, and how they interacted with one another," she says. "I made a promise to myself that once I 'made it' as a photographer, I would return and document the women that perform here."
These woozy, low light images of the club's dancers push past the obvious imagination of strip clubs. Like Solange's chopped up love letter to Houston — When I Get Home — they feel luxurious in their haziness. Spaces like Onyx were an obvious reference for Solange's record, and, in popular culture, the female perspective on strip clubs is slowly beginning to find its footing in the mainstream. There's FKA twigs' short film We Are the Womxn, shot at Atlanta's historic Blue Flame club; photographer Hajar Benjida's acclaimed portraits at another Atlanta institution, Magic City; and, at its most mainstream, Lorene Scafaria's 2019 blockbuster Hustlers, starring J-Lo and Cardi B.
While these perspectives are important, Adrienne notes the necessity of not pushing too hard in the opposite direction. "Onyx is a real club with real women, in the real world," she says. "It's not as illusionary and as glamorous as the imagery and ideals that are often portrayed in music and film. Everything is not always perfect. There isn't money raining out of the ceiling every night. And, not every entertainer wants to entertain. Some nights, the club is slow, and there are others where it's bustling and at capacity. This is a major reality shift from the fictional imagery that's often presented in the media."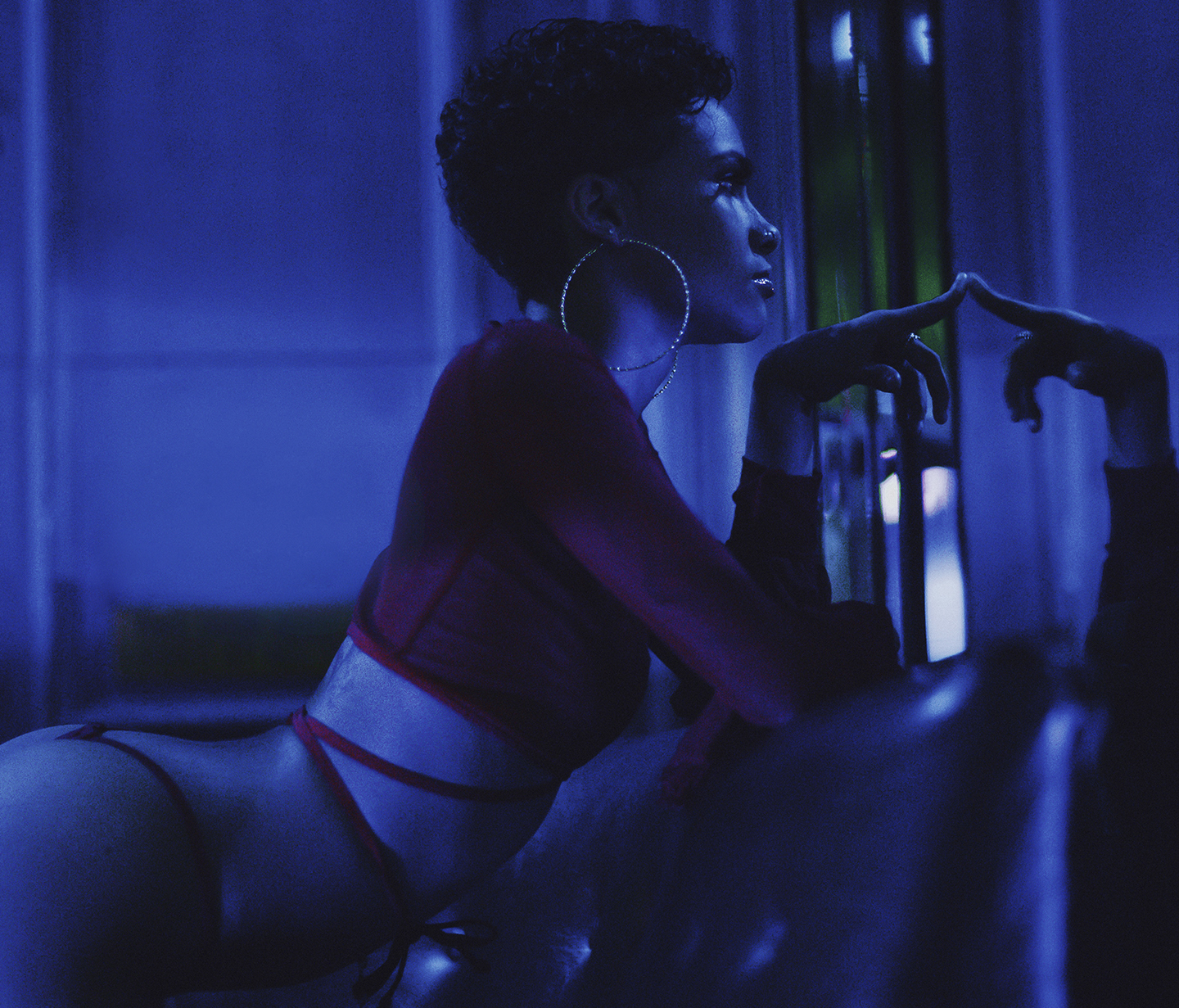 Before Raquel began shooting ONYX, she staked out the club on a quiet evening to observe the atmosphere at a different moment. "On this night, I was given a tour of the club, sat backstage and sat in the DJ booth to observe the dancers and familiarise myself with the energy of the club. I was able to introduce myself to most of the women that are featured in this series. I also met Tyson; she's the house mom at Onyx. Tyson manages and oversees all things happening backstage. She pretty much gave me the 'OK' to shoot the girls there. Initially, I was nervous, but that went out of the window once I realised how welcoming everyone was, and from there, everything just fell into place. Every night, I'd photograph the club from 8pm till 4am. I experienced Onyx at its most uneventful and most noteworthy moments." It was during the slow nights where she was able to converse one-on-one with many of the women that are featured in the exhibition. "I followed them everywhere throughout the club, from the locker room to the performance stage."
If Adrienne had to pick an image that stands out for her from this series, it would be "Where Dreams Lie", the banner image of the series. "This is a portrait of Cali, who's present throughout this series," she says. "I love this image because I feel as though it really encapsulates the energy and allure of Club Onyx. Everything from the pink glow of 'Celebrities Room' to the action of Cali gracefully sliding down the pole. It literally looks like a fantasy." Named so because the strip club is a place where fantasy exists, 'Where Dreams Lie' points to the music, the flashing lights, the cash, the power, and the beautiful women as an illusion. "In a sense, the club is a place where dreams and fantasies can manifest and depending on how much money you spend, they may come true. But, it's also a place where these dreams and return to the real world."
'ONYX' is at Fotografiska New York 22 April - September 2021.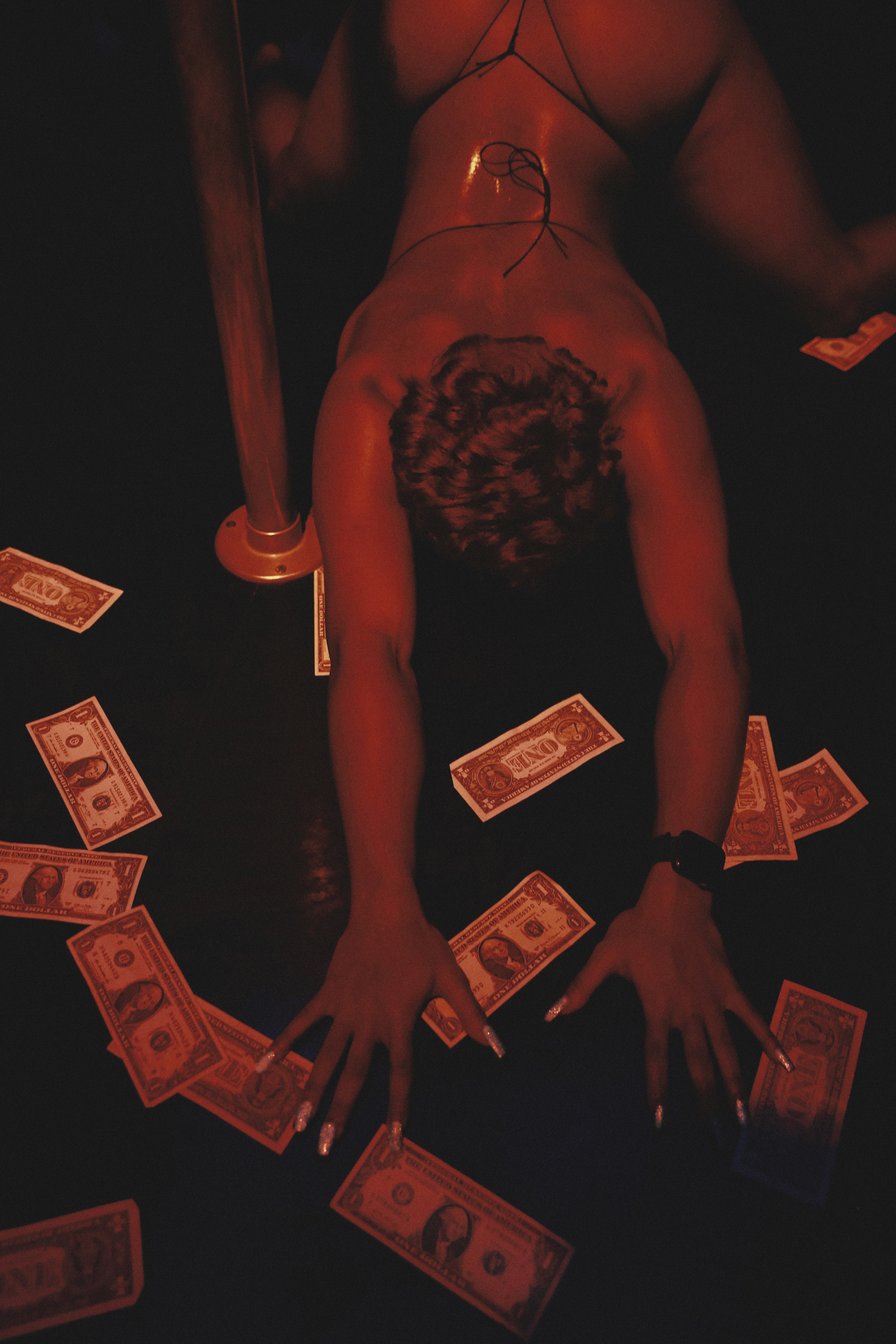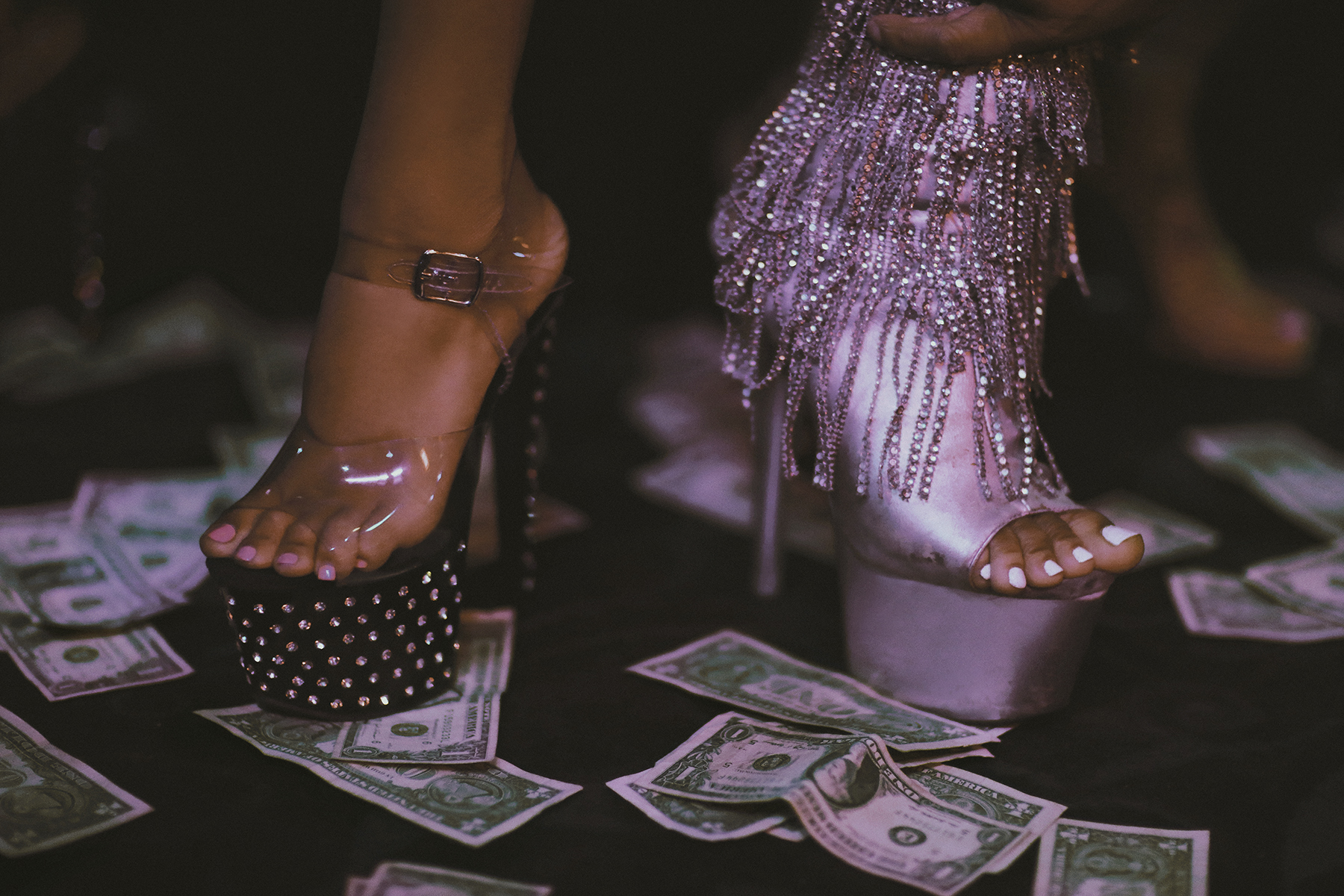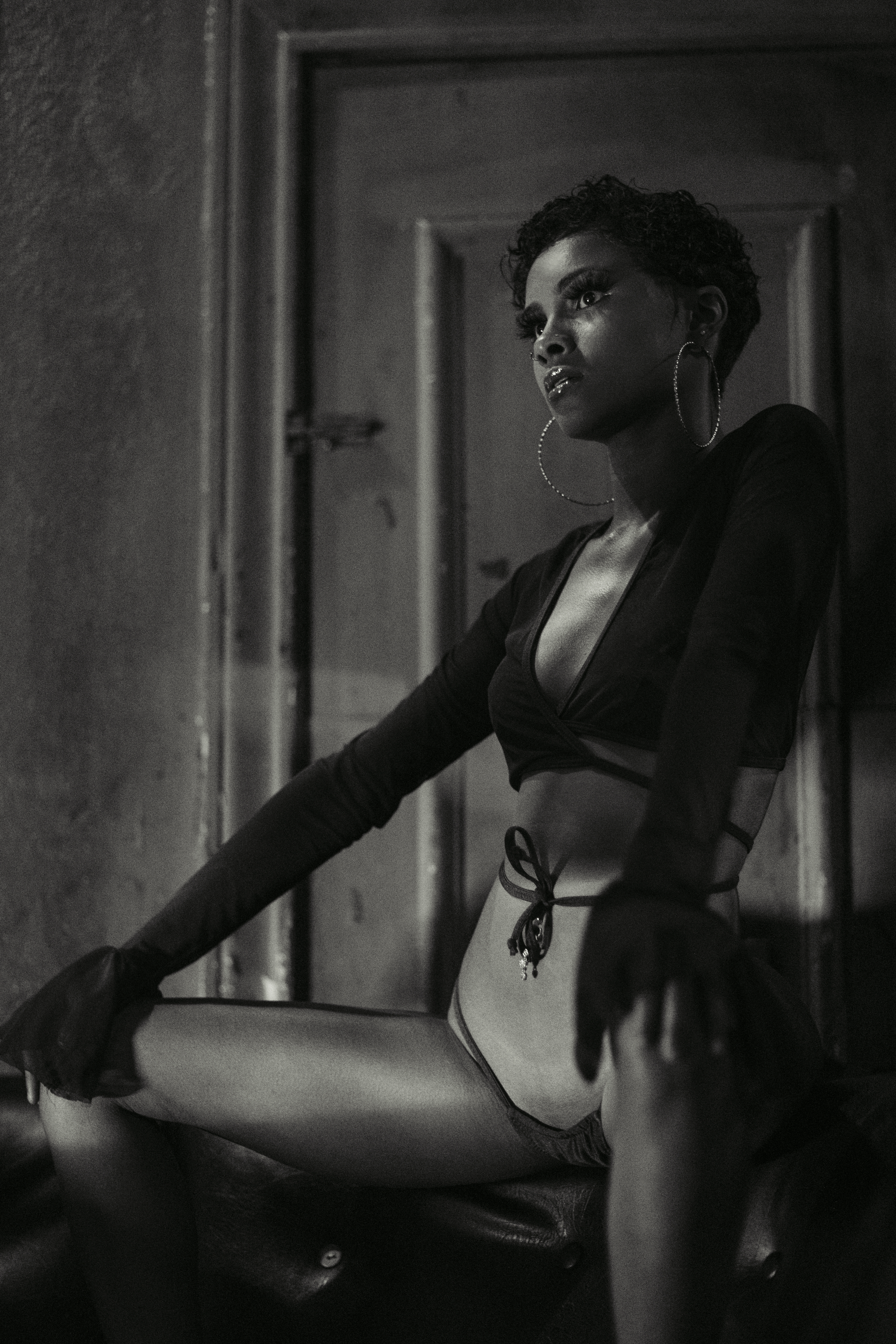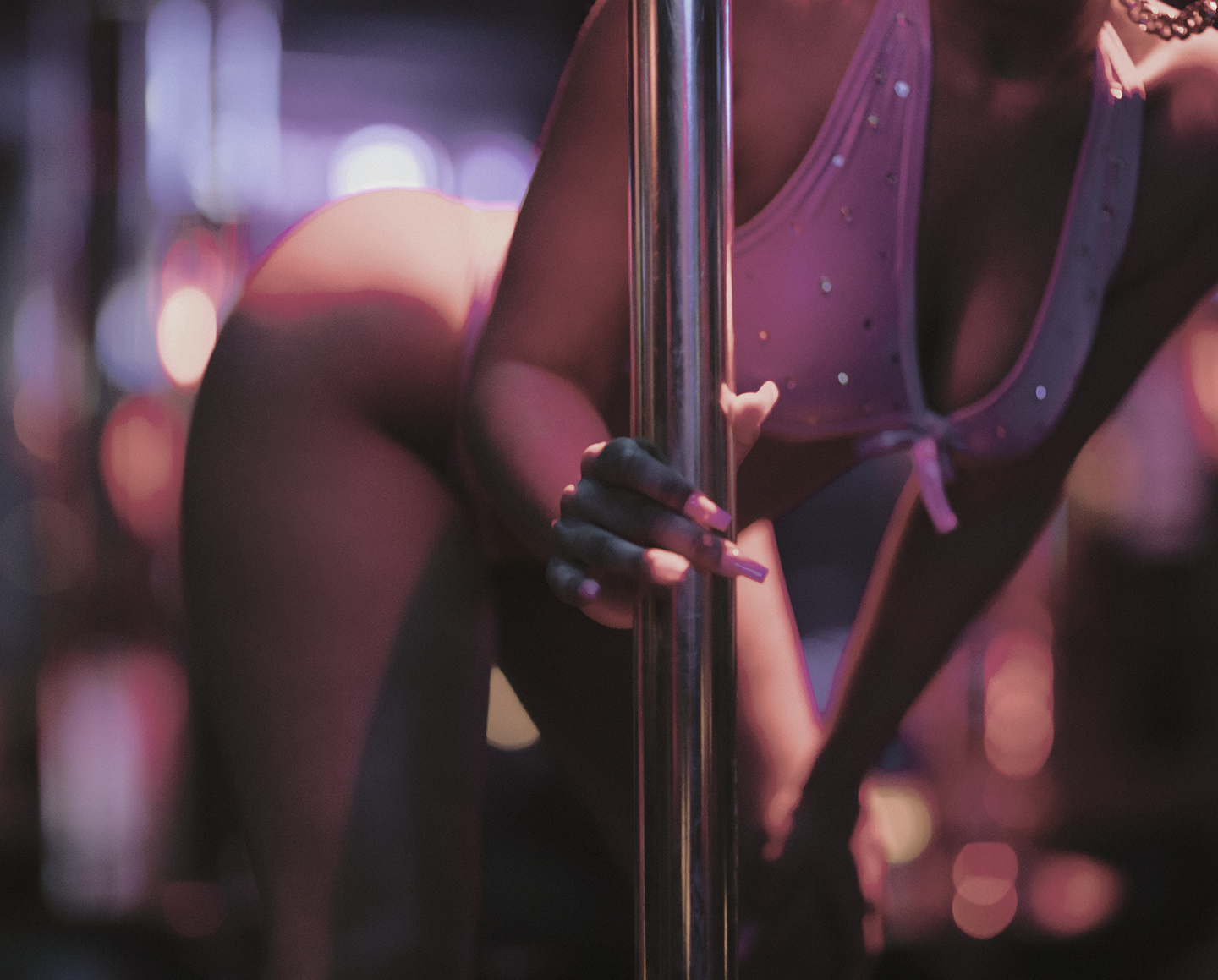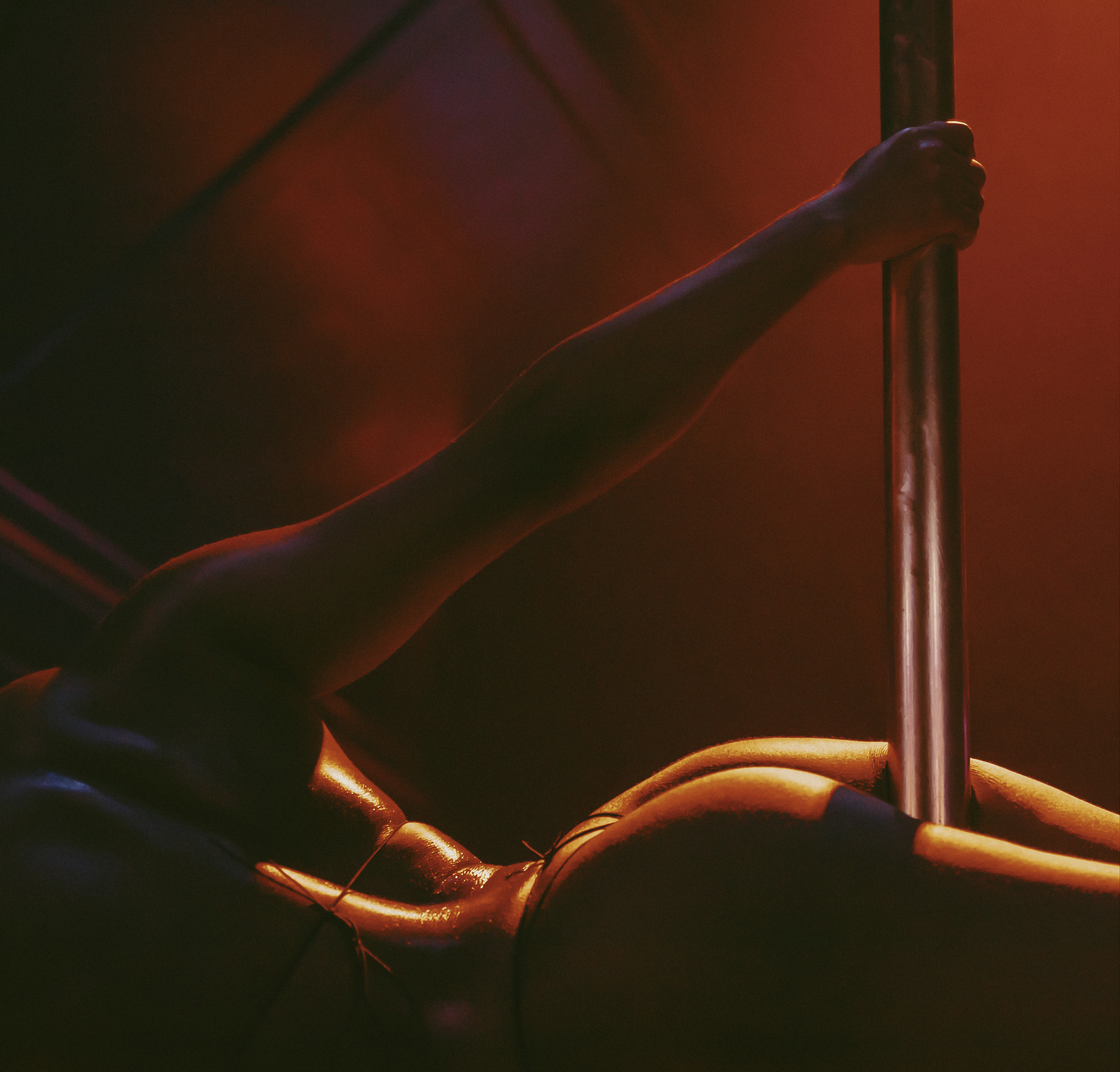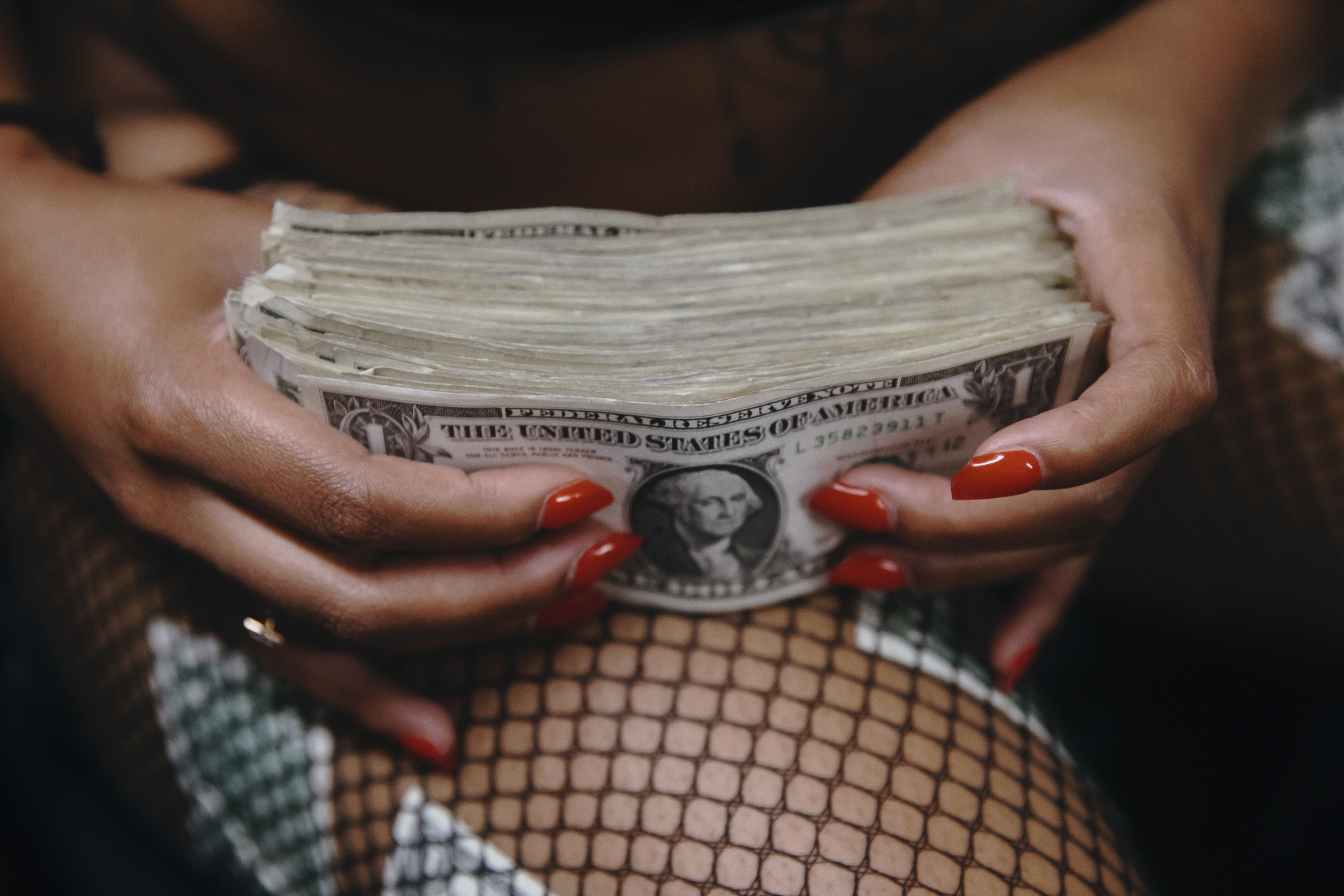 Credits
---
All images © Adrienne Raquel
Tagged: