Melitta Baumeister is crafting clothes for the self-made woman
The New York-based designer tells i-D about creating clothes that transport you somewhere else.
|
15 September 2021, 7:00am
For all of last year's predictions of widespread strife for the fashion industry, we've heard a heartwarmingly large number of stories about emerging designers demonstrating dynamism in the face of the unknown and seeing their businesses flourish due to their efforts. One such example is Melitta Baumeister. "I really can't complain too much," concedes the German-born designer, speaking over the phone from her New York studio. "Things have actually turned out better than we could ever have expected when the pandemic hit."
She tells of the unexpected logistical boons she experienced – production capacity freeing up when bigger players abruptly canceled their orders, and the like – but the greatest plus of all came in the closeness of the relationships she was able to forge with her customers. Granted, she was in something of a privileged position – long before things all kicked off, she'd been organically cultivating a fiercely loyal following, a good number of whom have been rooting for Melitta's namesake brand since she graduated from Parsons' inaugural MFA class in 2013. "People started to reach out, and we just started to connect with more of our customers directly," she says. "It was really beautiful to see. Our customers became more like friends, and we really came to understand them so much better."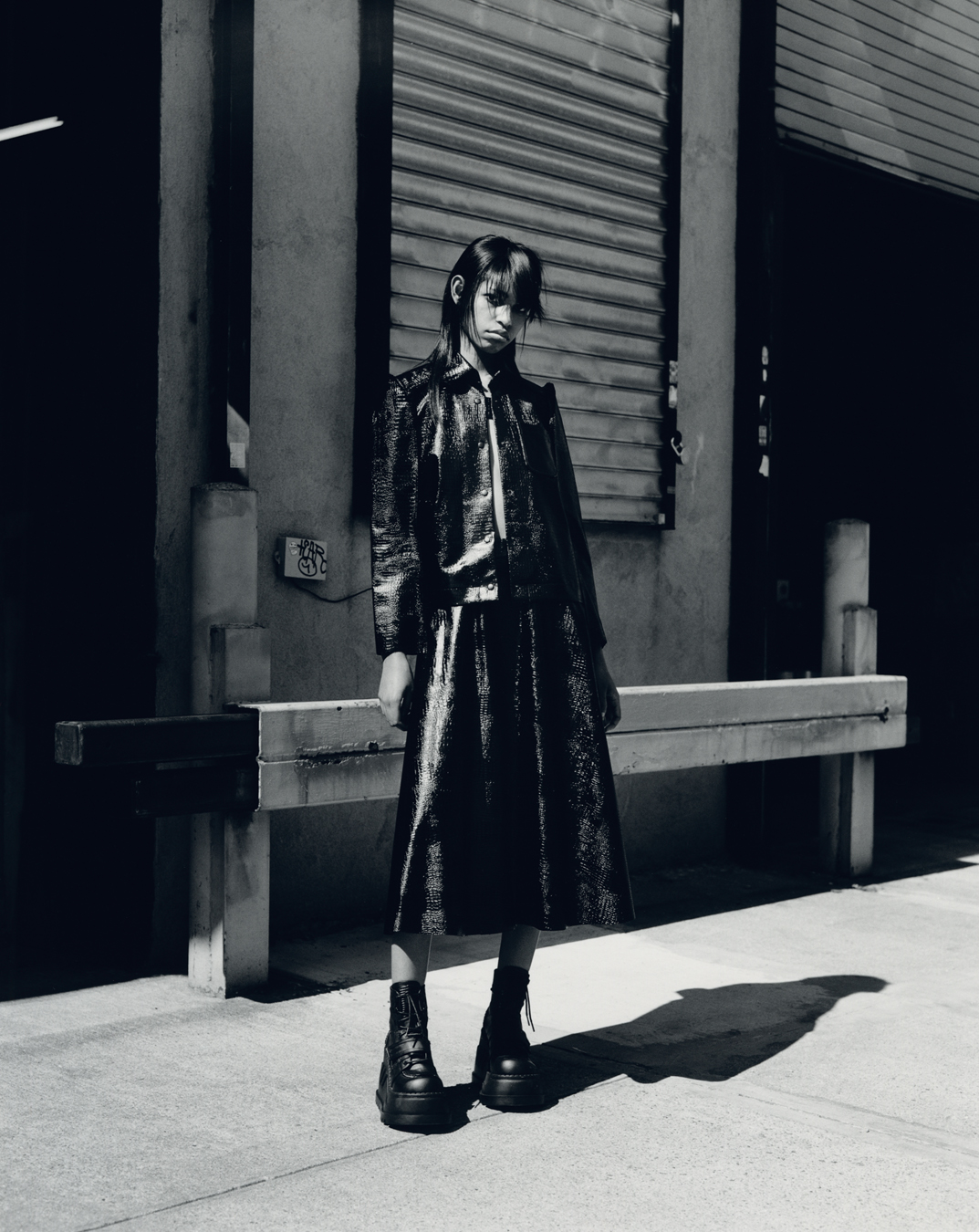 Paradoxical as it may sound, the idea that the pandemic made fashion somehow feel more human is one we've heard echoed by numerous designers. That's not to say that the digital contexts that creators and their fans were limited by were an improvement of any kind; rather, these confines encouraged people to find ways to reach beyond them, often by forging direct connections via DM. In Melitta's case, her customers' yearning to transcend the strictures of a screen makes particular sense. After all, she's a designer who's made a name for an inimitably sculptural sensibility that she humbly refers to as "shape-driven" – "I guess I try to push fashion in terms of shape. I want to question what we're used to seeing through patterns, making and creating shapes that excite me; shapes that are new and surprising," she says. At their most extreme, they're forms that muddle the boundaries of what can and can't be considered fashion; in the case of a bulbous butterfly gilet with a yawning right sleeve opening in stuffed wood-print jersey, it wouldn't be a stretch to dub it plush sculpture. However you view them, though, they're pieces that beg to be seen from all angles, to be felt against the skin, to be squeezed.
Even with the more purposefully "ready-to-wear" pieces, this sculptural bent remains a connecting thread. A clinging, ribbed knit column dress juts out into a hooped hem, wool felt coats are jauntily buttoned and cut creating sensual undulations in the cloth, and an otherwise prim square-shouldered blazer with shrunken lapels breaks out into a downpour of knee-skimming silken strands at the bust. Culottes in grid-quilted apple-green cotton and shimmering black crepe have a sharp, trapezoid line to them, and trousers are constructed with an accommodating bulge at the knee.
You aren't mistaken if that last description calls to mind the contours your well-worn-in comfy clothes have taken on over many months of sedentary living. "I was contemplating this idea of sitting inside all the time," Melitta says. "We looked at something like a sleeve, asking how it could have a shape that reflected the state we've been in throughout the pandemic, and then we made pants that already have a bend in the knee, channeling the idea that you've been sitting in them too long." The same concept also informed the collection's more challenging pieces, though the translation's a little more abstract. "They were really about the idea of sitting for so long that you eventually become your sofa. It was about creating a sense of the unreal."
Where ideas of comfort make themselves most clearly felt this season, though, is in the loungewear pieces. Unexpected as they may be from a designer revered for her conceptual rigour, they demonstrate Melitta's enviable talent for instilling the braininess of her approach in garments that are more democratic in their appeal than her warped looks.
Still, loungewear for AW21? Wasn't this meant to be the season of going out out? Well, sure, but it's worth noting that, for many of us, a year spent dressing solely for comfort's sake has formed habits that are pretty hard to break. Rest assured, chintzy nylon tracksuits are nowhere to be found here. Rather, Melitta's lounge-about looks comprise cropped wide-leg drawstring trousers in heavy-duty cream and black jersey, voluminous, cuffed sweatshirts, and a wide-gauge knit cardigan with an extra set of sleeves – they allow you to subtly tweak the silhouette with the choice of an armhole, and you can even tie the extra pair around you if ever you're in need of a hug.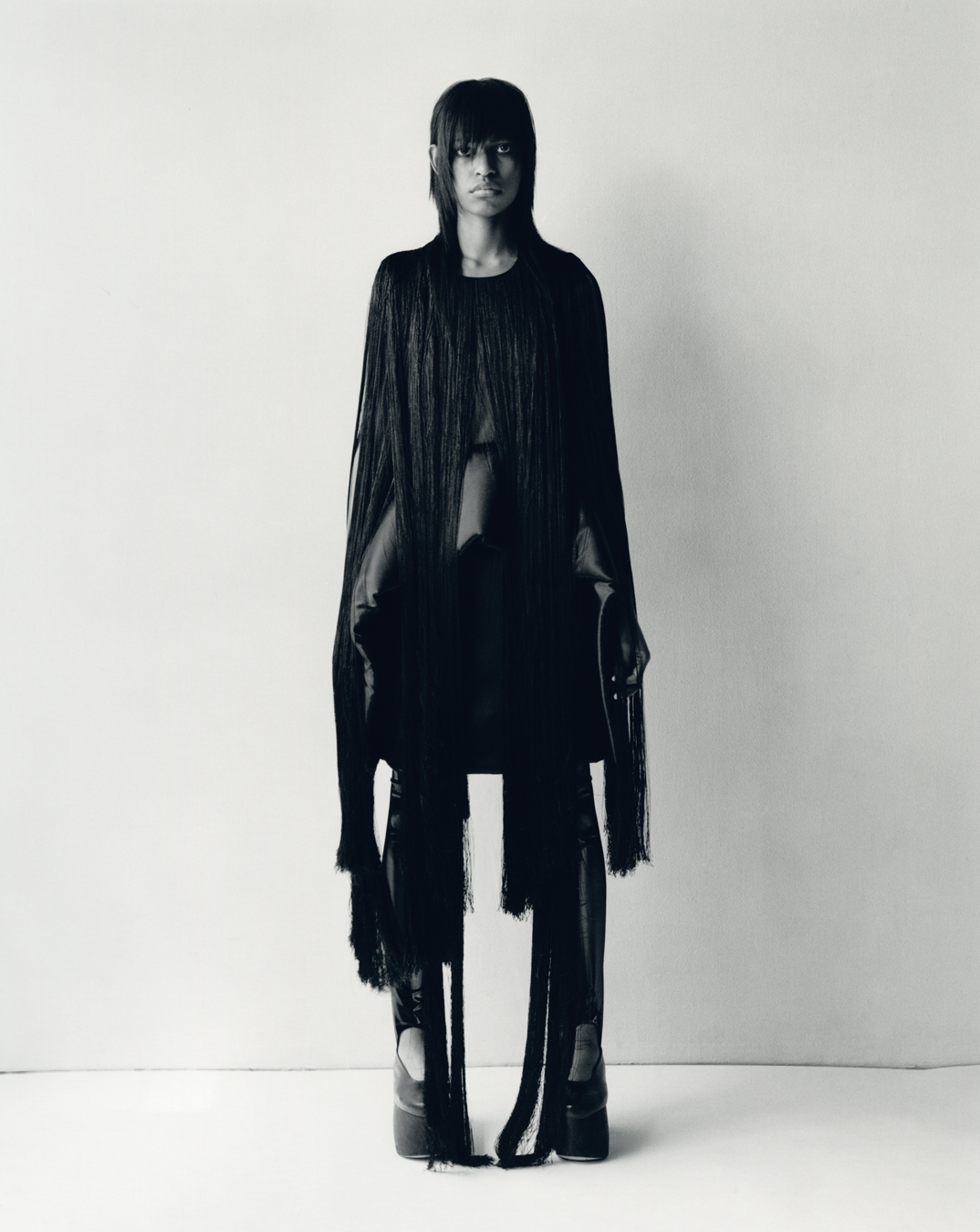 All the above said, despite what Melitta's ostensible embrace of the comfywear conversation this season may suggest, she made a conscious effort not to kowtow to it. "It was part of an ongoing discussion with designer friends of mine around what people really want and need right now," the designer recalls. "It felt almost unnecessary to have dresses intended for going out in, but at the same time, I didn't want to give in to only doing loungewear. That didn't feel like a solution."
Besides the personal sense of empowerment that she gleaned from getting all dressed up even with nowhere to go, her sense of conviction is owed just as much to the invaluable asset of the close relationship with her audience that she gained over lockdown. "They would often write to me saying how fashion was the thing that kept them sane during the pandemic, that they dressed up for themselves, or even for their selfies," Melitta says. "I decided that we needed lounge pants, but we also needed something to transport us somewhere else."
Feeling your way through the moods that shade Melitta's work – from skin-tight latex tops to mushroom-silhouette hoodies, A-line smocks to pieces that wouldn't feel out of place in a white cube – one question begs answering: who is it for? If you've made it this far, then you'll be unsurprised to learn that over the past 15 months, the range of people included in her response has only expanded.
"When someone asks you who the woman you design for is, it's almost a cliche to say, 'Oh yeah, she's a strong woman.' But it was really beautiful to see that it is actually a lot of entrepreneurs and people you might call self-made women – architects or art collectors, for example – who actually wear the brand," she says, her smile beaming down the line. "We have customers who want the lounge pants and the hoodies, and customers who buy what I call the in-between pieces – fashion-forward ready-to-wear that really represents the brand aesthetic. And then we have customers that really want the more extreme pieces, people who write to us saying, 'Hey, I never find these pieces in stores. CanI get them from you?'"
It takes a certain type of character to pull these sorts of clothes off, but perhaps what makes Melitta Baumeister such an emblematic label of our times is that it isn't asking you to. In an age when aspiring to become a brand's dictated ideal has been eclipsed by the value of personal style, Melitta creates clothes that encourage you to be the best version of yourself, whether at the office, at an opening, or happily slumped on the couch.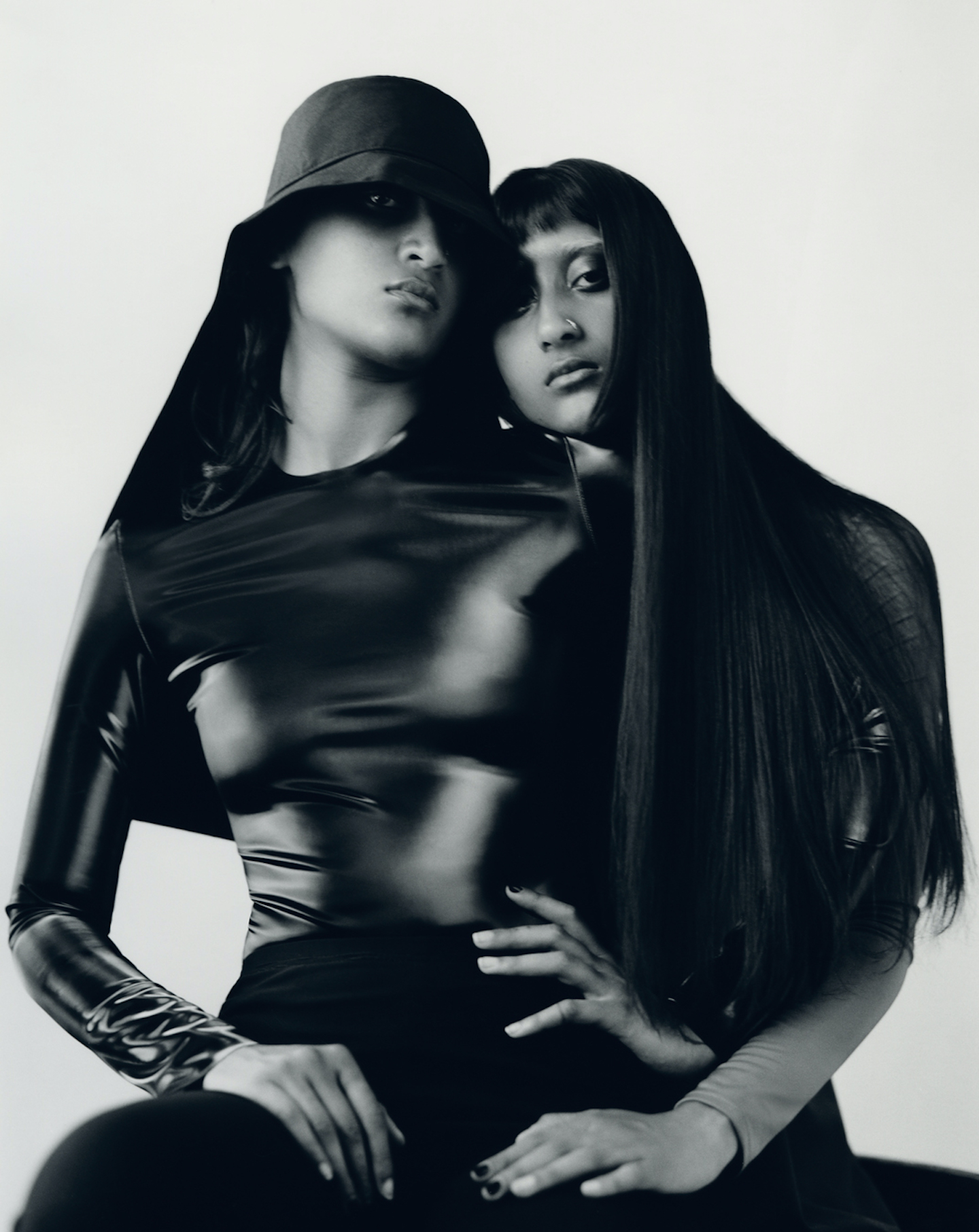 Credits
---
Photography Emmanuel Monsalve
Fashion Edward Bowleg III
Hair Jonathan De Francesco at Streeters.
Make-up Jen Myles at Streeters.
Nail technician Rita Remark at Bryan Bantry Agency using ESSIE. Photography assistance Jupiter Jones and Silas Vassal.
Styling assistance Oré Zaccheus.
Make-up assistance Nolan Eakin.
Production May Lin Le Goff at Rosco Productions.
On set production Eleonora Trullo.
Production assistance Meher Jalal.
Casting director Samuel Ellis Scheinman for DMCASTING.
Casting assistance Alexandra Antonova.
Models Arianna Martinez at DNA, Mannat Kaur and Sirat Kaur at Unite Unite.
All clothing and accessories MELITTA BAUMEISTER.