Justice for Samantha
A Sex and the City reboot is coming, but without a key component of its magical formula: Kim Cattrall.
|
11 January 2021, 11:51am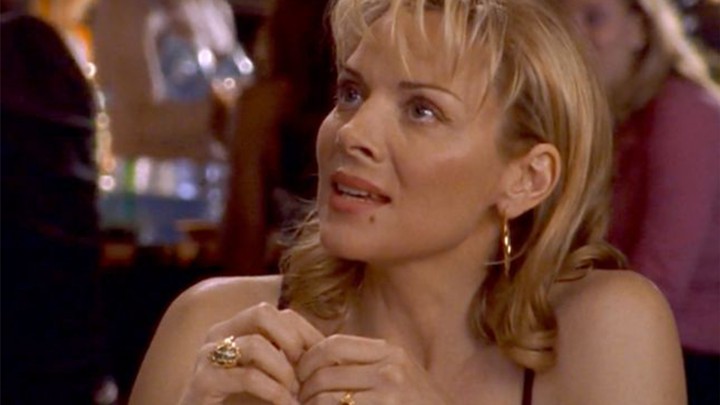 As anyone who has ever tried in vain to convince themselves that Halo Top is delicious and not a chalk-flavoured nightmare knows, sometimes if you can't have the real thing, there is no point comforting yourself with a poor imitation. This analogy works for depressing diet ice creams, but also for show reboots and reunions. Case in point: Sex and the City, which has just been slated for a revival at HBO Max, but without one of the four main characters.
Kim Cattrall, who played Samantha Jones, will not be returning for the newest chapter of the saga of four single women in New York City, which now follows three married women, presumably soon to be moving to the suburbs. Announced yesterday, Sex and the City's latest chapter, entitled "And Just Like That…" will be produced by and will star Sarah Jessica Parker, Cynthia Nixon and Kristin Davis as Carrie, Miranda and Charlotte. The reboot, of which a bizarre, gritty trailer has already emerged via SJP's Instagram, will follow the trio, now in their fifties, as they navigate love and friendship.
With the pandemic still raging in the US, production has not yet begun on the rebooted show, but is expected to take place in the spring, with 10 half-hour episodes planned. It's been 24 (!) years since Sex and the City originally aired on HBO, all the way back in 1997, but the reboot's trailer seems to be holding on to some tenets of its original success. There's still the grainy New York skyline, there's still Carrie's voiceover saying "I couldn't help but wonder…where are they now?", but knowing that Samantha will be absent, the nostalgia falls somewhat flat.

Although it makes sense that SATC would be due a reboot -- True Blood and Gossip Girl have already received do-over greenlights -- you have to wonder whether the world really needs to know what the three most boring members of the foursome are up to now. Presumably, Charlotte has become an anti-masker, prompting a fallout between herself and Miranda, who spends a lot of time tweeting about the lines at the grocery store and how nobody is social-distancing correctly. Carrie takes up smoking again because they all have to eat their brunches outside. Brady gets coronavirus at school and kills Steve. Charlotte laments her imminent cancellation after being filmed having a Karen moment at a local artisanal coffee shop when they do not give her the correct oat milk. Carrie, realising that new media has destroyed the journalism industry, pivots to copywriting for an app that calls itself "sort of the new Uber, but for your menstrual cycle, somehow" in order to pay the bills. Mr Big is worryingly into QAnon, and won't dispute the rumours he voted for Trump. Twice.
Without the chaos of Samantha Jones, the new series will be all the more pedestrian. And even out of character, her sign-on on the reboot would have added to the drama, considering the real-life feud between SJP and Kim Cattrall. If Dirty Dancing and The Notebook have taught us anything, it's that great TV -- and adjacent TV gossip -- comes from sets where the actors actively despise each other and hate coming to work every day. I want to see Carrie and Samantha fight! I want to see Samantha get weirdly into yoni jade stones and have to be treated for a UTI! I want to see Samantha, the oldest of the foursome, teach the others how she's navigating Hinge like a pro! It's a hard, tough world out there at the moment, and we deserve some respite, and that respite should take the form of watching Kim Cattrall sign up to OnlyFans, only to become someone's hot sugar mama instead.

Maybe it's the neverending nature of our lockdown lives and the fact that everything is terrible and that consequently our emotions are all so close to the surface, but if they open this reboot with an episode that kills Samantha off I will fucking sue.
Tagged: