Get to know Darby Camp, the Big Little Lies star bound to make it big
The 13-year-old actress tells us about her early shot at stardom, working alongside some of Hollywood's biggest names and her new movie 'Dreamland'.
|
12 November 2020, 3:56pm
Photography Carloz Vaz
At 13 years old, actress Darby Camp already has a bigger career than most people will have in a lifetime. You might know her as Chloe Mackenzie, the precocious first grader with impeccable taste in music who memorably told Reese Witherspoon to "watch your mouth, woman!" on the Emmy-winning HBO drama Big Little Lies. Or maybe you've seen her take a sleigh ride over Chicago with Kurt Russell and Judah Lewis in the Netflix holiday adventure film The Christmas Chronicles. Scroll through her Instagram and you can't help but notice many star-studded selfies: her face squished against Margot Robbie's, hugs from Laura Dern and Goldie Hawn, even director Jean-Marc Vallée, pointing at her and smiling knowingly at the camera with a look that seems to say: this kid is one to watch.
Despite her growing success, Darby remains a humble, almost shockingly normal teenager. When I call her at home in North Carolina, where she lives with her parents, her sister and her dogs, Stan Lee and Marty McFly, she says she spent the previous weekend — Halloween — hanging out at her best friend's house. She explains, with a sweet southern twang, that they dressed up as Bratz dolls. "I wasn't a specific one. I just put on a cool outfit and some crazy makeup." Darby loves creating fun beauty looks and then posting them on TikTok. Like many 8th graders, she's admittedly obsessed with the app. In a recent post, she shows off some sparkly rainbow eyeshadow inspired by her favourite TV show, Friends. "I watch a lot of TV," she tells me, and then backtracks. "But not too much."
Darby has been acting in TV and film for eight years, and she isn't stopping any time soon. She has two movies coming out this month alone: Dreamland, a Great Depression-era drama in which she stars alongside Margot Robbie and Finn Cole, and The Christmas Chronicles 2, where she'll reprise her role as Kate Pierce, now a moody teen on the run. Next year, we'll see her play the lead in Clifford the Big Red Dog, a film adaptation based on the book series of the same name. And the year after that? Only time will tell, but she's already got the world at her fingertips.
When did you know you wanted to be an actress?
My mom had a degree in acting, so she had me and my sister get into it when we were younger, but my sister did not enjoy it, so she quit. She was like, "Why do I have to do this audition where I have to be sad if my goal is to be happy all the time?" I was like, "I'll do it!" That's when I realized how much fun acting could be. I got my first job when I was six, on an episode of the TV show Drop Dead Diva.
Big Little Lies was your breakout role. Was it nerve-wracking working with so many big movie stars?
When I got Big Little Lies, I was really young. I didn't know who Reese Witherspoon or Nicole Kidman were. But my parents did, and they were super excited. As I got older, I got to watch some of their movies, and that's when I was like, wow, it's crazy that I know them. I was already a huge fan of Meryl Streep from Mamma Mia and Into the Woods. Meeting her was amazing, she was so kind to all the kids.
You've starred in films and TV shows across a variety of genres. What kind of roles excite you the most?
I don't really know — I enjoy doing all types of roles, honestly. I would love to play a superhero one day. That would probably be my dream role. I'd like to be able to fly. I'd also love to play a vampire in something. That would be cool.
You have two new movies coming out this month, Dreamland and The Christmas Chronicles 2. How did those projects come about?
We filmed Dreamland in 2017, so that was a while ago, and that's finally coming out, which is exciting. I auditioned for [the first] Christmas Chronicles when I was out in New Mexico filming Dreamland. My agent called me and said it sounded like something I'd be really great at. I remember being excited and surprised because I never thought I would get to be in a Christmas movie. And I was at a restaurant when I heard about Dreamland. My dad was like, "Darby, you got this audition to be in a movie with Margot Robbie!" And I was so excited. I love Margot Robbie. I saw her in Suicide Squad, and I love Harley Quinn. I have a bunch of Harley Quinn stuff in my room.
What was it like working with her?
She's such a sweet, genuine, down-to-earth person. It was crazy to work with her. Also, she and all the other actors had different accents, British and Australian and Irish, and they'd always ask to run lines with me because I'm from the South, and my whole family is southern — like really southern. I was the only American in the principal cast.
Can you do any accents?
Not really. I like doing Australian, but I'm not super good at it.
How do you balance acting and middle school?
The past two years I didn't go to school because of acting, so I was home-schooled. But this year, because of Covid and the fact that I wasn't [filming] anything, I enrolled back in my school. I love acting, and I don't really like school, but I do like to see my friends when I go. I also enjoy PE, but we only have that one day of the week, and none of my friends like it.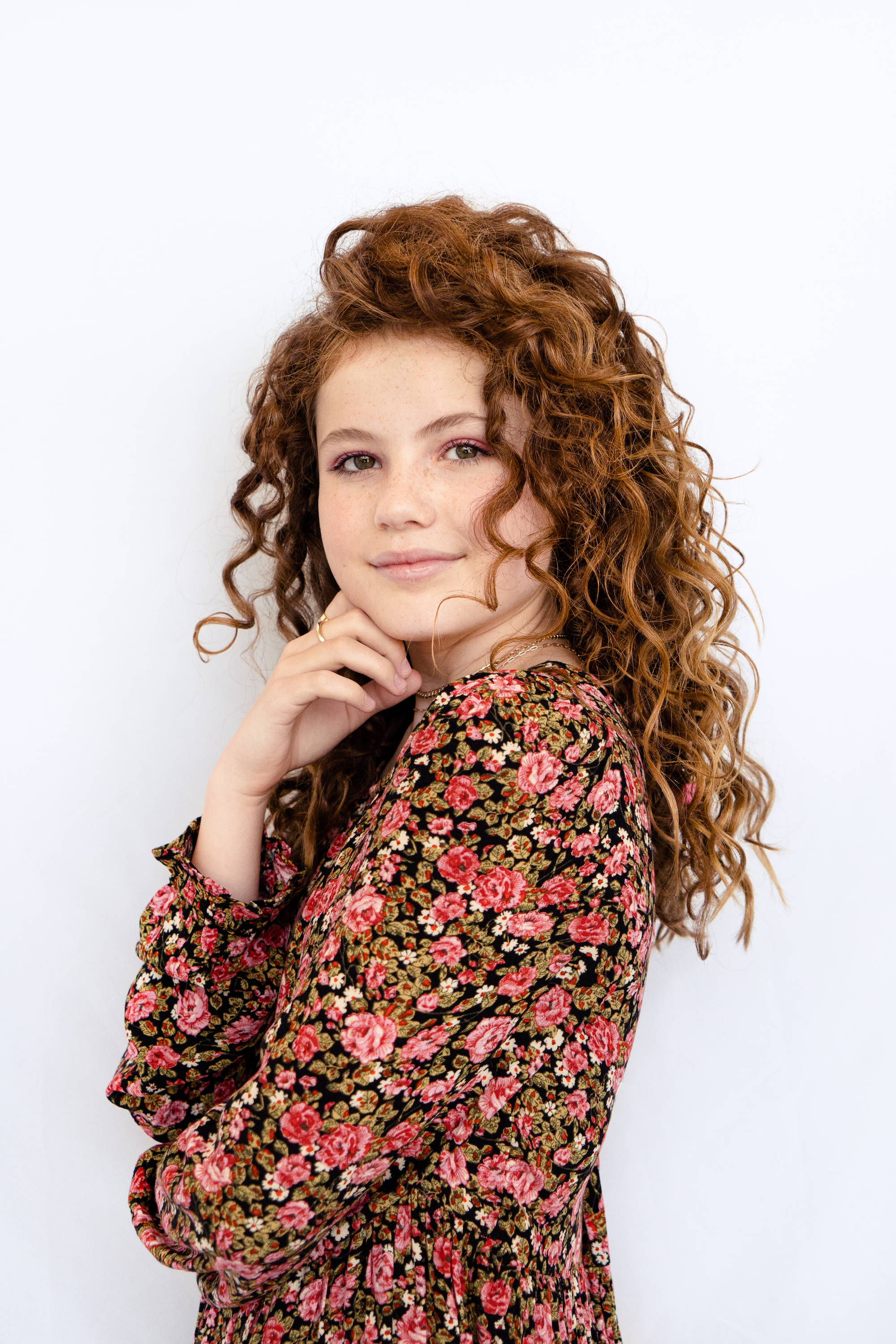 How have you been spending your free time in quarantine?
We got a jet ski over the summer. We live near a lake, so we ride it there and it's really fun. We have some friends that live on the lake that we go meet out on the water. I also like to ride my skateboard outside, and my bike, and here in quarantine I've loved doing makeup. Like, it was really fun this past month during Halloween season doing scary makeup.
What movies inspire you?
My favourite movie is Titanic. Leonardo DiCaprio is one of my favourite actors, and he's phenomenal in that, and Kate Winslet as well. I also love Back to the Future. I actually have framed Back to the Future posters in my room.
Does acting ever get overwhelming? Do you ever want to take a break?
No, I'm very thankful. It's kind of crazy how this all happened. I was never expecting this [level of success], so I'm just very grateful to be in this situation.