Images courtesy of VeniceW
VeniceW ponders the magic power of the mundane for AW21
The Bangkok-based designer turned her mind to 'weather-watching' and the healing power of ostensibly plain cloth this season.
|
17 February 2021, 6:20pm
Images courtesy of VeniceW
On the outskirts of Bangkok lies Thailand's most popular theme park, fashion designer Venice Wanakornkul tells us. One of its best-loved attractions is Snow Town, a room where you can don wintery gear and frolic in machine-generated snow. This may seem a little odd to those that live in places where wintry weather is par for the course, but in a city where the average temperature hovers around 30 degrees, "winter is almost our fantasy," Venice says.
She's been based in the Thai capital for almost a year now, working on her young label VeniceW, since she left New York at the start of the pandemic. The irony of creating an autumn/winter collection in her current setting wasn't lost on her. "It kind of made no sense that I was sat in Thailand making coats," she says, but she allowed the faint absurdity of the situation to become a core strand of her collection's narrative, contemplating the fundamental relationship between our bodies and the outside world, and the role of clothing within it.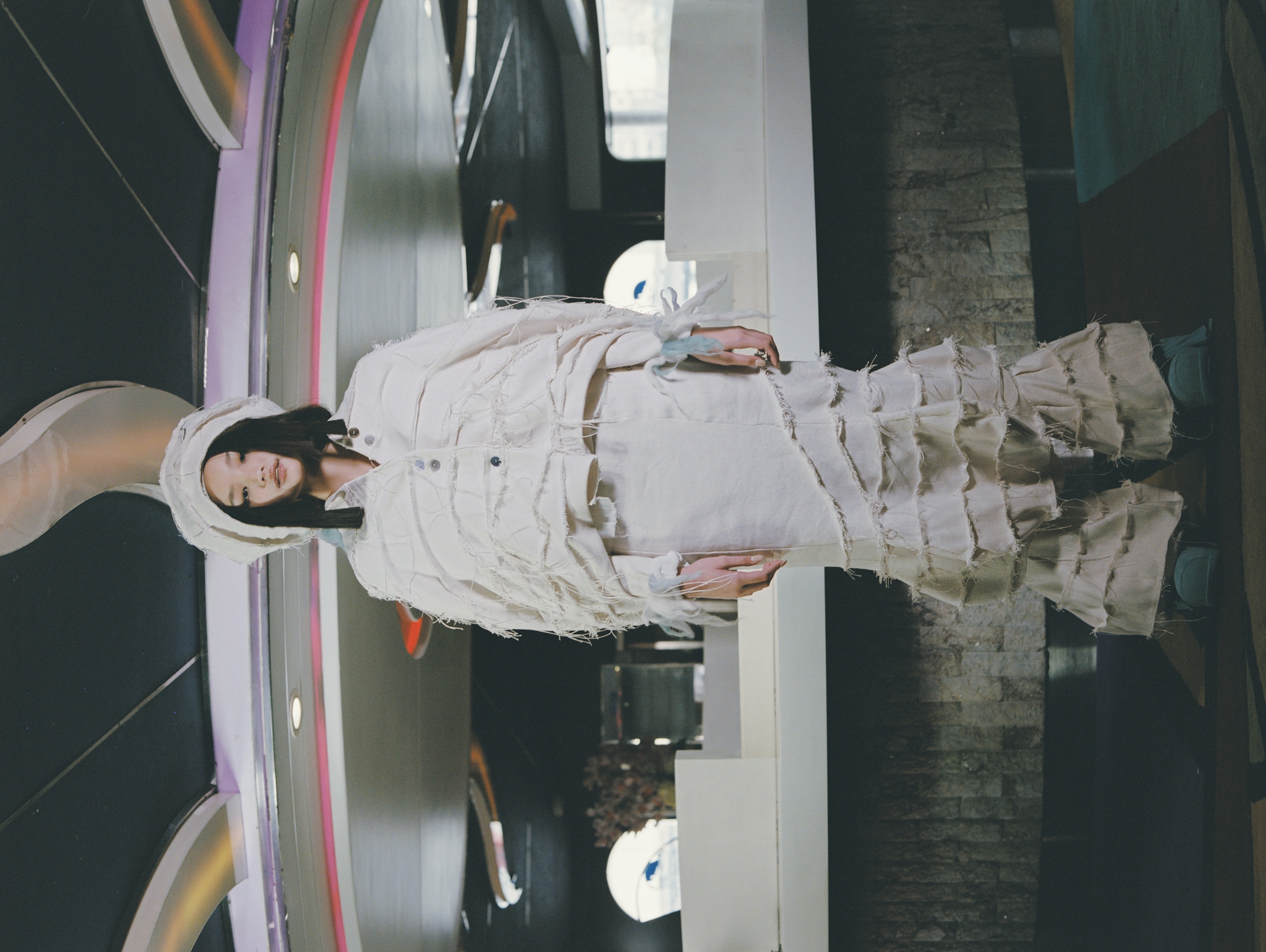 When we look at clothes as 'fashion' as opposed to just, well, clothes, their protective function is often thought too mundane to pay much attention to. Venice's practice, however, has always centred on transforming life's most humdrum experiences and paraphernalia into sources of excitement and power. In previous seasons, she's looked to items like tissues and cotton pads, and to the humble experience of sitting in an airport waiting room. This season, how the weather impacts our garment choices became one of the two main focuses of her AW21 collection, which was revealed yesterday as part of digital New York Fashion Week.
It's worth noting here that in VeniceW, the imaginary city named after the brand, the label's garments are sentient beings. As such, Venice "was thinking about how a coat would dress up for the cold weather," she says, or for a 'weather-watching' tour -- a top-tourist attraction in VeniceW. It's a bit like whale-watching in our world; you board a sea-faring ship and wait to see what encounters with nature chance brings your way, except here you're watching for rainfall to give way to sunshine, or to turn to snow, rather than for a humpback to break the water's surface.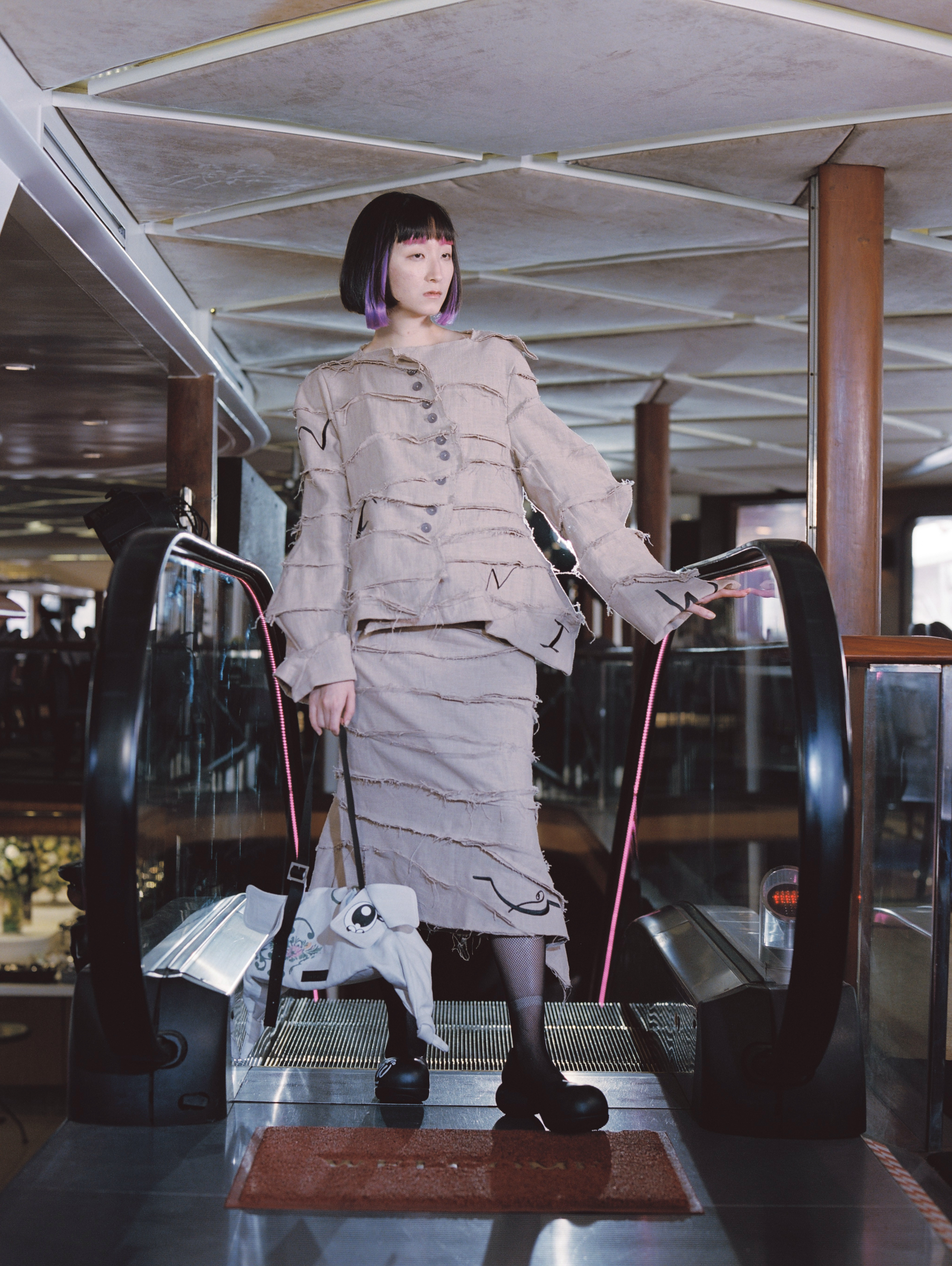 Accordingly, jackets with bateau necklines and pyramidal skirts are swaddled in raw-edged linen and earthy Thai hemp to keep them safe and warm. But there's a double meaning here, with the fabric strapping that serves as the collection's key visual motif connoting its second key theme: health. It's a nod to the Twisting Tourniquet technique, a popular alternative medical practice in Thailand by which the body is tightly bound in strips of cloth. "I found it kind of fascinating that they can actually treat people with no medicine, no surgery, just by wrapping your body," Venice says. "It's a demonstration of how things as normal and mundane as strips of fabric can actually have functions that are pretty advanced."
It's an apt metaphor for the approach her work illustrates. The natural fibres she works with -- mostly wools, hemps and linens -- are, many would say, humble. But through skilful patternmaking, they acquire fresh value, moulded into intentionally undone loops of cloth that trail about trouser legs and skirts, and the bulbous contours of sirwal pants -- informed by draping experiments on a giant vase in the absence of a fitting model.
To some, the world of VeniceW may seem esoteric at first. Step into it, though, and your eyes are opened to the marvellous qualities of the things we all too often overlook -- like the sense of awe to be discovered in watching the weather go by, or the transformative power of plain old cloth.