Zendaya's secret Netflix movie finally has a release date
Here's everything we know about 'Malcolm & Marie'.
|
19 November 2020, 12:32pm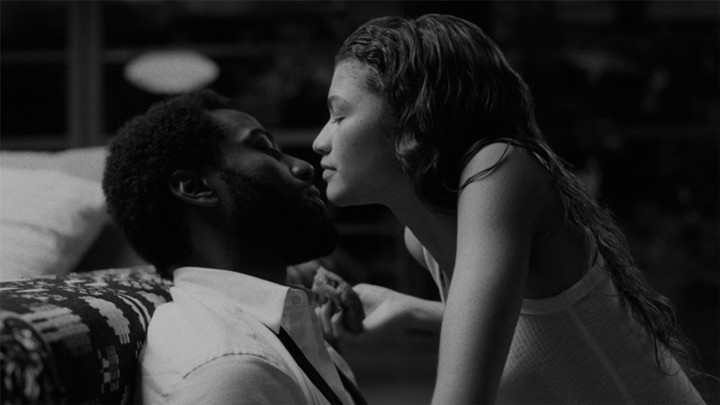 Still from 'Malcolm & Marie'
Remember when everyone was saying that, just because Shakespeare wrote King Lear under lockdown in the 1600s, you didn't need to go and stress about using this time to create your opus? Well, Euphoria creator Sam Levinson went and did it anyway, and brought along Zendaya and BlacKKKlansman star John David Washington for the ride. Just in time for contention in the 2021 Oscars too. Phew.
We first heard whispers of the project over the summer, when it transpired that -- when production on their acclaimed HBO TV series had been paused indefinitely -- Zendaya had challenged Sam to write and direct a movie during quarantine.
According to The Hollywood Reporter, the film bears some similarity to the iconic black comedy-drama Who's Afraid of Virginia Woolf?. For the uninitiated: think Marriage Story, but make it the 60s. THR writes that Malcolm & Marie "tells the story of a director and his girlfriend whose relationship is tested after they return home from the premiere of his latest project and await the critical response to it."
Now we know that the film is set to drop on Netflix in early 2021 — 5 February to be exact. And, in her Essence cover interview this month, Zendaya let slip a few more details about the mysterious film.
The actress revealed that the bare-bones shoot encouraged a good deal of improvisation from all involved, emphasising how the experience helped her through the emotional toll of lockdown. "It was great sitting in a room with John David Washington, Marcell Rév and Sam, literally writing scenes as we went, coming up with ideas as we moved through the characters, and finding new things every day. That was the coolest part. That is why I do this."
"It was a dream, because I've always wanted to be able to just strip everything away. I love what I do -- and like most people, I was finding ways to stay inspired and stay creative, and luckily I know people who are the same way." And they all happen to be gorgeous. Ideal!