Golden Globes 2021, we have some questions
From Jeff Daniels' door-y house to whoever put our king Daniel Kaluuya on mute.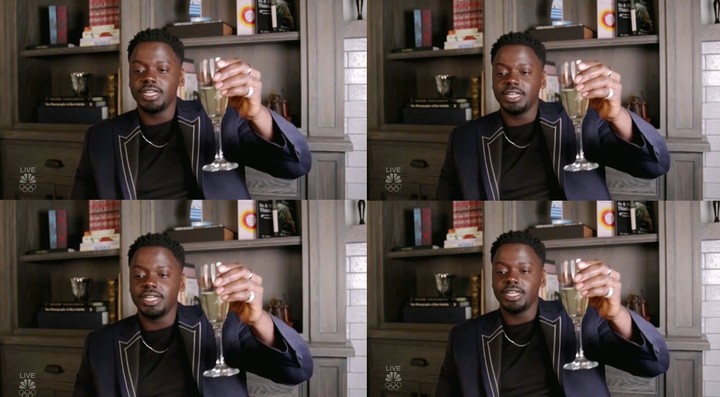 Still from Daniel Kaluuya's acce
Dubbed an "edge-of-your-seat psychological thriller" by New York magazine, the winners of the 2021 Golden Globes were announced last night, in a ceremony that felt akin to a three-hour long work call with just as many technical mishaps and moments of emotional disbelief. This, however, was more 'I can't believe this is happening!' than 'I can't believe this is how I am wasting my quickly spiralling life, in front of a webcam trying to look vaguely interested'. There were bad things (a really slight reference to the lack of racial diversity in their voting panel that gave us very much this energy; cishet white male oldies winning things). But there was also some good. Newcomers trumped the legacy artists. British talent dominated. Sarah Paulson looked iconic. And a woman took home the Best Director prize for the first time in 37 years.
For the first time in history (obv), the majority of the Globes' cast beamed in from their living rooms, bedrooms or studies, dressed in custom couture with nowhere to go and the relief of only being seen from the shoulders up. A ceremony harnessed by two crews in New York and Los Angeles, flitting between Amy Poehler and Tina Fey as presenters, it was a miasma of uncomfortable chaos and uncertainty. Many questions were asked: what energy drinks did the European talent knock back to stay up until the 4:00am finish time? Is Jason Sudeikis trying to bring back tie-dye? What were the conversations had between Jodie Comer, Cate Blanchett, Frances McDormand and their respective publicists for them to rightfully say: "You know what, fuck this, I never want to go on Zoom ever the fuck again, not even if there's a chance of me winning an internationally recognised accolade"?
All of these wild happenings, and more, prompted us to ask some questions of our own, many of which we're still seeking the answers to. Please put us out of our misery and send us your answers on a postcard.
Who did John Boyega celebrate his Small Axe win with?
The night started on a high with our king John Boyega winning Best Supporting Actor in a Mini-Series for his performance in Steve McQueen's Small Axe, and he seemed to be genuinely surprised that he was chosen, beating out Daniel Levy of Schitt's Creek and veteran actors like Donald Sutherland. After winning, a little flustered, he jumped on Instagram Live and offered some additional thoughts, still in disbelief. "I'm at the yard by myself, no one to celebrate with!" he laughed. "But you know what? It's all good man!"
Who styled The Crown's Emma Corrin and Josh O'Connor?
For anyone who binge watched season four of The Crown purely to see the inter-familial Princess Diana beef unfold, last night was a real moment. As well as winning Best Series — Drama, the show's two young stars playing the couple at the heart of it, Princess Di's Emma Corrin and Charles' Josh O'Connor, both took home the first Golden Globes they were nominated for. Like John, both seemed pretty shook to have won, with Emma
nominated alongside Oscar winning co-star Olivia Colman, while Josh was up against the likes of Al Pacino (who looked lost). What's more, both were blessed with looks seemingly inspired by early 20th century high drama: Emma's Miu Miu dress inspired by a Pierrot clown; Josh's custom Loewe a soft riff on dandies. Both were styled by Harry Lambert.
Where do Jeff Daniels' doors lead to?
Wherever Jeff Daniels tuned in from, be it his study or guest bedroom or a strange portal to a new dimension, no one could take their eyes off of how many fucking doors surrounded him. The actor, who was nominated for Best Actor in a Mini-Series, was festooned by at least three. Were some wardrobes? Do we have any reliable intel as to where they may lead? Was this what we expected the inside of Jeff Daniels' house to look like?

Who put Daniel Kaluuya on mute and did they get fired?
Another well deserved win on the night came for Daniel Kaluuya, who absolutely nailed his performance as Fred Hampton in Judas and the Black Messiah. But as he jumped on camera to give his acceptance speech, a producer forgot to take Daniel off mute, meaning his impassioned speech closely resembled a mime act. All good though -- when he was eventually unmuted, he gave a shout out to the late Nipsey Hussle. We'll never know what was said in those earlier moments, but rest assured the person who forgot to unmute him will remember that moment for a lifetime — if they're still alive, that is.
Would we die for two-time Globe winner, Nomadland director Chloe Zhao?
Yes, we would die for the woman who broke the 30+ year patriarchal streak and took home the Best Director prize, as well as the gong for Best Motion Picture — Drama.
Is Andra Day, the acting race's underdog, an Oscar front-runner now?
The actress race for 2021 was predominantly torn between two stars: Frances McDormand for her riveting turn in Nomadland, and Carey Mulligan for the rape revenge thriller Promising Young Woman. But last night, Andra Day, who played the titular singer in The United States vs Billie Holliday beat the odds and won. The movie has had middling reviews, but praise for her performance has been unanimous, a little like Marion Cotillard's Oscar win for the Edith Piaf biopic La Vie En Rose back in 2008. So could she become the likely winner of the Oscar? It's possible, but unlikely for the BAFTAs, who have snubbed her completely from their acting longlist in 2021. That seems like their loss anyway.
Can Spike Lee's iconic kids be our best friends?
Despite the fact that Spike Lee's Da 5 Bloods was widely snubbed at this year's ceremony, his two kids Satchel and Jackson Lee, were this year's Golden Globe ambassadors, who selected the charities that the Hollywood Foreign Press Association would donate $25,000 to. They make history: Satchel is the first queer ambassador in the award show's decades-long run, while Jackson, sort of egregiously, is the first Black male to assume the role. On the night, they were both dressed in Gucci, and did a stellar job of the gig that's famously gone to the kids of famous film industry folks. Their appointment signalled what's hopefully a new day for the Golden Globes, an organisation that has famously overlooked Black and queer folks in the industry. Will 2021 be the last year where no Black people have a say in who wins? With rumours of internal corruption and bribery swirling, there's a clean-up act to be done before the ceremony returns to normal next year.
Tagged: