1970s lesbians and breakup TikTok: what i-D loved this week
Once again, more queerness and internet culture than you can shake a stick at.
|
26 February 2021, 2:49pm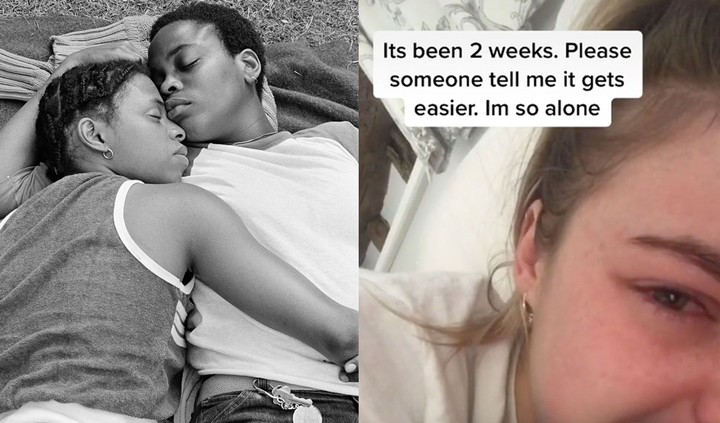 L: Photography JEB. R: Image via @eimerelizabeth
In i-D Loves, we look back upon the last seven days in our calendar and pinpoint the pieces that best represent the current moment. No matter what you're in the mood for this weekend — be it vintage pictures of lesbians or grieving past relationships online — we've got you covered. Here's what i-D loved this week.
There's power and pleasure in Black queer existence; this account affirms it
The ways in which wider media covers Black culture, particularly Black gay culture, in Britain is traditionally rooted in trauma. But there are deeper layers to the ways in which that community have existed and thrived we hear less about. Black & Gay, Back in the Day is an Instagram account dedicated to remembering these stories in order to inform the culture's future. Read about its founders here.
Break up left you fucked up? TikTok's got your back
If your FYP has left you feeling surprisingly seen recently (mine is just videos of secret Starbucks drinks and @nosebleedfitz), then let it be known that the algorithm has a weird way of digging into your psyche. If you've just gone through a break-up, chances are some videos tied to losing your former bae are cropping up on your feed. Dystopian? Or is this onslaught of break-up TikTok videos strangely comforting? Writer Kat Smith digs deep here.
"Bing Bang Bong" is literally melting our brains and we love it
Strange to think that barely a fortnight has passed since we were blessed with the Drag Race classique "UK Hun?", more affectionately known as "Bing Bang Bong". The track by the United Kingdolls has permeated every element of our consciousness. Can't get it out of your head? Here, the songwriters and stars behind it tell you why.
Julien Baker set the modern indie-folk blueprint. Now she's back
2015 was the year the bruising songwriter Julien Baker broke out. Since then, she's released her sophomore record, teamed up with Phoebe Bridgers and Lucy Dacus to form boygenius, and is now back with the final instalment in her opening sonic trilogy, Little Oblivions. She talks to Ilana Kaplan about faith, sobriety and everything that led to this moment in a revealing interview that you can read here.

Meet the author of the book Stormzy loved so much he published it
Hafsa Zayyan is a lawyer whose fascination with fiction seldom extended into long form writing. Then she wrote four pages of what's now her debut book, the strong-willed and lyrical We Are All Birds of Uganda, and submitted it to the #Merky Books New Writers Prize. Now, she counts that imprint's curator Stormzy as a fan. Read an interview about her breakthrough work and its personal meaning here.
As a lesbian in the 70s, photographer JEB never saw herself, until she changed that
There weren't pictures of lesbians for photographer JEB to see herself in when she was growing up in 1970s America. She sought to change that. A pioneering work of queer representation, her book Eye to Eye: Portraits of Lesbians has huge historical resonance nowadays, which is why Anthology Editions have republished it to remind us of the origins of the queer woman's lens. Here, Ashleigh Kane speaks to JEB about her past, her pictures and the legendary friends who helped shape it all.