The Real Housewives is reflecting on its race problem
Bravo's white wealth makes for compulsive watching while sweeping race under the rug. Now it's got to confront the experience of Black people head on.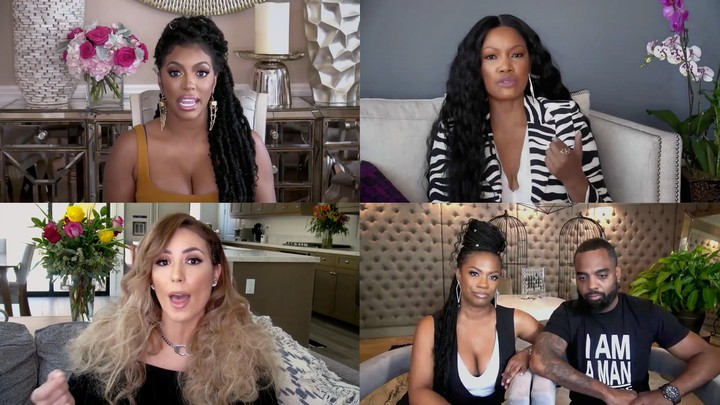 Still from Bravo's Race in America: A Movement Not a Moment
Bravo, the TV network behind some of the most watched reality shows, has a winning, if obvious formula: select a group of wealthy people, who are mostly white and mostly women — often only loosely connected, but cast as friends for the show — and watch them transform trivial situations into hijinks and seemingly high-stakes drama.
That is part of the allure of the network's most successful franchise, The Real Housewives of…, though it's a DNA that filters through much of their catalogue. Housewives has 10 different US iterations of the show in as many locations (with international spin-offs too), and is known and loved for its disconnected ridiculousness. For example, is it appropriate to serve wine in a champagne glass? Is it a social taboo to return a toy bunny rabbit gifted by a co-star because it didn't have "good energy"? These are just two of the innumerable galling situations to unfold in The Real Housewives of Beverly Hills alone. These garish shows about wealth, coupled with plot lines that centre on minor inconvenience, provide humorous distractions from the bigger, more pertinent issues in the world.
But the events of 2020 burst this bubble, and, like every industry and individual, reality TV and its stars have been forced to reckon with their complicity in systemic racism. So, while ordinary circumstances would suggest that at the time George Floyd, a Black man and victim of police brutality, was pronounced dead, a Bravo cast member was likely gossiping and guzzling glasses of espectacle del montsant in an expensive restaurant on camera, this can't be the case anymore.

In response to George Floyd's murder, police brutality and systemic racism as it's seen through news media, many Bravolebrities — as cast members are known as in the fandom — have used social media to make their positions known. Some, like Bethenny Frankel (New York), posted the now infamous black box on Black Out Tuesday, coupling it with a long caption decrying racial inequality and how they're stepping up to be effective allies moving forward (though for some, this is yet to be seen). True to their capitalist interests, others like Kelly Dodd (Orange County) denounced the actions of 'looters' during the protests, quoting Martin Luther King's non-violent pleas as a shield for their ignorance.

The network itself aired a special episode titled Race in America: A Movement Not a Moment, which featured primarily Black Bravolebrities — such as Kandi Burruss (Atlanta) and Gizelle Bryant (Potomac) — discussing the racism they still experience despite their wealth. The reaction to the special was kind; audiences and critics were encouraged that unlike other media conglomerates, Bravo did more than issue a carefully worded statement, instead giving valuable air time to the movement. For a predominantly white audience, those discussions offered a new perspective on the lives of excess they tuned into every week.

The recent actions of Bravo and its stars in response to a global reckoning with systemic racism may appear to stand in direct opposition to the frothy drama that usually defines it. But the show has oftentimes been a platform for issues that affect a lot of people, regardless of their race or socioeconomic status. In Beverly Hills, for example, past storylines have captured the domestic abuse Taylor Armstrong has suffered at the hands of her husband in real time (he later died by suicide during filming of season two); alongside Kim Richards' battle with alcoholism. More recently, on New Jersey, Teresa Giudice and her husband spent a total of three years in jail for fraud. Her husband was detained by ICE when he left jail, eventually being deported to his native Italy. All of this was covered on the show.
Scenes like this have proven surprisingly powerful, and can be reminders of how painful life can be for us all, but they've also spawned memes disconnected from their source. Longstanding Bravo fans know of 'that scene', taken from a 2011 episode of Beverly Hills in which Taylor Armstrong is visibly distraught. Taylor is angry at fellow cast-member Camille Grammar for outing her domestic abuse, because it'll mean further abuse from her husband; Taylor herself partook in and seemed to enjoy the subsequent meme nonetheless. In another infamous scene, Brandi Glanville sarcastically asks Kim Richards if she is doing 'meth in the bathroom' at a girls' games night. Kim's clapback — "slut pig" — has become a canonical example of Housewives lingo.
"These individual storylines, almost always tied to white stars, allow individuals to weather their own storm and come out the other side. The systemic nature of racism against Black women is something that doesn't fit so neatly into the same narrative."
Personal recovery outside of the context of race is regularly mined and reformed into the kind of trauma bait, and subsequent renaissance stories, that make the show so compelling in the first place. Taylor went on to release a best-selling book detailing the years of abuse she faced from her husband. Kim Richards' struggles with sobriety over the years has lent viewers an understanding of the realities of alcoholism. And it's almost impossible to watch Teresa return from jail and collapse into the arms of her teary daughters and not imagine that knowing, comforting feeling of a mother's warm embrace.
Which is another key part of Real Housewives' appeal: fans can find themselves relating to these people, neutralising their disdain of what one-percent wealth privilege affords them. The shows tackle universal themes such as female friendship, family feuds, betrayal, marriage, divorce and parenting. It taps into the desire of women wanting to be seen and heard, and though not without fault, it's difficult to find other shows that pass the Bechdel test as abundantly as these do.
While these individual storylines, almost always tied to white stars, allow individuals to weather their own storm and come out the other side, the systemic nature of racism against Black women is something that doesn't fit so neatly into the same narrative. It's an issue greater than Bravo has the capability to create entertainment from; quite how they will tackle it is a work-in-progress we're seeing in real time.

Arguably, Bravo offers much more racial diversity than most networks, with the hugely popular Shahs of Sunset, Family Karma and Married to Medicine featuring casts that are Persian Muslim and Jewish, Indian and African American respectively. Perhaps these shows remain segregated along colour lines to reflect a particular truth of how people tend to socialise with those they relate to. Statistics show Atlanta's audience is thought to be 61% African American, with Orange County and Dallas thought to have a less racially diverse viewership also.

But while Housewives viewers are said to be 80% caucasian (compared to 74% of the American population) the fact that the remaining 20% is constituted by Black, Indigenous people, and people of colour is still significant considering that other reality shows, like The Bachelorette, have historically lured in as little as 7% Black viewership. There are fan pages, run by fans from Black and Asian backgrounds, like Bravowhileblack and Asians Who Love Bravo, for those who are interested in the predominantly white worlds portrayed.
"You come home to tune out of what it means to fight as a Black person in an unjust world... then you're confronted with [reality] again. There has been a lot of danger to how much privilege we give them as viewers." — Imani, host of Mixing with Mani

Yet the white women of these series largely manage to live their lives without being faced with the pervasive consequences of racism. When blatant acts of racism have occurred on the show in the past, they have been largely brushed over; a minor plot point in comparison to the other issues faced by the cast. The incidents are numerous: Luann De Lesseps and Sonja Morgan made scalping jokes and 'war whooping' noises when discussing Native Americans; Luann attending a party dressed as Diana Ross as an "homage"; Brandi Glanville's comment about how Black people can't swim.
"Summer 2020 was very trying for Black people," Imani, the Black host of Bravo breakdown themed podcast Mixing with Mani tells i-D. With a year as difficult as 2020, Black viewers have found it increasingly difficult to indulge in the banality that Bravo has to offer, as well as the more serious storylines, especially because of the way that Black cast members' struggles with racism have been sidelined in the past.
"You come home to tune out of what it means to fight as a Black person in an unjust world, eat food and binge TV," Mani says of Bravo's most significant USP, "but then you're confronted with [reality] again. There is no safe space." Perhaps we're partially to blame for this given that, as viewers, we've ignored glaring examples of racism in these shows. "There has been a lot of danger to how much privilege we give them as viewers," Mani adds. Indeed, four years under the Trump administration has lowered our threshold for offence, but after a year like 2020, it's difficult to turn a blind eye to the misgivings of these media personalities.

It seems that the network has tried to take note, though their different approaches have had mixed results. Positively, there seemed to be an active move to diversify their notoriously racially homogenous casts, adding Black women to The Real Housewives of Beverly Hills (the actress Garcelle Beauvois), The Real Housewives of New York (attorney and TV host, Eboni K Williams) and Summer House (travel nurse Ciara Miller), a show about affluent New Yorkers who spend summers in the Hamptons.
There was also a call for retroactive accountability. As for LeeAnne Locken, a key cast member of Real Housewives of Dallas, she was fired following her racist remarks about Mexican co-star Kary Brittingham. Similarly, last summer, a story from 2018 resurfaced of two Bravolebrities, Stassi Schroeder and Kristen Doute, calling the police on Faith Stowers, their Black co-star in The Vanderpump Rules, a Beverly Hills spin-off following LA restaurant staff. They accused Faith of a crime she had no knowledge of. Stassi and Kristen were also fired from the show.
A contentious approach was utilised for Southern Charm, a Bravo series that follows the lives of wealthy white folks in Charleston, South Carolina — many of them the descendants of slave owners. "It's a show that has the looming invisible ghosts of history," Danielle Prescod, a journalist and Bravo fan says. Invisible is perhaps too kind a word. The show has struggled to respond to the wider conversations regarding race, with cast member Kathryn Dennis pointing out the graves of slaves in the grounds of her plantation property, before nonchalantly shifting to casual gossip. Last year, Kathryn came under fire again after she DMed a monkey emoji to a Black woman who was trying to disrupt a Trump rally in Charleston. Rather than firing her, however, the network has sought to remedy the situation by filming her reckoning for viewers to see. They've used Persian American Leva Bonaparte — who is married to a Black man — as a mediator for this tricky discussion.

"It's been difficult in many ways,'' Leva says. "The viewer is used to seeing a certain type of narrative." One, it seems, of avoidance. As a viewer, you can see how arduous this task is for Leva. She is repeatedly gaslit, accused of being aggressive and labouring the 'race' discussion, especially by co-stars Austen Kroll and Shep Rose.
Carole Radziwill, journalist, author, Kennedy-by-marriage and The Real Housewives of New York alumna, says that in her six years on the show she found her fellow cast members to be apathetic to the world beyond their bubble. "I don't think a single one of them ever asked me about my experiences with ABC News covering politics," she says. "Not a single question." Understandably, Carole doesn't believe that Bravo is a great platform for broaching political and societal issues, primarily because the personalities are generally disinterested and ill-informed on the themes at hand. "These shows are about women behaving badly, that will take their clothes off, get drunk and call each other names," she says.
"I've always been passionate about fighting for racial equality… I didn't see my actions as a continuation of [my grandfather's] legacy but a responsibility to keep the conversation for social change going." - Porsha Williams, Real Housewives of Atlanta
This might be true for the white shows on the network, but Bravo's Black shows like Married to Medicine, The Real Housewives of Potomac and The Real Housewives of Atlanta have consistently tackled heavier topics. It's obvious that the added factor of having majority Black casts means they have a vested interest, but that's not to say that they don't also behave badly for viewers' entertainment.
Porsha Williams, the star of the Atlanta franchise has used her platform this year to call for racial justice. "I've always been passionate about fighting for racial equality," she says. Porsha's grandfather was Hosea Williams, a key confidante to Martin Luther King Jr. and she has made efforts to champion his pioneering work. "I didn't see my actions as a continuation of his legacy," she says, "but a responsibility to keep the conversation for social change going… to protect those without a voice."


In the first episode of Atlanta's latest season, Porsha phones her mother, sister and baby daughter from jail, after being arrested for partaking in a peaceful BLM protest. It's a moving moment, but is she surprised by the audience's warm welcome of this discourse on the show? "Not at all," she says. "People tune into the show because they see a piece of themselves. It's about [having the] bravery to continue [having] these difficult discussions." And while she admits that she is happy to use her platform to incite change, Porsha knows that, no matter how public her life may be, her efforts are just a small part of a millions-strong movement.
In some ways, she has made the balance between entertainer and protester seem effortless, but we can't forget how much she's grown in front of our eyes. At first, she was characterised as a quintessential Southern belle: kinda ditzy, dutiful to her husband and desperate for children — and an infamously poor knowledge of the inner workings of the Underground Railroad. But over the last few seasons, we've seen her change into an autonomous, powerful woman, a single mother and now civil rights campaigner. We, as viewers, have been on that journey with her.
2020 catalysed uneasy but important discourse, but we still need outlets to escape. Shows like The Real Housewives of Atlanta are prime examples of how leaning into the discourse, while remaining fun, has appealed to viewers. The episode with the highest ratings of the latest season so far? One that featured an emotional segment in which the ladies watch the grand jury ruling of Breonna Taylor's murder. The second? It revolved around the most debauched bachelorette party the show has ever seen.
On the flipside, predominantly white franchises that have bolstered bigotry and conspiracy have fallen out of favour in the fandom. For over a decade, we've seen them tackle difficult discussions, while issues of race were overlooked. But as racism continues to be at the forefront of the cultural discussion, fans are now ready to hold them accountable, and shun the shows that once treated it like an uncomfortable afterthought. While Bravo's racial reckoning has been a long time coming, "I don't think that the threshold of absurdity supersedes racism or harmful rhetoric," Mani says. "You can be messy as hell and not operate in bigotry." Both things are possible.

Follow i-D on Instagram and TikTok for more discussions on race.