8 welcome and WTF surprises from 2022's Brit Awards
Emma Corrin cameo; Olivia Rodrigo win – but no love for BTS?
|
09 February 2022, 1:09pm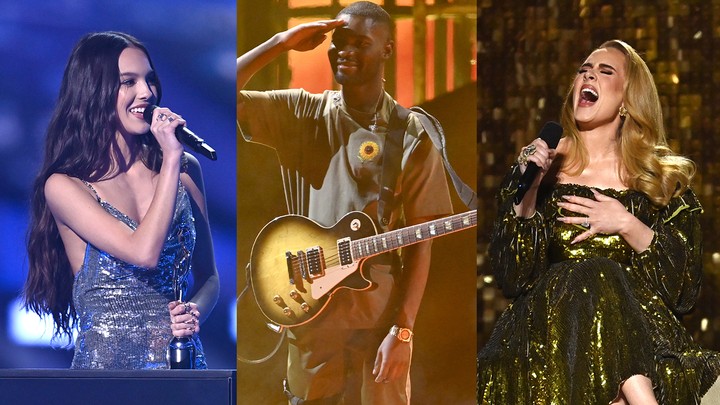 When Adele rocks up to your awards ceremony, you know for a fact she won't be leaving empty handed. Such was the case at last night's Brit Awards, where the songwriter made her almighty UK comeback walking the red carpet and taking home three prizes, for album of the year (30), song of the year ("Easy on Me") and artist of the year.
These were all pretty much a given. There's always one figure expected to sweep up almost every award in a given year, be it Adele or Dua Lipa or The 1975. Last night, some new faces stepped forward, and some smart decision making gave us one of the most forward-thinking line-up of winners yet.
So here's all the surprises that came from last night's Brit Awards 2022.

1. Women won almost everything
After the British Conservative party's Culture Secretary Nadine 'Why?' Dorries lamented plans for the Brit Awards to bring in genderless categories, calling it a "sad decision" that would exclude women, she was -- quelle surprise -- wrong once again! Of the 15 prizes up for grabs on the night, women won 10 of them -- hardly surprising considering how much of a knockout year British women in music have had.

2. Olivia Rodrigo made her comeback
It was barely a year ago that Olivia Rodrigo gave her first live performance in front of a real audience at the Brit Awards, when she performed a rendition of "drivers license". A year on, she returned to pick up the prize for International Song of the Year, this time for "good 4 u". She came with Dan Nigro, the genius behind so much of Sour, who she thanked in her speech. Next time she'll be on UK shores? Summertime, for her first headline tour.

3. Little Simz got her first Brit ever
The weird politics of Best New Artist prizes means that a musician can be nearly a decade deep into their career and still eligible for it – but we're not complaining, because it gave Little Simz her first Brit. It came off the back of her 2021 record, Sometimes I Might Be Introvert, which was nominated for British Album of the Year too.
4. And Emma Corrin made a cameo
The Brits are famous for churning out iconic performances that we look back on in a decade's time, but they've been sparing in number lately. Thankfully, Simz brought it back with this sharp, memorable medley of "Introvert" and "Woman", flanked by a dozen and more dancers. What's more, Emma Corrin delivered her spoken word verse from the former track live and in person, wearing a custom Harris Reed outfit.

5. Stars beamed in from afar
An awards bash isn't over until we see a video message from famous people who are really sorry they couldn't be there. This year we got three! Dua Lipa won the night's Best Pop Act, voted for -- like all genre awards -- by users on TikTok, but couldn't make it due to being deep in rehearsals for the oft-delayed Future Nostalgia tour, which is set to kick off soon. Similarly Billie Eilish won the International Artist of the Year, beating Doja Cat, Lil Nas X and Olivia Rodrigo. She's just started her tour in support of Happier Than Ever, so had a valid excuse not to be there too! And Silk Sonic — the joint project of Bruno Mars and Anderson .Paak — accepted their Best International Group via a video filmed in sunnier climes.

6. But a BTS snub?!
BTS, winners of everything ever, are clearly busy working on a new record at the moment. They couldn't make it on the night, and so signs pointed towards their one Brit nomination this year -- for International Group -- going to someone else. Rightly so, Silk Sonic took home the gong.
7. Wolf Alice got the gong they deserved
While indie music had less of a moment to shine last night (an album of the year nomination for Self Esteem would've been nice, tyvm), it was great to see Wolf Alice get the love they deserved for one of the best British albums of the decade, Blue Weekend. This is their third year being nominated at the Brits but the first time they've won a prize. And so they should! This year's ceremony gave us a few reminders of some of the killer albums that dropped in 2021 that are still deserving of your attention. Go back and listen now.

8. Dave performed live with a flame-throwing guitar
No further comment.

Tagged: